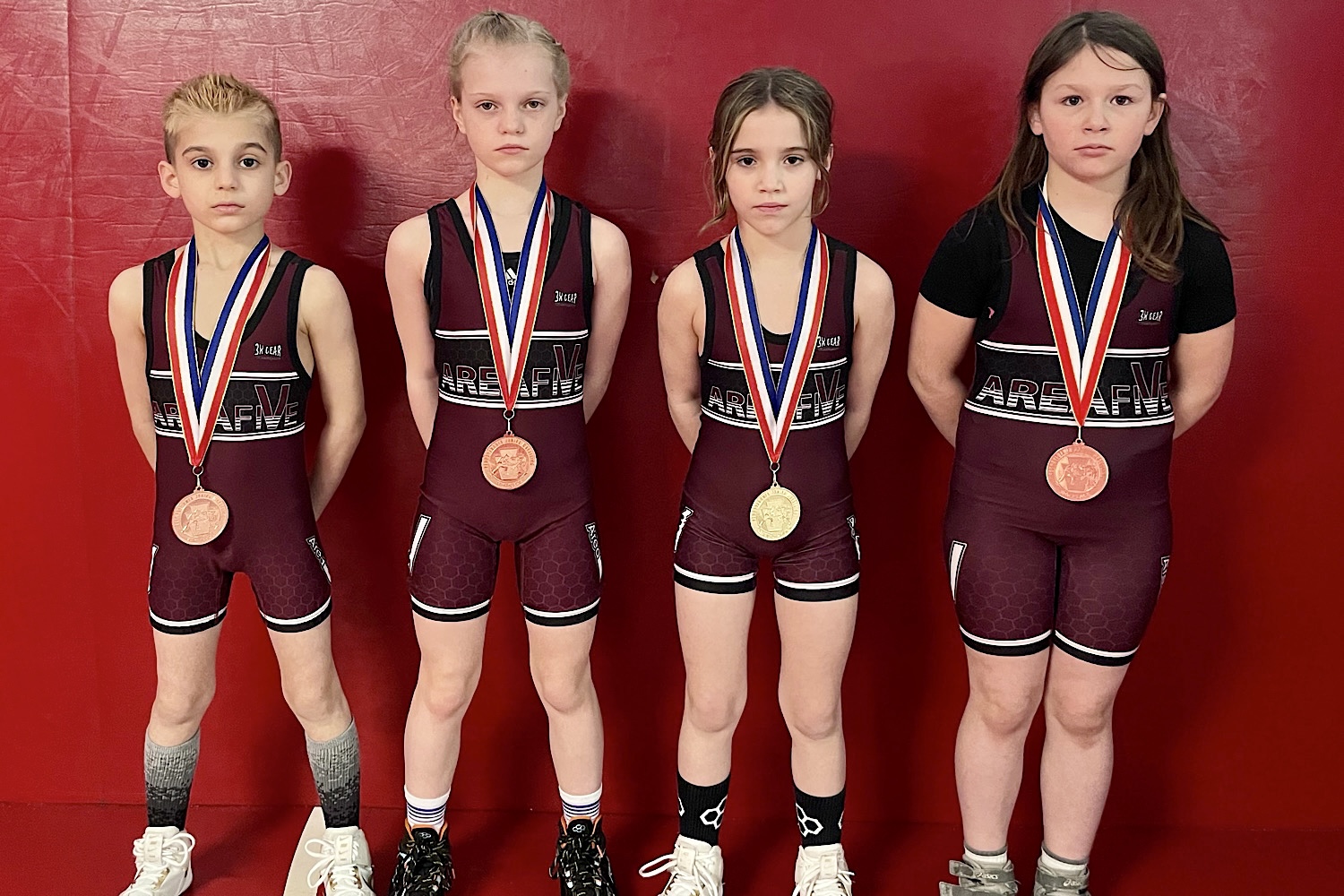 PUNXSUTAWNEY, Pa. (EYT/D9) — Marley Dixon came home as a champion at the Pennsylvania Junior Wrestling Championships over the weekend.
Several of her teammates at Mat Hog Wrestling Club in Punxsutawney also fared well at the PJW tournament.
(Pictured above, from left: Owen Brink, Mia Magagnotti, Marley Dixon an Hope Miller/submitted photo)
Of course, Dixon of DuBois dominated her 57-pound 8-and-under girls bracket to come home with another gold medal around her neck. She also won the Keystone State Championships at 55 pounds.
At 83 pounds in the 8-and-under girls tournament, Hope Miller placed third.
Miller started things off with a pin in just 46 seconds in the quarterfinal round.
After a loss in the semifinals, Miller battled back to third place with a 35-second pin in her first consolation round bout, followed by another quick fall at 1:37 to secure her bronze medal.
In the 10-and-under 63-pound girls bracket, Mia Magagnotti finished fourth, going 3-2 over the weekend.
She started strong with a pin at 1:31 in the round of 16 and then earned another quick fall in 47 seconds in the quarterfinals.

District 9 wrestling coverage on D9Sports.com is brought to you by Luton's Plumbing, Heating, and Air Conditioning.
Magagnotti was in a tough battle in the semifinals, eventually falling, but rebounded with a 5-2 victory in her first consolation bout before dropping her third-fourth match to finish fourth.
In the 8-and-under boys division at 45 pound, Owen Brink placed seventh.
Brink started off strong, winning his first match in the round of 32 with a pin at 129. He then won his round of 16 bout, 6-0.
Brink fell in the quarterfinal, dropping him into the blood rounds where he wrestled himself back onto the podium with 6-0 and 6-4 in overtime to finish seventh.
"Dedication, grit, and mindset are what sent these four to the big stage and it paid off," said Mat Hog Wrestling Club coach Adam Brink. "It was well deserved. They sure earned it and should be so proud of themselves."
Also wrestling under the Mat Hog Wrestling Club banner at the PJW championships were Noah Burkett, Gannon Means, Peyton Toven, Martiza Gonzalez, Connor Dobson, Ford Lydick, Peter Adams, Brady Dodson and Deeandra Shannon.
"We are incredibly proud of all our wrestlers who have put in many hours to earn their trip to states," Brink said. "Their determination and improvements are clear, and it's only going to continue to prove more and more worth it.
"Youth wrestling is a stepping stone that builds great wrestlers," Brink added. "More than wins, it's the heart and desire to continue through each level that presents itself no matter how far that may be."