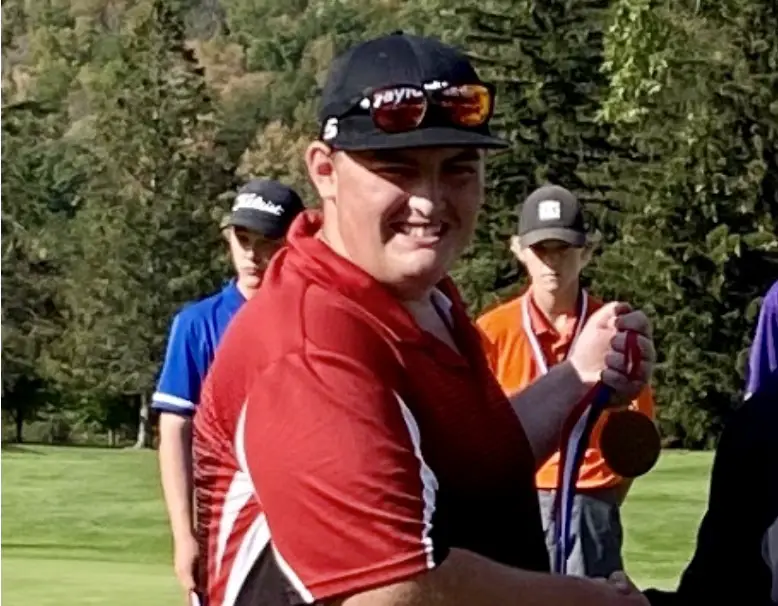 WEST SUNBURY, Pa. (EYT/D9) — Four years ago, Jacob Felsing's golf game was in a state of disarray.
Not much about it was right. His scores were high. His confidence low.
"I really needed lessons," said the Moniteau senior.
So he sought them out from Elaine Carson, a teaching professional at The Perfect Swing Golf School and Driving Range in Butler.
And thus began a dramatic transformation for Felsing from just another inconsistent, struggling golfer, to a District 9 champion.
"It was everything," Felsing said of what Carson went about correcting. "From my grip to my stance to my backswing — you name it."
Felsing came from a baseball background. Swinging a baseball bat couldn't be more different than swinging a golf club. The two approaches are very incompatible.
Felsing had some bad habits to break and Carson completely revamped his game from the ground up.
"She really helped me understand what actually goes into the golf swing and how to be a lot more consistent at it," Felsing said. "Honestly, with golf, that's the biggest thing that it comes down to — consistency. It's really not how good is your best, it's how good is your worst on that day."
Felsing has had some pretty good days recently.
Last year as a junior, he took a four-stroke lead into the second round of the District 9 Class 2A championships at Pennhills Club and fired a final-round 78 to secure the crown.
Felsing has come a long way from where he was even a few years ago.
"I always take videos of my swing. You never really realize the progress and how much you're improving over the years until you go through your camera roll and look at your swing from just a year ago," Felsing said. "It actually looks different, even though it doesn't feel different. It's always just a gradual change with golf. I think we tried bigger swing changes in the past and it doesn't work out. It's better to take one piece and get that perfect, then move to the next piece."
The next piece Felsing wants is another D9 championship.
He wasn't able to get on the course as much as he would have liked this summer, but he has recently found more time to fine tune to game.
"I'm really excited. I've started picking up practice a lot here in the past couple of weeks — it was hard with things and just life," Felsing said. "I'm feeling like I'm finding my game again and I'll be really good here when the season starts."
Felsing has always been a big hitter off the tee. His drives top out at around 330 yards.
He feasts on par-5s — he's always hunting for birdies with his advantage from the tee box.
But last year, especially during the D9 tournament, his short game propelled him to the title.
That's also something Felsing is constantly working on.
"I have this 100-yard area in by backyard," Felsing said. "I'll get a couple of balls at 10, 20, 30, 40 yards and work my way back."
The Moniteau boys golf team has a large roster this season with 18 players signed up.
Felsing said he tries to give out his own lessons whenever possible.
"A lot of the time, it's an issue with their grip," Felsing said. "Grip is 90% of the problem if it's not correct. Grip is usually what causes the ball to go left or right. That's usually what newer players have an issue with, so I'll tell them to make their grip a little bit stronger or maybe flatten out their palm and move their fingers a little more one way or another. When they get their grip good, the results come."
Felsing is hoping for better results at the state tournament this year.
He struggled mightily at Heritage Hills Golf Resort in York last October while playing in some tough weather conditions.
"When I got out there, our practice round was in the basically middle of a monsoon," Felsing said. "It was a torrential downpour. Then the day of the match, the winds were like a hurricane. They were probably 45 to 50 mph. There was a kid in our group who probably lost his hat twice a hole. For golf, it was probably as bad as you could get. It was horrible. It was brutal."
But it was also motivational.
Felsing is hopeful a return trip to the PIAA championships, which will be held this year at Penn State, will be different.
"It was a huge experience to go and get the feel for everything," Felsing said. "They always have a camera crew and that takes getting used to, and the first time going out there with the big dogs, there's a lot of pressure to go out there and perform. It was good for me to go out there and get my feet wet and know what to expect. Hopefully I can go back against this year."