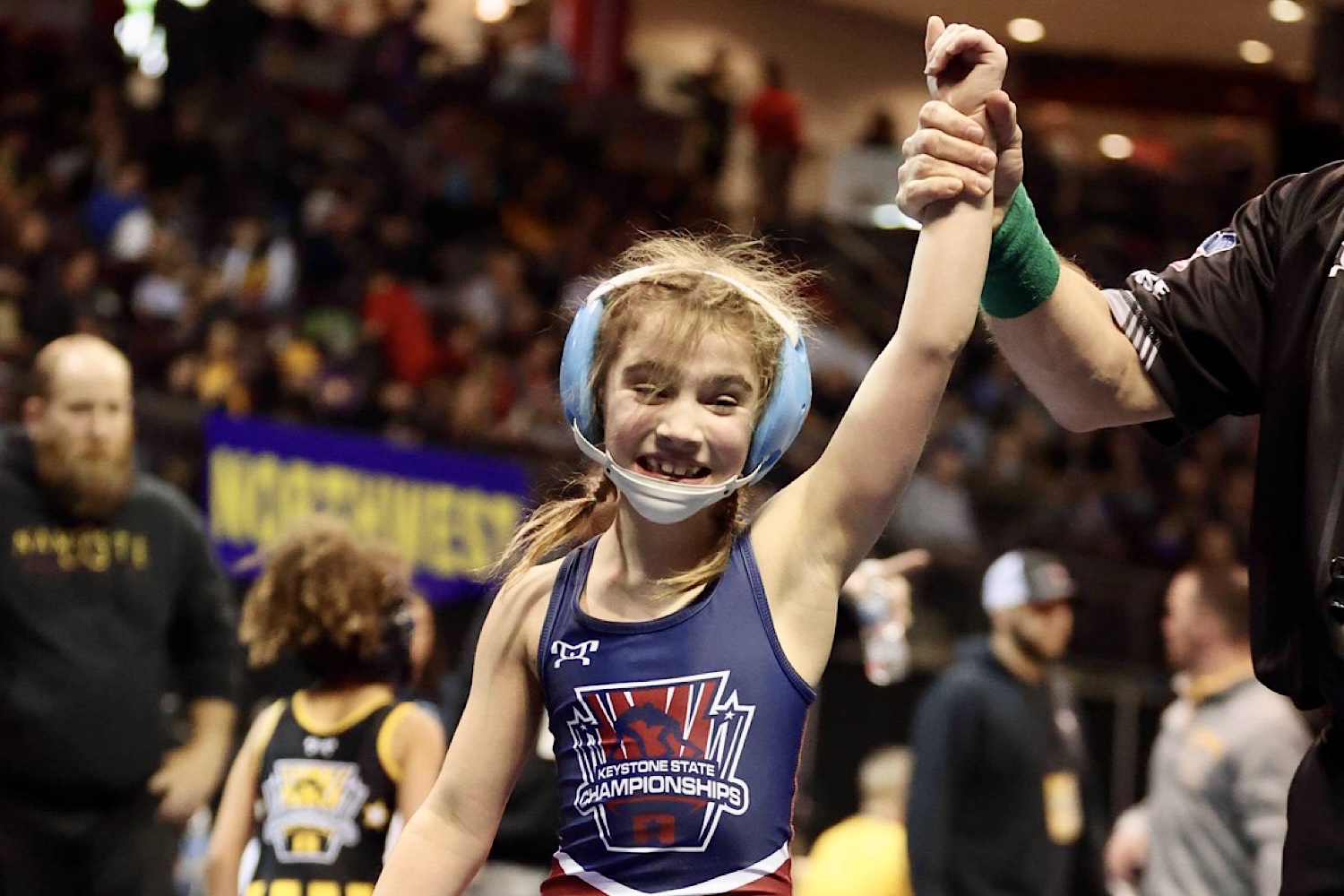 DuBOIS, Pa. (EYT/D9) — For Marley Dixon, every bead of sweat, every drip of blood, every tear is worth it.
Marley is a wrestler. Through and through. The eight-year-old from DuBois, who will be nine soon, has been grappling since she was six. Jujutsu since she was about five.
Her father, Brandon Dixon, wrestled at DuBois and is still passionate about the sport. He passed on that love to Marley.
"It's really fun," Marley said. "(My dad) is always there for me."
(Pictured above, DuBois' Marley Dixon is all smiles after she won the 55-pound, 8-and-under girls title bout at the Keystone State Championships on March 19/submitted photo)
Marley's star has risen precipitously in the sport in two short years.
Last spring, she competed in the Keystone State Championships and finished second in the 8-and-under 50-pound class.
She was also third at the Pennsylvania Junior Wrestling Youth State Championships.
Marley was not satisfied. She quickly got back to work on the mat to make sure that didn't happen again.
The only thing that would satisfy her was to stand on top of the podium.
"It was a big bummer, but I think it inspired her," said Marley's mother, Samantha Harris. "She's on a mission, that's for sure."
The first part of that mission was a success at the Keystone State Championships this past weekend at the Kovalchick Center on the campus of Indiana (Pa.) University.
Marley tore through the 8-and-under 55-pound bracket with 2-0 and 7-0 victories, then survived a battle in the championship bout against Danika Clemons of Valley for a 7-6 win in overtime.
Marley was almost pinned in the third period, but persevered.
"I've been working hard and I had a really good experience," she said of winning the tournament. "I made a big jump from last year. I feel like I practiced more and I thought more about wrestling, which helped me win."
"I just think she was kind of a little bit in disbelief that she actually did it," Harris said. "It was her goal since she took second last year. She wanted to be first on Sunday, so she did it."
Marley, who is a student in the DuBois Central Catholic system, said jujutsu helped prepare her for life on the wrestling mat.
Marley is still taking lessons in Brazilian jujutsu, which is one of the most difficult of the martial arts to master. Some of the moves are similar to wrestling.
"There's little things that I can do in wrestling," she said. "I learned the ankle pick before I could in wrestling and that helped me learn a lot."
Brandon and Samantha Harris decided to let their daughter give jujutsu a try when she was young with no expectation about whether she would continue to do it or not.
Turns out, Marley loved it — and was a natural.
Wrestling was the logical next step and Marley took to that sport as well.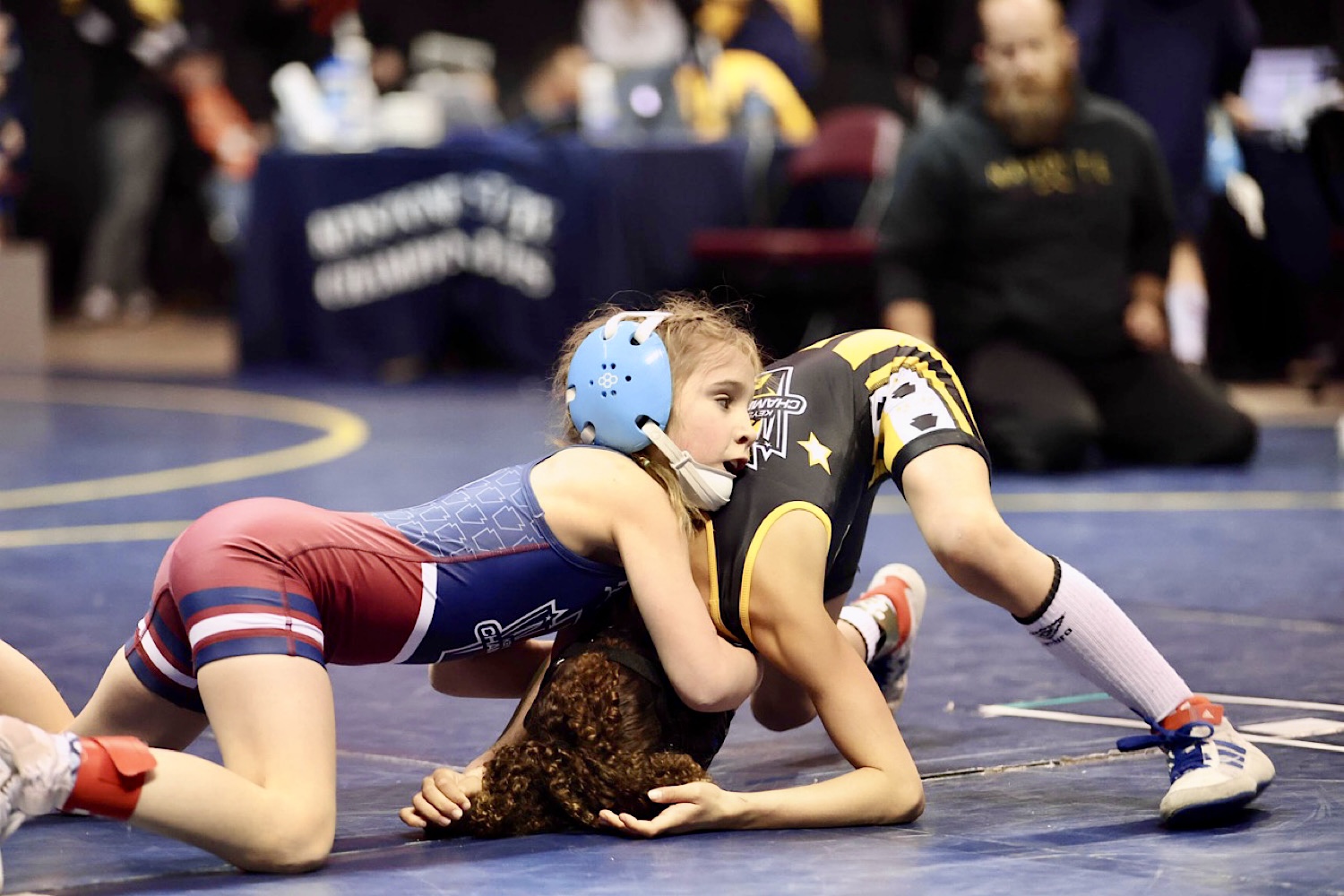 (Marley Dixon wrestles Danika Clemons during the title bout/submitted photo)
"She just fell in love with it," Harris said.
It was also something Marley and her father could share.
"Her dad was always a really good wrestler," Harris said. "He always used to talk about how girls wrestling is exploding and getting bigger and bigger, so he had always hoped that she would wrestle some day. I think his influence is probably the biggest one.
"Nobody supports or loves her more than him," she added. "He's her biggest fan."
Marley is a wrestling junky these days.
She practices three days a week at Mat Hog Wrestling and Conditioning in Punxsutawney. She also goes to the Young Guns Wrestling Club in Ebensburg to train on the weekends when she can.
"She definitely has a lot of coaches and a lot of support," Harris said. "It's a year-round thing. We don't stop."
Marley doesn't want to stop.
Sure, she has other interests. She plays softball. She takes piano lessons, which she enjoys.
But wrestling is definitely Marley Dixon's thing. She has a wrestling room in her own basement. She wants to grapple for as long as possible, which may be easier now that girls wrestling is taking off across the country — and in Pennsylvania in particular.
It is now a sanctioned sport in Pennsylvania after the PIAA, the state's athletic governing body, reached its goal of 100 member schools with a girls wrestling program at the high school level.
"Back when we started there was only just a few schools and that number 100 seemed so far away," Harris said. "But here we are now and it's incredible."
No one is happier about that than Marley.
She wrestles her fair share of boys during the course of the year, but also squares off against an increasing number of girls.
"It's nice," Marley said. "It's nice to know that girls can get to wrestle more girls than boys because I think that's more fair."
Marley loves to win. She also loves to make friends in the wrestling community.
What keeps Marley coming back, though, is the struggle — all the sweat and the hard work and, yes, sometimes tears, and how it has made her a stronger person at a very young age.
"It makes you mentally tougher and physically tougher," she said. "That's what I like about it."