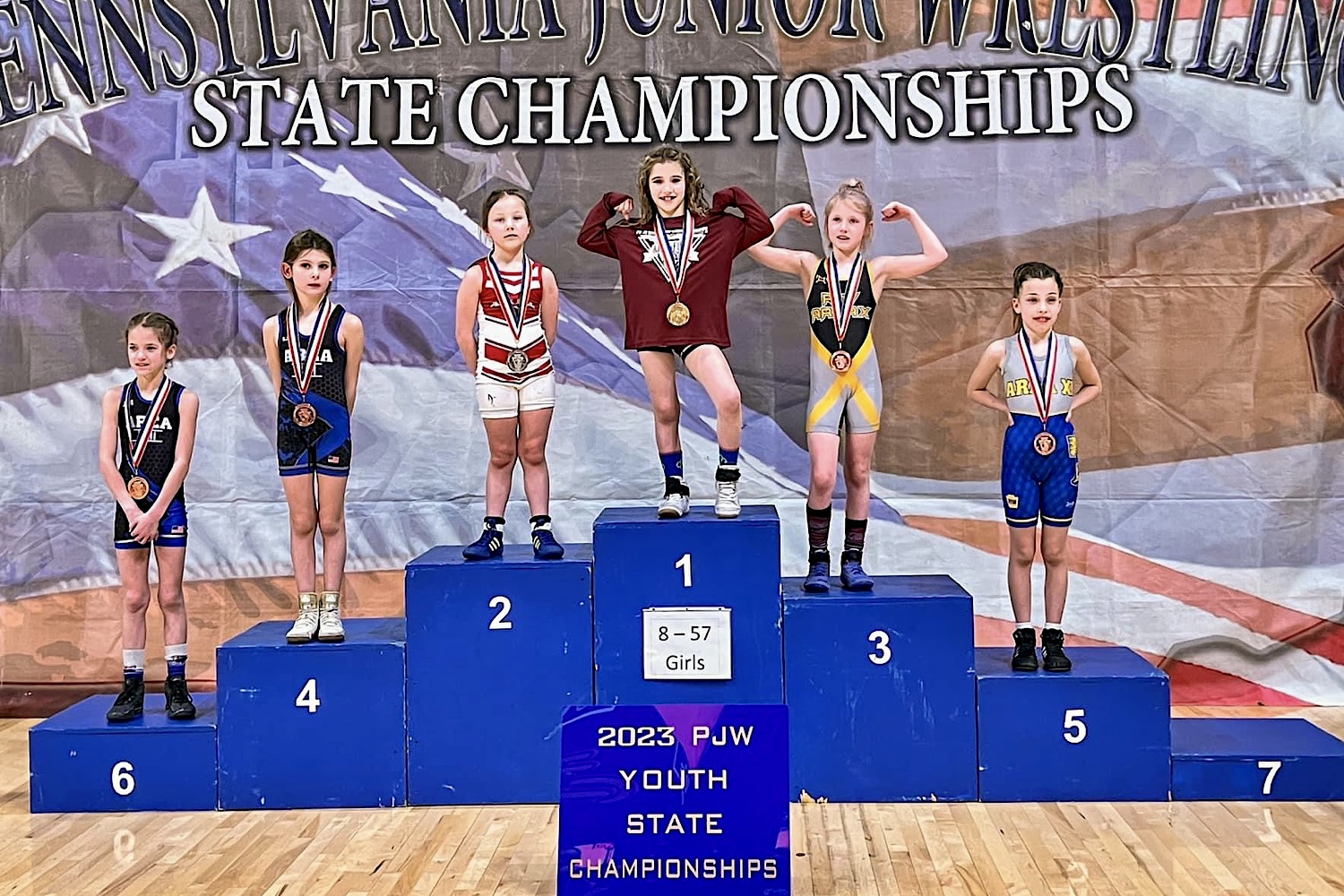 PITTSBURGH, Pa. (EYT/D9) — As birthday presents go, this was a pretty special one.
On her final day of being an eight-year-old, Marley Dixon stepped onto the mat at the Pennsylvania Junior Wrestling Youth State Championships and ripped through the 57-pound bracket on the way to a gold medal in the 8-and-under girls tournament on Sunday.
(Pictured above, Marley Dixon, 8, for DuBois, flexes on top of the podium after winning the 8-and-under girls 57-pound title at the PJW Youth Championships on Sunday/submitted photos)
It was the DuBois native's second state title in seven days.
She won the 8-and-under 55-pound title at the Keystone State Championships last weekend.
"It feels really exciting," Marley said. "A lot was going through my head. I have to thank my coaches."
Marley received a bye into the quarterfinals, where she pinned Harper Downey of Avella in just 28 seconds.
She then cruised to a 6-3 victory over Jocelyn Hack of Hughesville in the semifinals before controlling Harper Humphries of McGuffey, 4-0, in the finals to make her way back to the top of a podium.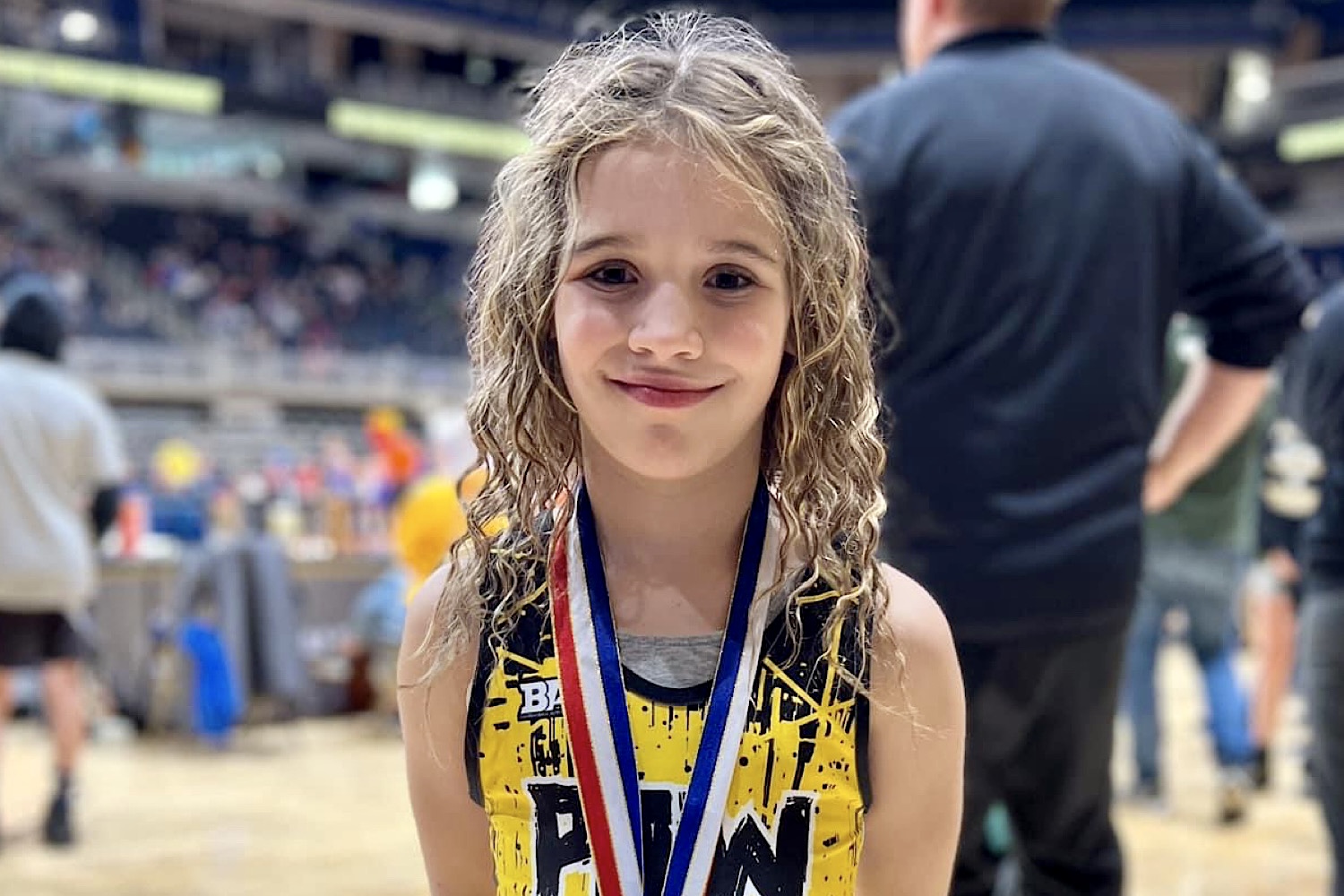 Marley, who is a student in the DuBois Central Catholic system and trains mostly at Mat Hog Wrestling and Conditioning in Punxsutawney, was wrestling in a slightly different weight class this time around at the Petersen Events Center on the University of Pittsburgh campus.
Most of the wrestlers in her bracket were bigger than Marley and none were the same as the ones she squared off against at the Keystone State Championships last weekend.
It presented a different kind of challenge for Marley.
"I was a little nervous, but I was excited," she said. "I think this one kinda means more (than Keystone) because most of my team was there."
"The PJW is kind of known as the state championship," said Marley's mother, Samantha Harris. "Last week she was 55 pounds and this week she was 57. That doesn't sound like a big difference, but they were bigger girls. Nothing was the same. In wrestling at this weight, two pounds is a big deal."
Marley took it all in stride.
Last year, she was third at the PJW youth state championships and second at Keystone.
That didn't sit well with the competitive Marley, who began jujutsu when she was just five and started hitting the wrestling mat just two years ago.
Her goal ever since those two mild disappointments last year was to make sure no one beat her again.
Success and success.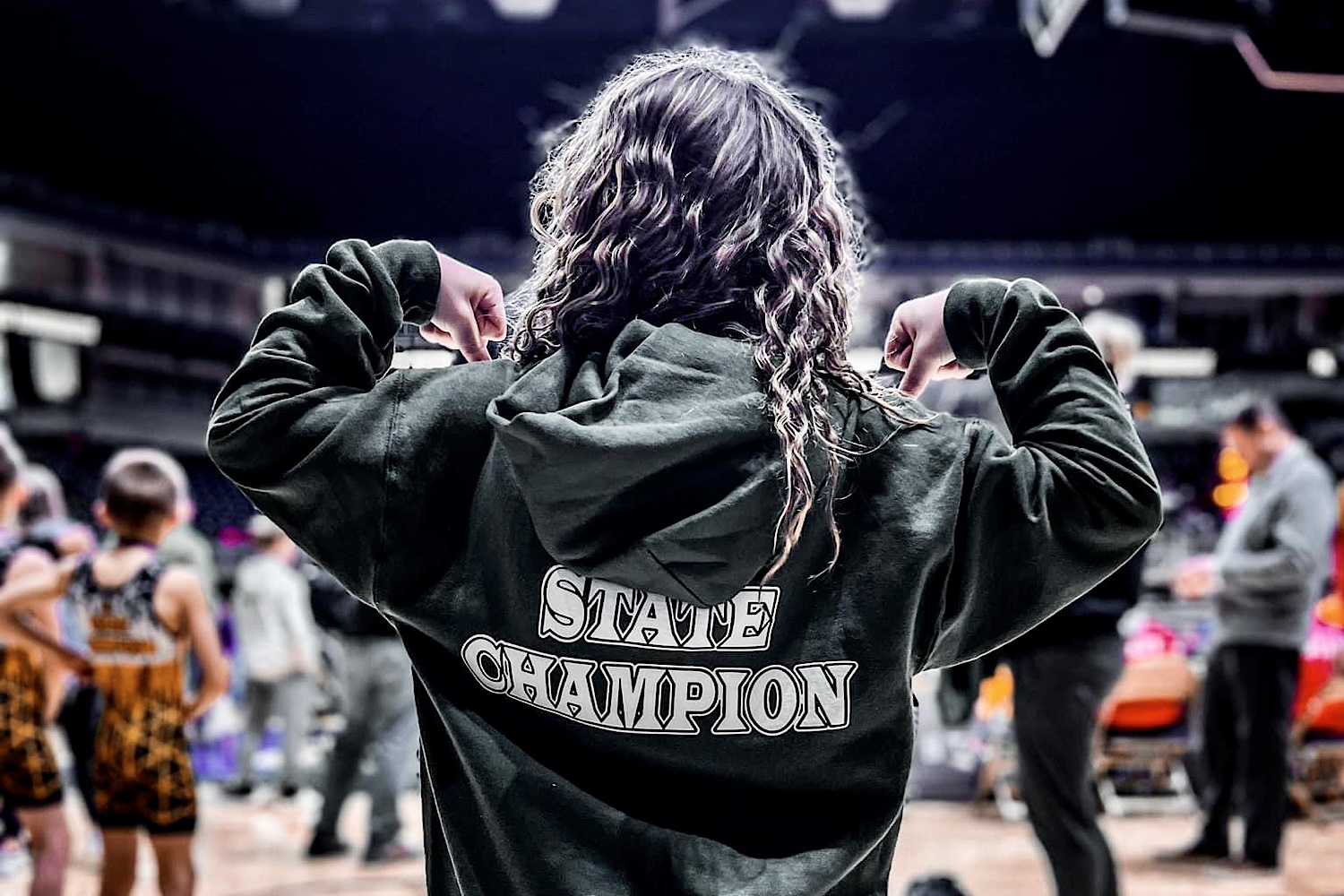 Now, she'll have a different kind of challenge as she turns nine on Monday.
New bracket. New weight classes. New challenges.
No worries. She's up for anything.
But, for now, Marley will just enjoy her birthday.
She's earned an extra piece of cake to two.
"We'll worry about defending another day," Harris said, chuckling. "We'll worry about that when the time comes."