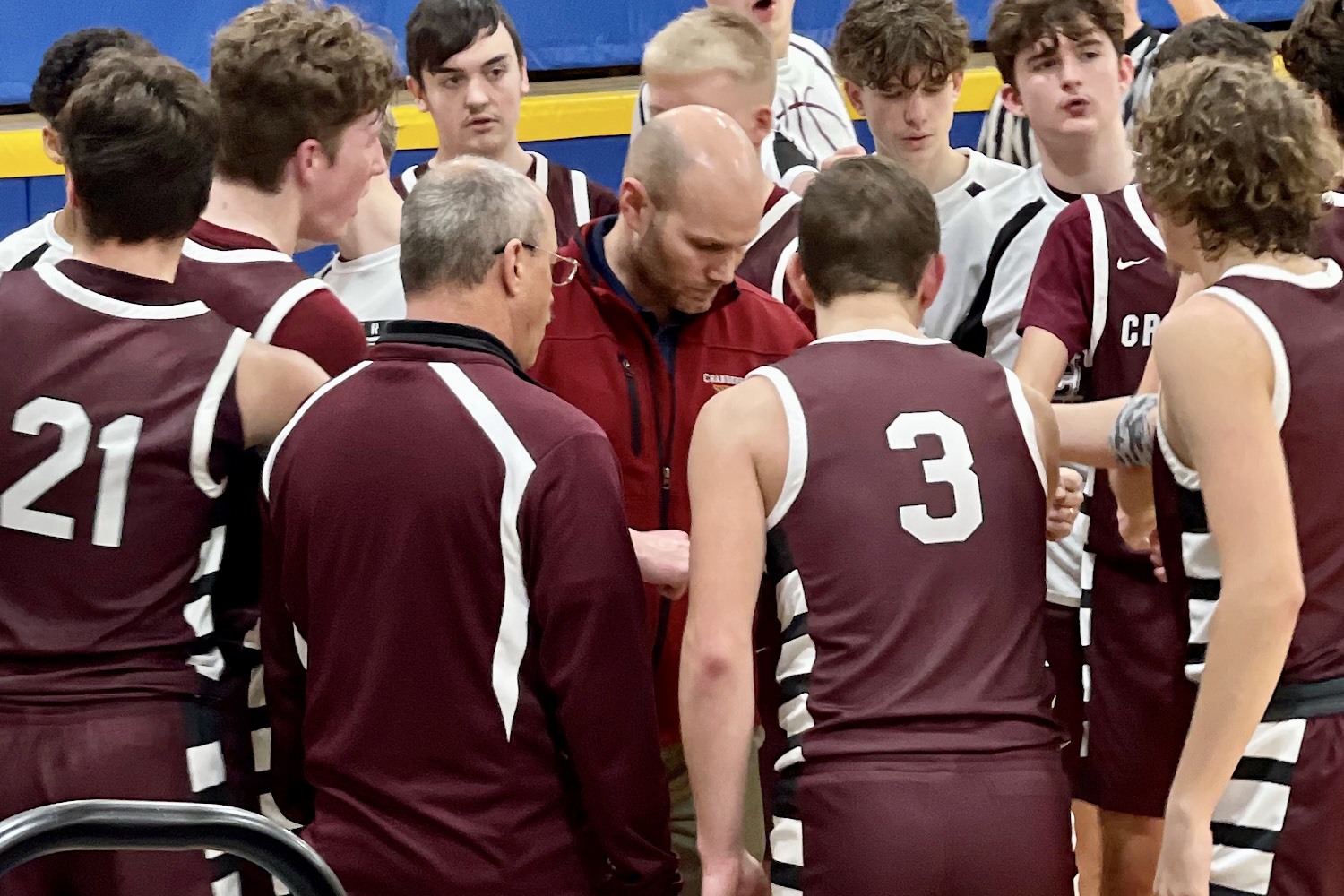 RIMERSBURG, Pa. (EYT/D9) — Early, the Cranberry boys basketball team could do no wrong.
Every shot was falling. Every loose ball belonged to the Berries. Every turnover by Union turned into points at the other end.
(Pictured above, Cranberry coach Patrick Irwin talks to his team during a timeout)
A first-quarter flurry produced a 22-9 lead for Cranberry on the road, a night after taking a few lumps in a loss to North Clarion.
That lead got as big as 20 points in the third quarter and the Berries held off a final charge by Union for a 68-55 win on Thursday night.
"We were coming off a tough game last night against North Clarion and this was certainly a gut check for these guys," said Cranberry coach Patrick Irwin. "They came out firing on all cylinders."
Cranberry Area High School sports coverage on Explore and D9Sports.com is brought to you by Redbank Chevrolet and DuBrook.
Cranberry (4-8) got off to a rough start this season, losing six of its first seven.
But recently, things have started to come together with wins in four of the last six.
Including a character-building triumph against Union.
"We certainly feel as though we can compete with a lot of teams and we've shown glimpses," Irwin said. "We just haven't been able to put together four quarters and tonight's been the closest thing this season."
The first half was nearly flawless for Cranberry.
Colin Zerbe scored 11 of his 13 points in the first eight minutes as the Berries were a scintillating 10-of-12 shooting in the first quarter.
Union made a big run at the lead in the third quarter, cutting a 20-point advantage in half to 10 at 51-41 early in the fourth.
But the Golden Knight spent so much energy whittling away at the lead, they couldn't sustain it. Three trip down the floor produced points for Cranberry and the lead was back to 15.
"They have a really good team," said Union coach Eric Mortimer. "I knew they were getting better and better and better. I told the boys the other night that everybody else in on the rise and we've sort of hit a plateau.
"I really thought when we made a run there, we were going to do it," Mortimer added. "Then we just got our feet stuck in the sand again."
While Cranberry has played well of late, Union (6-5) has struggled, dropping three in a row.
Poor shooting has been one of the culprits — the Golden Knights were were just 27 percent from the field against Cranberry.
Meanwhile the Berries shot a torrid 61 percent.
"What really hurt us was defense," Mortimer said. "We gave up a lot of layups."
While Zerbe shined in the first half for Cranberry, Noel Bunyak and Devin Zerbe did the heavy lifting over the final two quarters.
Bunyak scored all 16 of his points after halftime, including 12 in the fourth. Devin Zerbe made some big free throws in the final frame and scored five of his 11 points in the quarter.
"Colin shot very well in the first quarter and Noel is very slippery," Irwin said. "He's very, very slippery around the rum and finishes well off balance. He had one of his better games tonight."
Ethan Merryman also reached double figures for Cranberry with 13.
Dawson Camper led Union with 14 points and eight rebounds. Zander Laughlin added 12 and Trey Fleming 11.
Mortimer hopes his team can crawl out of its funk.
Meanwhile, Irwin is banking on his team continuing their upward trend.
The Berries will be tested with a key showdown at home against Clarion on Tuesday.
"We've got a few days off now," Irwin said. "I was just really proud of the effort the the boys showed, especially coming off a tough, emotional, physical loss last night."
Cranberry Area High School sports coverage on Explore and D9Sports.com is brought to you by Redbank Chevrolet and DuBrook.