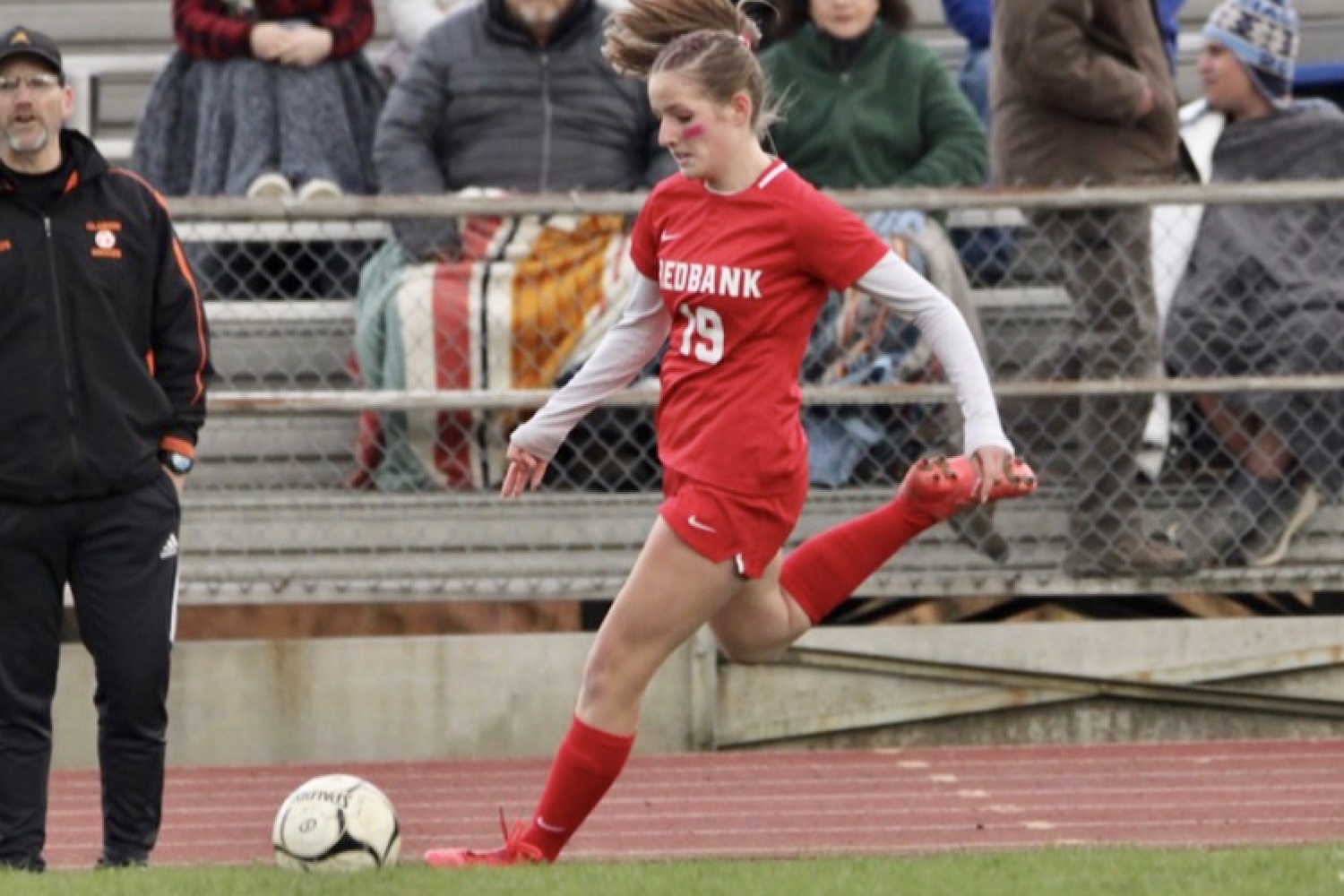 NEW BETHLEHEM, Pa. (EYT/D9) — Lia Hageter scored the game-winning goal in overtime to cap a huge night for the Redbank Valley sophomore in a wild 4-3 win over Clarion on Tuesday afternoon.
(Pictured above, Redbank Valley's Lia Hageter in a match last season versus Clarion)
Hageter scored all four goals for the Bulldogs in the victory.
Bella Orr assisted on two of Hageter's goals.
Alex Leadbetter, Lexi Coull and JJ Wilson scored for Clarion.
KARNS CITY 6, ST. MARYS 0
Hanna Dailey had two goals and two assists and Bree O'Donnell also scored a pair of goals as Karns City rolled to a 6-0 win over St. Marys.
Phoebe Brandon also found the back of the net and handed out an assists for the Gremlins.
Sarah Dodd also scored a goal.
Aubrey Price and Isabella Shields also had assists for Karns City.
BOYS SOCCER
Isaac Lerch stopped 17 shots to helped preserve a 3-2 win for Clarion-Limestone over Redbank Valley.
Thomas Uckert helped provide the offense while Lerch was preventing it at the other end of the pitch. Uckert scored a goal and handed out two assists in the win.
Wyatt Boyden and Brenden Bettwy also scored for the Lions.
VOLLEYBALL
Marissa Pry turned in a monster match with 14 kills and Abbey Jewart provided 18 assists and three aces as the Moniteau volleyball team downed Karns City, 25-10, 24-26 25-15, 25-19.
Sydney Bayless also shined for the Warriors with four kills, three aces and six blocks.
Bella Hernandez pitched in a pair of kills and aces and five blocks for Moniteau, which came up huge at the net all evening.
Ava Fox also had 14 kills for Karns City. She added 11 digs as well.
Kendall Ritzert chipped in 14 assists and five digs, Cayley Craig six kills and three digs, Nicole Taylor 14 digs and Ashley Mauer 11 assists and five digs for the Gremlins.
REDBANK VALLEY 3, FOREST 0
Izzy Bond and Taylor Ripple each had eight kills and Elaine Carrico had 16 assists for the Bulldogs in a 25-6, 25-7, 25-10 sweep of the Fires.
Mylee Harmon added five kills for Redbank Valley
CORRY 3, CLARION 0
Hadlee Campbell put up eight kills for Clarion in a 25-22, 25-20, 25-22 loss.
Campbell also had 13 digs for the Bobcats.
Marley Kline pitched in four kills and Taylor Alston had 10 assists for Clarion.