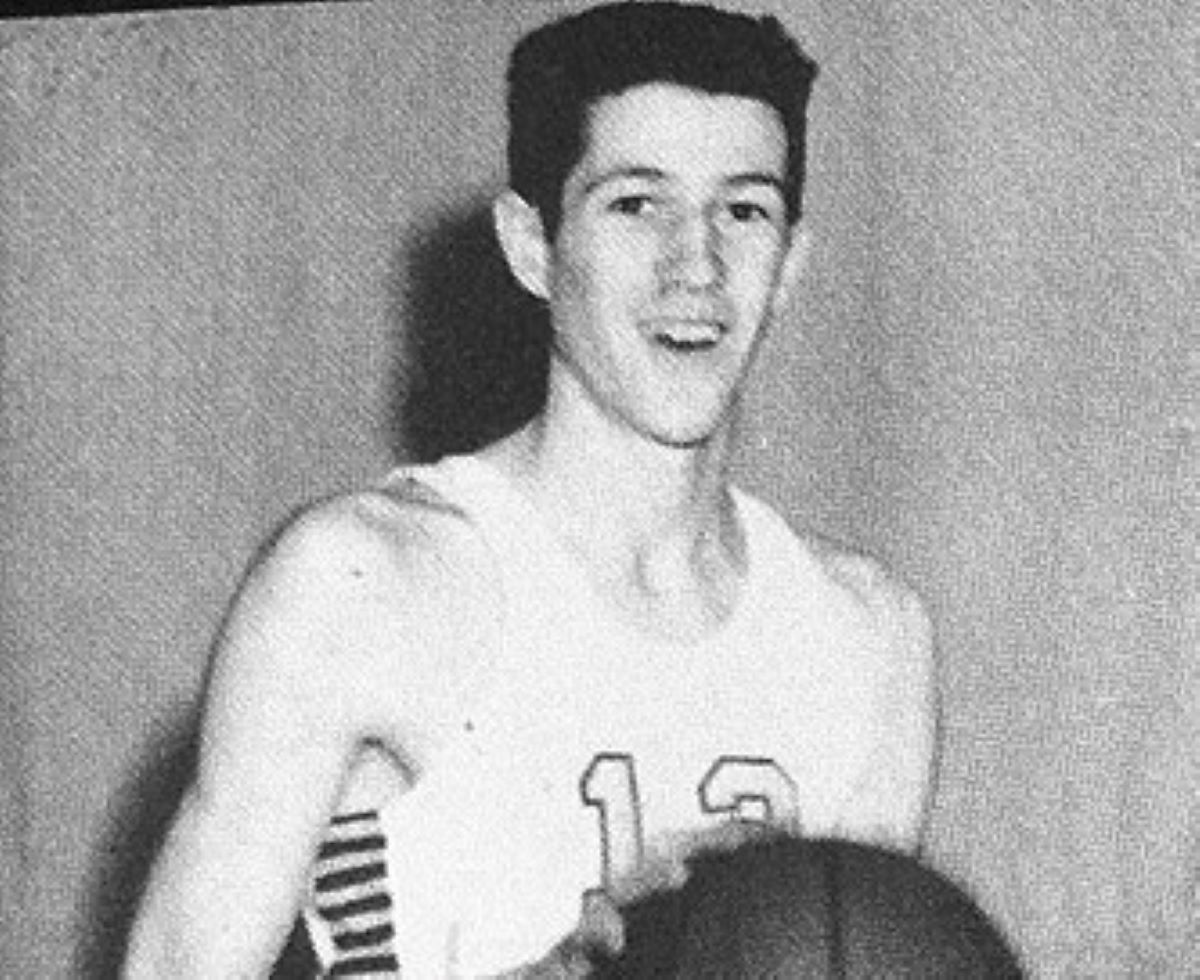 STRATTANVILLE, Pa. – The late 1950s and 60s were a different time in the United States.
(Photo of Don Rhoades from his high-school playing days at C-L. Photo from the C-L yearbook)
Citizens were divided in their opinions of the Vietnam War. Civil Rights protests and court cases were sweeping the nation, Elvis was the hottest young stud in entertainment, and Wilt Chamberlain was in his prime.
A lot of history was being made around that time, and it was no different here in District 9.
A young man by the name of Don Rhoades, a varsity basketball player and track star for Clarion-Limestone, was making a little history of his own in becoming one of the first players in District 9 history to score 1,000 points.
Upon his graduation in 1962, Rhoades compiled 1,478 points over his 71-game career good for an average of just under 21 points per game. Considering this was a time before the 3-point line and a lot of other developments in the game, this was quite a feat.
Rhoades was a very accomplished athlete. In addition to the aforementioned information, Rhoades set the C-L single-season record for points at 619 in his junior season, the same season that he and his team were able to capture a District 9 Championship over Sheffield.
The previous year, he had broken the same record with 372 points. That record still stands to this day.
Beyond basketball, Rhoades was also a very accomplished track and field athlete. He holds the Clarion-Limestone record in the high jump at 6-feet, 1 ½-inches. He won three state medals in the 4-by-400, pole vault and high jump, respectively.
At Clarion State College (now Clarion University), he was the team MVP in track his junior season.
Rhoades' athletic journey goes beyond the surface.
Regarding basketball, Rhoades recalls starting out when his elementary school physical education teacher would run drills with Don and his classmates. From then on, he was hooked.
All the way through his basketball career, Rhoades would constantly work to get better, particularly in the shooting department.
"I would take 1,000 shots per day on top of those drills and practices," Rhoades said.
After working his way up through his junior high squads, Rhoades would go on to start for the junior varsity team during his ninth grade year, a rare feat at the time.
He immediately made an impact on the varsity team in his sophomore campaign starting right away and leading the team in scoring nightly. This was the same year he originally broke the single-season record for scoring for the Lions.
Of course, he would shatter that record a year later and win a D9 Championship and Clarion County title, but Rhoades' story goes even deeper than basketball.
Rhoades grew up in a one-parent household with his mother Velma, who would work tirelessly to support Don and his aspirations. And his aspirations largely lied in athletics and his schoolwork, as evidenced by his educational experience.
Don has a Masters degree in Athletics from Slippery Rock University, a Masters in Counseling from Indiana University of Pennsylvania, and a Ph.D. in counseling from the University of Pittsburgh. Of course, for Don and like many other, athletics and academics were intertwined.
"Sports were big because you had to keep your grades up and vice versa…[the balance of the two] kept me on the straight and narrow," Rhoades stated. "Sports and academics drove me onward."
Also, because he did not have a father in the house, sports served a whole new purpose for Rhoades.
He describes his coaches as "father figures" to him, especially one Ed Metcalf, Rhoades' head coach and physical education teacher at Clarion-Limestone. He also acknowledges Gary Smith, former assistant basketball coach, and Ed Ganoe as huge contributors to his varsity success.
He especially remembers Ganoe
"I got my skyhook from Ganoe, and from watching Wilt Chamberlain and Bill Russell," Rhoades said.
Needless to say, Rhoades had a lot of success and made memories in varsity athletics, but it is what he has done since that time that he is most proud of and what truly defines his character.
Rhoades has been very active in the Clarion-Limestone and surrounding communities. Upon finishing his post-secondary education, Rhoades went on to teach classes at his alma mater for 30-plus years. He has put his counseling degrees to good use, as to this day he will conduct pro-bono counseling to struggling single mothers both in a financial and psychological sense.
In addition, he has helped build up the athletic programs at both his alma maters.
For about four years, he was a coach for the Clarion University track and field team. Additionally, he coached the cross country, football and basketball teams at Clarion-Limestone.
But perhaps his biggest accomplishment, at least the one he discussed the most, was helping start the Clarion-Limestone football program in the late 1960s. As the Adult Booster Club President, he assisted Ernest Johnson, then president of the school board, and the rest of the board in raising $10,000.00 to fund the program and help mitigate the risk of injury for the athletes, which was one of the main concerns of the six-month process, according to Rhoades.
"In the fall of 1969, we started practicing and going to scrimmages," Rhoades said. "Then, in 1970, we played our first season as a JV team. Now, all these years later, we are coming up on the 50th anniversary. Wow!"
A lot has changed since Rhoades' time as a varsity athlete, especially the game of basketball.
New rules are in place, the 3-point line is now as relevant as it has ever been, and the players have changed too.
"It seems to be more about the individual now," Rhoades said. "It was more about the team back in my day."
Not only that, but the women's game is taking off, something that wasn't the case when Rhoades was in high school.
"I think it is great that women are playing the game now and with what they have been able to accomplish," Rhoades said.
Through all of his years on this Earth, Don has developed a passion for everything he does and learned some valuable life lessons along the way.
In reflecting on his upbringing, Rhoades commented, "Hope for the best but be ready for the worst."
What this essentially points to is keeping an open mind to whatever life brings. In closing his interview, he touched on how he has been able to live a full life, with a focus on balance.
"Life is like a baseball diamond," Rhoades said. "You have to touch all the bases, those being physical fitness, mental fitness, emotional fitness and spiritual fitness to be well rounded."
Rhoades still lives in the Clarion area and is happily retired. He and his late wife, Debbie, raised two sons, Donald II and David, who both graduated from Penn State Behrend.