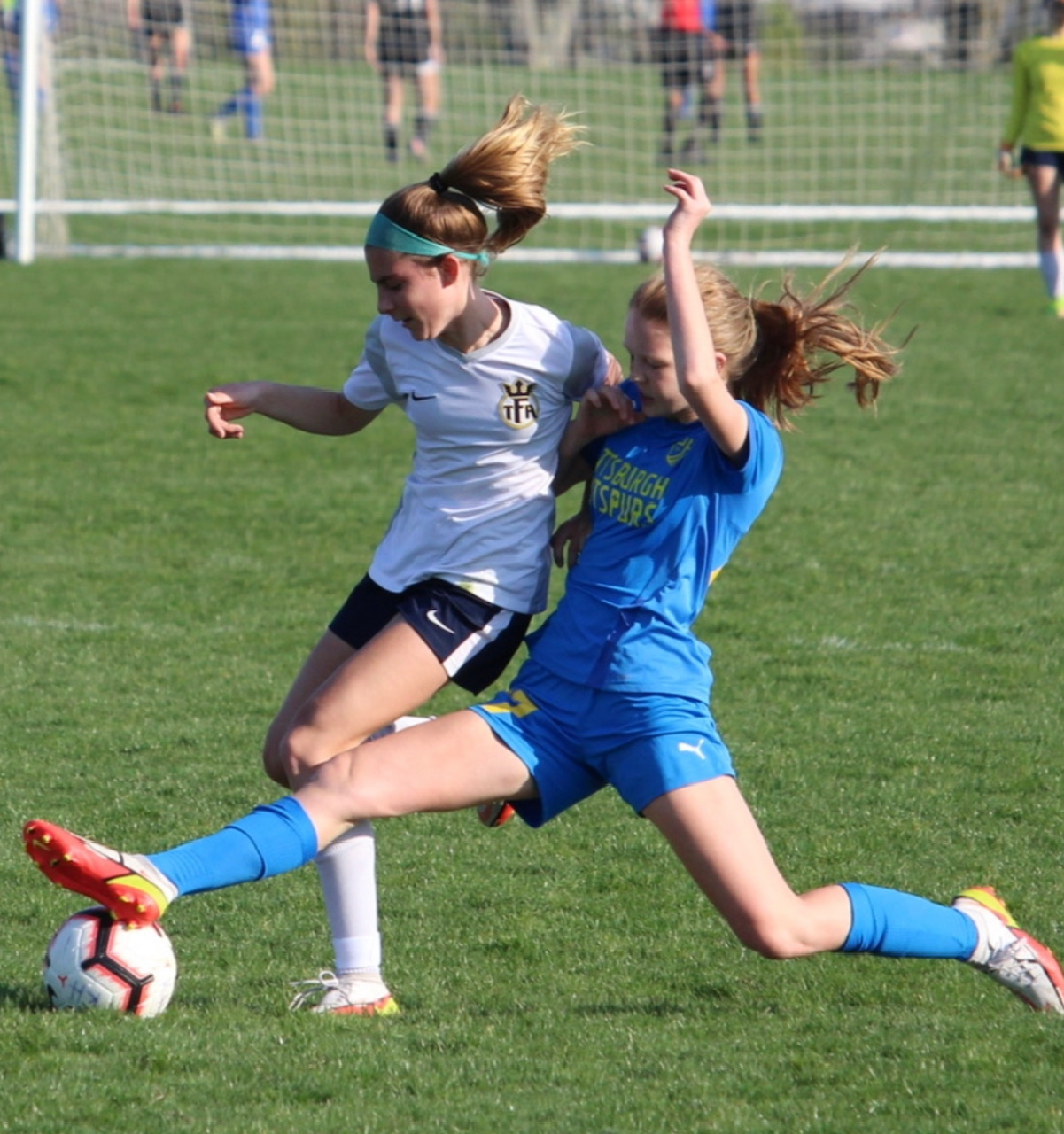 EAST BRADY, Pa. (EYT/D9) — Hanna Dailey played soccer in a unique environment in junior high.
The East Brady native and incoming freshman at Karns City did battle on the pitch on a co-ed soccer team.
(Above, Hanna Dailey, left, makes a tackle during a club soccer game/submitted photo)
There were more girls on the roster, but Dailey found herself routinely squaring off against boys.
"I think playing against the boys has helped," Dailey said. "Us girls get into more of the physicality of soccer. The boys are usually a little faster and stronger than the girls and you have to react and adjust to it to make quicker decision and play up to that level."
Dailey is certainly ready to roll for a Karns City team that has enjoyed a great deal of success over the years.
The Gremlins have won District 9 championships in nine of the last 10 years, including a thrilling 3-2 overtime win over Clearfield last year. Karns City then took District 7 power North Catholic to the brink in the first round of the PIAA Class 2A playoffs before falling, 2-1.
This version of the Karns City girls soccer team will have two distinct poles. There are 12 seniors and 12 freshmen on the roster.
Hanna is one of the freshmen.
Her sister, Emma, is one of the seniors.
For years, both have looked forward to this year — a chance to play with their sibling.
"I'm really excited to play with her," Hanna said of Emma. "I've wanted to play with her throughout my years of soccer and I think this year we're going to do really well and have a strong team."
Hanna has already shown her scoring punch at attacking midfield. She had a hat trick recently in a PA West tournament semifinal game.
She should add to an already potent offense, led by seniors McKenna Martin and Emma Dailey.
Hanna is also a basketball player and will be teammates again with Emma this winter.
Their mother, Tracy Dailey, is the girls soccer coach at Karns City.
Hanna's big strengths on the soccer field are her height and quickness.
"As an athlete, I think I have a good build — I'm pretty tall," Hanna said. "My height really helps me and my long legs."
THE DAILEY FILE
NAME: Hanna Dailey
YEAR: Freshman
SPORTS: Soccer and basketball
Q: What's the most valuable less you've learned playing sports?
A: You can't do something by yourself. It's a team effort and you're playing with your team and for your team. You're not just playing for yourself, but you're playing for everyone else on the field with you.
Q: What do you do to handle a loss?
A: It's not easy for me because I think sometimes I let myself down. I'm really competitive and I always feel like I can do better. But a loss is just a learning experience. You have to learn from your mistakes and take that into consideration when you prepare for the next game.
Q: Who is your biggest sports role model and why?
A: Oh, wow. That's a hard one. I think it has to be Carli Lloyd because she's accomplished so much. She was a professional soccer player — she's retired now. She's a great role model because she always worked hard and never gave up.
Q: What did you learn from watching her?
A: I learned that the pace of the game — you always have to be quick on your toes. You always have to be moving into different spaces and opening up options. You're not always gonna get the ball, but whenever you don't have the ball, you can work off of it and help your team succeed.
Q: What's your biggest goals in sports?
A: I definitely want to accomplish being a starter as a freshman. That's my No. 1. Then having some goals and assists under my belt and just being a great teammate.
Q: What's something people would be surprised to know about you?
A: I was born in Charleston, S.C. A lot of people don't know that about me. They think I was born around here, but I've always been a southern girl.