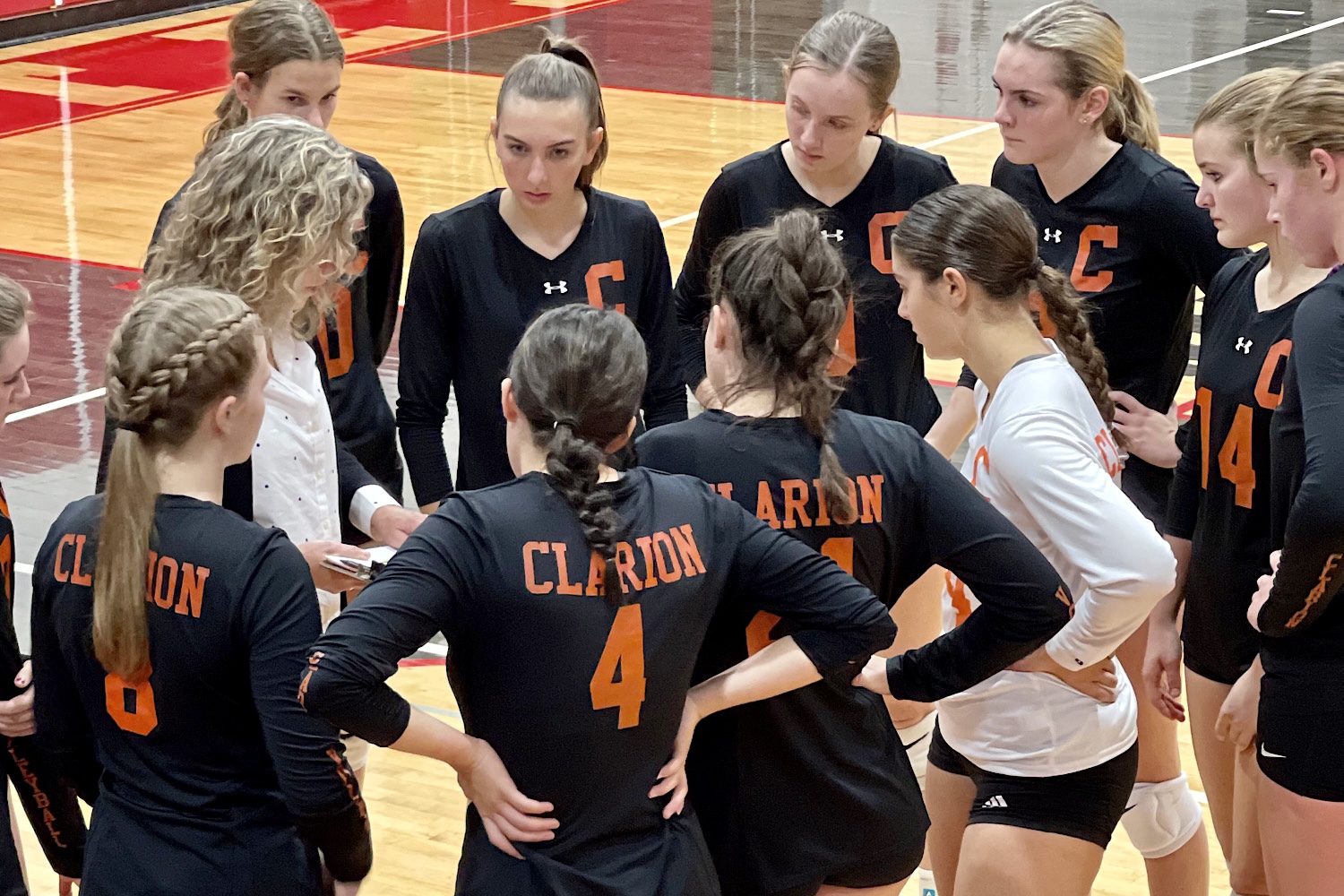 WEST SUNBURY, Pa. (EYT/D9) — Taylor Alston values her versatility.
It's being put to the test so far this season.
(Pictured above, Clarion coach Shari Campbell talks with her team before a match against Moniteau)
In the past, the senior on the Clarion volleyball team has shown she can excel pretty much anywhere on the court — serving, digging, setting and even on the attack.
But on Tuesday night at Moniteau, Alston was asked to play outside hitter, a position she had only manned twice in her career.
An injury to junior standout Hadlee Campbell necessitated that someone step into the breach. Alston gladly did.
"Yeah, I've only played the outside position twice so far," Alston said, grinning. "We're really switching up our lineup, finding what works for us. Hadlee's really helped me out. It's good to see all the younger girls step up in positions like Alivia (Diehl), who played the outside in the last set. It's good to see everybody being able to take swings, and not just a couple people."
Clarion Area High School sports coverage on Explore and D9Sports.com is brought to you by Redbank Chevrolet and DuBrook.
Alston led the Bobcats with 10 kills to help Clarion to the 25-14, 25-20, 25-16 sweep of Moniteau.
With Alston leading the way, Clarion was balanced on the attack with five players posting kills.
Alicyn Burford pitched in seven kills, Diehl four and Marley Kline three to go with five blocks.
The waves of attack wore down Moniteau, which played well in spurts — but those spurts were far too fleeting for the Warriors.
"It's that roller coaster again," said Moniteau coach Kaitlyn Loos. "Up and down, up and down."
Clarion has been mixing and matching all season with coach Shari Campbell substituting liberally. That didn't change against the Warriors.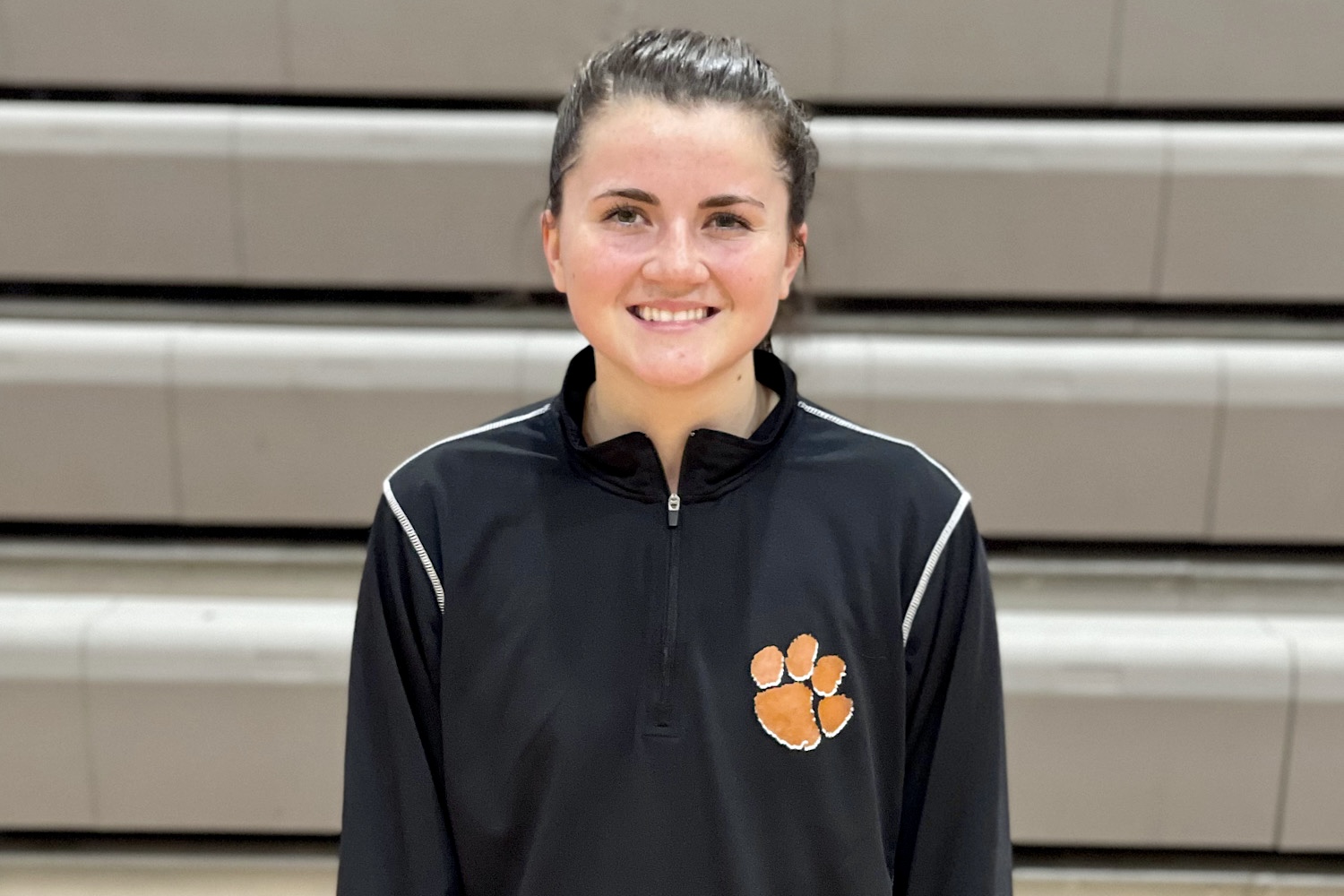 (Taylor Alston)
It seemed to be the right recipe of ingredients as Clarion pulled away late in both the first and second sets with healthy runs and then built a lead and cruised in the third set to earn another Keystone Shortway Athletic Conference victory.
It was the Bobcats' 63rd KSAC win in a row.
"I didn't let our girls watch them warm up because it just instantly gets in their head and they're like, 'Oh my gosh, it's Clarion,'" Loos said. "They have that mystique. They've always had that mystique.
"This is the best I've seen us play against them," Loos said. "I know we're capable of more than that."
The victory came despite Clarion missing two players.

Hadlee Campbell, the leader in kills for Clarion and off to a great start this season, was out after feeling pain in her right shoulder at practice on Friday. She decided to shut things down, hoping rest will do the trick.
It is unclear how long she will be out.
The Bobcats were also without Kelsey Best, who miss the match due to a concussion.
If Hadlee Campbell is out longterm, that will certainly put even more of the onus on Alston going forward.
She's the only senior on a young Bobcat roster.
"We're still figuring stuff out," Alston said. "But it's getting a lot better. I can be the one to make the change to help the team. I want to do that."
Shari Campbell was pleased with the way her team responded without two key contributors.
"They're really smart volleyball players," coach Campbell said. "I'm very proud of them for stepping up."
For Moniteau, there were positive signs again.
Davina Pry had five kills and three blocks, Marissa Pry three kills and four blocks and Allie Pry eight digs for the Warriors.
"We're struggling with sets right now and I think that's our biggest downfall," Loos said. "We've been working on them like crazy and tonight looked a lot better than it has."
Clarion Area High School sports coverage on Explore and D9Sports.com is brought to you by Redbank Chevrolet and DuBrook.