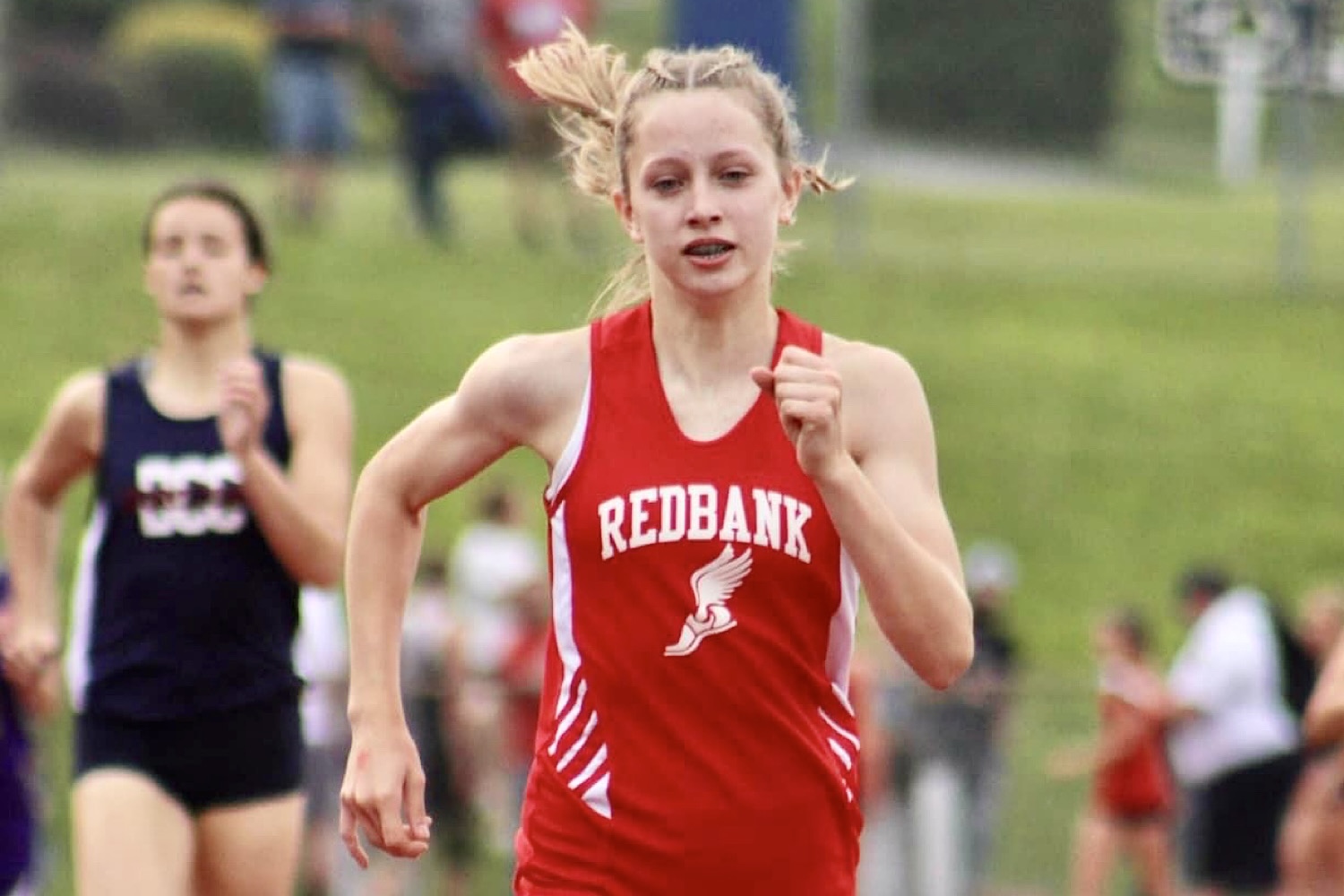 BROOKVILLE, Pa. (EYT/D9) — Pressure doesn't bother Mylee Harmon.
She feeds off it.
(Pictured above, Mylee Harmon runs during the District 9 championships last season/photo by Madison McFarland)
It has fueled the Redbank Valley sophomore on the basketball court and it has done the same on the track, where all eyes will be on Harmon on Friday at the District 9 Track and Field Championships at Brookville High School.
Harmon won three event there last year as a freshman. Then, she turned in one of the most electrifying 400-meter races in PIAA Track and Field Championships history, moving from fifth to first over the final 100 meters to win a state title.
"I've always had pressure on me," Harmon said. "I put pressure on myself, but I'm the type of person who doesn't crack under pressure. It makes me do better."
Harmon will again be chasing three individual titles on Friday.
She is seeded first in the 200-meter dash at 26.73 seconds and, of course, first in the 400 as the only runner with a sub-minute time at 59.60.
Last year, she won both events, finishing the 200 in 25.92 and the 400 in a blistering 58.73. The next week at the state meet, she broke her own school record with a scintillating time of 57.15 to win gold.
Harmon is hoping to get down to that time again in the 400 at Brookville.
"A 57 or 58 is my goal for tomorrow," she said.
Harmon won the high jump last year, but won't defend that title. Instead she will run the 100-meter dash, where he is the second seed at 12.70 behind Jenna Zendron of Moniteau (12.64).
That should be an intriguing race with Laiyla Russell of Cranberry the third seed (12.76) and Johnsonburg's Annasophia Stauffer the fourth seed (12.77). The top four runners are separated by just .13 seconds.
"I ran the 100 in our very first home meet last year and I wasn't so good at it, so I gave it up for the 400," Harmon said. "I started it again this year."
Harmon has been able to manage her health after a long basketball season that ran right into the track and field campaign.
"I wish basketball season would have went longer," Harmon said. "I got one day off. I rested for one day and I was at track practice. I just take care of my body, don't work myself too hard. I get a good night's sleep. I eat well. I drink water. I take care of myself."
Some other story lines to look for at the D9 meet: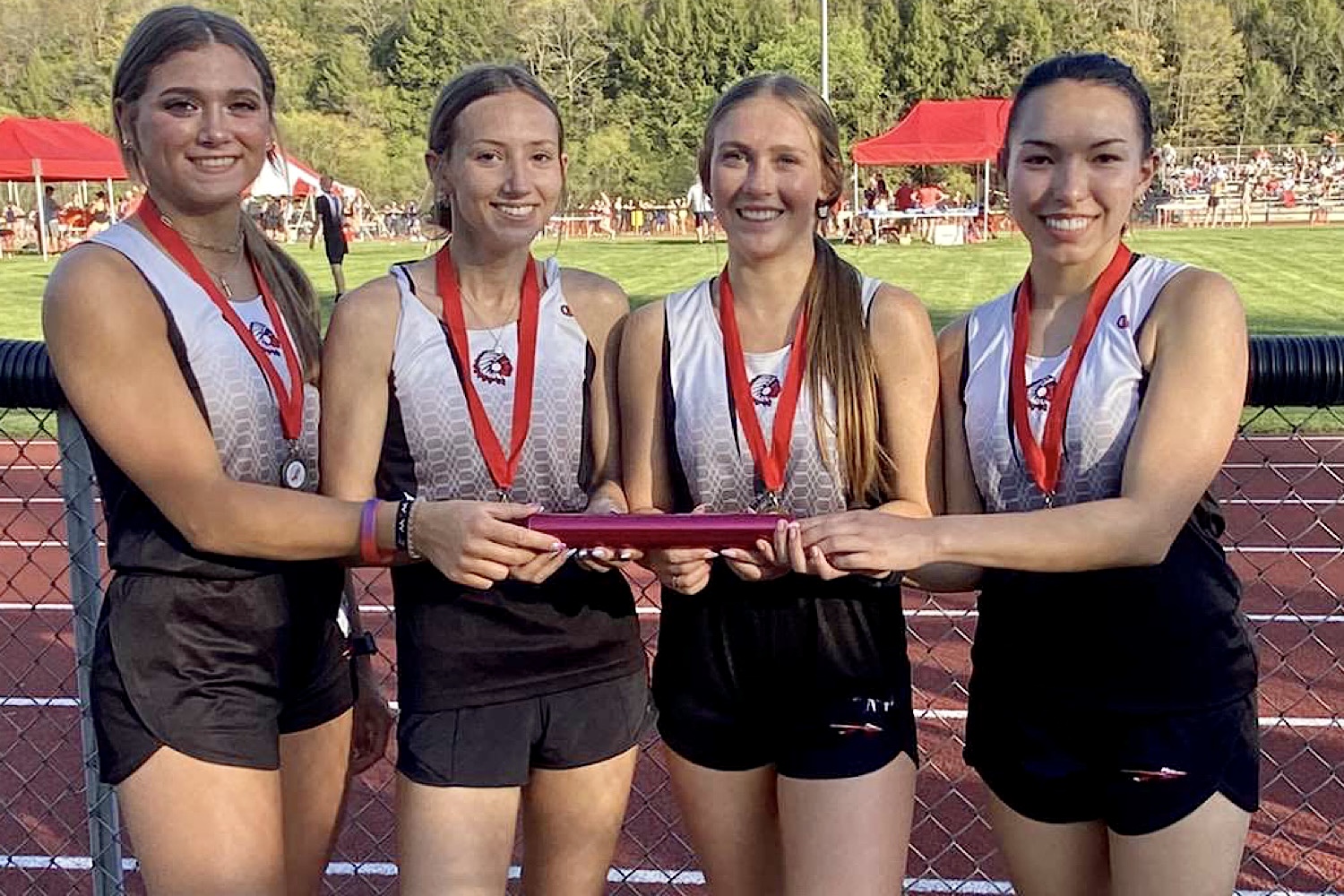 (Members of the Moniteau 4×100 relay are, from left: Katelyn Reott, Rylee Long, Allie Pry and Jenna Zendron)
ZENDRON, WARRIOR RELAY LOOKING TO SHINE
Zendron is seeded second behind Harmon in the 400.
The Moniteau senior is also on the record-setting 4×100 relay at the school with Rylee Long, Katelyn Reott and Allie Pry, which is seeded first at 52.05 seconds.
BLISS CHASING TITLE
Union/A-C Valley's Evie Bliss will try to build on her school record throw of 151-3 in the javelin.
Last season, Bliss made a meteoric rise in the event, which culminated with a second-place finish at the state meet.
At the district meet, though, she was also second. Mary Grusky of Punxsutawney was the winner and she is right behind Bliss this season with a seed throw of 145-8.
RUSSELL GUNNING FOR REDEMPTION
Russell was edged at the finish line of the 100 last year by Baylee Blauser of Union/A-C Valley, but went on to place at the state meet in that event.
Russell wanted to get a district gold this time around.
The senior is the also top seed in the long jump with a school-record effort of 18-3. Ciona Deprano of Moniteau is second at 16-10 and Hannah Ithen of Union/A-C Valley third at 16-5½. This is Ithen's first year of track and field.
HENRY LOOKING FOR HISTORY
Redbank Valley's Claire Henry is gunning for her third straight D9 title in the pole vault. She currently sits at 10 feet, a foot better than Leah Wilson of Karns City, Carmella Ryan of Moniteau and Bulldog teammate Ella Rizzo.
INTERESTING GIRLS TRIPLE JUMP
Long is the top seed in the triple jump with a school-record effort of 36-11½. She did that at Oil City to clip Russell, who jumped 35-6. Russell is the second seed.
It should be a hotly contested event. Deprano is seeded third at 34-10½ and Julia Monnoyer of Brookville is right behind at 34-9. Sami Straub of Elk County Catholic is also lurking at 34-4.
FREEMAN LOOKING FOR MULTIPLE GOLDS
Brookville's Hayden Freeman is the top seed in two events.
He has the best time in the 200 at 22.74 seconds and the 400 at 51.08 — just .01 seconds faster than two-seed Sam Morganti of Union/A-C Valley.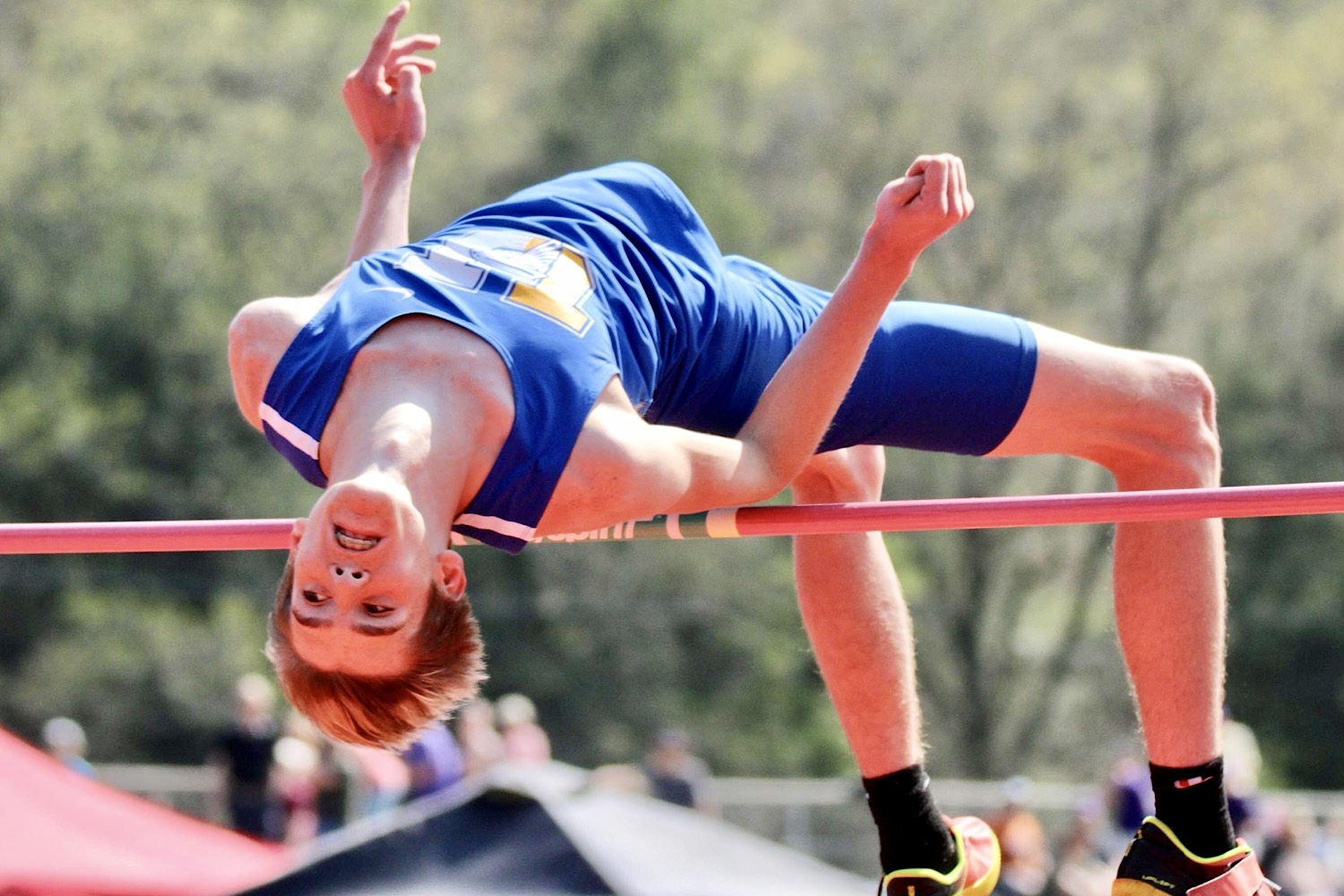 (Union/A-C Valley high jumper Hayden Smith/photo by Madison McFarland)
SMITH SURE TO DRAW A CROWD
Of course, all eyes will again be on Union/A-C Valley junior Hayden Smith in the high jump.
Smith, the defending district and PIAA champion in the event, comes in with a top effort of 6 feet, 9 inches this season.
His goal, though, is to clear seven feet.
Sam Lundeen is seeded second at 6-5.
HUMMELL PEAKING IN JAVELIN
Clarion-Limestone senior Ryan Hummell also has his sights set on a big number in the javelin.
While still nursing a torn ACL suffered last summer, Hummell broke through last week at the Redbank Valley Invitational with a heave of 194-6 in the javelin, easily the best in the district and a school record.
Aiden Greineisen, who is throwing the javelin for the first time for DuBois Central Catholic this season, is second at 170-6.
WAGNER, CHALMERS SHOWDOWN
Redbank Valley's Cam Wagner and Union/A-C Valley's Landon Chalmers should have quite the battle in two events.
Wagner is seeded first in the discus at 173-3 and Chalmers is second at 158-5.
The two flip-flop in the shot put, where Chalmers has the top throw at 53-10 with Wagner No. 2 at 51-10.