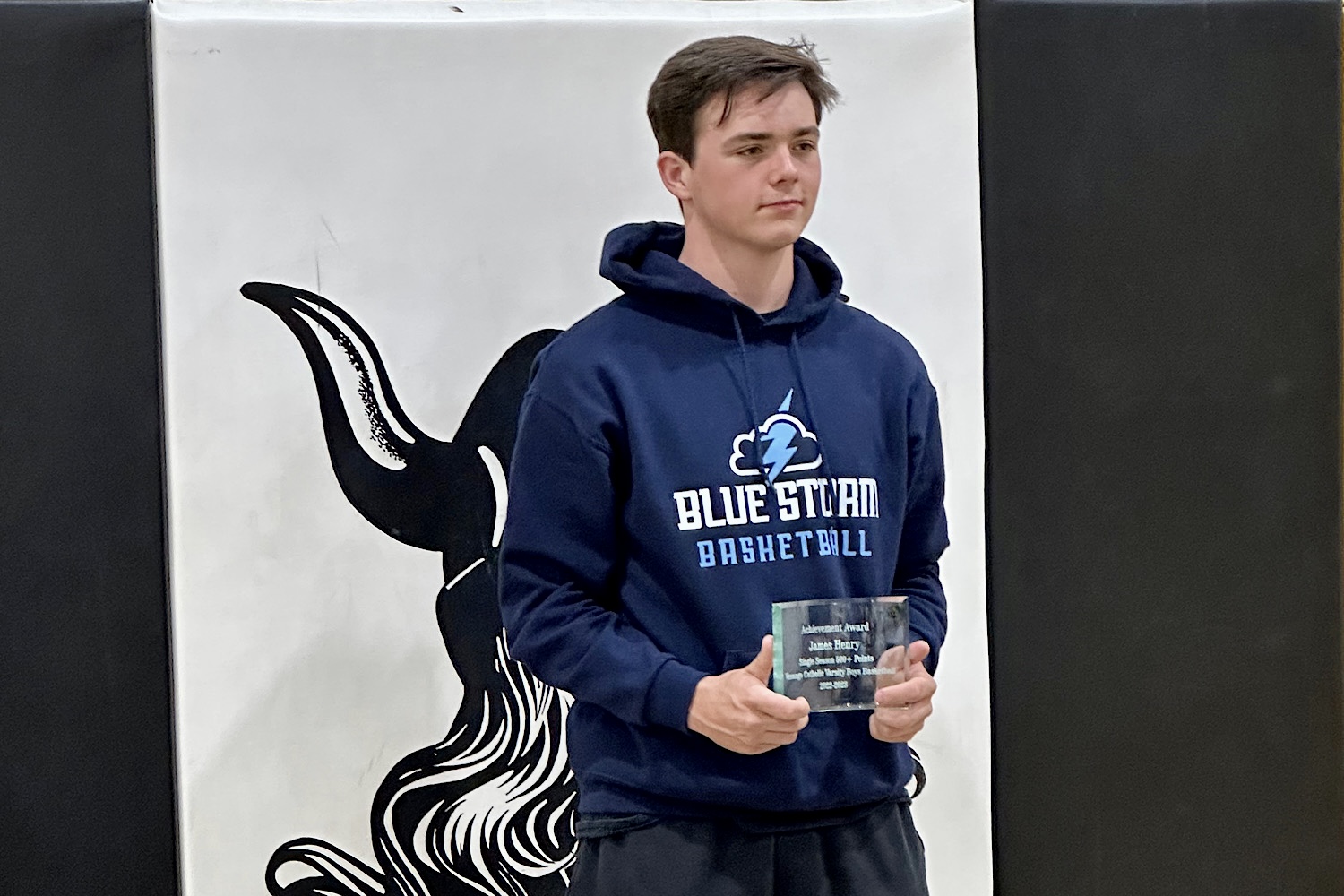 OIL CITY, Pa. (EYT/D9) — James Henry thought something was up.
He just didn't expect this.
(Pictured above, Venango Catholic senior James Henry poses with the plaque he received on Monday night honoring him for scoring 501 points this winter)
At a ceremony at Venango Catholic High School on Monday night, Henry was presented with a plaque and told his picture will adorn the gym wall of outstanding performances after the senior put up 21.7 points per game for the resurrected Vikings' boys basketball team this past season.
"It was very special to me," said Henry, who played at Oil City High School until this season when he enrolled at Venango Catholic and helped pull the boys basketball program from the brink of extinction. "I just think of all the time I spent in the gym with my dad, all the time I spent in the gym by myself. It was special. It was rewarding to have something like that. It meant a lot to me.
"At first, honestly, I had no idea," Henry added. "I definitely would like to thank (Venango Catholic athletic director Shannon Kluck) for doing that for me. That was extremely generous. I was sitting down at the table and she was giving out awards. I kind of expected something, but I never expected a plaque like that. My reaction was just, 'Are you kidding me?'"
It was no joke.
Neither was Henry's play this season.
The future of the Venango Catholic boys basketball team was very much in doubt. It looked increasing likely as summer turned into fall that the program was dead and Henry, a 6-foot-1 lightning quick guard with a deadly outside-shooting touch, wouldn't have a senior season.
But two weeks before the season was set to begin, the team was taken off of life support and got the green light to play with a skeleton roster — but a bona fide star in Henry.
He quickly established himself as one of the best players in District 9, pouring in points and helping the Vikings stay competitive in most every game.
Venango Catholic finished 6-17, but the foundation was set for the future.
"I think this team will actually be better than what it was," Henry said. "I think this team is capable of a playoff run with the amount of talent that's gonna be coming back next year. I can definitely see that."
Henry hopes to be there to help again.
As a coach this time.
Henry will attend Slippery Rock University to study criminology.
He said his minor will be "coaching basketball."
Henry plans on lending a hand at Venango Catholic and wants to someday be a head coach.
With his playing days over, he said he will always look back on his final high school season at Venango Catholic with tremendous fondness.
Henry scored 501 points in his lone season with the Vikings.
"It's crazy that I came in here in one year and did all that," Henry said. "I wasn't expecting to do anything like that. I'm very glad that I was able to do that. Looking back at it, it was like something you see in a movie. A kid comes from a different school, going to a brand new school, trying to convince everyone to play for the team. Being on a team with mostly younger guys and still be able to hold our own. I think that has helped publicize it and the school and I'm hearing some kids want to come to VC now. That's a great source of pride."