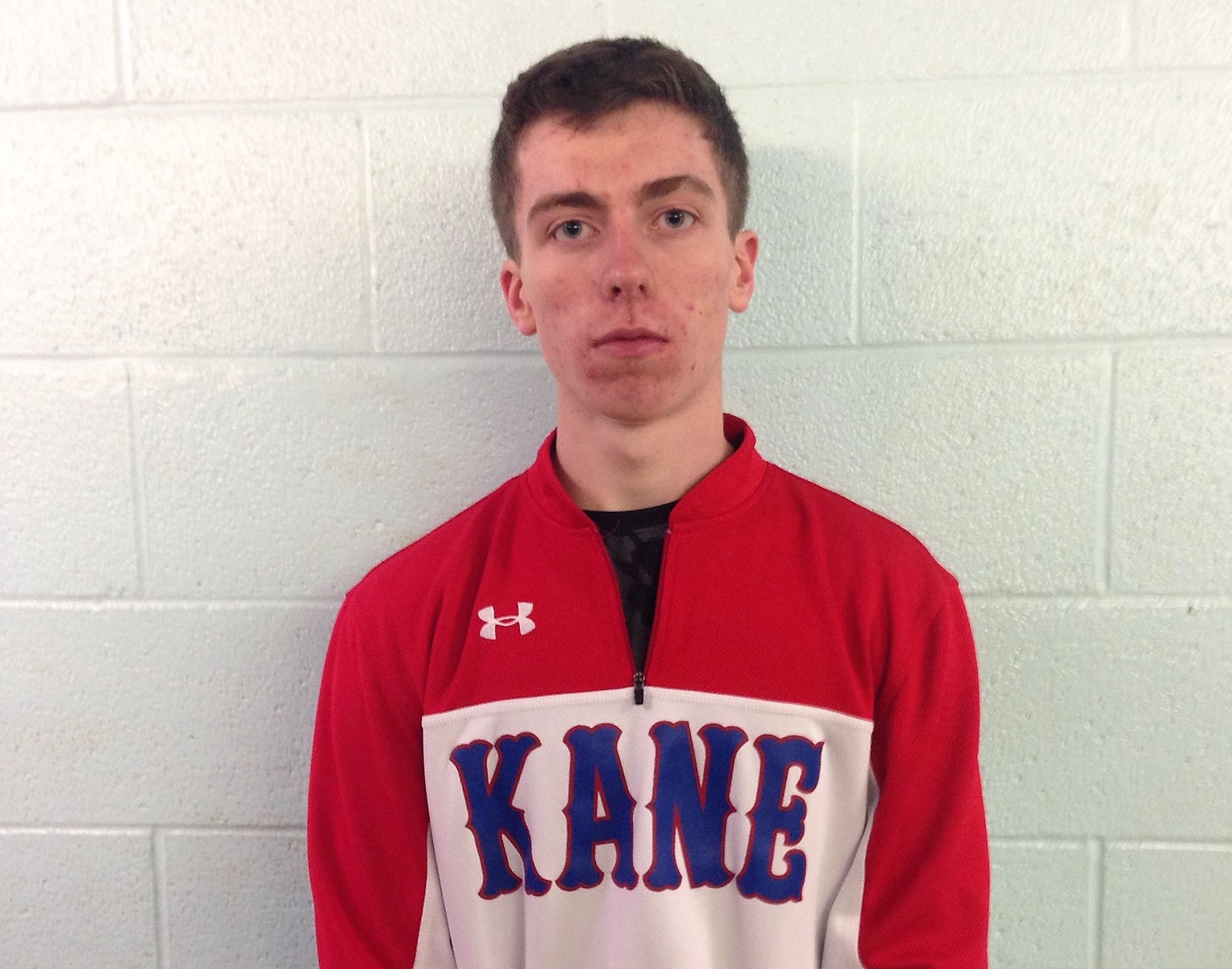 Jan. 11 boys' basketball recaps.
(Cover photo of Kane freshman sensation Chad Greville)
KANE 69, OTTO-ELDRED 66
KANE, Pa. – Freshman Chad Greville scored 16 points of his team-high 22 points in the second half to help Kane overcome sickness, foul trouble to big man Andrew Bucheit and a 2-3 zone defense from Otto-Eldred and get a 69-66 win over the visiting Terrors.
Greville, who was one of the players battling a sickness that swept through the team, hit six 3-pointers in the game including four in the second half to help the Wolves overcome a 39-32 halftime deficit and a 53-52 deficit going to the fourth quarter.
Bucheit, who was assessed a technical foul in the contest, still scored 21 points to go with 10 rebounds while also battling the illness, and Frank Truden chipped in 11 points.
"That was a special performance by some very, very sick players," Kane head coach Matt Gasbarre said.
Otto, which hurt itself by going 7 of 19 from the free-throw line, had four players reach double figures led by 23 points from Dylan Close. Sawyer Drummond added 12, Damien Palmer 11 and Rosco Ramiro-Alonso 10.
ELK COUNTY CATHOLIC 80, PUNXSUTAWNEY 69
ST. MARYS, Pa. – Nate DaCanal and Gabe Kraus combined to score 51 points, as Elk County Catholic used a quick start to down visiting Punxsutawney, 80-69, in D9 League action.
DaCanal scored 12 of his team-high 26 points in the first quarter to help the Crusaders to a 23-15 lead at the end of one. That lead grew t 47-29 by halftime.
Kraus added 25 points with eight coming right out of the gate, while Ryan Newton chipped in nine tallies for ECC.
Brandon Matthews led all scorers with 28 points for Punxsutawney with Ethan Blose chipping in 10.
ST. MARYS 70, DUBOIS 52
DUBOIS, Pa. – Jeff Wehler poured in 32 points to lead St. Marys to a 70-52 D9 League road win at DuBois.
Wehler netted 19 points before halftime to help the Dutch to a 37-22 halftime lead.
Nathan Schneider chipped in 19 points for St. Marys, while Nick LaBrasca led DuBois with 16 points. Kyle Hopson added 11 and Kenny Garvey 10 for the Beavers.
A-C VALLEY 58, VENANGO CATHOLIC 48
FOXBURG, Pa. – Venango Catholic came to Foxburg and took a 18-11 first quarter lead before the homestanding A-C Valley Falcons responded by outscoring the visitors 31-14 in the next two quarters to take control on their way to a 58-48 win.
Russell Carr had a good game for A-C Valley, scoring 21 points. Kody Wolfe had 17 and Joe Manculich added eight points.
The Vikings were led by Tim Wagner's 15 points. Hunter Lancaster scored 11 and Ben Gillispie added nine.
OSWAYO VALLEY 56, NORTHERN POTTER 37
ULYSSES, Pa. – Theo Henry netted 22 points, grabbed 11 rebounds, came away with three steals and handed out three assists to give visiting Oswayo Valley a 56-37 win over Northern Potter in North Tier League action.
Garrett Babcock added 15 points, eight rebounds, four steals and two assists for the Green Wave.
Blake Jeffers paced Northern Potter with 14 points.
COUDERSPORT 75, AUSTIN 20
COUDERSPORT, Pa. – Led by 18 points from sophomore Owen Chambers, Coudersport had four players reach double figures in a 75-20 North Tier League win over visiting Austin.
Jared Green chipped in 15 points for the Falcons who also got 14 from Zach Layag and 10 from Kolby Vanwhy.
Brian Shupe scored seven to lead Austin.
PORT ALLEGANY 50, CAMERON COUNTY 35
EMPORIUM, Pa. – Port Allegany picked up a road win in Emporium over the host Red Raiders, 50-35.
The Gators led 26-13 at the half.
Howie Stuckey led Port with 14 points, Brandon McCaslin had 12 and Jordan Bell scored nine.
Derek Rieder led the Red Raiders with 14 points and Adam Shaffer scored eight.
KEYSTONE 62, CRANBERRY 27
SENECA, Pa. — The Keystone Panthers jumped out to a 19-4 first quarter lead and never looked back in an easy win, 62-27, at Cranberry.
It was 30-10 at halftime and 55-20 after three.
Corey Rapp led the Panthers with 15 points while Nate Wingard added 11 and Austin Ion scored 10.
Dan McQuaide led the Berries with 12 points.
GALETON 37, SMETHPORT 34, Overtime
SMETHPORT, Pa. – The Smethport Hubbers held a 22-13 halftime lead before watching it disappear in the second half and then losing in overtime to visiting Galeton, 37-34.
Brayden Southard scored 11 points to lead the Hubbers while Justin Tanner added seven.
Evan Brooks led Galeton with 13 points.
REDBANK VALLEY 58, FOREST AREA 45
NEW BETHLEHEM, Pa. – Nick Smith hit four 3-pointers on his way to a career-high 20 points, as Redbank Valley rallied from a point down at halftime to knock off visiting Forest Area, 58-45.
Smith hit all three of his long bombs in the second half and scored 18 of his 20 points after halftime to help the Bulldogs outscored the Fires 37-23 in the half after trailing 22-21 at the break.
Adrian Daniels chipped in nine points for Redbank who also got eight points apiece from Ethan Hetrick and Brock Barrett.
Seth Berlin had another double-double for Forest Area with 15 points and 11 rebounds. Dillon DiCorpo chipped in 12 points.
KARNS CITY 66, NORTH CLARION 62
KARNS CITY, Pa. – Led by 20 points on five 3-pointers and six assists from Noah Pollock, Karns City overcame a slow start to top visiting North Clarion, 66-62.
The Gremlins found themselves down nine, 18-9, after a quarter but rallied to take a 31-26 halftime lead that they built to seven points, 49-42, going to the fourth quarter.
Noah Kepple also hit five 3-pointers for Karns City while scoring a season-high 19 points. Chandler Turner chipped in with two points and eight rebounds, while Eric Dodd had five points and eight boards.
Nathan Banner led all scorers with 23 points for Karns City with Zander Hargenrader adding 19 and Chase Schmader 10.
CLARION-LIMESTONE 50, UNION 37
RIMERSBURG, Pa. – Eight different Clarion-Limestone players scored in the second half to help the visiting Lions avoid an upset at the hands of Union with C-L pulling away late for a 50-37 victory.
Union led 22-17 at halftime but was outscored 33-15 in the second half.
Dan Callen led a balanced C-L attack with 11 points. Mac Park scored eight points, all in the fourth quarter, as did Christian Smith and Ian Callen.
Lucas Bowser paced Union with 13 points, nine rebounds and two steals. Gavin Hawk added 11 points, four rebounds and three steals with Dana Logue chipping in four points and eight rebounds.
CLARION 57, MONITEAU 49
WEST SUNBURY, Pa. – Reed Anthony and Ty Burford combined to score 25 points, as visiting Clarion held off Moniteau for a 57-49 win.
Anthony netted a team-high 13 points for the Bobcats, who built a 30-16 halftime lead, while Burford chipped in 12. Austin Hummell added nine, Ryan Anthony eight and Cam Craig seven for Clarion.
Lake Pry had a double-double with 20 points and 10 rebounds to pace Moniteau, who also got 19 points, seven rebounds and four assists from Jake Jewart.
JOHNSONBURG 46, BRADFORD 43, overtime
JOHNSONBURG, Pa. – Two players who didn't do much in regulation stepped up in a big way in overtime to help Johnsonburg beat visiting Bradford, 46-43.
Ryan Kilhoffer scored six of his eight points in the extra session, and Kasey Raubenstrauch added four of his eight after regulation to help the Rams outscore the Owls 12-9 in overtime after the teams were tied at 34 at the end of regulation.
Drew Akers led Johnsonburg, which trailed 25-22 at halftime, with 12 points.
Tyler Gigliotti paced Bradford with 13 points, six assists and three steals. Adam Boyer added 12 points with Donny Pattison chipping in six points and five rebounds, Nate Higbie five points and five rebounds and Danny Manion four points and seven boards.
SHEFFIELD 75, TIDIOUTE CHARTER 37
SHEFFIELD, Pa. – Led by 16 points from Cale Albaugh 11 different Sheffield players scored in a 75-37 win over visiting Tidioute Charter.
Cam Retterer added 11 points and eight rebounds for the Wolverines, who also got 12 points from Roger Dunham and seven points, seven assists and five steals from Matt Dunham.
Julian Gillenwater paced Tidioute Charter with 13 points, while Ryan Williams added 11 for the Bulldogs.