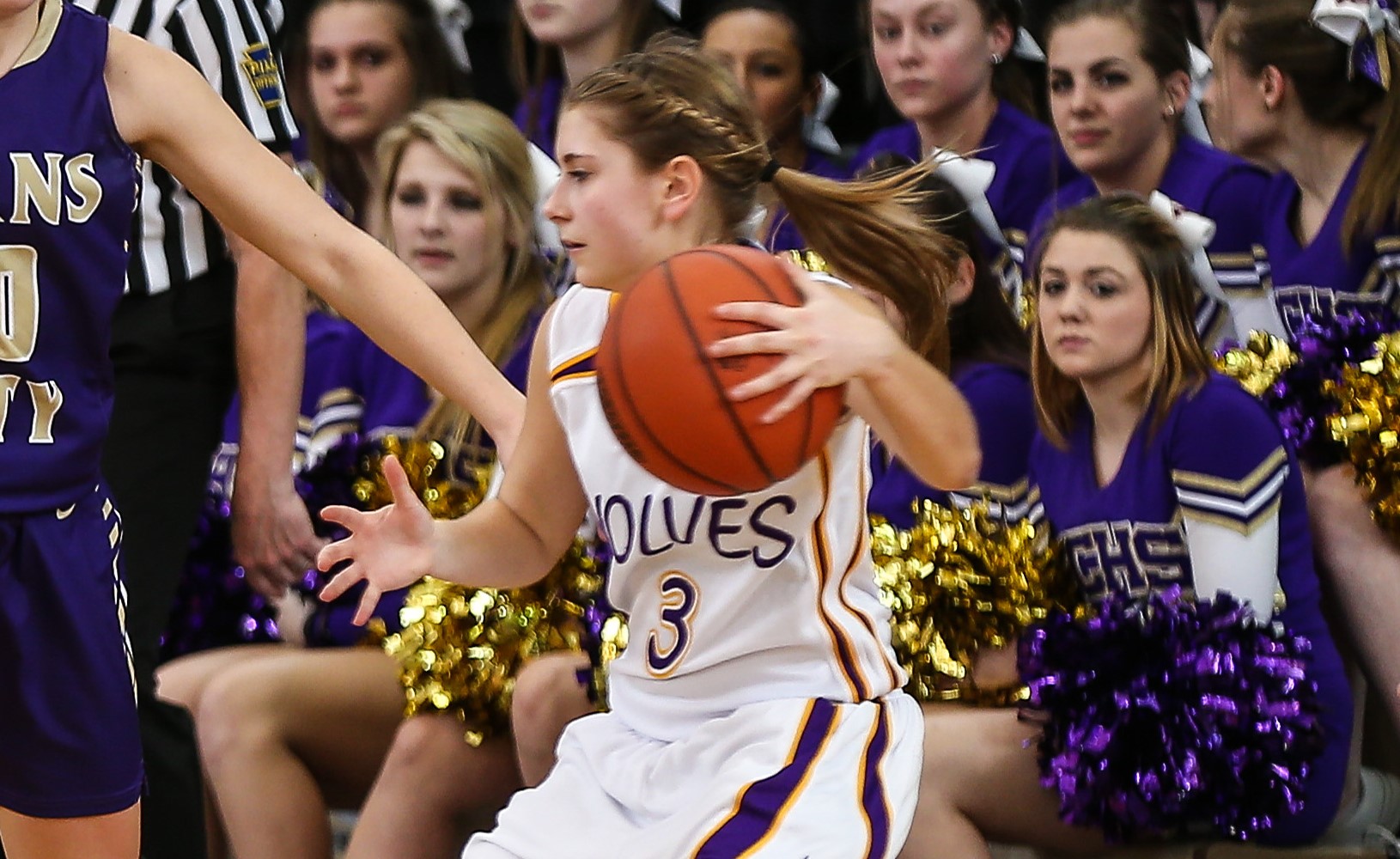 Jan. 11 girls' basketball recaps
(Cover photo of North Clarion's Michaela Higgins. Photo by Mike Schnelle. Check out more of Schnelle's work here)
NORTH CLARION 41, KARNS CITY 36
FRILLS CORNERS, Pa. – North Clarion overcame an 11-point third-quarter deficit to stay unbeaten with a 41-36 win over visiting Karns City.
The She-Wolves trailed 28-17 two minutes into the second half but went on a 16-2 run that saw all five players on the court score led by five points from Tori Obenrader, who finished with 15 points and 16 rebounds, and four from Michaela Higgins, who added nine points. A 3-pointer from freshman Abby Gatesman, her first made shot of the game, with 6:12 to play but NC up 33-30.
But Karns City answered with six straight points to take a 36-33 lead on an Alyssa Gibson layup with 4:44 left. That was the last points for the Lady Gremlins, as Obenrader scored four points and Higgins and Gatesman two each in a game-ending 8-0 run.
Higgins talked about the victory.
Emily Hegedus led Karns City with 13 points but none in the final 14 minutes with Gibson adding 10 and Mackenzie Craig nine, all in the first half.
BROCKWAY 51, BROOKVILLE 46
BROOKVILLE, Pa. – Leah Lindemuth scored 20 points and led Brockway to a 51-46 win at Brookville.
Brockway led 13-2 after the first quarter and built a 17-4 advantage early in the second quarter before Brookville cut it to 25-21 by halftime. The Lady Rovers outscored the hosts, 26-25, in the second half and never relinquished the lead.
Kaitlyn Morelli finished with 13 points while Adriana Azzato turned in a double-double with 10 points and 10 rebounds.
Morgan Johnson came off the bench to score 13 points for Brookville.
MONITEAU 69, CLARION 36
CLARION, Pa. – It was a rough night for the host Clarion Lady Cats as Moniteau dominated from the very beginning, outscoring Clarion 22-5 in the opening eight minutes on its way to the 69-36 win.
The Lady Warriors led 40-17 at halftime.
Kristina DeMatteis and Alazia Greaves each scored 21 points for Moniteau. Greaves also had six assists. Emma Blair also played well with eight rebounds and four blocked shots.
Wendy Beveridge led Clarion with 18 points and Alexis Constantino added 13.
PUNXSUTAWNEY 60, ELK COUNTY CATHOLIC 26
PUNXSUTAWNEY, Pa. – Leah Miller scored 20 points, grabbed 21 rebounds and came away with four steals, as Punxsutawney rolled to a 60-26 win over visiting Elk County Catholic in D9 League action.
Kate Horner also netted 20 points for the Lady Chucks, who led 30-12 at halftime.
Cassidy Cunningham scored eight points to lead ECC with Reilly Herzing chipping in with six.
REDBANK VALLEY 57, FOREST AREA 29
NEW BETHLEHEM, Pa. – Lexi Holt exploded for 25 points and 10 steals to lead Redbank Valley to a 57-29 win over visiting Forest Area.
Macy King chipped in with eight points and 14 rebounds with Kera Fink contributing 14 points, five steals and three assists and Alyssa Wiant seven points and nine rebounds.
Makiya Belloti, Bianca Hetrick and Jaycee Redick each score five points to top Forest Area.