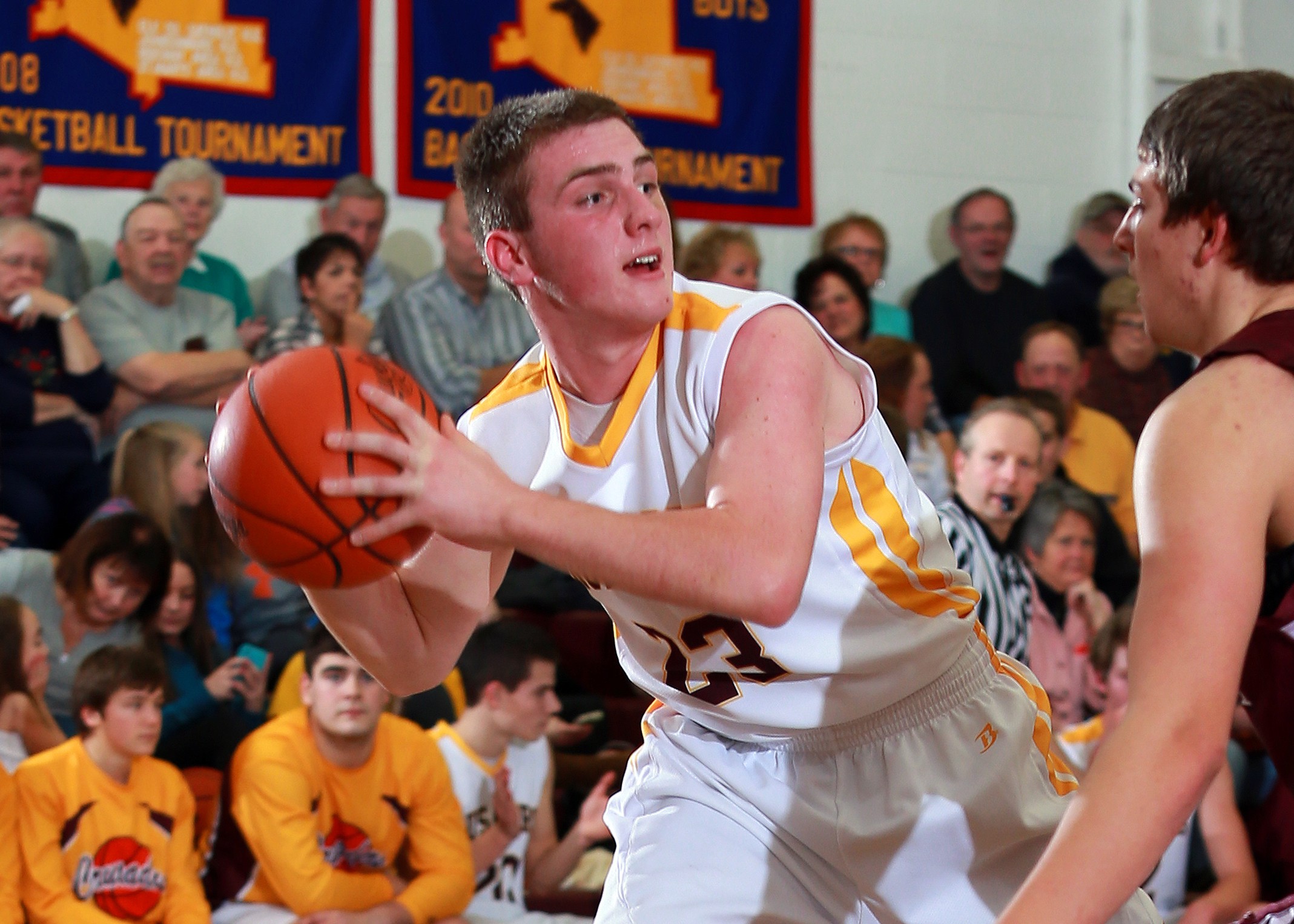 Jan. 20 boys' basketball roundup.
(Cover phtoo of ECC's Gabe Kraus. Photo by Paul Burdick. Check out more of Burdick's work here)
ELK COUNTY CATHOLIC 41, RIDGWAY 26
RIDGWAY, Pa. – A matchup of two of the perennial District 9 Class A contenders was all Elk County Catholic on Ridgway's home floor, as the Crusaders ran their regular-season win streak to 50 straight games with a 41-26 win over the last team to beat in in the regular season.
ECC, which has won 71 of its past 72 regular-season contests, hasn't lost a regular-season game since the Elkers knocked it off, 37-33 in overtime, Dec. 27, 2014, in the Elk County Tournament title game.
The Crusaders took a 17-7 lead after the first quarter and led 22-9 at halftime.
Both teams scored just three points each in the third before ECC outscored the Elkers 16-14 in the fourth. The Crusaders made 13 of 17 free throws in the game.
Gabe Kraus led ECC with 15 points while Nate DaCanal had 10.
Neil MacDonald had 11 for the Elkers.
COUDERSPORT 53, ST. MARYS 48
COUDERSPORT, Pa. – Behind 16 points from Owen Chambers, Coudersport won a hard-fought game over visiting St. Marys, 53-48.
Coudy led 28-21 at halftime and 42-34 after three quarters.
Jared Green added 13 points for the Falcons, while Jeff Wehler had 20 for St. Marys. Matt Marconi also netted 12 for the Dutch.
REDBANK VALLEY 48, CRANBERRY 42
CRANBERRY, Pa. – The Redbank Valley Bulldogs put together a solid road win with a second-half rally over the Berries.
Cranberry led 28-22 at halftime before the Bulldogs erased the lead in the third quarter by outscoring the Berries 15-6.
Keaton Kahle led Redbank with 12 points and Brock Barrett scored 11.
Andrew Gunn scored 13 for the Berries.
SHEFFIELD 45, DUBOIS CENTRAL CATHOLIC 27
SHEFFIELD, Pa. – Austin Simmer had 11 points, 10 rebounds and five assists to help Sheffield to a 45-27 AML victory over visiting DuBois Central Catholic.
Drew Higby also scored 11 points for the Wolverines, while Roger Dunham added 10.
Noah Pettenati and Justin Miknis led DCC with seven points each.
KANE 61, CURWENSVILLE 41
KANE, Pa. – Andrew Bucheit scored 28 points and pulled down 10 rebounds, as Kane rebounded from a blowout loss at Brookville earlier in the week to top visiting Curwensville, 61-41, in AML action.
Keaton Rounsville chipped in 10 points and 11 rebounds for the Wolves.
Zach Marshall paced Curwensville with 15 points.
PUNXSUTAWNEY 56, BRADFORD 47
BRADFORD, Pa. – Devin Kelly and Brandon Matthews combined for 35 points, as visiting Punxsutawney picked up a 56-47 D9 League win over Bradford.
Kelly led the Chucks, who were 16 of 22 from the free-throw line, with 18 points with Matthews adding 17.
Bradford led 23-21 at halftime before Punxsy used a 14-6 third-quarter run to take the lead.
Tyler Gigliotti and Adam Boyer each scored 13 points to pace Bradford, while Danny Manion had 12 rebounds.
CLEARFIELD 67, HUNTINGDON 54
CLEARFIELD, Pa. – Tommy Hazel had 15 points, 14 rebounds, two steals and a block and was one of four Clearfield players in double digits, as the Bison beat visiting Huntingdon, 67-54.
Evan Brown led Clearfield with 19 points while adding six rebounds and six assists. Will Myers chipped in 15 points, six rebounds, three steals and two assists and Dave McKenzie had 10 points and seven rebounds.
Jonathan Price had a game-high 21 points for Huntingdon with Nick Rigby adding 20.
CLARION 75, UNION 39
CLARION, Pa. – Clarion drilled 12 3-pointers on its way to a 75-39 home win over Union.
Spencer Miller and Reed Anthony each connected on three triples for the Bobcats with Cam Craig adding two.
Ceventh Lynch-Skunda led Clarion with 15 points, Miller added 13, Redd Anthony had 11, Ty Burford chipped in nine and Craig added eight.
Lucas Bowser paced Union with 13 points.
KARNS CITY 59, VENANGO CATHOLIC 30
OIL CITY, Pa. – Behind 19 points from Ian McElroy visiting Karns City cruised to a 59-30 win over Venango Catholic.
Jacob Friel chipped in 10 points for the Gremlins, while Chandler Turner had five points and 12 rebounds and Noah Pollock six points and seven assists.
Josh Puleo led Venango Catholic with 17 points.
NORTH CLARION 66, A-C VALLEY 55
FRILLS CORNERS, Pa. – Nathan Banner scored 20 points and Keeven Weaver had a double-double to help North Clarion to a 66-55 win over visiting A-C Valley.
Weaver had 10 points, 10 rebounds, five assists and five steals for the Wolves, who led 37-24 at halftime. Chase Schmader chipped in 10 points and nine assists, Zander Hargenrader had 14 points and Sam Minich four points and eight rebounds.
Joe Manculich paced A-C Valley with 14 points and 13 rebounds. Freshman Russ Carr had 12 points, six rebounds and four assists and Kody Wolfe added eight points and five steals.
KEYSTONE 62, FOREST AREA 37
TIONESTA, Pa. – Corey Rapp led a balanced Keystone attack with 13 points, as the visiting Panthers topped Forest Area, 62-37, at West Forest.
Austin Ion added 11 points for Keystone with Dalton Jones chipping in 10 and Tanner Wilson and Nate Wingard eight each.
Seth Berlin had a game-high 25 points to go with 10 rebounds and four steals for Forest Area.
CLARION-LIMESTONE 81, MONITEAU 71
STRATTANVILLE, Pa. – Dan Callen scored nine of his team-high 25 points in the fourth quarter, and Deion Deas added eight of his 15 points in the final eight minutes to help visiting Clarion-Limestone pull away from Moniteau, 81-71.
The Lions, who led 37-34 at halftime, held a 51-50 lead going to the fourth quarter but behind Deas and Dan Callen outscored Moniteau 30-21 in the frame.
Christian Smith and Ian Callen each added 12 points for C-L with Julian Laugand chipping in 11 including going 6 of 6 from the free-throw line in the fourth quarter.
Lake Pry continued his phenomenal season for Moniteau with 35 points and 10 rebounds. It was Pry's second 35-point game of the season – he had a career-best 37 in the opener – and it marked the seventh time in the last eight games he has reached at least 20 points.
Jared Lominski added 12 points for Moniteau with Jake Jewart chipping in 11 points.
GENESEE VALLEY (NY) 68, OTTO-ELDRED 64
BELMONT, N.Y. – Otto-Eldred suffered its fifth loss of the season by five points or less when it dropped a 68-64 interstate clash at Genesee Valley (N.Y.).
Logan Glover and Noah Windus each scored 21 points for the victors with Cody Schneider adding 14 tallies.
Dylan Close led Otto-Eldred with 18 points, Bosco Ramiro-Alonso added 12 and Damien Palmer, Jordan Sherwood and Trey Dalton each added 10.
GALETON 76, BUCKTAIL 45
RENOVO, Pa. – Joel Griffen had 19 points and 15 rebounds, while Isaiah Shuemaker added a game-high 24 points to lead visiting Galeton to a 76-45 win over Bucktail.
Evan Brooks chipped in 17 points for Galeton, who also got seven points, 16 rebounds and six assists from Dawson Rinehart.
Mike Casper led Bucktail with 13 points.