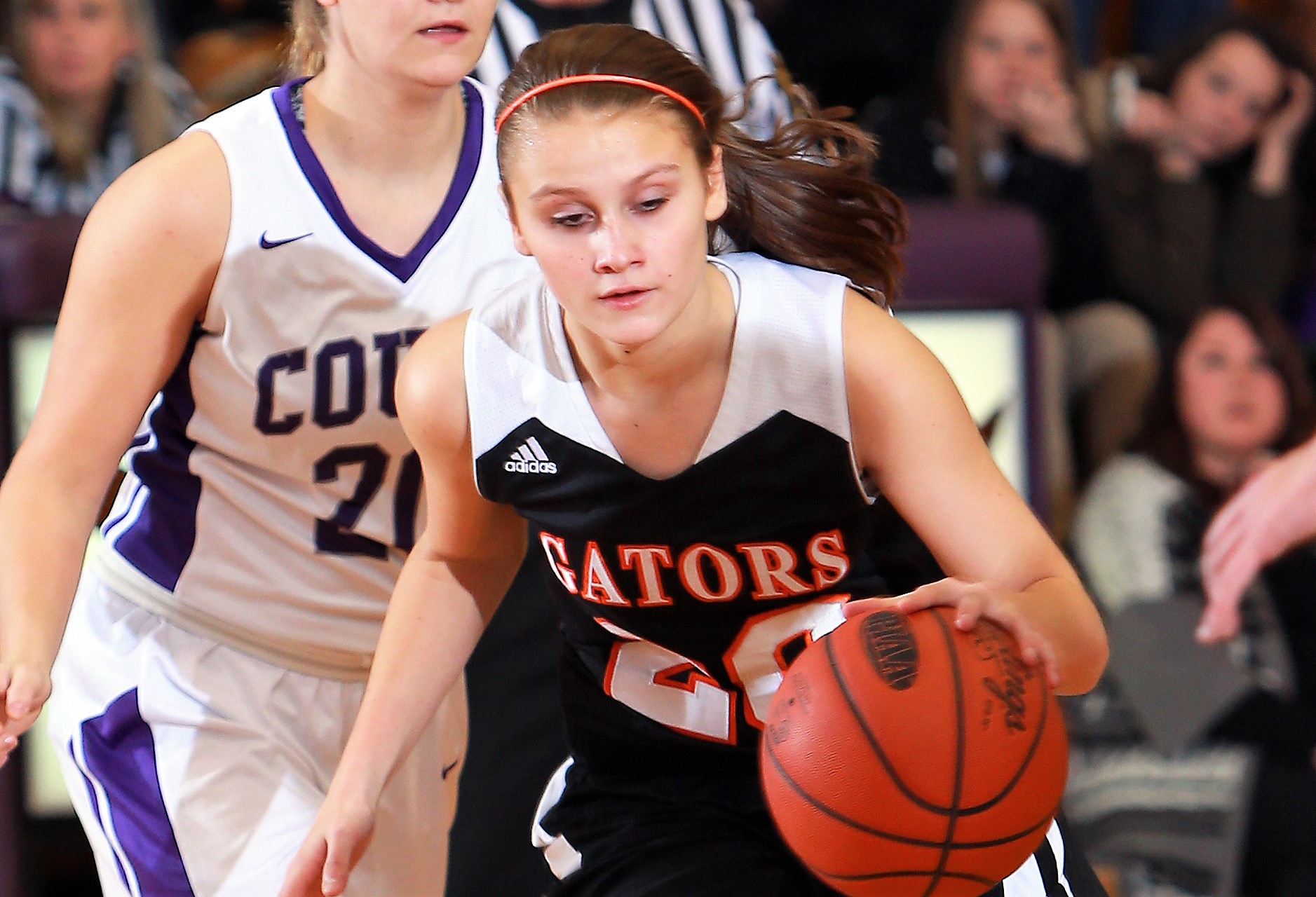 Jan. 20 girls' basketball roundup.
(Cover photo of Port Allegany's Cailey Barnett. Photo by Paul Burdick. Check out more of Burdick's work here)
PORT ALLEGANY 58, SMETHPORT 55, 2 overtimes
PORT ALLEGANY, Pa. – Cailey Barnett and Autumn Buchsenschutz combined for all seven of Port Allegany's points in double overtime, and Barnett blocked a last-second 3-pointer that would have tied the game to give the Lady Gators a 58-55 double overtime victory over Smethport in North Tier League action.
In a tightly contested contest, Port led 22-17 at halftime before Smethport tied the game at 33 at the end of three quarters.
The Lady Gators then went up three, 45-43, late in regulation before Katie Treat tied the game with a layup with 0.7 seconds left. Treat was fouled on the play but couldn't connect on the free throw.
Then, after each team scored six points in the first overtime, Port Allegany got the best of the Lady Hubbers in the second extra session.
Barnett led Port Allegany with 21 points with Buchsenschutz adding 20. Erin Stauffer chipped in with 10.
A-C VALLEY 65, NORTH CLARION 64
FOXBURG, Pa. – Olivia Boocks' free throw with no time on the clock lifted A-C Valley to a come-from-behind 65-64 win over visiting North Clarion.
North Clarion, which led 54-47 early in the fourth quarter, had tied the game at 64 with 3.3 seconds left on a 3-pointer by Tori Obenrader, Obenrader's six triple of the game and points 39, 40 and 41 for the junior star, who also added 16 rebounds.
But A-C Valley got the ball into the speedy Boocks who pushed it up court before drawing contact with a North Clarion player on a wild desperation shot that was way off the mark. Given three shots, the sophomore Boocks only needed one of them to win the game calmly sinking the first. She was 3-for-3 from the line in the final 17.4 seconds of the game and finished with 13 points.
Boocks talked about the free throws and the win after the game.
In a back-and-forth game that saw 15 lead changes and five ties, A-C Valley used a 12-1 run in the fourth quarter to erase the seven-point deficit.
Ellie Thompson led the Lady Falcons with 19 points and eight rebounds. Kylee Eaton added 15 points and nine boards.
Michaela Higgins hit North Clarion's other four 3-pointers and finished with 14 points for the She-Wolves, who were 10 of 34 from beyond in the arc in losing their second straight game after a 12-0 start.
KANE 59, CURWENSVILLE 37
CURWENSVILLE, Pa. – Trinity Clark and Ella Marconi each recorded double-doubles to lead visiting Kane to a 59-37 win over Curwensville in AML action.
Marconi had 18 points and 12 rebounds for the Lady Wolves with Clark chipping in 18 points, 10 rebounds and three blocked shots. Hannah Buhl added 12 points and five assists, Rachael Morgan had nine points and 10 rebounds and Camryn Cummings dished out four assists.
Madison Weber paced Curwensville with 14 points. Christine Limbert chipped in with 10 points and 12 rebounds.
KARNS CITY 49, BEAVER FALLS 38
KARNS CITY, Pa. – Emily Hegedus and Mackenzie Craig combined for 29 points to help Karns City knock off visiting Beaver Falls, 49-38.
Hegedus led the Lady Gremlins with 16 points and is now 41 points from 1,000, while Craig chipped in 13. Alyssa Gibson and Haley Scherer each added eight points.
INDIANA 38, DUBOIS 32
INDIANA, Pa. – Despite 17 points and 24 rebounds from Ashley Hallowell, DuBois dropped a 38-32 decision at Indiana.
Hanna Scardini led Indiana with 14 points with Haleigh Zimmerman 11.
RIDGWAY 50, BROCKWAY 43
BROCKWAY, Pa. – Emily Fullem had 14 points, 18 rebounds, four blocked shots, six assists and five steals to lead visiting Ridgway to a 50-43 win over Brockway.
Hannah Park added 12 points, five rebounds, three steals, two assists and a block, while Casey Woodford chipped in 10 points and six rebounds.
Leah Lindemuth led Brockway with 19 points with Adriana Azzato adding 12 points.
PUNXSUTAWNEY 74, BRADFORD 39
PUNXSUTAWNEY, Pa. – Leah Miller had 20 points and 10 rebounds to lead Punxsutawney to a 74-39 D9 League win over visiting Bradford.
Kate Horner added 15 points for the Lady Chucks.
Bri Wells paced Bradford with 18 points.
CAMERON COUNTY 65, OSWAYO VALLEY 42
SHINGLEHOUSE, Pa. – Madi Guisto, Madison Harrier and Amily Schatz combined for 41 points to give visiting Cameron County a 65-42 North Tier League victory over Oswayo Valley.
Guisto led the Lady Raiders with 16 points, Harrier added 13 and Schatz 12.
Shayla Bickel paced Oswayo with 24 points and four steals. Sarah Malogrino added five points and 10 rebounds.
NORTHERN POTTER 45, GALETON 43
ULYSSES, Pa. – Tory McCutcheon's putback of Gracie Hamilton miss with two seconds left lifted Northern Potter to a 45-43 win over visiting Galeton in North Tier League action.
Hamilton stole the ball with eight seconds left and went in for the game-winning layup but missed. McCutcheon, however, gathered the rebound and laid it in for the winner.
Kalie Cowburn led the Lady Panthers with 16 points and 10 rebounds. Hamilton added nine points and McCutcheon seven.
Olivia Pagano and Cortney Parsell each scored 14 points for Galeton.
UNION 48, CLARION 43
CLARION, Pa. – Lexey Shick scored 27 points and grabbed eight rebounds to give Union a 48-43 road win over Clarion.
Frankee Remmick added seven points and 13 rebounds for the Golden Damsels.
Alexis Constantino netted 22 points to lead Clarion with Wendy Beveridge adding 11.
CRANBERRY 50, REDBANK VALLEY 20
NEW BETHLEHEM, Pa. – Erin Merryman and Malliah Schreck each scored 14 points to help Cranberry improve to 13-3 on the year with a 50-20 win at Redbank Valley.
Schreck added eight points for the Berries with Merryman chipping in five steals. Bree Swartzfager also had nine points, six rebounds and five assists.
Lexi Holt's 11 points paced Redbank Valley.
MONITEAU 76, CLARION-LIMESTONE 19
WEST SUNBURY, Pa. – Strong games from Alazia Greaves, Kristina DeMatteis and Emma Bair helped Moniteau roll past visiting Clarion-Limestone, 76-19.
Greaves led the Lady Warriors with a season-best 26 points. DeMatteis added 16 points, nine rebounds and five steals and is now 39 points shy of 1,000 in her career and Bair had a double-double with 16 points and 10 rebounds.
Paige Aaron and Morgan Clarke each scored eight points to lead C-L.
KEYSTONE 54, FOREST AREA 19
KNOX, Pa. – Taylor Geer poured in 24 points and Alyssa Beichner came two blocks from a triple-double, as Keystone cruised to a 54-19 win over visiting Forest Area.
Geer added nine rebounds for the Lady Panthers, while Beichner had 11 points, 11 rebounds and eight blocked shots. McKenzie Hovis chipped in seven points and five assists.
Cassie Cochran led Forest Area with 10 points.
JOHNSONBURG 51, BROOKVILLE 27
JOHNSONBURG, Pa. – Nicole Myers, Cassidy King and Amanda Williams scored 31 of Johnsonburg's 51 points in a 51-27 win over visiting Brookville.
Myers led the Ramettes with 11 points with King and Williams each adding 10.
Jillian Taylor led Brookville with eight points.
OTTO-ELDRED 61, AUSTIN 17
AUSTIN, Pa. – The Otto-Eldred Lady Terrors led 23-6 after one quarter and never looked back on their way to a 61-17 win at Austin.
Ali Cousins scored 15 points and Camryn Thomas had eight for Otto-Eldred.
Madison Hooftallen scored nine for Austin.
CLEARFIELD 55, HUNTINGDON 52
HUNTINGDON, Pa. – Clearfield jumped out to a 37-16 halftime lead before Huntingdon rallied but fell short, 55-52.
Alayna Ryan led Clearfield with 19 points, Brooke Cline scored 18 and Ally Lindstrom had 13.
Maddie Gearhart led Huntingdon with 25 points.