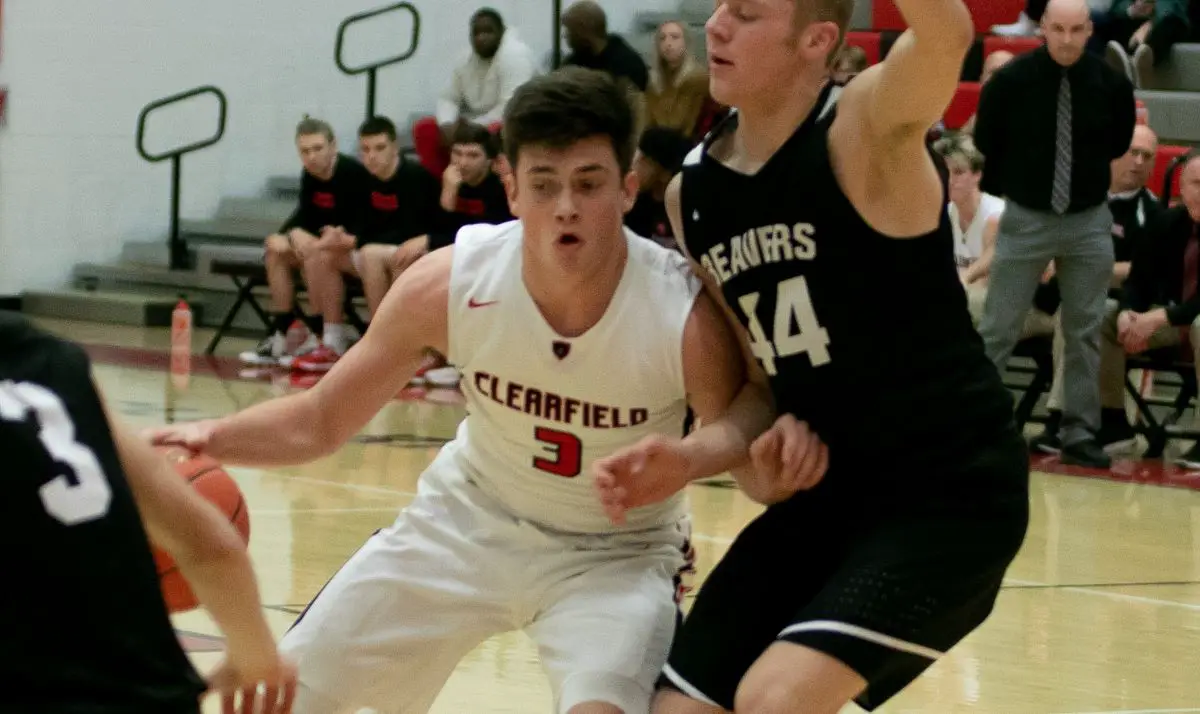 Jan. 24 boys' basketball recaps.
C-L's Callen scores 1,000th career point 
CLEARFIELD 49, PHILIPSBURG-OSCEOLA 45, OT
PHILLIPSBURG, Pa. – Visiting Clearfield gutted out a 49-45 overtime win at Philipsburg-Osceola in Mountain League action.
After a fast start by P-O, which led 17-12 after one quarter, Clearfield clawed its way to a 40-39 lead after three quarters but the teams combined to score just seven fourth-quarter points with the Mounties getting one more than the Bison to force the extra session.
In overtime, though, Cade Walker hit a basketball knocked down a pair of free throws to help Clearfield to the victory.
Walker led the way for the Bison with 14 points and seven rebounds, while Karson Rumsky and Matt Pallo each scored 12 points and Andrew Lopez dished out seven assists.
Ryan Whitehead knocked down 11 shots on his way to a game-high 23 points for P-O, although Clearfield held Whitehead to just five second-half points and none in the fourth quarter and overtime.
Kaleb Richardson added 13 points for the Mounties.
CLARION 43, KEYSTONE 29
CLARION, Pa. – Clarion used strong defense and just enough offense to pull off a 43-29 upset of visiting Keystone ending the Panthers 14-game win streak.
Relisten to the game:
The Bobcats forced 22 turnovers and limited Keystone to 12 of 48 from the field (25 percent) while holding the Panthers to their fewest points in 45 games (20 in a 20-15 win over Moniteau Dec. 20, 2017).
Meanwhile, Clarion didn't have anyone score in double digits but did have three players with eight points each.
Skylar Rhoades was named the Hager Paving Player of the Game after recording eight points and seven rebounds, Nick Frederick added eight points and six boards and Cal German had eight points and five rebounds. Hunter Craddock chipped in six points and six boards in the win.
Rhoades talked about the victory.
Troy Johnson netted a game-high 11 points for Keystone but scored just four points after the first quarter including two in the second half. Andrew Lauer added seven points and a game-high 14 rebounds.
Keystone went the final 5:38 of the game without scoring after a Johnson offensive putback got the Panthers within three, 32-29, at the 5:38 mark.
But Rhoades, Frederick and Beau Verdill – on an offensive board of his own – all scored to push the Bobcats lead to nine, 38-29, before Josh Craig put the nail in the coffin with a 3-pointer at the 2:02 mark that made it 41-29.
THE COACH AND THE SCRIBE POWERED BY THE REHAB CENTRE
Jess Quinn (The Coach) and Chris Rossetti (The Scribe) broke down the game and talked a little District 9 girls' and boys' basketball in the Jan. 24 edition of The Coach and The Scribe Powered by the Rehab Centre. The Rehab Centre has six locations serving you, including in Clarion, Brookville, and Kittanning. The Rehab Centre, Chiropractors Caring for Health.
PORT ALLEGANY 54, OTTO-ELDRED 53
DUKE CENTER, Pa. – Howie Stuckey's 3-pointer with 18 seconds left put Port Allegany up by one and was eventually the game-winner in a 54-53 thriller over Otto-Eldred.
A back-and-forth game saw Jake Merry hit a 3-pointer to put Otto-Eldred up 53-51 with 25 seconds left to play. However, Stuckey drove down the court on the inbound to hit his 3-pointer seven seconds later to give the Gators the 54-53 lead. Merry was able to get one last shot off with five seconds left but the shot wouldn't fall.
Stuckey led the Gators offense with a game-high 34 points. Blaine Moses, AJ Edgell and Ty Guilds each had four tallies.
Merry paced the Terrors with 20 points, including six 3-pointers. Cole Sebastian added 17 points and three 3-pointers.
BROCKWAY 49, CURWENSVILLE 43
BROCKWAY, Pa. – Alec Freemer scored 12 points to lead a trio of double-digit scorers as Brockway outlasted visiting Curwensville, 49-43.
Aiden Bullers hit a pair of 3-pointers and finished with 11 points for the Rovers while Jon Wood chipped in 10.
Trevor Lansberry had a game-high 21 points in the loss for Curwensville. Adam Miller added 17 tallies.
RIDGWAY 52, DUBOIS CENTRAL CATHOLIC 43
RIDGWAY, Pa. – Behind 21 points from Matt Dush, Ridgway held on to earn a 52-43 victory over visiting DuBois Central Catholic.
The win was the 300th for Ridgway head coach Tony Allegretto.
The Cardinals trailed 34-30 entering the fourth quarter, but the Elkers went 10-for-13 at the free-throw line to stretch the lead.
Zack Zameroski added 11 points for the Elkers while Alex Bon chipped in 10 with a 3-pointer.
Jalen Kosko paced the Cardinals with 15 points while Daunte Armanini added nine.
KANE 86, SHEFFIELD 47
KANE, Pa. – Chad Greville exploded for 29 points while hitting six 3-pointers as Kane topped visiting Sheffield, 86-47.
Zuke Smith added 11 points for the Wolves with Mason Zuzek chipping in 10. Bryce Bizzak had nine points, all coming from behind the 3-point arc and Carson Whiteman netted eight tallies.
Tyler Hepinger paced the Wolverines offense with 10 points while Jake Vinopal added nine.
DUBOIS 74, PUNXSUTAWNEY 58
PUNXSUTAWNEY, Pa. – Lennon Lindholm hit three 3-pointers, went 9-for-9 at the free-throw line and had a game-high 22 points as DuBois rolled past Punxsutawney on the road, 74-58.
Chase Husted had 16 points for the Beavers while Brady Woodward netted 12. Nick Farrell hit a pair of shots behind the 3-point arc and finished with 10 points.
The Chucks had four players in double figures despite the loss. Daren Byers had a team-best 15 points with Nick Humble adding 11. Andrew Wehrle and Andrew Young each chipped in 10 tallies.
BROOKVILLE 55, ST. MARYS 44
BROOKVILLE, Pa. – Logan Byerly and Jack Krug scored in double figures, leading Brookville to a 55-44 win over St. Marys in D9 League action.
The Raiders led 27-17 by halftime and by as many as 19 in the second half with 2:11 left in the third quarter.
Byerly finished with 15 points while Krug scored 10 points.
Luke Lasko and Mitchell Reiter scored 11 and 10 points respectively for the Dutch, who lost starter Cahil Parrish to an injury in the first quarter. The Dutch were 5-for-24 from beyond the 3-point line.
KARNS CITY 67, REDBANK VALLEY 61
KARNS CITY, Pa. – Karns City outscored Redbank Valley, 26-12, after trailing by eight in the fourth quarter and rallied to a 67-61 victory.
The Gremlins trailed 49-41 entering the fourth quarter but got help from Chase Beighley, who scored 13 of his game-high 30 points in the last quarter of play. Ethan McElroy had three 3-pointers and finished with 11 points while Micah Rupp also chipped in 11 tallies. Beighley added nine rebounds and six assists, McElroy added eight rebounds and six assists, Rupp completed a double-double with 12 rebounds and Luke Garing adding eight rebounds.
Chris Marshall had 23 points with four 3-pointers to pace the Bulldogs offense in the loss. Bryson Bain hit a pair of 3-pointers and finished with 19 points while Owen Magagnotti added 11.
MONITEAU 52, CRANBERRY 37
WEST SUNBURY, Pa. – Quinten Scriven and Ethan McDeavitt combined for 24 points to help Moniteau defeat visiting Cranberry, 52-37.
Scriven had a game-high 13 points for the Warriors offense. McDeavitt netted 11 points while also grabbing five boards and dishing out eight assists. Gage Neal added eight points, six rebounds, six assists and five steals.
Matt McQuaide and J.T. Stahlman had 12 and 11 points respectively in the loss for the Berries.
NORTH CLARION 67, FOREST AREA 46
FRILLS CORNERS, Pa. – Four players finished in double figures led by Drew Gatesman's 20 points as North Clarion topped Forest Area, 67-46.
Matson Higgins had a pair of 3-pointers and finished with 12 points for the Wolves while Devon Walters and Jacob Bauer also added 12 points apiece
Julian Gillenwater paced the Fires with a team-high 16 points and seven boards. Franklin Meals also grabbed seven rebounds and finished with 12 tallies.
SMETHPORT 52, NORTHERN POTTER 36
SMETHPORT, Pa. – Layne Shall had 16 points to lead a balanced offensive attack in Smethport's 52-36 victory over Northern Potter.
Shall had three 3-pointers and went 7-of-8 at the charity stripe for the Hubbers. Connor Alfieri added 10 points while Richie McDowell and Alex Ognen each chipped in eight.
Despite the loss, Carter Anderson had a game-high 22 points, including three 3-pointers and seven free-throws for the Panthers.
COUDERSPORT 94, GALETON 13
COUDERSPORT, Pa. – Coudersport had five players in double figures in their 94-13 victory over Galeton.
Hayden Keck led the Falcons offense with 23 points while Dillon Keglovits went 6-for-8 at the line and finished with 18 points. Matt Daniels added 15 points, Kolby VanWhy had 14 and Dalton Keglovits chipped in 13.
Trey Kalacinski paced the Tigers with six tallies.
CAMERON COUNTY 64, AUSTIN 40
AUSTIN, Pa. – Behind 27 points from Caden Beldin, Cameron County took a 64-40 road victory over Austin.
Beldin had a team-best three 3-pointers to lead the Red Raiders offense. Dino Brown added 14 points and Dylan Guisto went a perfect 4-for-4 at the free-throw line while finishing with 13 tallies.
Jackson Glover paced the Panthers with 16 points and went 6-of-8 at the charity stripe while also grabbing five rebounds.