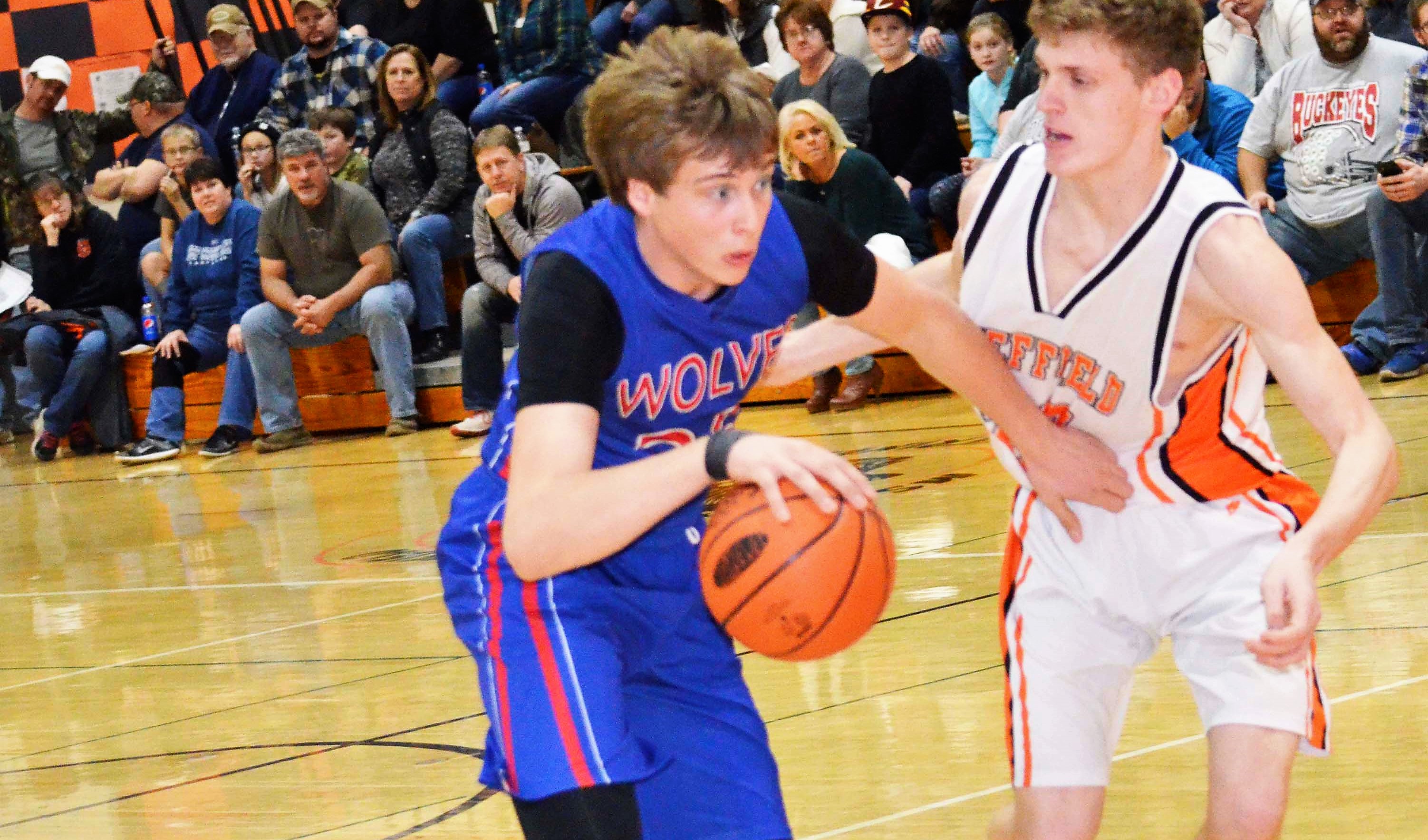 All games subject to change without notice.
(Cover photo of Kane's Andrew Bucheit, who had 43 points and 16 rebounds Friday night)
KANE 95, SHEFFIELD 52
KANE, Pa. – Andrew Bucheit exploded for 43 points, 16 rebounds, six assists and six blocked shots, as Kane rolled past visiting Sheffield 95-52 in AML action.
Davis Gardner added 14 points, 12 rebounds and six assists for the Wolves, who scored 31 second-quarter points while taking a 47-23 at halftime.
Drew Higby led Sheffield with 13 points and six rebounds.
CLEARFIELD 73, BALD EAGLE AREA 30
WINGATE, Pa. – Tommy Hazel and Will Myers outscored Bald Eagle Area by themselves in a 73-30 win Mountain League road win over the Bald Eagles.
Hazel had 21 points, 10 rebounds, five assists, three steals and a blocked shot, while Myers chipped in 20 points, eight rebounds, two assists and two steals.
Evan Brown added 14 points, five rebounds and a steal for the Bison, while Dave McKenzie had six points, six rebounds and a steal.
Jaden Jones led Bald Eagle with 11 points.
CLARION-LIMESTONE 71, CLARION 68
Read full story at ExploreClarion.com
STRATTANVILLE, Pa. – Thanks to four key free throws late from Ian Callen, Clarion-Limestone held off a late charge from visiting Clarion to secure a key 71-68 KSAC North victory.
The Lions led by 17, 52-35, with 8:13 to play but found themselves clinging to a one-point lead, 67-66, after a 3-pointer from Clarion's Ceventh Lynch-Skunda, who scored 13 of his 16 points in the fourth quarter to lead the Bobcat comeback.
But C-L was able to withstand a pair of missed free throws from freshman Deion Deas when Lynch-Skunda missed a runner in the lane with 7.8 seconds left, and Callen hit two free throws with 7.4 left to make it a 69-66 lead.
C-L then fouled Cam Craig on purpose with 3.4 seconds to play, and Craig hit both free throws to make it 69-68. The Lions then caught a break when Ian Callen walked but it wasn't called before he was fouled with 1.4 left. He hit both free throws to seal the victory.
Did Callen walk?
Dan Callen led C-L with 22 points and 14 rebounds, including 11 points in the third quarter helping C-L expand a 33-26 halftime lead to 52-37 going to the fourth quarter.
Dan Callen talks about the win.
Christian Smith also had a double-double for the Lions with 12 points and 11 boards, while Ian Callen added 18 points and Sam Leadbetter 11.
Ty Burford led Clarion with 18 points and seven rebounds. Cam Craig chipped in 17 points and Reed Anthony had 12.
A big point in the game at the end of the first half when Clarion's Spencer Miller fouled Julian Laugand as Laugand was trying a desperation shot from midcourt. Laugand hit all three free throws to put C-L up seven, 33-26, at halftime.
ELK COUNTY CATHOLIC 76, DUBOIS CENTRAL CATHOLIC 42
ST. MARYS, Pa. — The Elk County Catholic Crusaders jumped out to a 19-7 first quarter lead and never looked back in a rout of the DuBois Central Catholic Cardinals.
ECC led 43-17 at halftime.
The Crusaders were hot from behind the three-point line, hitting 10 triples. Gabe Kraus led with five three-pointers on his way to a game-high 19 points. Ryan Newton had 15, Brad Dippold scored 13 and Nate DaCanal scored 12.
For the Cardinals, Thomas Grecco led the way with 12 points while Justin Miknis and Jonathan Kurt each had eight.
KEYSTONE 64, A-C VALLEY 36
Read full story at ExploreClarion.com
FOXBURG, Pa. — Austin Ion had the hot hand for the Panthers, scoring 25 points while grabbing nine rebounds.
Dalton Jones and Nate Wingard each scored 12 points for Keystone. Wingard added 12 rebounds. Corey Rapp scored eight and had five assists.
For the Falcons, Joe Manculich led the way with 19 points and 10 rebounds. Russell Carr added 10 points.
NORTH CLARION 64, FOREST AREA 41
MARIENVILLE, Pa. — The Wolves had four players score in double figures as they pulled away from the Fires in the second half.
Chase Schmader led the way with 12 points, Nathan Banner and Keeven Weaver each scored 11 and Jesse Schmader added 10. Zander Hargenrader added six steals.
North Clarion led 25-17 at the half before outscoring the Fires 39-24 in the second.
For the Fires, Seth Berlin had a monster game with 22 points and 18 rebounds.
BROOKVILLE 56, JOHNSONBURG 47
JOHNSONBURG, Pa. — Brookville picked up a non-league road win with a 56-47 win at Johnsonburg Friday night.
Colton Singleton scored a season-high 16 points to lead the Raiders, who also put Aaron Park and Ben Reitz in double figures with 13 and 10 points respectively.
Ryan Kilhoffer and Drew Akers scored 11 and 10 points respectively for the Rams.
COUDERSPORT 56, RIDGWAY 54, OT
COUDERSPORT, Pa. — Coudersport and Ridgway have had some classic games the last few years and Friday's overtime affair was one of them.
Ridgway jumped out to a 22-15 first quarter lead, but that was the last quarter the Elkers outscored the Falcons.
Coudy got the deficit to four points, 31-27, at halftime, then tied it after three.
Jared Green led four Falcons players in double figures as he scored 14. Derek Keglovitz scored 12 while Owen Chambers and Aaron Wolfinger scored 10 points each.
Andy Breier led Ridgway with 21 points, followed by Josh Thorwart's 11, Neil MacDonald had nine and Justin Kasmierski scored eight.
MONITEAU 48, UNION 23
RIMERSBURG, Pa. — Lake Pry's 26 points keyed the Moniteau Warriors road win over the Knights.
Moniteau led 16-8 after one quarter before a 14-2 second quarter blew the game open, helping the Warriors take a 30-10 lead to halftime.
Ross Tenney joined Pry in double digits, scoring 12 and Jared Lominski scored five.
For the Knights, Kolby Montgomery, Reice Saylor and Luke Bowser each scored five points.
BROCKWAY 76, CURWENSVILLE 40
BROCKWAY, Pa. — Twelve Brockway Rovers played and all 12 scored in Friday's rout of the Curwensville Golden Tide.
Jake Wineberg scored 17 points to lead the way for Brockway and Carter Adams added 11.
Jarrett Esposito and Tim Brosky each scored eight points.
For the Golden Tide, Zach Marshall scored eight points.
KARNS CITY 66, REDBANK VALLEY 43
NEW BETHLEHEM, Pa. — Karns City held a 28-19 halftime lead before putting the game away in the third quarter, outscoring the host Bulldogs 23-7.
Chandler Turner had a big night for the Gremlins, scoring 23 points. Noah Pollock added 15 and Ian McElroy chipped in with 14 points.
The Bulldogs were led Keaton Kahle's 13 points and Nick Smith's 10.
CRANBERRY 31, VENANGO CATHOLIC 27
OIL CITY, Pa. — Cameron Daugherty's 13 points helped the Berries win a low-scoring affair at Venango Catholic.
Cranberry led 6-4 after one and 16-6 at halftime. Venango got back in the game, outscoring the Berries 12-5, but in the end it wasn't enough.
Dan McQuaide added nine points for Cranberry.
Tim Wagner led Venango with 12 points while Hunter Lancaster and Josh Puleo each scored six.
INDIANA 82, PUNXSUTAWNEY 65
INDIANA, Pa. — Punxsutawney fell behind quickly to Indiana and never got any closer than nine points in a road defeat.
Indiana led 24-6 after the first quarter and while the Chucks were able to cut the deficit in half during the middle quarters, that was as close as they got.