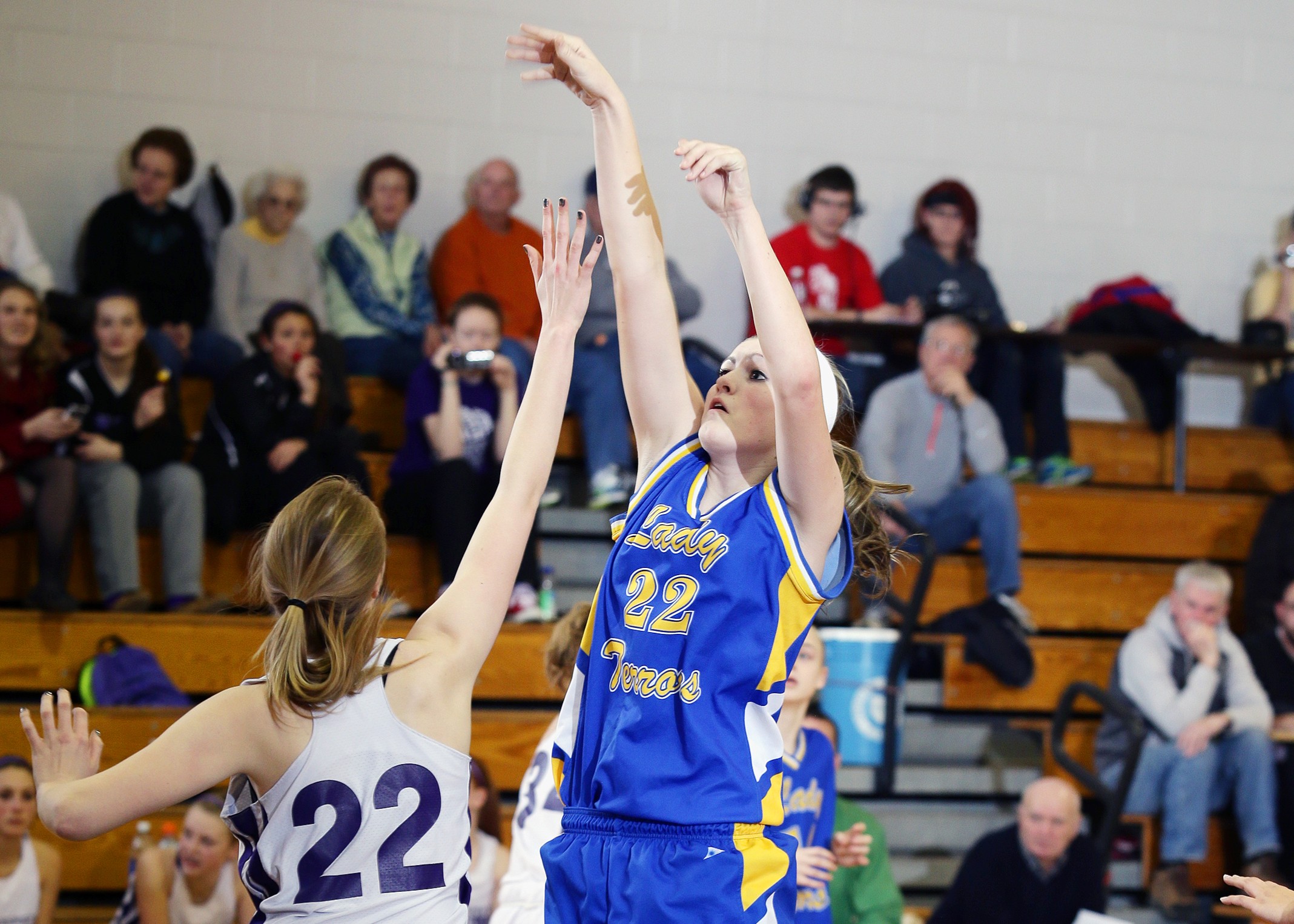 Jan. 6 girls' basketball roundups.
(Cover photo of Otto-Eldred's Camryn Thomas. Photo by Paul Burdick. Check out more of Burdick's work here)
OTTO-ELDRED 48, PORT ALLEGANY 45
DUKE CENTER, Pa. — The Otto-Eldred Lady Terrors held off a Port Allegany comeback in a close win.
Otto led 10-3 after one quarter and 23-14 at halftime. It was still a 10-point advantage for the Lady Terrors before Port's rally.
Camryn Thomas led O-E with 15 points, Ali Cousins scored 12 and Tiffany Barr added eight points.
For the Lady Gators, Autumn Buchsenschutz had a big game with 19 points while teammate Cathy Barnett added nine points.
BROCKWAY 44, CURWENSVILLE 42
CURWENSVILLE, Pa. – Brockway rallied from a seven-point deficit with four minutes to go to beat Curwensville, 44-42, in an AML contest at Curwensville.
The Lady Rovers knotted the score at 40 with a minute to play before a key basket by Leah Lindemuth and two free throws by Kaitlyn Morelli put them up four, 44-40, with nine second left.
Christine Limbert then hit a shot at the buzzer for Curwensville to set the final score.
Lindemuth led Brockway with 19 points, seven rebounds and five steals. Morelli chipped in 12 points, seven boards and three steals, and Adriana Azzato had six points and 10 rebounds.
Limbert paced Curwensville with 14 points, while Hannah Dixon added nine.
MONITEAU 64, UNION 36
WEST SUNBURY, Pa. – Kristina DeMatteis scored 21 points and hauled down 13 rebounds to help Moniteau to a 64-36 KSAC South victory over visiting Union.
Alazia Greaves also scored 21 points for the Lady Warriors, while Emma Bair had six points, nine rebounds and four blocked shots.
Lexey Shick led Union with 13 points and six rebounds with Hannah Atzeni adding 10 points.
A-C VALLEY 61, KEYSTONE 24
KNOX, Pa. – Visiting A-C Valley rebounded from a tough road loss at Karns City Wednesday by rolling past Keystone, 61-24, in KSAC South play.
Cami McNany and Ellie Thompson each scored 16 points to lead the Lady Falcons, who led 36-12 at halftime. Annie Viertel chipped in 10 points.
Alyssa Beichner paced Keystone with 11 points. Taylor Geer added seven.
KARNS CITY 62, REDBANK VALLEY 44
KARNS CITY, Pa. – Emily Hegedus scored 11 of her game-high 24 points in the third quarter, as Karns City knocked off visiting Redbank Valley, 62-44, in KSAC South action.
Alyssa Gibson added 11 points and Mackenzie Craig nine for Karns City, which led 28-11 at halftime.
Lexi Holt scored 13 to pace Redbank Valley with Kera Fink adding nine.
NORTH CLARION 66, FOREST AREA 13
FRILLS CORNERS, Pa. – Behind 15 points and 10 rebounds from Tori Obenrader, North Clarion rolled to a 66-13 win over visiting Forest Area in KSAC North action.
The unbeaten She-Wolves, who had 10 players score, also got 11 points from Michaela Higgins and nine from Lindsay Zacherl.
Glory Wagner paced Forest Area with six.
COUDERSPORT 78, OSWAYO VALLEY 23
SHINGLEHOUSE, Pa. – Haley Keck scored 22 points, including 18 combined in the second and third quarters, as visiting Coudersport cruised past Oswayo Valley, 78-23.
Ally Easton chipped in 12 points and four blocked shot for the Lady Falcons, who also got nine points and four steals from Skyler VanWagnen, nine points from EmmaRae Easton, six points and eight rebounds from Hannah Baker and two points and four steals from Adrian Page.
Shayla Bickel paced Oswayo Valley with 14 points.
GALETON 62, AUSTIN 17
AUSTIN, Pa. – Makaya Shadle netted 21 points to help visiting Galeton to a 62-17 North Tier League victory over Austin.
Olivia Pagano added 10 points for the Lady Tigers, who also got nine from Cortney Parsell.
Jordan Brewer scored 10 to pace Austin.
CAMERON COUNTY 59, SMETHPORT 49
EMPORIUM, Pa. – Madi Guisto netted a game-high 20 points, Alyvia McKimm added 17 points and Amily Schatz had a double-double with 10 points and 11 rebounds to give Cameron County a 59-49 North Tier League victory over visiting Smethport.
Madison Harrier also chipped in seven points, 11 rebounds, four steals and three helpers for the Lady Raiders, who built a 35-22 halftime lead.
Emily Treat led Smethport with 14 points with Abbey Woodard adding 13.
CRANBERRY 48, MAPLEWOOD 28
SENECA, Pa. – Cranberry improved to 10-1 on the season with a 20-point, 48-28, non-conference victory over visiting Maplewood.
Malliah Schreck had a double-double for the Berries with 11 points and 10 rebounds, Hannah Duncan added 12 points, Bree Swartzfager 11 and Erin Merryman six points and six steals in her return after missing a pair of games with an illness.
Maggie Hunter paced Maplewood with 10 points.
PUNXSUTAWNEY 44, HOLLIDAYSBURG 42
HOLLIDAYSBURG, Pa. – Kate Horner scored seven of her team-high 16 points in the fourth quarter to help visiting Punxsutawney rally past Hollidaysburg, 44-42.
The Lady Chucks trailed by five, 31-25, going to the fourth quarter but outscored the Lady Tigers 18-11 in the quarter.
Leah Miller added 13 points and 18 rebounds for Punxsutawney, while McKenna Hurd led all scorers with 18 points for Hollidaysburg. Theresa Gildea chipped in 10 for the hosts.
CLARION 52, CLARION-LIMESTONE 32
STRATTANVILLE, Pa. — Alexis Constantino scored 26 points and handed out five assists to help lead the Lady Bobcats over the Lady Lions, 52-32.
Also for Clarion, Wendy Beveridge had 12 points and Kate Constantino added eight points.
Maddy Craig led the Lady Lions with 11 points, Jess Ball had seven and Anna Burns scored six.
Clarion led 23-8 at halftime.
CLEARFIELD 46, BALD EAGLE AREA 27
HYDE, Pa. — The Clearfield Lady Bison had three players score in double figures on their way to an easy win over the Lady Eagles.
Brooke Cline led the way with 18 points, Alayna Ryan had 11 and Ally Lindstrom scored 10.
Clearfield led 13-5 after one quarter and then blew the game open with a 14-1 second quarter to take a 27-6 lead.
KANE 54, RIDGWAY 41
RIDGWAY, Pa. — A big second quarter propelled the Kane Lady Wolves to a win over the host Lady Elkers, 54-41.
Kane held a slim 10-9 lead after one quarter before outscoring Ridgway 19-9 in the second to take a 29-15 halftime lead.
Trinity Clark led the Lady Wolves with 21 points, eight rebounds and four assists while Ella Marconi joined her in double figures with 15 points to go with 10 rebounds and five blocks. Hannah Buhl scored eight points and had four assists and Camryn Cummings added seven points and six helpers.
For Ridgway, Emily Fullem led her team with 21 points, 10 rebounds, seven blocks and six steals. Casey Woodford scored nine points and added five rebounds.
The Lady Elkers shot well from the free-throw line, hitting 14 of 19, led by Woodford's 5 of 6 and Fullem's 3 of 3.