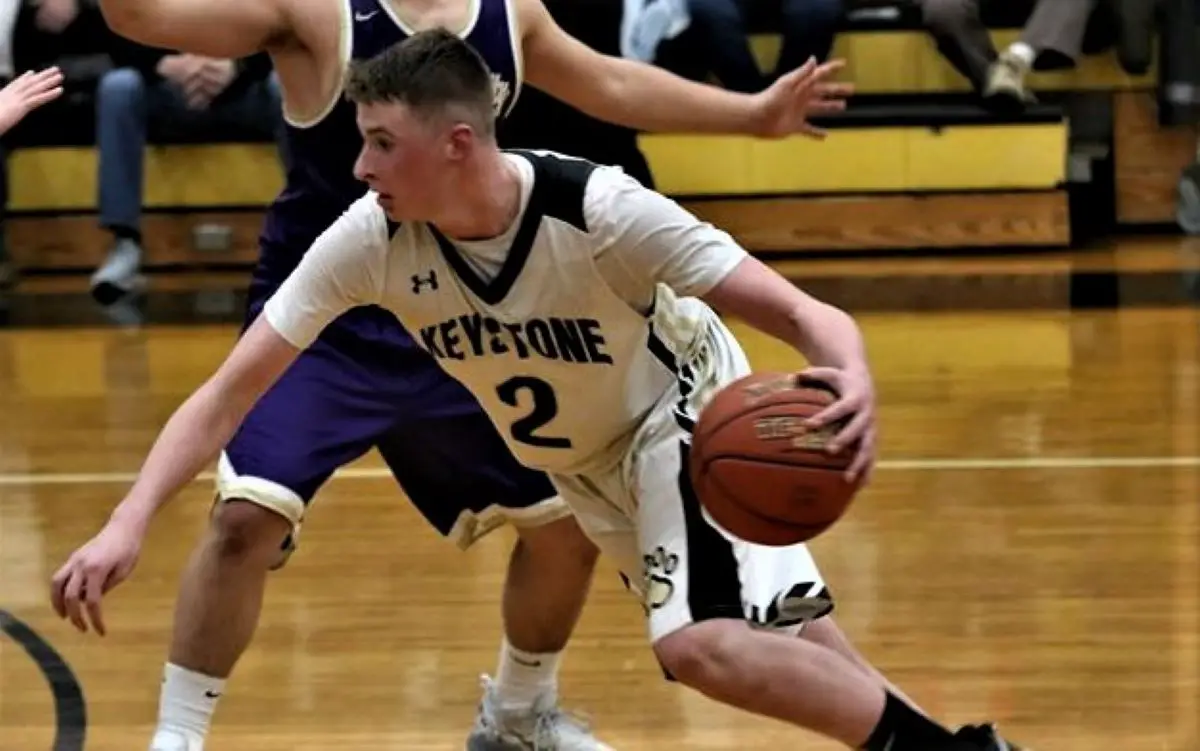 KNOX, Pa. – On Senior Night at Keystone, senior Troy Johnson scored 11 of his game-high 21 points in the first quarter to help Keystone secure the No. 1 overall seed in the District 9 Class 2A playoffs thanks to a 61-42 win over visiting North Clarion.
(Photo of Troy Johnson of Keystone, who scored 21 points in the Panthers win Tuesday. Photo by Mary Rearick)
Also see: Feb. 11 Boys' Recaps – Presloid FT Gives Punxsy 2 OT Win; Moniteau Wins in OT
Johnson's big first quarter helped the Panthers take an 18- 13 lead after eight minutes.
North Clarion got back within three, 18-15, with five minutes to go in the first half before Keystone ended the half on a 13-0 run that included five points from Marc Rearick and four each from Johnson and Isaak Jones.
Johnson, who added eight rebounds, talked about the win.
Rearick and Jones, also seniors, added 12 and 10 points respectively in the win, while Alex Rapp, another senior, chipped in seven points. Andrew Lauer, yet another senior, grabbed seven rebounds to go with four points.
Jacob Bauer led North Clarion with 16 points with Matson Higgins adding 12 and Drew Gatesman nine points and 10 rebounds.
ELK COUNTY CATHOLIC 56, BRADFORD 37
ST. MARYS, Pa. – Mark Kraus scored seven of his game-high 18 points in the third quarter, and Elk County Catholic used a 21-3 third-quarter advantage to beat visiting Bradford, 56-37.
The win secured at least a tie of the D9 League title for the Crusaders, who could win the title outright if DuBois loses either of its final two league games – Friday at Brookville or Monday at home vs. Punxsutawney.
Bradford led 20-17 at halftime but trailed by 15, 38-23, by the time the fourth quarter rolled around.
Leo Gregory added 10 points for ECC, which played without leading scorer Regis Wortman for the second straight game, while Will Uberti chipped in seven points and Carter Lindemuth and Jordan DePrator six each.
Tyler Gigliotti paced Bradford with 12 points, Steven Knowlton added eight tallies and Peyton Manion had two points and seven rebounds.