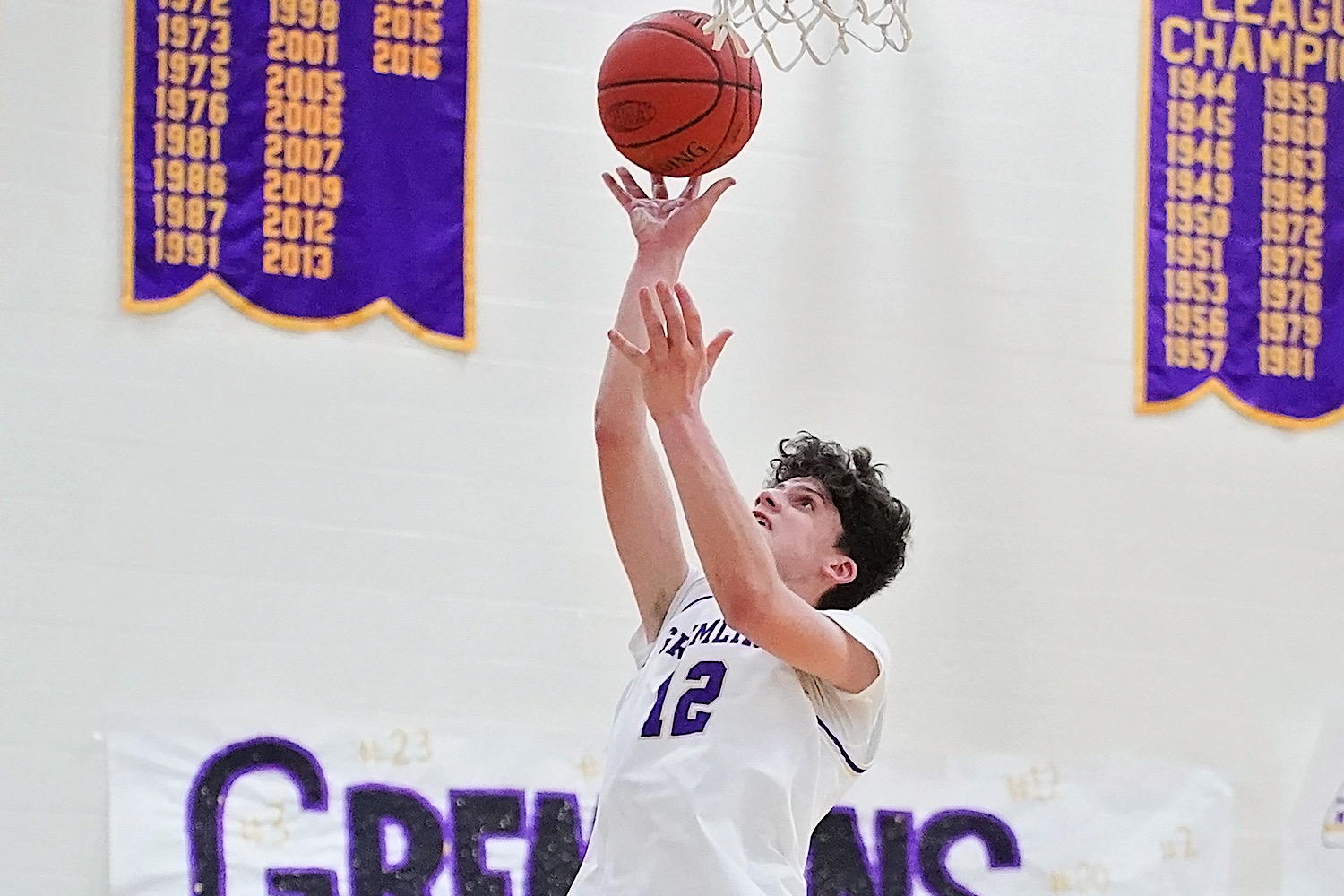 KARNS CITY, Pa. (EYT/D9) — It was perhaps the lowest point of the season for the Karns City boys basketball team.
The Gremlins went to Brookville for a showdown with the Raiders on Monday night and came home with a 56-35 loss.
Karns City needed to play well at home on Wednesday night against surging Keystone.
Mission accomplished.
(Above, Karns City's Jacob Callihan glides in for a layup/Photo courtesy of Holly Mead Photography)
The Gremlins outscored Keystone 13-4 in overtime after the two teams battled back and forth throughout regulation to emerge with a 51-42 victory over the Panthers.
"It's definitely a big conference win," said Karns City coach Zach Kepple. "Hopefully it sends us in the right direction for a tough stretch of games we have in the last part of the season here."
Hobie Bartoe scored five points in the overtime period and finished with 13.
Jacob Callihan had a strong night for Karns City with a team-high 15 points. He also had seven rebounds.
And Micah Rupp was, well, Micah Rupp.
The senior was disruptive as always on defense with three blocked shots and was solid on the boards with nine rebounds to go with his 12 points.
Keystone did a good job limiting Karns City point guard Taite Beighley, who scored just three points.
He did have five assists.
The Panthers, who had won six straight coming into the game, trailed 10-6 after the first quarter, but stormed back in the second.
Kyle Nellis scored seven of his game-high 17 points in the frame, but the Panthers still went into the half down 19-17.
Keystone (7-7), though, led for most of the second half. It was just the kind of game the Panthers have been winning lately after a 1-6 start.
"Always expect that with Coach Heath," Kepple said.
But Karns City (12-3) wrested the lead back with two minutes remaining in the fourth quarter as Callihan and Rupp both sank two key free throws.
Keystone was able to draw even again, and after a Gremlin turnover, had a chance to win at the end of regulation, but couldn't capitalize.
Instead, Karns City took control in overtime. Callihan also scored four points in the extra period and Beighley, held to just one point in the first four quarters, scored his first basket of the game to help the Gremlins across the finish line.
It was the second straight night Karns City and Keystone went to overtime. On Tuesday, the Gremlin girls beat the Panthers in OT, 38-33.
"That's a crazy coincidence," Kepple said. "(This) was a good, physical game against an obviously well-coached Keystone team."