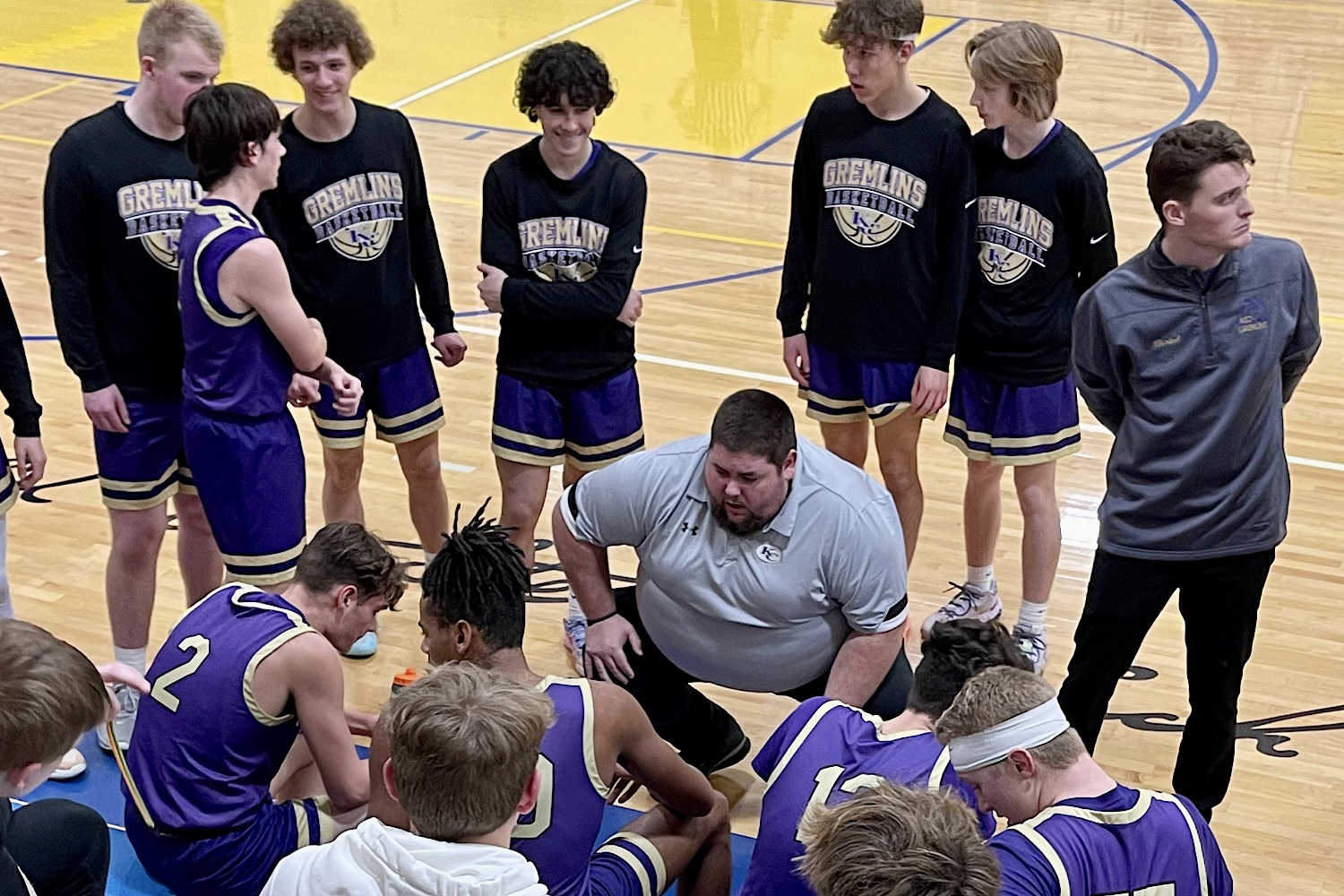 RIMERSBURG, Pa. (EYT/D9) — Taite Beighley was out in front with the basketball on a break.
He glanced over his shoulder. Micah Rupp was trailing behind him, yelling, "Backboard! Backboard!"
As Beighley entered the paint, he lobbed the ball off the glass. Rupp glided in to snag the carom and threw down a thunderous dunk for the Karns City boys basketball team.
The Gremlin bench and fans assembled at Union High School erupted.
It was a large exclamation point placed on a dominating 59-28 victory for Karns City over Union on Thursday night.
"I did a look-back and trusted him to get there," Beighley said.
"I saw it was a two-on-one," Rupp said, grinning. "We'll take that every time."

Redbank Valley, Keystone, and Union/A-C Valley sports coverage on Explore and D9Sports.com is brought to you by Heeter Lumber.
Beighley had eight assists in the win. But that wasn't one of them. Technically, it was a missed shot for the Karns City point guard and a rebound — one of 10 in the game — for Rupp with a putback. A rather loud one.
"Man, that doesn't count as an assist?" Beighley said, smiling. "I wanted the assist."
No matter. The convincing victory was just as sweet.
Beighley and Rupp have formed quite the dynamic duo for Karns City this season.
Against Union, they were at it again — on both ends of the floor.
Beighley scored 14 and Rupp 12 — eight of those coming in the first quarter — as Karns City jumped out to a 14-5 lead.
That advantage swelled to 28-8 at the half.
"Kind of what we've been doing this year is slow starts and big finishes," said Karns City coach Zach Kepple. "We kind of talked all week about getting off to a fast start. We did a great job. We played really great defense pretty much the whole game and especially in the first half, holding them to eight points."
Karns City's plan of attack defensively was pretty clear: don't let Union senior guard Payton Johnston touch the ball.
And he didn't for most of the first half, scoring just two points.
Beighley was charged with guarding Johnston as the Gremlins played a box-and-one on the Golden Knights' star.
"Taite did a phenomenal job on him defensively," Kepple said. "We were talking all week about matchups, debating between Hobie (Bartoe) and Taite on him. Taite wanted him. He called him. He said "I'll take him. I'll take him.'"
Johnston finished with nine. Zander Laughlin also put in nine for Union.
"Payton's our best scorer. Everybody knows that," said Union coach Eric Mortimer. "He's our best shooter. If he doesn't score, we don't seem to win lately. I don't know why. Nobody else can put the ball in the basket right now."
It wasn't a good night all around for Union, which again allowed the opposition to shoot well.
Karns City was 57% from the field — and nearly 70% in the first three quarters.
Union (7-7) has lost five out of the last six.
Defense has been a problem. So has getting off to sluggish starts. That has put the Golden Knights in deep holes that they haven't been able to claw out of recently.
"We shoot ourselves in the foot," Mortimer said. "Every time we start making a run, we throw one away.
"You know, I talk to them all the time about it. It's just not happening for us right now and I don't know why. We're gonna have a big heart-to-heart tomorrow."
Things couldn't be more different in Karns City (11-2).
The Gremlins moved the ball well against Union and were crisp offensively throughout.
Jacob Callihan also scored 14 points for Karns City.
"We were very unselfish and we knocked down shots," Kepple said. "We did a good job adjusting to the defenses they threw at us. I thought the kids played really well.
Especially Rupp, who again was a menace on defense, blocking four shots.
And on offense, too.
"We're been joking around with Micah that junior Micah's dunks have been better than senior Micah's dunks," Kepple said, grinning.
But Rupp has been doing much more than just swatting away shots and dunking others.
The offense ran through him and Beighley against Union.
"He's been doing a really good job facilitating the offense," Kepple said. "Now that we have Taite and Micah both facilitating the offense, it's a great thing. Micah's been going to the hoop more often and he's also been getting other guys some great looks."

Redbank Valley, Keystone, and Union/A-C Valley sports coverage on Explore and D9Sports.com is brought to you by Heeter Lumber.