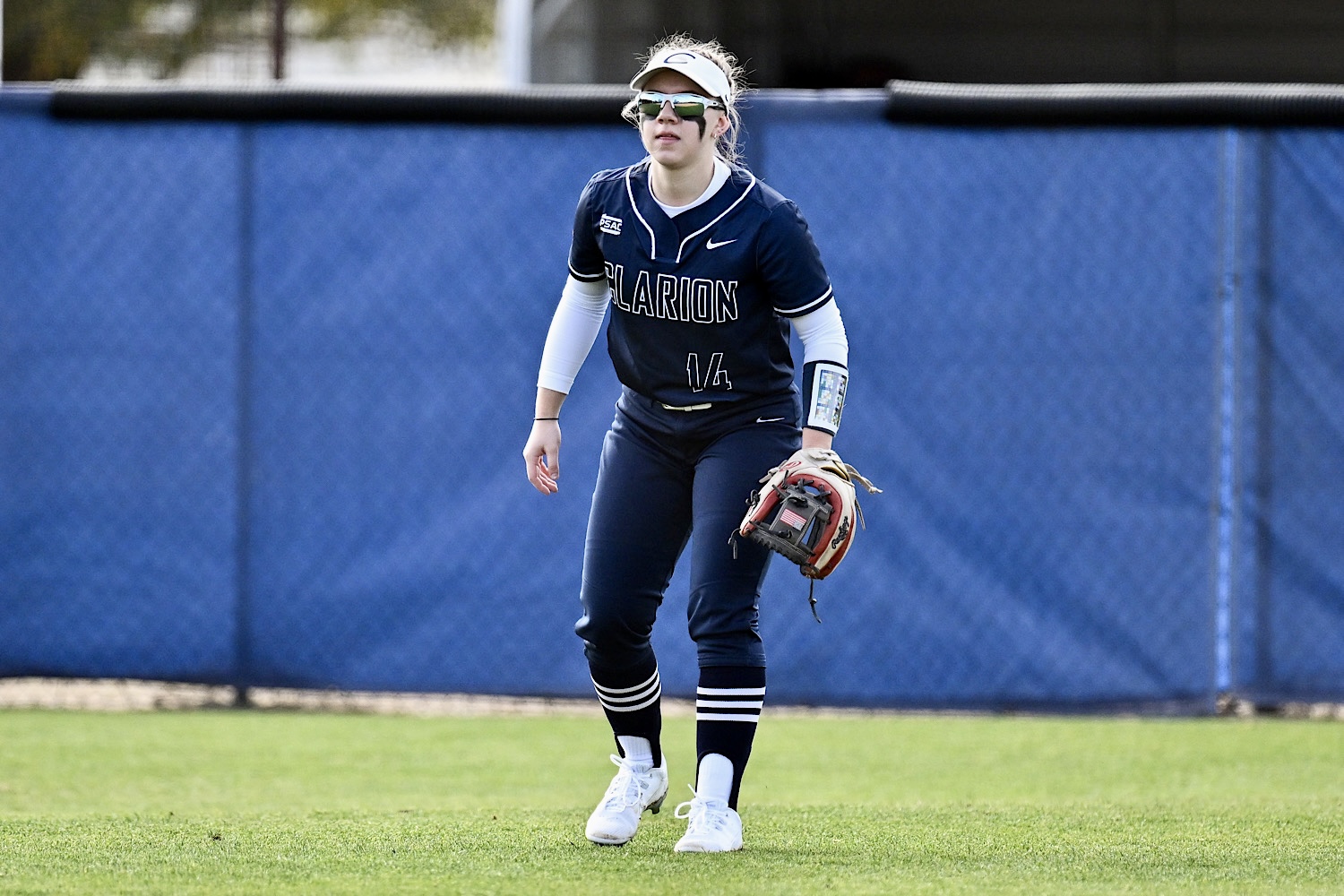 CLARION, Pa. (EYT/D9) — Alyssa Stitt is having fun.
And that has made all the difference in the world for the Karns City grad and senior on the PennWest Clarion softball team.
It hasn't always been that way for Stitt, who has felt the weight of frustration pushing down on her over the last few seasons. She wasn't performing the way she had hoped and the team was struggling mightily.
"I feel like in past years, we've all had the potential, but we just never came through," Stitt said.
That has changed dramatically already in this young season for both Stitt and the Golden Eagles.
Stitt, an East Brady native, is on the hottest of hot streaks.
The left fielder is batting .463 with two home runs, seven doubles, two triples and 19 RBI for Clarion just 14 games into the campaign.
Stitt is slugging .778 and has an OPS of 1.251.
She was recently named the Pennsylvania State Athletic Conference Athlete of the Week. Her teammate, freshman Emma Hipps, was the conference pitcher of the week. Hipps is a Clearfield grad.
"It's a huge honor," Stitt said. "That was one of my main goals was to be PSAC player of the week, so I was excited that it happened early. I'm hoping to get a few more player of the weeks throughout the season."
First-year Clarion coach Marissa Pullo said Stitt should get used to getting the honor.
"I think it's long overdue for Miss Alyssa there," Pullo said. "There's nobody more deserving than her."
Both Stitt and Hipps were also in the running for the national player and pitcher of the week, but lost out.
They have been two big reasons why Clarion returned from a spring trip to Florida with the best start in program history at 9-5 while riding a six-game winning streak.
The Golden Eagles won just five games last year and have never won more than 12 in a season.
"I think starting the season out, we were all trying to make a name out of Clarion softball," Stitt said. "I think now that we've won a few games and we have more wins than we ended with last season, I think Clarion softball is finally getting the recognition that we deserve. I think it's very exciting for the team."
But Stitt and the Golden Eagles realize there is still a lot of season to be played.
They aren't planning the ticker-tape parade just yet.
"I mean, we started out great, but at the end of the day we're going into the conference season 0-0," Stitt said. "I think we're excited, but also keeping our head on our shoulders and just staying within ourselves and playing for each other. Hopefully we'll continue to get some wins in our conference."
Those are the words of a leader, and Stitt has certainly been one on and off the field for Clarion.
It was a conscious decision for Stitt, who figured as a senior she needed to step into that breach.
"This year, I realized I needed to be a leader on the team," she said. "And just stepping up in key moments is really helping me and my confidence. I think this year it's mainly just been confidence and just having fun."
It didn't take long for Pullo to identify Stitt as someone she could count on.
Pullo said she could tell from the first meeting that Stitt was all-in.
"You just know when you have the right player. You know who they are and she was definitely one of them," Pullo said. "I think it's just a mentality, letting them know we can do this and having them fully believing it. And she believes it and she's playing like she believes it. She's getting people to follow her.
"I'm asking a lot of her — probably more than I should," Pullo added. "But I know she's the one player that I can."
Stitt has welcomed that role.
It suits her.
She has settled in as a left fielder, but has also been asked to play shortstop from time to time.
Stitt moved there during a pivotal inning and made two big defensive plays to preserve a close win down in Florida.
"Wherever I am need, I will step up," Stitt said. "If I'm needed at shortstop, I'll be there for the team, but if I'm needed in left field, that's where I'm most comfortable. I'm just happy to be on the field in any way."
Stitt also said the arrival of Hipps had helped the team tremendously.
Hipps, who helped pitch Clearfield to the PIAA Class 4A championship, has been lights out for Clarion, posting a 5-0 record with a 3.13 ERA and 36 strikeouts in 31⅓ innings in Florida.
Hipps and Stitt go way back. The two faced each other for the District 9 title when Hipps was a freshman at Clearfield and Stitt a senior at Karns City.
Stitt said they haven't talked about that game.
"I haven't had the urge to bring it up," Stitt said, chuckling. "We'll just leave that in the past. I'm glad she's on my team now.
"She's a great teammate and a great pitcher," Stitt added. "She's very mature as a freshman and she pushes through adversity. There's time that the bases were loaded and she's pitched us out of it. She plays with confidence."
Stitt has one year of eligibility remaining because of the COVID-19 pandemic and a preseason injury that wiped out her 2020 campaign, but she will not take it.
Life beckons.
"As much as I would love to take and extra year, I think I need to focus on my career," said Stitt, who will graduate with a degree in criminal justice. "It was a hard decision. It was very hard thing to decide."
That has made this season even more important to Stitt.
And it shows.
"I'm realizing this is my last year," she said. "I just want to make the most of it."