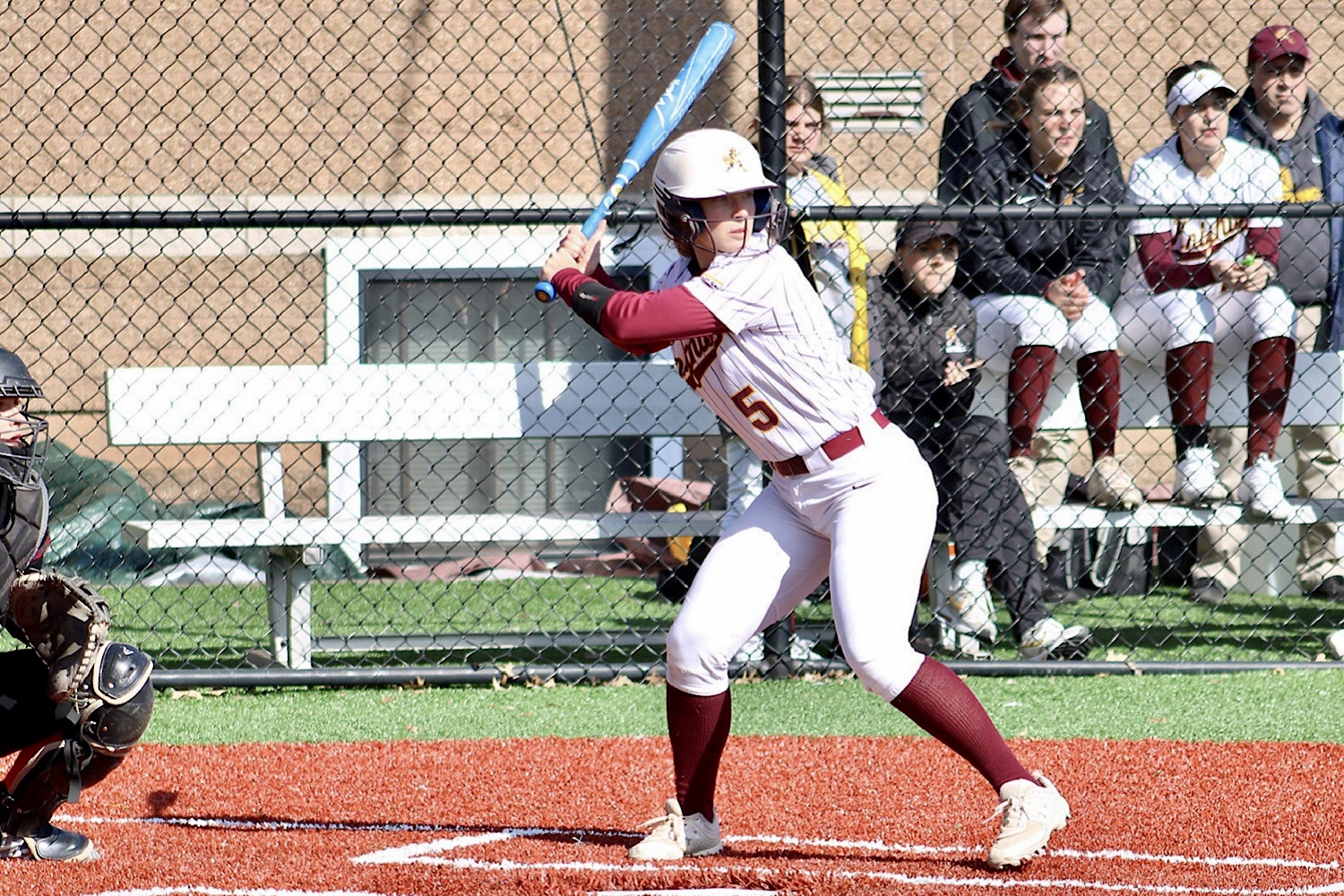 ERIE, Pa. (EYT/D9) — Ashley Fox had never heard of the "yips" before.
But here the Karns City graduate and freshman on the Gannon University softball team was, flinging ball after ball everywhere but to her intended target.
As the misfires mounted from her position at shortstop during a practice one day this spring, so did the fear.
(Ashley Fox gets ready for a pitch for Gannon/photo courtesy of Gannon University)
"It was the scariest thing that's ever happened to me," Fox said. "I just forgot how to throw. It was like I had no control over my own body."
It was unusual because of its suddenness. Fox was excelling as the everyday shortstop for Gannon, inserted into the starting lineup from day one and making the most of that opportunity, both at the plate and in the field.
Her "yips" threatened to derail that.
But Fox relied on her teammates to get her through it. As quickly as the yips came, they passed. It was a learning experience for Fox, who's biggest hurdle in her career has been coming to grips with failure.
And softball is a sport where one will fail. A lot.
"The girls pulled be aside and talked to me and calmed me down," Fox said. "I just love the environment on our team. I love the girls with all of my heart and I was happy to find them."
Gannon was happy to find Fox.
She had a standout career at Karns City, batting .477 with four home runs, eight doubles, a triple and 28 RBIs for the District 9 champion Gremlins as a senior. She also swiped 13 bases and played stellar in the field at short.
But Fox was recruited to Gannon as an outfielder. That was where Fox thought she'd be.
Fox, though, learned quickly with the Golden Knights to expect the unexpected.
"I was recruited to play the outfield. I played the whole fall in the outfield. I figured I was going to play the outfield for the rest of my career," Fox said. "But they put me at shortstop. They practiced me a little bit — it was probably the week before and they started putting me at shortstop. I was like, 'Wow. That's crazy.'"
When the starting lineup was posted ahead of the season opener in Florida, Fox was in for another surprise.
She was on it — and at short.
"Obviously your goal is to come in and work hard. In the fall, we all got a chance to play and we all got the chance to show the coaches what we could do," Fox said. "When it came to the starting lineup for the first game and I was in it, it literally made me so happy. It was the coolest thing ever to be able to play a college game as a freshman. It may not seem like a big deal, but it was a big deal for me.
"We had absolutely no idea who's playing before every game," Fox added. "I mean, we have our ideas, but you never know what the coaches are thinking. I was completely shocked, especially because they put me at shortstop, which is crazy."
Fox took her opportunity and ran with it.
Through 30 games, Fox is batting .333 with a pair of homers and 18 RBIs. She also has six doubles, a triple and six stolen bases for Gannon.
In the field, she's committed just five errors in 100 chances.
"I've spent so many years playing the sport, practicing the sport, preparing to play at a higher level," said Fox, who was also a star on her travel team for years. "That's what I've been doing my entire life. My coaches have really just pushed me to trust myself. Don't be afraid of anything because I have skills."
When Fox was moved to shortstop for her senior year at Karns City, she was hesitant at first.
She grew quickly into the position and found a love for it that has carried with her to Gannon.
"I initially didn't like it because I felt like being in the infield was a lot more pressure because you get more action and you have a lot more responsibility," Fox said. "But now that I've gotten comfortable playing it, especially at the college level, I love it. I love having that pressure. I love being so close to every single play. I love calling out where the ball is gonna go and who to throw it to. It's really cool to be so into it, especially coming from the outfield."
Fox has also come to better grips with the nature of the sport.
She's going to fail. Everyone fails. Everyone has an 0-for-4 day at the plate. Fox has been able to reconcile with that fact and not allow an 0 for 4 day to snowball into an 0-or 8 or 0-for-12 slump.
Fox, despite being a freshman, has been strikingly consistent.
"Softball is one of those sports that really harps on your mental health," Fox said. "It's a mental game. You're supposed to fail. I think the hardest part is coming to terms with that. The thing that really helps me come to terms with failing is my teammates because every single person, all 28 of us, are so supportive of each other, no matter what. I could strike out 15 times in a row and every single one of my teammates would have my back and be there to pick me up."
Fox has also been able to juggle the demanding softball schedule with her studies.
That has included doing physics home work as the bus rolls over winding and bumpy roads on the way to and from far-reaching destinations in the Pennsylvania State Athletic Conference.
"It's not just stressful on your body practicing and playing every day, but three days out of five during school you're gone and missing class," Fox said.
"It's challenging, but we're fortunate to have a school where the teachers are very, very forgiving as long as you communicate with them and try your best to make up the work. We all do homework on the bus and it stinks but you got to do what you gotta do."
What Fox wants to do now is keep playing and keep producing.
Gannon returned home from a rough trip to Florida and has played well in the PSAC. The Golden Knights are 12-18 overall following a sweep of Indiana (Pa.) and are a solid 11-7 in the conference.
Fox takes nothing for granted. Every time she sees her name in the starting lineup, she smiles and treats it as a gift.
"I mean, we were obviously disappointed in Florida, but we treated that as a giant learning experience," Fox said. "It's easy to get down on yourself, but we had the mentality of 'Let's get the next one.' Again, accepting you're going to fail is a hard concept to grasp. You have to push through and accept you are going to make mistakes and the only way you're going to get better is getting up and getting the next one."