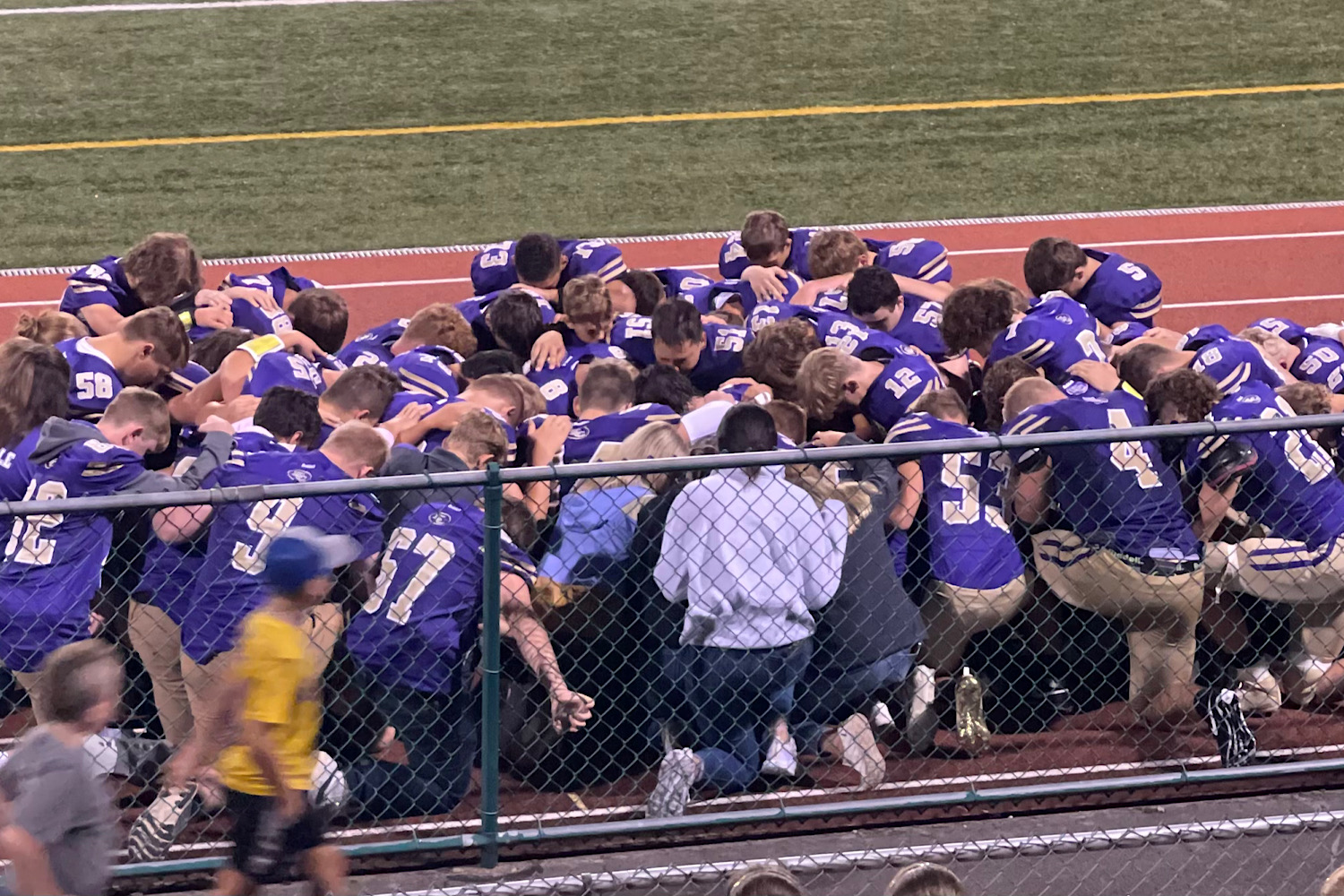 KARNS CITY, Pa. (EYT/D9) — As Karns City players knelt and huddled in prayer against the fence near their bench, medical personnel worked feverishly on Gremlin senior Mason Martin, who lay on the field.
(Pictured above, members of the Karns City football team huddle in prayer for Mason Martin, who collapsed on the field in the third quarter of a game against Redbank Valley/photo by Mike Kilroy)
Martin had played an entire defensive series for Karns City against Redbank Valley on Friday night, left the field for the extra point, and returned to line up in his usual spot with the return team with 7:53 remaining in the third quarter with his team trailing 35-6.
But something was wrong.
Head official Mike Vasbinder spotted Martin wobble and sway. He approached him and asked if he was all right.
Martin responded, "No."
Vasbinder blew his whistle just as Redbank Valley kicker Owen Clouse was set to put foot to ball.
Shortly after, Martin crumpled to the turf.
"I called for his coach and obviously he got worse," Vasbinder said. "He was already back on the field for another play, so it was a little shocking."
A hush fell over Diehl Stadium. Tears from worried eyes began to flow as the seriousness of the situation became apparent.
Karns City Ambulance and a STAT MedEvac helicopter responded to the scene.
Martin was transported to UPMC Presbyterian Hospital in Pittsburgh.
His condition is unknown.
It was reminiscent of a scene that unfolded in the NFL last January when Buffalo Bills' safety Damar Hamlin collapsed on the field in Cincinnati during a Monday Night Football game against the Bengals.
Like that game, this game between Redbank Valley and Karns City was called.
"The young fellow is the number one priority here. Nothing else matters tonight," Vasbinder said.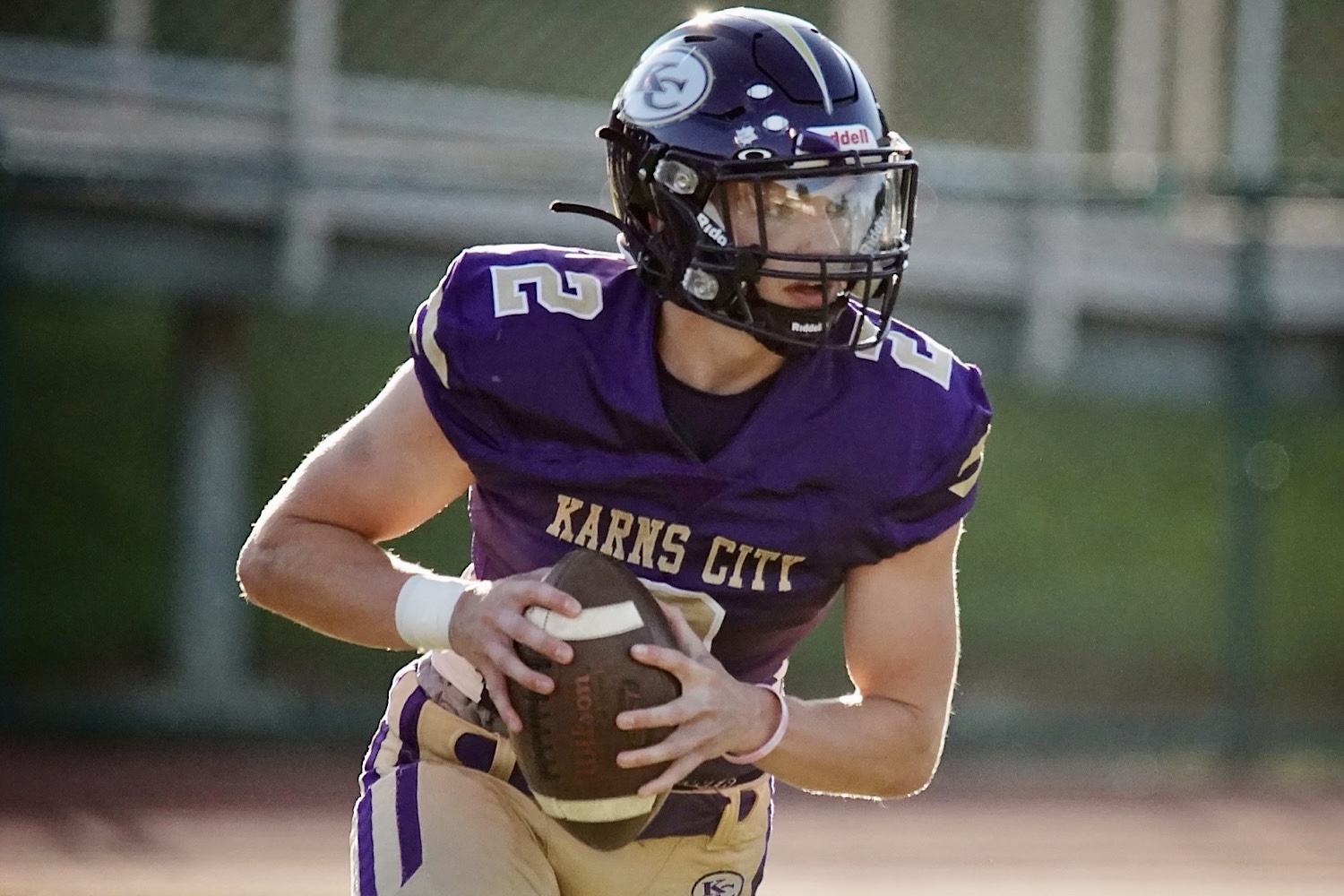 (Karns City quarterback Mason Martin/photo by Holly Mead)
"I was just amazed by the way they all handled it. Thank the Lord they got him out of here and to the hospital as quickly as they did."
Redbank Valley coach Blane Gold and the officials conferred as the decision was quickly made to stop the game.
"The Redbank Valley coach was excellent," Vasbinder said. "He said, 'I don't want to do anything to show any disrespect.'"
Redbank Valley players, coaches, cheerleaders and fans were also in shock. Players and cheerleaders knelt. Some huddled in prayer. They were solemn as they shook hands with Karns City players and coaches at midfield before walking somberly to the locker room.
"My predecessor, Ed Wasilowski, always stressed to the kids that no matter how much you are bitter opponents with someone, you respect everybody who puts the helmet on," Gold said. "It's the most dangerous sport that we play in America, but it's also one of the most exhilarating and that's what makes it so fun.
"Everyone who puts on a hat understands that there's a risk involved," he added. "When that happens, you become a football family because all of our guys on our team, even the most intense competitors, know that they are one hit away from having a serious injury as well. It goes beyond football.
"Obviously the NFL world was shocked by it last year. You see the way that it ended with Mr. Hamlin, so we're praying that the same thing is going to happen for Mason Martin as well. We're going to pray he is able to recover in the same positive fashion and he's gonna be able to do whatever he wants to do."
Karns City superintendent Eric Ritzert issued a statement.
"At this time, we are asking that everyone takes a moment to offer their thoughts and prayers that our injured player is OK," Ritzert said.
Gold said Redbank Valley is also praying for Martin, his family and the entire Karns City community.
"We're a brotherhood within teams," he said.