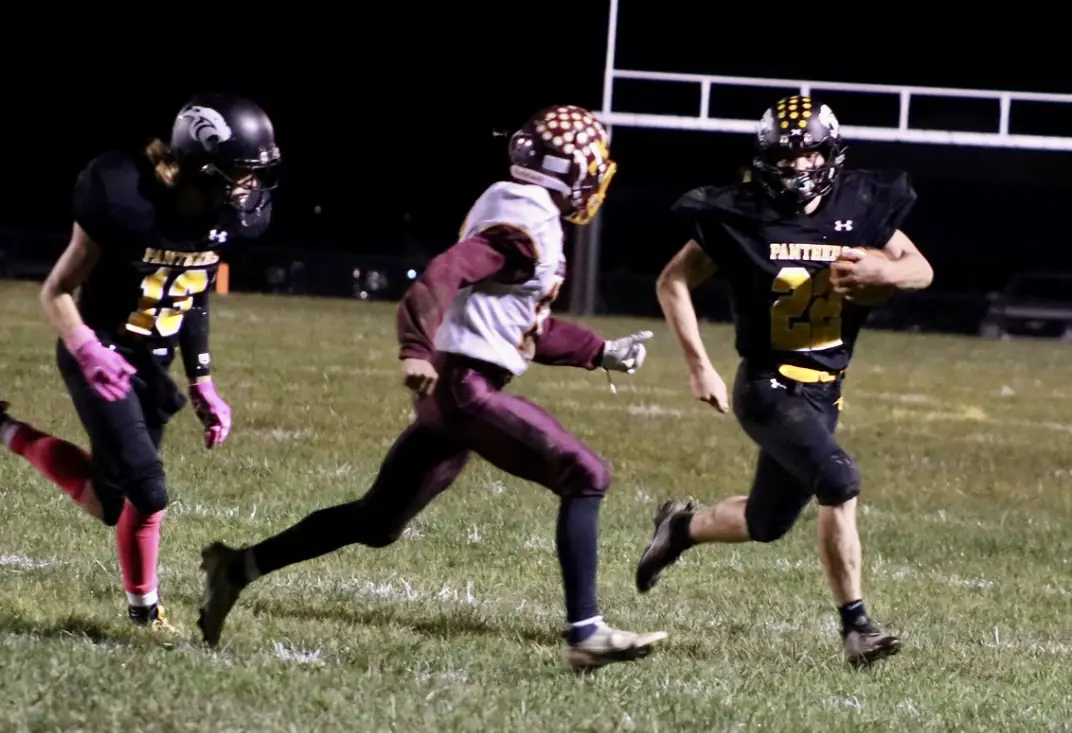 KNOX, Pa. (EYT/D9) — The Keystone football team had to tackle some adversity during the week.
(Above, Kyle Nellis finds some running room against Elk County Catholic last season/Shelly Atzeni photo)
And had to grapple with more oof it in the second half on a steamy Friday night in the season-opener against Coudersport.
The problems started a week ago. In the scrimmage, tight end Aiden Sell broke his right hand. First-year coach Todd Smith had to shuffle some personnel as a result, moving senior center Cole Henry to tight end.
The adjustments worked in the first half as Keystone built a 20-0 lead against Coudersport.
But then cramping became an issue for the Panthers in the second half, forcing key players Kyle Nellis and Tyler Albright to the sidelines as the Falcons roared back, cutting the lead to 20-16 before Keystone made more adjustments.
Sell was back in at tight end — with a casted club on his right hand. Henry back at center. Nellis and Albright were hydrated and the Panthers pulled away for a 33-16 home victory.
"Kyle and Tyler, their calves were cramping up and everything," Smith said. "We had a time there in the third quarter where we kind of had to hold on a little bit until we got our guys back."
Nellis and Albright were huge for the Panthers.
Nellis rushed for 142 yards on 25 carries and scored three touchdowns — two coming in the second half to give Keystone some breathing room.
Albright added 117 yards on the ground on just six carries and a score, had two receptions for 34 yards and another touchdown that helped stake Keystone to that 20-0 lead and also intercepted three passes on defense.
Keystone needed every bit of it from its two stars.
Sell's injury was a blow for the Panthers leading into the game, especially for a team learning a new offensive scheme that relies on a tight end who can block, as well as be a target in the passing game.
"(Sell) got cleared for the game, but he didn't practice on offense all week," Smith said. "So we were scrambling a little bit this week and it kind of limited a lot of the things that we do on offense. We ended up going back in the fourth quarter to Cole at center and Aiden back at tight end."
Sell will be in a cast for the next four to six weeks, Smith said.
"We got through that adversity and we got through the adversity in the game," Smith said. "I'm pretty proud of our guys."
Rayce Weaver played well in his first start at quarterback, completing 4 of 8 for 80 yards and the touchdown to Albright.
Keystone had 371 yards on offense.
"We have some things to clean up," Smith said. "We didn't play as well as we would have liked to, but at the end of the day, we got the win. Now we get ready for Union/A-C Valley."
DuBOIS 28, KARNS CITY 7
Cam-Ron Hays scored four touchdowns and the DuBois defense stymied Karns City.
Hays scored on runs of 10, 2, 1 and 4 after the Gremlins had taken a 7-0 lead late in the first half on a 1-yard sneak by Eric Booher.
Hays finished with 75 yards on 11 carries. Austin Henery added 64 yards on 13 attempts for the Beavers.
Booher led Karns City with 51 yards rushing on eight carries. He was also 12-of-26 passing for 125 yards.
Micah Rupp had four receptions for 72 yards.
PUNXSUTAWNEY 56, BRADFORD 0
Zeke Bennett, Landon Martz and Griffin White combined for eight rushing touchdowns as the Chucks rolled.
Bennett got things started with a 4-yard TD run then added his second on a 54-yard sprint to make it 21-0. Bennett's third of the game from the 2 increased the Chucks lead to 28-0 early in the third quarter.