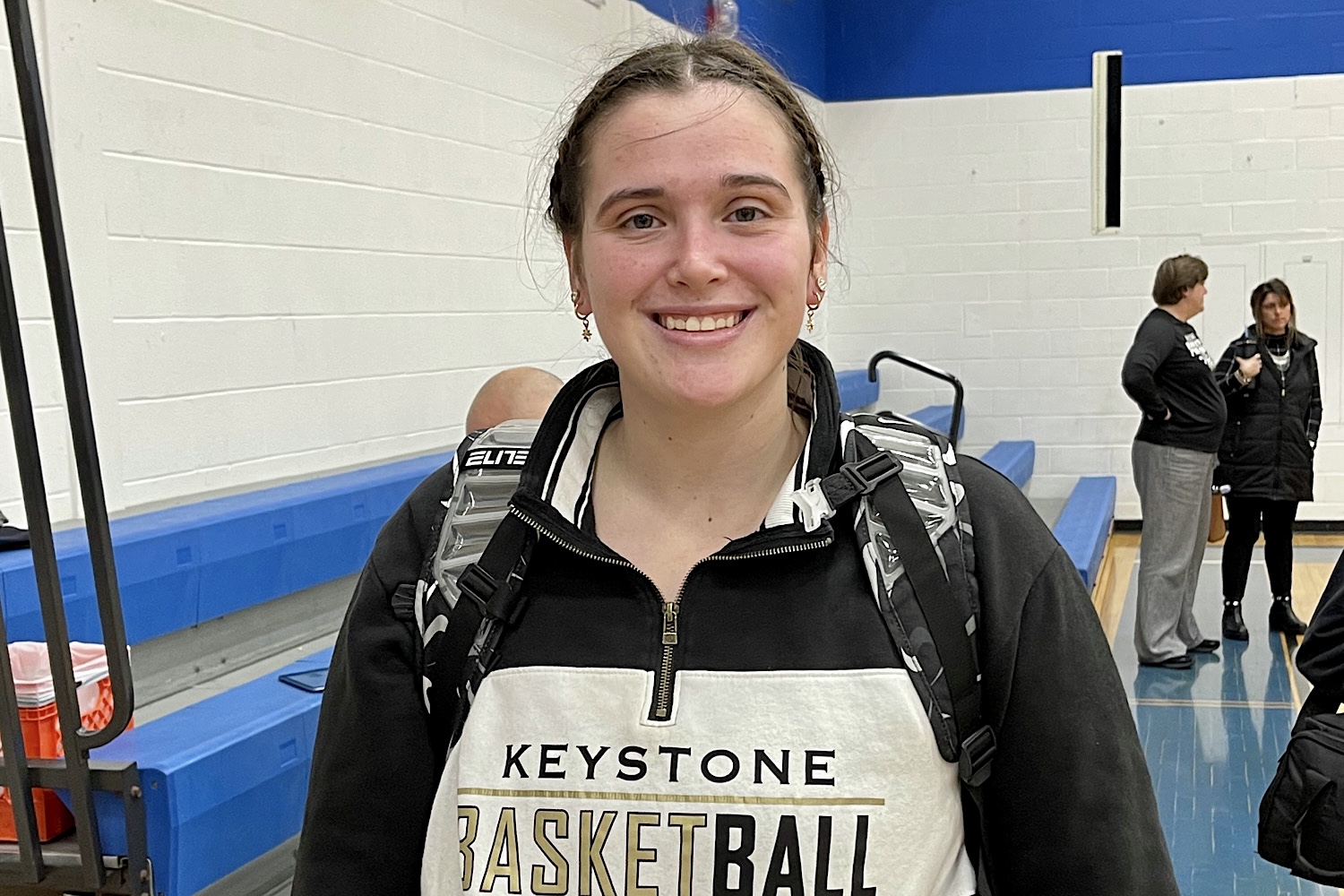 KNOX, Pa. (EYT/D9) — For the second time in five days, Natalie Bowser had a strong night against A-C Valley, putting up 16 points, as the Keystone girls basketball team downed the Falcons, 49-18.
(Pictured above, Natalie Bowser)
The Panthers toppled the Falcons 48-24 on Monday.
Emma Gruber added 12 points and Jill Winters chipped in eight for Keystone, winners of four in a row.
Mackenzie Parks scored seven to lead the Falcons. Freshman Maddy Dehart had a strong game on the glass with 12 rebounds.
REDBANK VALLEY 54, CLARION 17
Mylee Harmon scored 18 points as the Bulldogs jumped out to a 30-6 halftime lead.
Alivia Huffman added 10 for Rebank. Isabelle Bond pitched in seven.
Sophie Babington scored eight to pace Clarion.
KARNS CITY 46, UNION 17
Brooklynn Taylor scored 13 points, including four 3-pointers, as Karns City led 21-4 after the first quarter on the way to a victory over the Damsels.
Emma Dailey and Naomi Venesky each added eight for Karns City.
Hailey Theuret and Cheyene Dowling each scored six for Union.
CLARION-LIMESTONE 58, FOREST 26
Alex Leadbetter and Jenna Dunn each scored 13 points to lead C-L to a victory.
Leadbetter also had seven steals, while Dunn pulled down six rebounds and collected five steals. Lexi Coull and KK Sebastian-Sims each scored eight points. Coull collected six steals. Alyssa Wiant chipped in with six points.
"We go down to West Shamokin on Monday and Alex gets hurt again but comes back tonight and is a big catalyst for us," said C-L head coach Gus Simpson. "KK played a solid game tonight. All of our starters played a big part. Our bench even gave us a lot of good minutes tonight."
Leadbetter scored the first six points of the game as C-L (8-8) built a 12-0 lead en route 21-4 advantage after one quarter.
A 13-4 second quarter edge by the Lions pushed the lead to 34-11 by halftime.
Forest would hold an 11-10 edge on the scoreboard for the third quarter as C-L would still hold a 44-22 lead through three.
After Forest Area netted the first points of the fourth quarter, C-L would go on a 10-0 run to put the mercy rule running clock into effect for the final 3:00 of the contest. With both teams playing junior varsity players over the final stretch, C-L would set the final score with a 4-2 edge in that span.
"I know I say it a lot, but it was a good team win tonight," said Simpson. "With this group we need that, and we've been getting it."
Amber Guzzi led Forest Area with nine points while Kenzie Kopchick added eight points.
(Steve Smail contributed to this report)