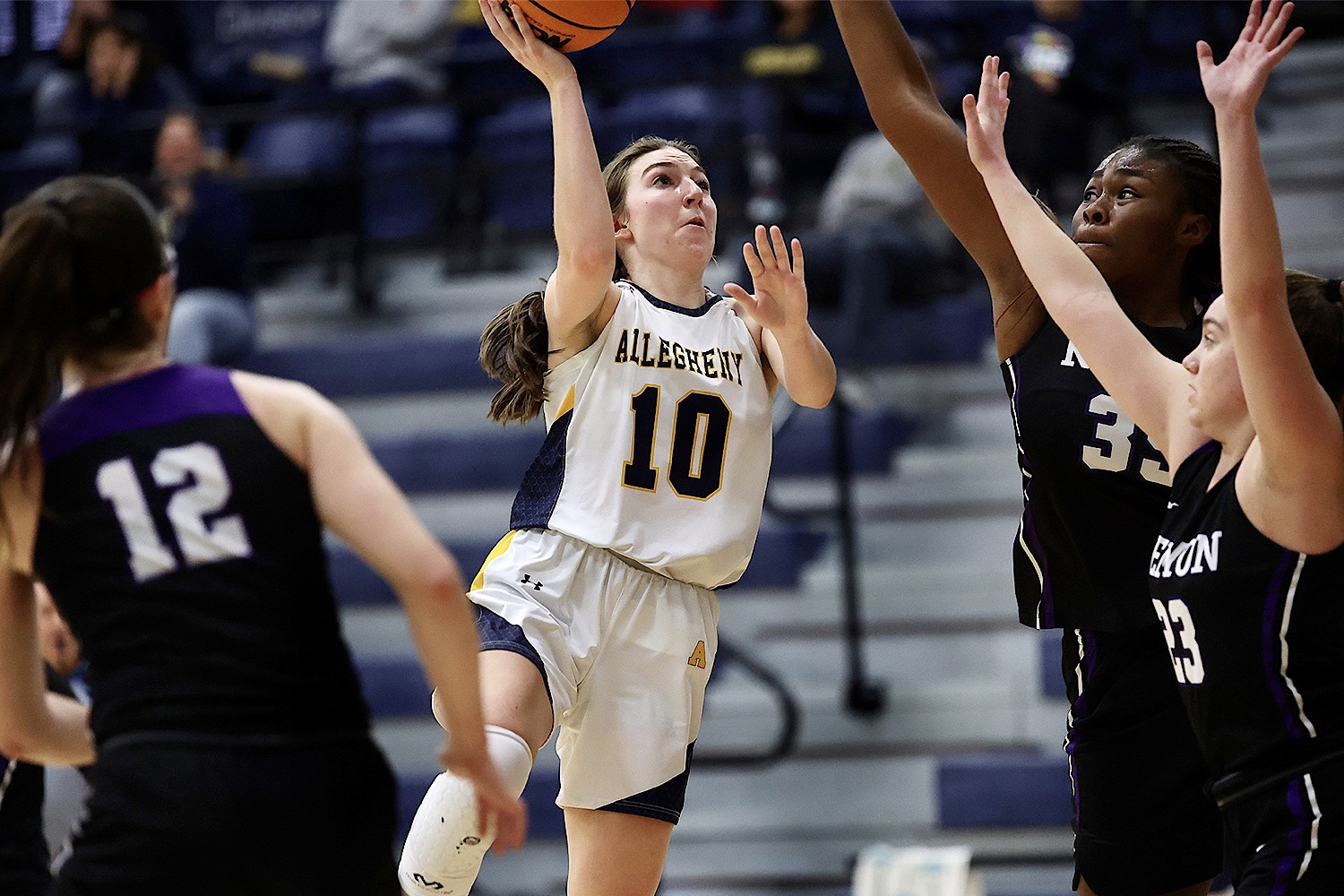 MEADVILLE, Pa. (EYT/D9) — It's the smiles that make it all worth it for Emily Lauer.
She likes putting them on people's faces — just as much as she adores putting the ball in the basket as a sophomore guard for the Allegheny College women's basketball team.
And there's no shortage of opportunities for the Keystone High School grad to do both.
(Allegheny College sophomore Emily Lauer led the Presidents' Athletic Conference in points, points per game, field goals and free throw percentage this season/photos courtesy of Allegheny College)
Just in the short time she's been at Allegheny College, Lauer has been no stranger to the community. She's volunteered for various programs, such as Active Aging, Akron Hope's Adopt-a-Classroom initiative, French Creek Cleanup, Meadville's Children and Youth Services, Precious Paws Animal Rescue, Relay for Life and the Special Olympics.
"There's a lot of things at Allegheny that allow us to get out and get involved in the community around us," Lauer said. "It means a lot that I can give back to the community. It's really cool to see people's reaction when you are making an impact. We did a toy drive and we were able to adopt a classroom and we made those kids' days.
"We went to the Active Aging center one day after a game and had dinner with them," Lauer added. "We just sat and talked with them and listened to them tell their stories. It meant so much to them. They kept saying, 'Thank you so much.' Just putting that smile on their faces makes me happy."
Lauer, a biology major who is also a Distinguished Alden Scholar, has put herself in position to win one of the most prestigious awards for a college student-athlete.

Lauer is one of the women's basketball finalists across the nation for the Jostens Trophy — an award created by the Rotary Club of Salem and sponsored by Jostens, Inc., that recognizes the most outstanding Division III basketball players of the year. It focuses on not just play on the court, but academics and service to the community.
She's the first student-athlete at Allegheny to be chosen as a finalist for the honor.
"I didn't really expect it at all," Lauer said. "I'm just grateful and blessed. It really does mean a lot to me. It means so much more because I am a student and an athlete. I'm doing well in the classroom and also playing a sport and still getting to do community service. It's an award for everything, and that's pretty special."
Lauer's play on the court has also been special for Allegheny College.
This season, the 5-foot-7 guard averaged 18.4 points and 5.3 rebounds per game for the Gators, who were playing in the Presidents' Athletic Conference for the first time after leaving the North Coast Athletic Conference.
Lauer led the PAC in points (479), points per game, field goals (193) and free throw percentage (81.2).
She helped Allegheny reach the conference tournament. The Gators (13-13) lost in the first round to Chatham.
Lauer was a first-team, all-PAC selection.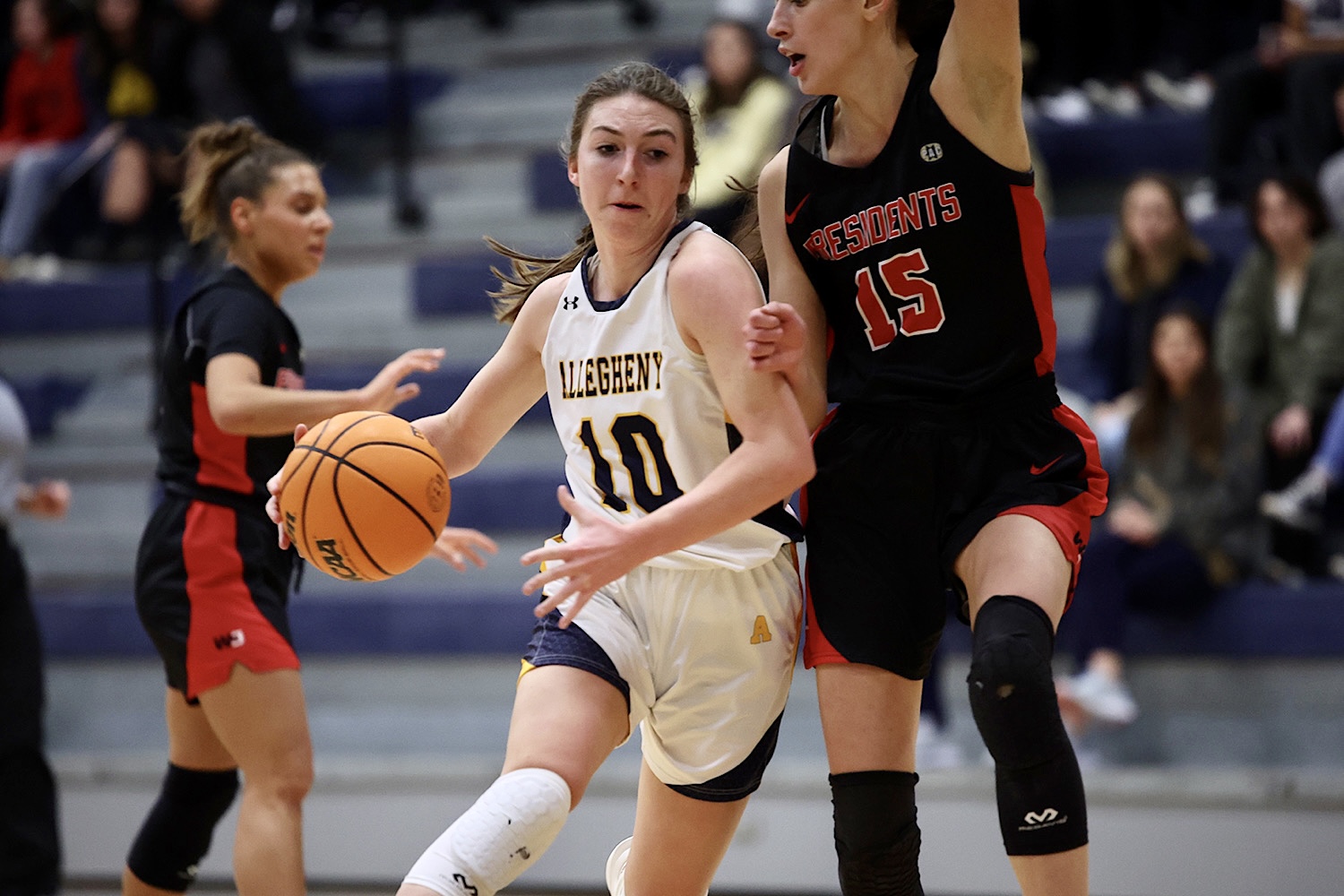 "I put a lot of work in over the summer getting shots up," Lauer said. "We brought in a pretty good freshman class, so I was able to get some passes from them down the court when I was running in transition. Them believing in me and having confidence in me made it so much easier for me."
Allegheny was a very young team with only one senior on the roster. At times, Lauer was the most experienced player on the court.
Bodes well for the future, but there were some growing pains in a new conference.
"We knew there were going to be a lot of ups and downs because we are such a young team," Lauer said. "We wanted to make the conference tournament and getting there accomplished a big goal for us. We lost in the first round, but next year we'll come in with a lot more experience. It was definitely a learning experience, but it'll make us stronger whenever we're older."
Lauer said the move from the NCAC to the PAC was welcome and helped the team grow more than it would have.
"Last year the travel was really big," Lauer said. "We were closer to home, traveling maybe an hour and half instead of being on a bus for three, four hours. I think that definitely helped this year."
Lauer improved across the board from her freshman season in which she averaged 14 points per game.
If there's one area Lauer wants to improve, it's 3-point shooting.
She's always been a slasher. She was at Keystone, where she scored more than 1,200 points and helped the Panthers to a District 9 title during her senior season.
Lauer has also possessed a potent floater in traffic that's nearly impossible to stop.
"There's always room for improvement," Lauer said. "I want to work on shooting 3-pointers and get more confident. Driving and my floater is definitely my thing, but I want to try some new things."
Lauer is already at 829 points in her career at Allegheny.
Barring something unforeseen, Lauer will reach 1,000 points for the Gators early next season and will likely move into second all-time on the school's scoring list.
First all-time may be a challenge.
That belongs to Kim Huber, who scored 2,053 points from 1992-96.
"That would be pretty crazy — with all these accomplishments as a sophomore, anything is possible, I guess," Lauer said. "But I'd rather win a championship."