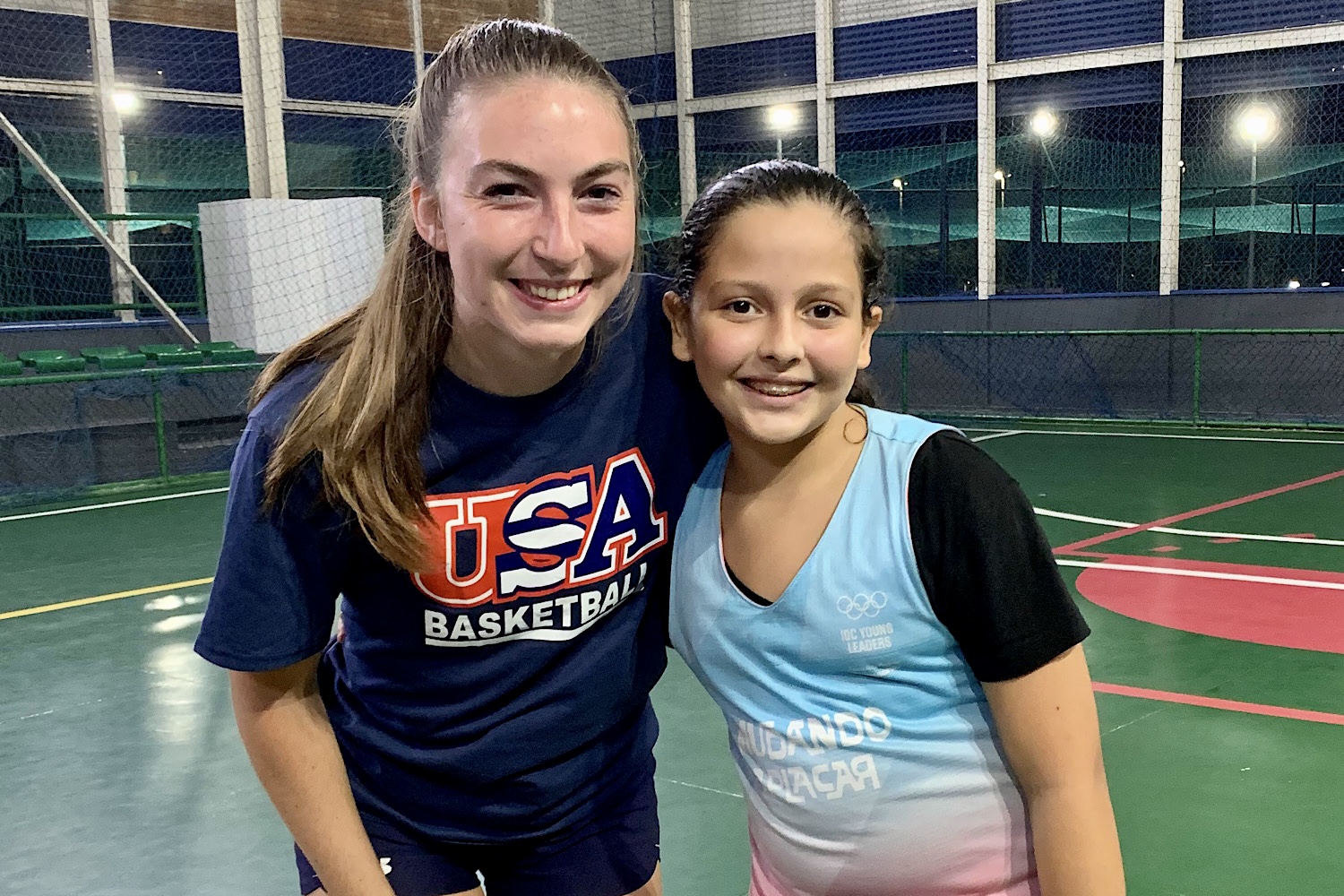 KNOX, Pa. (EYT/D9) — They clamored for Emily Lauer's autograph.
Smiling faces.
They wanted pictures, too. A T-shirt. Any piece of their newest idol.
It was eye-opening for Lauer, a Keystone graduate who scored more than 1,200 points during her basketball career for the Panthers. It was unexpected for the guard who produced 18.4 points per game this past season at Allegheny College as a sophomore.
The people of Brazil treated her like a rock star.
(Pictured above, Emily Lauer at a youth clinic in Rio de Janeiro, Brazil/submitted photo)
"You're basically like a celebrity there," Lauer said. "That's not what I was expecting, but it was definitely a cool experience. Everywhere you went, everyone was just like, 'Whoa!'"
Lauer and eight other players from NCAA Division III women's basketball programs across the country traveled to Sao Paulo and then to Rio de Janeiro to play a series of games earlier this month.

Redbank Valley, Keystone, and Union/A-C Valley sports coverage on Explore and D9Sports.com is brought to you by Heeter Lumber.
The trip was organized through USA Sports Tours & Events, which forms select teams in basketball (men's and women's), volleyball and soccer to represent the United States, mostly in Brazil.
Lauer was invited to be a member of the women's basketball team in April.
"My coach (at Allegheny College, Kelly Muffley) had talked to Washington & Jefferson's coach and Gettysburg's coach and said it was legit," Lauer said. "I decided I wanted to go and that it would be a good experience."
Lauer and Team USA played four games in Brazil.
But the trip meant far more to Lauer than just dribbling and driving.
"We would play a game and get a picture with our flag and the Brazil flag," Lauer said. "You could trade T-shirts with each other and that little trade was pretty cool. There was a huge language barrier — they speak Portuguese — so we had a guy with us who lives in Brazil to help us."
Lauer and the group also did a fair share of sight seeing during their week in Brazil.
They did a tour of Sugarloaf Mountain, riding up to the peak to check out the breathtaking view.
"It was beautiful," Lauer said.
They saw Christ the Redeemer, a 98-foot statue in Rio that is one of the New Seven Wonders of the World.
They visited the "Selaron Staircase" in the neighborhood of Lapa. The stairs are the work of Chilean-born artist Jorge Selaron who renovated the 215 ramshackle steps in the front of his home in Rio. He covered the steps with blue, green and yellow tiles — the colors of the Brazilian flag.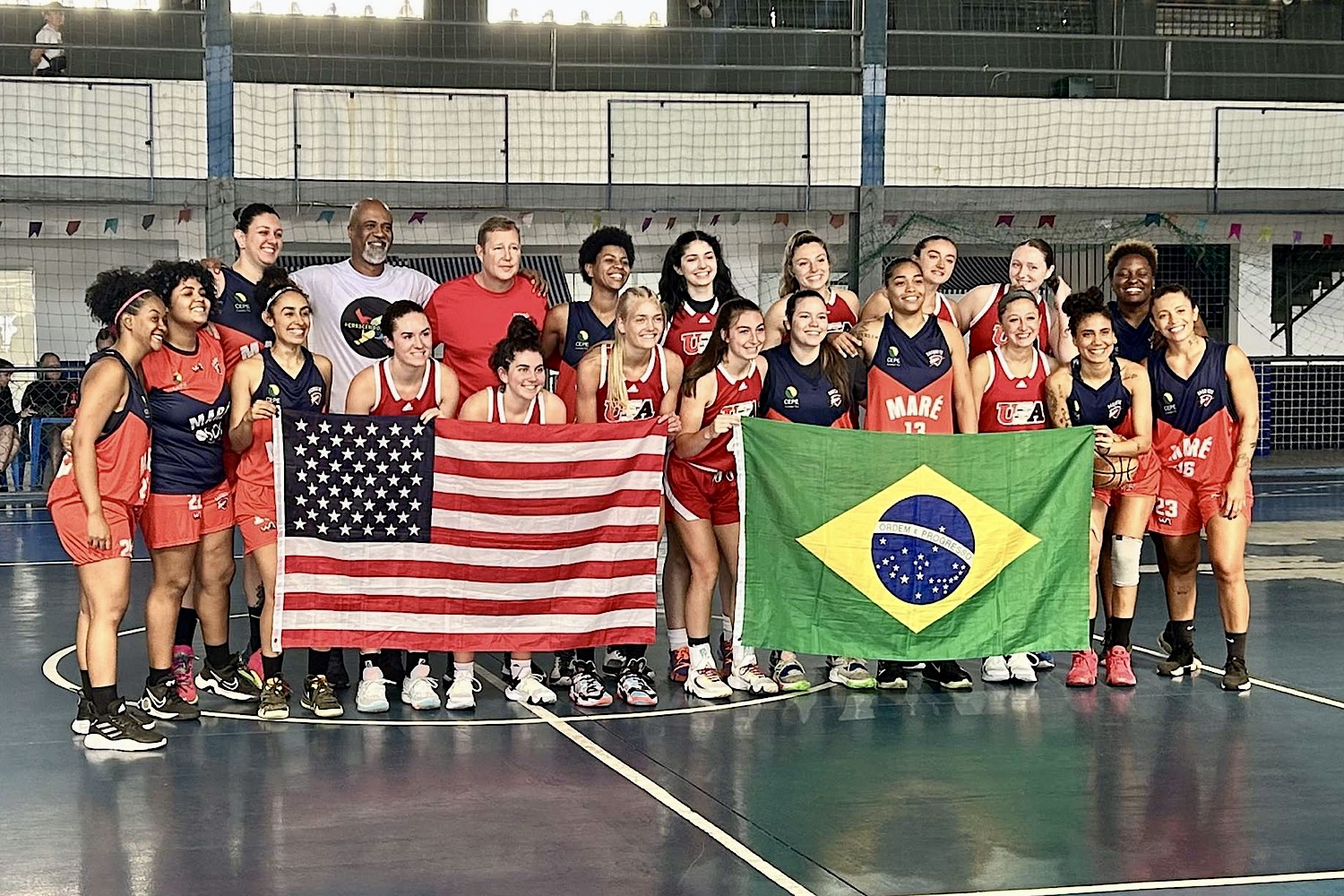 "People from all over the world would send him these tiles to put down on these steps," Lauer said. "So that was pretty cool to see those."
But the visit that stood out the most to Lauer was one she and the team made to a work with some Brazilian youth.
"On the second to last day we went to the poorest area in Rio," Lauer said. "There was a youth clinic there and all these young kids in this area didn't have supplies or anything. We brought a whole bunch of shoes and shirts and all this stuff to take to them. We did a practice with them and it was fun.
"They were young — I would say somewhere around nine or 10," Lauer added. "Of course their dreams are to come to the US and play, so for them it was amazing they were play with people who are from the US."
Lauer is no stranger to community work. She's a volunteer for various programs in Meadville, where Allegheny College is located, and in and around Knox.
She's also no stranger to getting things done on the basketball court.
In her second season at Allegheny College this winter, Lauer had a breakout campaign.
The 5-foot-7 guard led the Presidents' Athletic Conference in points (479), points per game (18.4), field goals (193) and free throw percentage (81.2).
Behind Lauer, the Gators qualified for the conference tournament, but fell in the first round to Chatham.
Lauer was a first-team all-PAC selection and was also nominated for the Jostens Trophy, an award created by the Rotary Club of Salem and sponsored by Jostens, Inc., that recognizes the most outstanding Division III basketball players of the year. It focuses on academics and community service in addition to play on the court.
Lauer was the first student-athlete at Allegheny College to be a finalist for that award.
Her trip to Brazil further reinforced to Lauer how much helping in the community matters.
The trip also confirmed many truths Lauer had already known.
Like that she is incredibly fortunate.
"It was definitely a humbling experience for me," Lauer said. "I was grateful to go down there and see their culture and learn a little bit more and realize that what I have in the U.S. is not what everyone else has. They think we are amazing. That was pretty crazy. I would never think that something so little as a T-shirt would mean the world to someone and it was so eye-opening to me.
"It makes me feel so blessed how I can look at what I have. I will never take that for granted ever again."

Redbank Valley, Keystone, and Union/A-C Valley sports coverage on Explore and D9Sports.com is brought to you by Heeter Lumber.