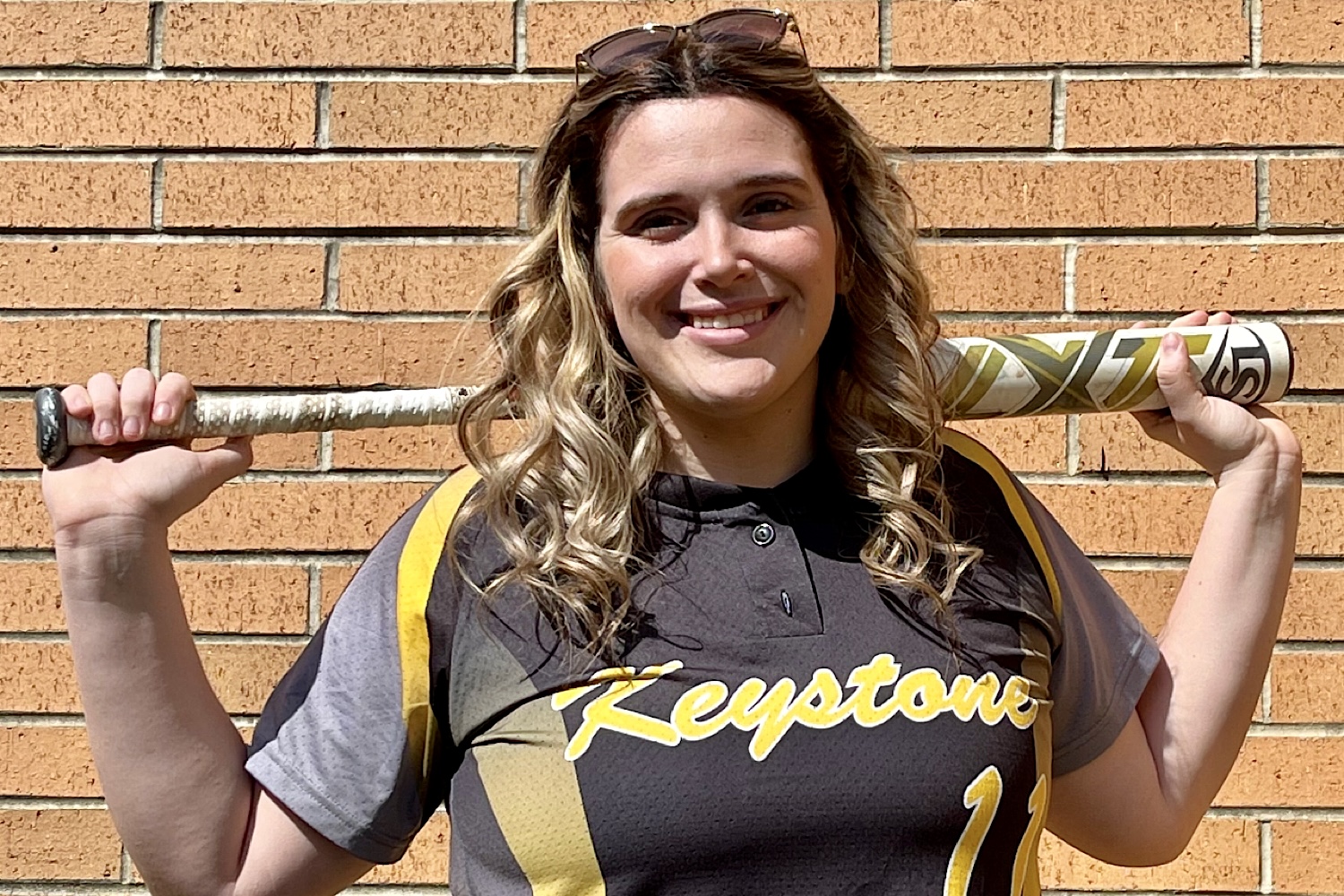 KNOX, Pa. (EYT/D9) — Natalie Bowser's mother is always with her.
In the bow she wears in her hair. In the pink laces weaved through her cleats. Even in the jersey number on her back.
The Keystone senior had to grow up quickly when her mom, Dawn, lost her battle with breast cancer on Aug. 1, 2018.
Dawn was always Natalie's biggest fan in everything she did, especially sports and most certainly on the softball diamond.
"My mom was probably the biggest reason I even started playing softball and the reason I am at the level I am because she always sought out anything and anyone that could help me," Bowser said. "For softball, I wear a breast cancer awareness bow every game. It just means the world to me. I have pink laces for her for that, too, just honoring her. I wear the No. 15 in volleyball because that's my travel ball number and my mom watched me play in 15, so it just makes me feel like she's that much closer to me."

Redbank Valley, Keystone, and Union/A-C Valley sports coverage on Explore and D9Sports.com is brought to you by Heeter Lumber.
Bowser knows her mom is proud, not just because of the prodigious numbers she has produced in softball, basketball and volleyball at Keystone, but also because of her attitude and grace under pressure.
And there is a lot of pressure.
After a remarkable sophomore softball season that produced unreal numbers — Bowser batted .766 with 14 home runs and 48 RBIs — pitchers took great care when facing her last season.
Didn't matter.
Bowser still hit .629 with 11 homers and 30 RBIs. Her OPS was a robust 2.089.
At first, Bowser placed an inordinate amount of stress on herself to produce, no matter what. Even something as mundane and routine as making an out made her feel like an abject failure.
When the bar is set as high as it was for Bowser, it's hard to reach.
But when Bowser made the decision to not beat herself up over the things that happen on the softball field to mere mortals — yes, making an out happens sometimes — she felt content in her own skin again.
"It definitely did affect me mentally. It got in my head," Bowser admitted. "But now I set my own standards for myself. I'm hard on myself and I should be, but I'm not going to be hard on myself to the point where I'm shutting down and I don't provide for my team."
Bowser figures to be the centerpiece of a potent Panther lineup again this season.
Leah Exley provided some nice protection in the lineup for Bowser last year. One through nine, the Keystone lineup could be as dangerous as any, even with some new and inexperienced faces stepping into the box.
Bowser's expectations have been placed in a crucible and boiled down to a fundamental goal.
Have fun.
"The biggest thing I want to accomplish this year is just to make sure I enjoy my senior year and that I don't get too hard on myself," she said. "This is my last year. I just want to go play with my best friends."
Bowser has already had quite the year.
She turned in a strong volleyball season thanks to her versatility — she could block and swing at the net just as well as set and serve.
On the basketball court, she accomplished a rare career double milestone, scoring her 1,000th points and pulling down her 1,000th rebound in the same game.
Bowser still can't wrap her head around all the things she has so far accomplished at Keystone.
"Honestly, no, I haven't. Maybe in softball," Bowser said. "Never in a million years would I have pictured myself as a setter in volleyball. Never in a million years would I even think that I was gonna get 1,000 points and 1,000 rebounds in basketball. It's mind-blowing. It's just unreal being a part of all these teams and being able to play with these teammates. Honestly, it's been a dream come true. Not a lot of people get to have the experience that I'm getting."
Bowser is still hammering down her future plans.
They are clear. The only question is where she will pursue them.
Not unexpectedly, Bowser has been a hot commodity on the softball recruiting circuit.
But Bowser has a specific list of things she is looking for in a college.
"I'm not sure where I'm going yet, but I definitely know that I'm going for a business marketing degree with a minor in sports administration so I can be on the marketing side of sports," she said. "I'm planning on playing both softball and basketball wherever I go."
That's a lot to take on.
But Bowser has been never shy about tackling a challenge.
"I'm trying not to stress over it too much," she said. "I'm trying to keep my head straight, make a list of pros and cons. I'll probably make a decision in mid-April."
For now, Bowser plans on tying that ribbon in her hair, threading those pink laces through her cleats and stepping on the softball field to play the game her mother enjoyed watching her play.
And doing what she does best.
Mashing and winning.
"We have some younger girls who are coming up that are hitting pretty well. I think that our whole lineup might be a threat," Bowser said. "We're gonna have our off days, but I think we have a great core and that is going to really help us in the end.
"It may be a little rocky at the beginning, but I definitely think when we get more experience and more time on the dirt, we will come together as a team," she added. "By the end of the season, it's going to be a lot of fun."
This is one in a series of articles highlighting some of the top returning baseball and softball players in District 9 for the 2023 season.

Redbank Valley, Keystone, and Union/A-C Valley sports coverage on Explore and D9Sports.com is brought to you by Heeter Lumber.