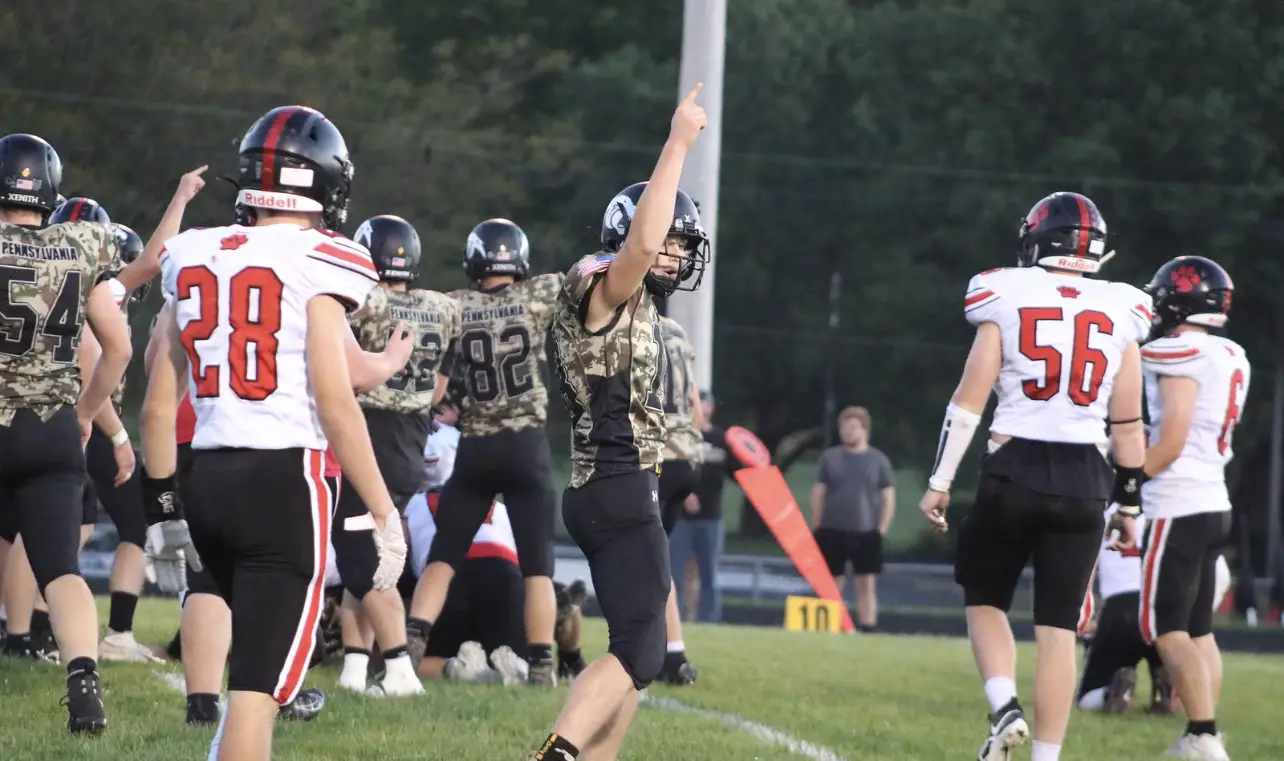 KNOX, Pa (EYT/D9) — Zander McHenry had never missed a football game in his life.
Until this season.
(Photo by Shelly Atzeni)
Stuck in COVID-19 quarantine, the Keystone standout missed the game at Sheffield Oct. 2 and was cleared one day before a loss at home against Union/A-C Valley Oct. 7.

Redbank Valley, Keystone, and Union/A-C Valley sports coverage on Explore and D9Sports.com is brought to you by Heeter Lumber.
It was excruciating for McHenry, who made the all-state team in Class A last season as a hybrid safety/linebacker and who was off to a stellar start to his senior campaign on defense and offense for the Panthers.
"I didn't know when I was coming back and that was hard," McHenry said. "I had to go get tested and did whatever I could to come back. They called me the day before the Union/A-C Valley game — I was hunting — and said I could play. I had no idea what our gameplan was. I think if I had a little more preparation, I could have helped more."
McHenry still had a strong game that night against the Falcon Knights, but it didn't matter to McHenry for one simple reason.
Keystone lost.
"I really don't care what I do," McHenry said, "as long as we win."
McHenry has done a lot this season. He's wreaking havoc on defense — as usual — leading the team in tackles with 52 in just seven games — he didn't play again Oct. 15 vs. Smethport. He's also intercepted three passes, returning two for touchdowns, and has shown a knack for finding a loose ball with three fumble recoveries.
"He's a great athlete and seniors and great athletes go make big plays," said Keystone coach Ryan Smith. "He's a good overall athlete who we can move anywhere. And he's cool about it. He told me in preseason that all he wants is for the team to win. He's very unselfish. He wants what's best for the team and is willing to do whatever needs to be done."
McHenry showed that Friday night at Moniteau. Starting running back Kyle Nellis tested his injured ankle, but couldn't go in the mud and left the game after two offensive series.
McHenry took his place in the backfield and rushed for 55 yards on eight carries.
"We got some reps the week before that because Kyle wasn't 100%," said McHenry, who has been a dangerous weapon as a wide receiver this season with 15 catches for 215 yards and five touchdowns. "Me and Tyler Albright practiced at running back a little bit, but we didn't know we would be needed coming into the game."
McHenry played sparingly on offense last year, but the 5-foot-10, 160-pound senior was eager to get a chance on that side of the ball in his final season.
"Me and (quarterback Bret Wingard) worked all summer on passing, at least two or three times a week," McHenry said. "We would go out into an open field and throw and catch. The defensive part was just play, run and hit somebody. That's what I enjoy about it. I obviously like defense more than offense, but having a chance to play offense is nice."
Defense is indeed where McHenry truly shines and he had 13 tackles against Moniteau in the regular-season finale.
No matter what he is doing on the football field, though, he has made a huge impact.
"Each of the games he has played, Zander has put a stamp on something, either blocking a punt, recovering a fumble, getting an interception, scoring a receiving or rushing touchdown — he's done something to impact a game for us," Smith said. "He's helped this program be successful the last three years and make us a team to be talked about."

Redbank Valley, Keystone, and Union/A-C Valley sports coverage on Explore and D9Sports.com is brought to you by Heeter Lumber.