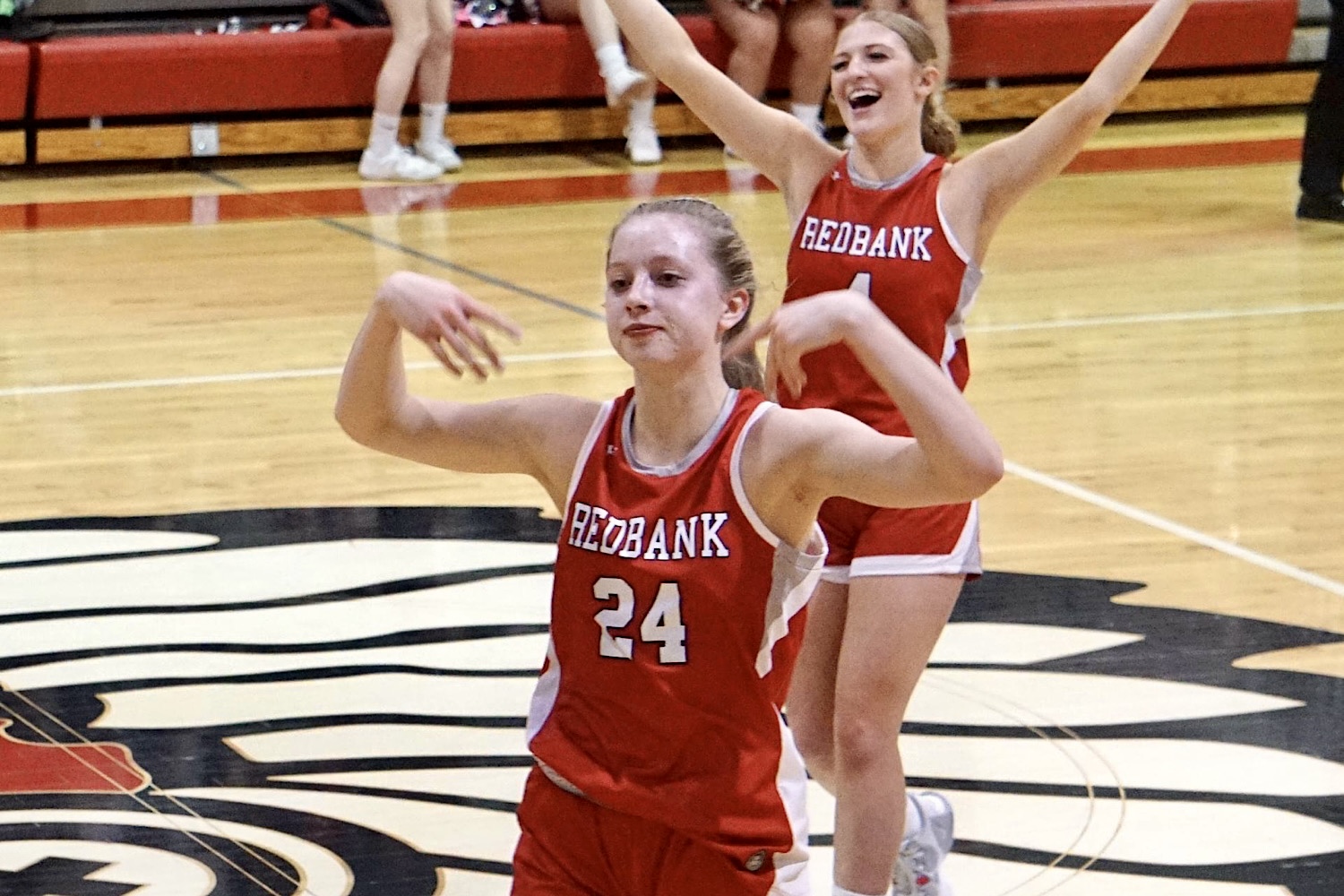 WEST SUNBURY, Pa. (EYT/D9) — Alivia Huffman was on the bench in foul trouble.
Shots weren't falling.
Points were at a premium.
(Pictured above, Mylee Harmon celebrates with Caylen Rearick in the background after the win over Moniteau/photo by Angie Rearick)
It was very much a slog early for the Redbank Valley girls basketball team on the road against Moniteau, which was riding an 11-game winning streak.
But Mylee Harmon heated up in the second quarter. Freshman Addy Bond hit a big 3-pointer in the frame and the Bulldogs entered the half up 22-14 on the way to a 46-31 win in a showdown with the Warriors on Friday night.

Redbank Valley, Keystone, and Union/A-C Valley sports coverage on Explore and D9Sports.com is brought to you by Heeter Lumber.
The game was still tight with Redbank leading 31-24 entering the fourth quarter, but Huffman, finally unshackled, scored six of her eight points and Harmon was 5 of 6 from the free throw line in the fourth to help the Bulldogs pull away.
"It was definitely more than satisfying," Harmon said. "We really weren't hitting our 3s, but we found ways to get into the gaps (against their zone). That really helped us out and they finally went to man and we're the type of team that does well against man."
Harmon scored a game-high 19 points to lead Redbank.
Neither team could mount much of an offense in the first quarter with the Bulldogs taking a 5-3 lead into the second.
While Redbank (20-1) shook off those woes, Moniteau (17-4) continued to scuffle and could never get into any kind of a rhythm, to the chagrin of Warriors' coach Dee Arblaster.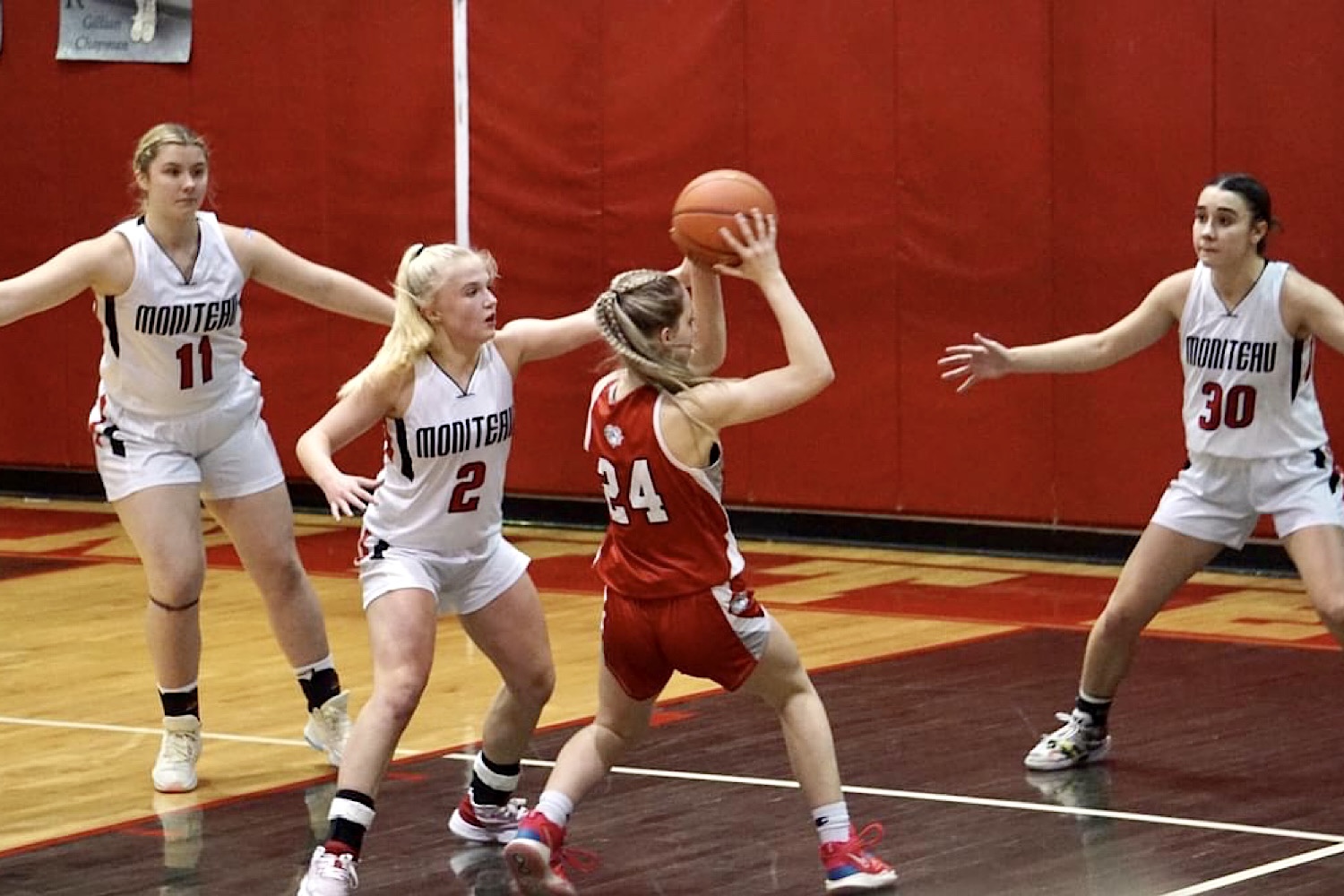 (Harmon drives the lane as Moniteau's Abbey Jewart defends/photo by Angie Rearick)
"We had no answer for them," Arblaster said. "We beat ourselves in the first half and they beat us in the second half. I mean, it was bad. We were outclassed."
That didn't sit well with Arblaster.
She hopes it doesn't sit well with her team, either.
"As a player, if someone comes on my floor and walks over me like they did to us … that would be really hard for me," Arblaster said. "I hope my girls take offense to that."
It was an off night for many of the Warriors. Catherine Kelly scored 12 points to lead Moniteau. Abbey Jewart and Allie Pry each scored seven points. Davina Pry was held to just two points, but did have eight rebounds.
Still, Moniteau was in a seven-point game until the fourth.
But the Warriors had no answer for Harmon — not many teams do these days.
Harmon, a sophomore guard who is leading all of District 9 in scoring, was electrifying, driving the lane and drawing fouls, or finishing.
"When you get behind a team with her — nobody can stop her," Arblaster said of Harmon. "She's probably one of the best point guards in the state. You cannot get down to them or she is going to take you right out of the game.
"They're a very good team," Arblaster added. "They have answers for everything."
Even for one of their biggest stars sitting on the bench in foul trouble.
Without Huffman, Redbank Valley was still able to get it done because of a deep bench and a team full of players who know their roles and perform them well.
Caylen Rearick added seven points for the Bulldogs.
Brooklyn Edmonds and Kira Bonanno picked up the slack inside with Huffman sidelined. They combined for six points.
"We definitely have a deep bench," Harmon said. "(Alivia and I) have that kind of dynamic duo thing and when she's on the bench, I get a little nervous. But I put my trust in my team. Everyone else is capable, so it'll be OK."
Redbank has answered every challenge, especially lately, with big wins over Otto-Eldred, North Clarion and now Moniteau. Those three teams have five combined losses when they squared off against the Bulldogs, all wins for Redbank Valley.
The Bulldogs have won 13 straight. Their only loss came by four points to District 7 perennial power OLSH.
Another big game is on the horizon on Tuesday at home against a red-hot Keystone team. Then, the Keystone Shortway Athletic Conference four-team tourney at the end of next week.
"We have that same drive and same competitiveness to win championships," Harmon said. "We'll have some competition coming up, but we're ready for it."

Redbank Valley, Keystone, and Union/A-C Valley sports coverage on Explore and D9Sports.com is brought to you by Heeter Lumber.