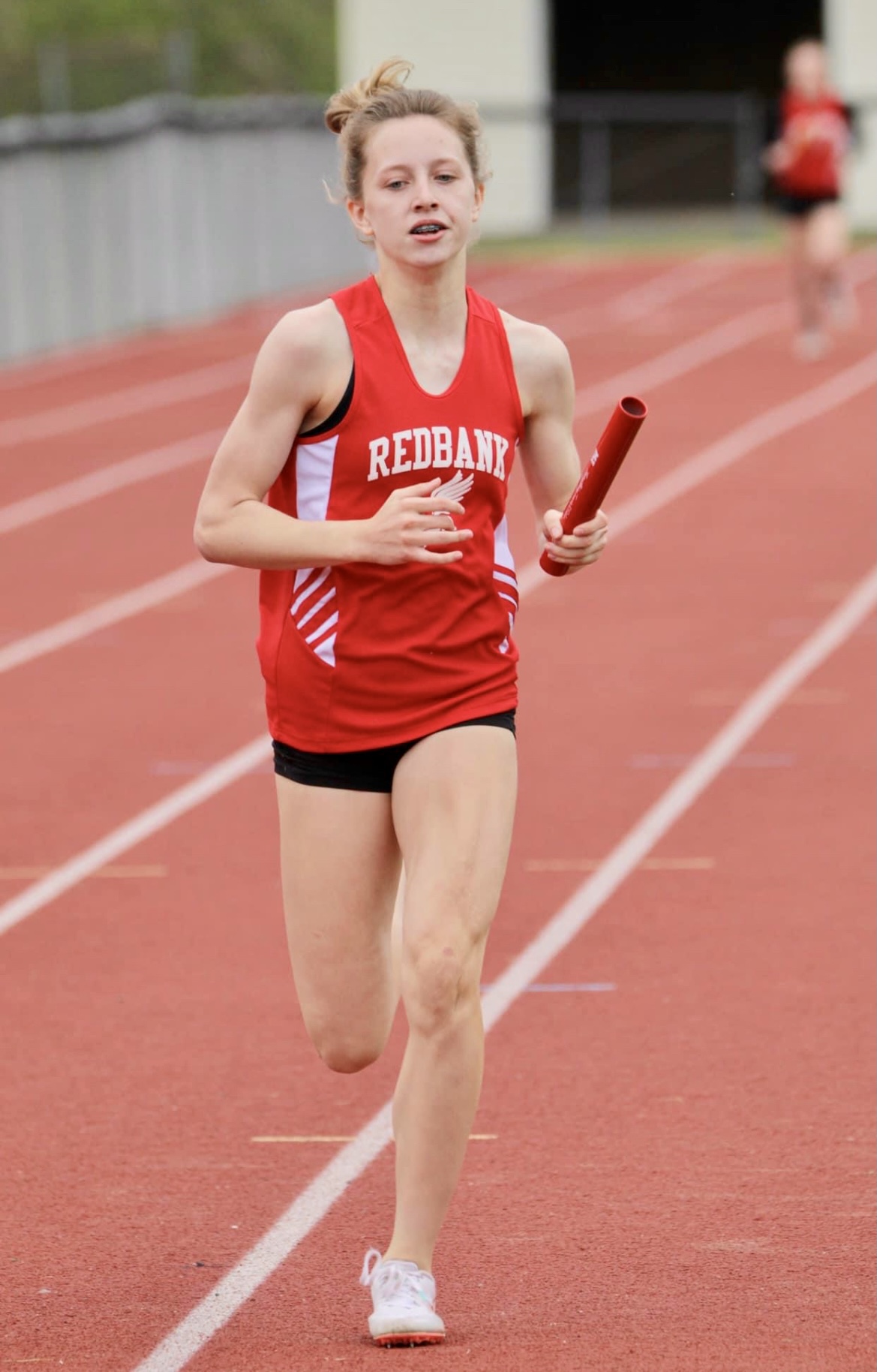 NEW BETHLEHEM, Pa. (EYT/D9) — Basketball has always been at the center of Mylee Harmon's world.
(Photos by Madison McFarland)
Just a freshman this winter, Harmon made a huge impact for the Redbank Valley girls basketball team, averaging 12.6 points, 3.2 assists and 2.2 steals per game in the helping the Bulldogs win the District 9 Class 3A championship.
She's played the sport almost from the time she could walk. She possesses a special blend of quickness and instincts on the court.
This spring, she joined a track and field team for the first time, not really sure what it was all about and not at all certain of how good she could be.

Redbank Valley, Keystone, and Union/A-C Valley sports coverage on Explore and D9Sports.com is brought to you by Heeter Lumber.
It didn't take long for people around Harmon to realize she could be special on the track as well.
It took Harmon a little longer to come to that epiphany.
It took broken records. Lots of them,.
The 200-meter dash. Hers. The 400-meter run. Hers, also. The high jump. Yep, that belongs to Harmon.
Then she broke them again. And again.
By the time the sun was down and a haze filled the thick air at Brookville High School at the end of the District 9 Track and Field Championships, Harmon became a legend in that sport, too.
Three district titles. Another broken record in the 400 with a time of 58.73 seconds. She even ran another sub-minute 400 on the anchor leg of the 1,600-meter relay to help the Bulldogs win their first D9 girls track and field crown.
Suddenly — and quite surprisingly to Harmon — track and field has gained an affinity equal to basketball in her heart.
"That is true," Harmon said. "The more the season goes on, the more I've developed more of a love for track."
What Harmon has already accomplished seems surreal to her.
Only 15, Harmon is already among the best in the state in three events.
She'll head into the PIAA Track and Field Championships this weekend as the second seed in the 200 with a school-record time of 25.92 seconds, sixth in the 800 with that scintillating 58.73 school mark, and a misleading 14th seed in the high jump. She cleared five feet at the district meet to win, but she's hit 5-4 this season — yes, a school record — which would put her second in Pennsylvania in Class 2A.
Harmon has a legitimate shot at three state titles.
"I'm definitely more confident in the 200," Harmon said. "I'm most nervous about the high jump."
Harmon is also motivated in the 400, where she has seen her times get faster and faster in every meet down the stretch.
Her goal was to eventually break one minute in the event. Even she was shocked when she ran under 59 seconds at Brookville.
"I didn't believe it. No way I ran that fast," Harmon said, laughing. "I was pushed and I'll be pushed the whole way around at states."
That may mean an even faster time for Harmon. That's what she's hoping for, anyway.
She believes she can improved markedly in the upcoming years.
"I definitely believe I can get better," Harmon said. "I want to keep breaking my records and see just how good I can get."
The high jump is the wild card for Harmon. It's the event she's the least sure of, but also the one in which she has the most potential.
"I'm just going to kind of see what happens (at the state meet in the high jump)," Harmon said. "Whatever happens, happens. I'm trying to work on my technique because I'm over the bar — I'm way over it — but I just need to get my timing down."
Harmon will also compete in a fourth event: the 1,600-meter relay.
She'll join seniors Raegan Beamer and Ryleigh Smathers and sophomore Ally Shoemaker on the relay that's seeded 22nd.
The team still has some big goals, like breaking the school record at the state meet.
For seniors like Smathers, winning the district crown for the first time was satisfying. Doing it on the strength of the 1,600 relay finish was even more special.
"It was definitely nerve wracking, but it also, I feel, pushed us a lot more to make us do better than what we usually would do," Smathers said. "We knew it was our first (D9 championship) ever. We were really, really excited to be the first team to do that."
This will be the second time Smathers has been to the state meet. She went as a freshman and has longed to return since.
"I'm just so excited to go back and keep making memories," said Smathers, who has made quite a few of them this year.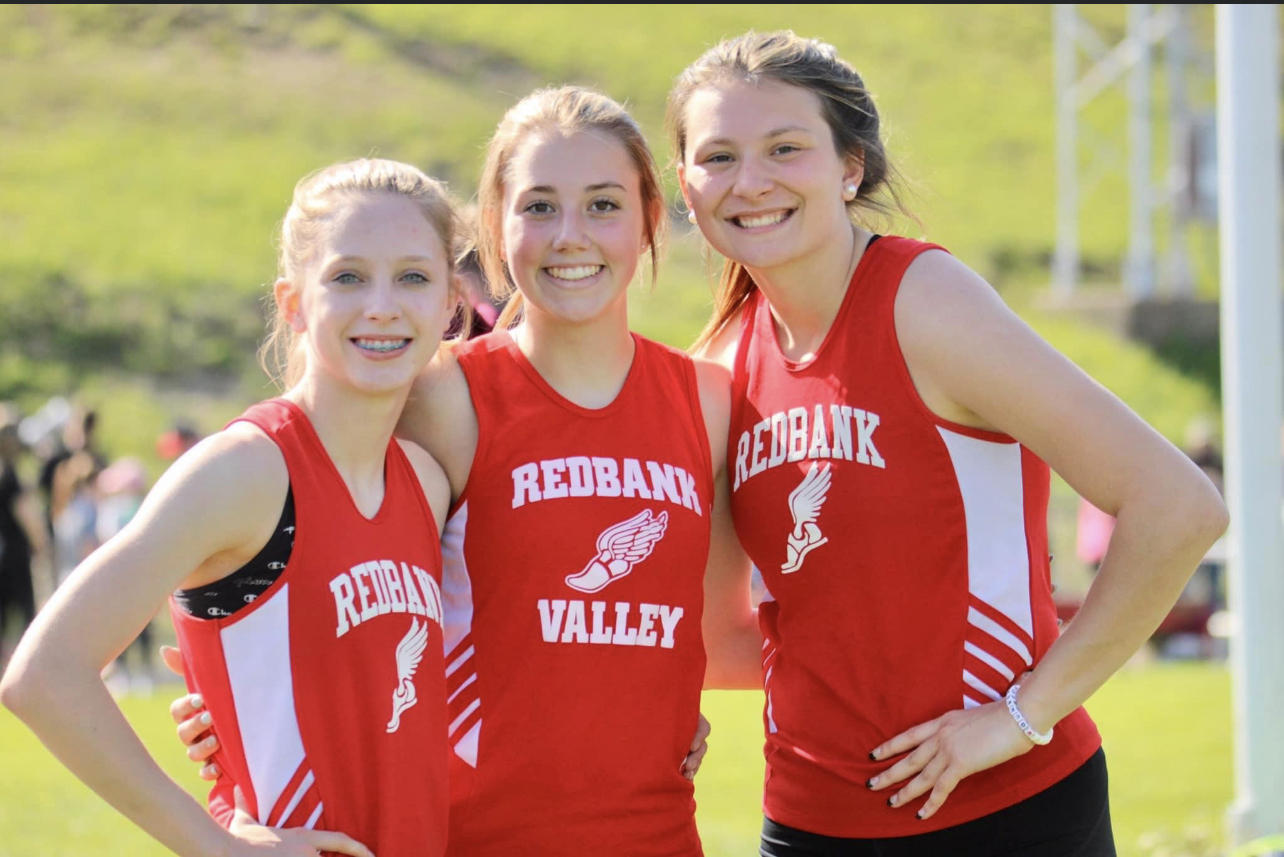 (From left, freshman Mylee Harmon with seniors Ryleigh Smathers and Ryley Pago)
She was a starting guard on the basketball team, playing alongside Harmon on the way to a D9 title.
Smathers and Harmon struck up a quick friendship. Despite the age gap, they found they had quite a bit in common.
They liked the same foods, music, television shows — the little things. And, of course, they shared a love of sports.
Harmon endeared herself to most of her teammates, especially the seniors, who sort of became big sisters to the young star.
"It's definitely been really, really amazing to watch her grow into the athlete that she has become," Smathers said. "Becoming better friends with her this year, it makes it so much more enjoyable watching her succeed."
Harmon has appreciated the advice and guidance.
"The senior class has been amazing," Harmon said. "One of my close friends is Ryley Pago — I high jump with her — and Ryleigh Smathers. Both have been great. They've all been great. Sometimes you see seniors will get jealous of a freshman, but not with these seniors. They're so supportive of me. Whenever they leave, it's going to be very sad."

Redbank Valley, Keystone, and Union/A-C Valley sports coverage on Explore and D9Sports.com is brought to you by Heeter Lumber.