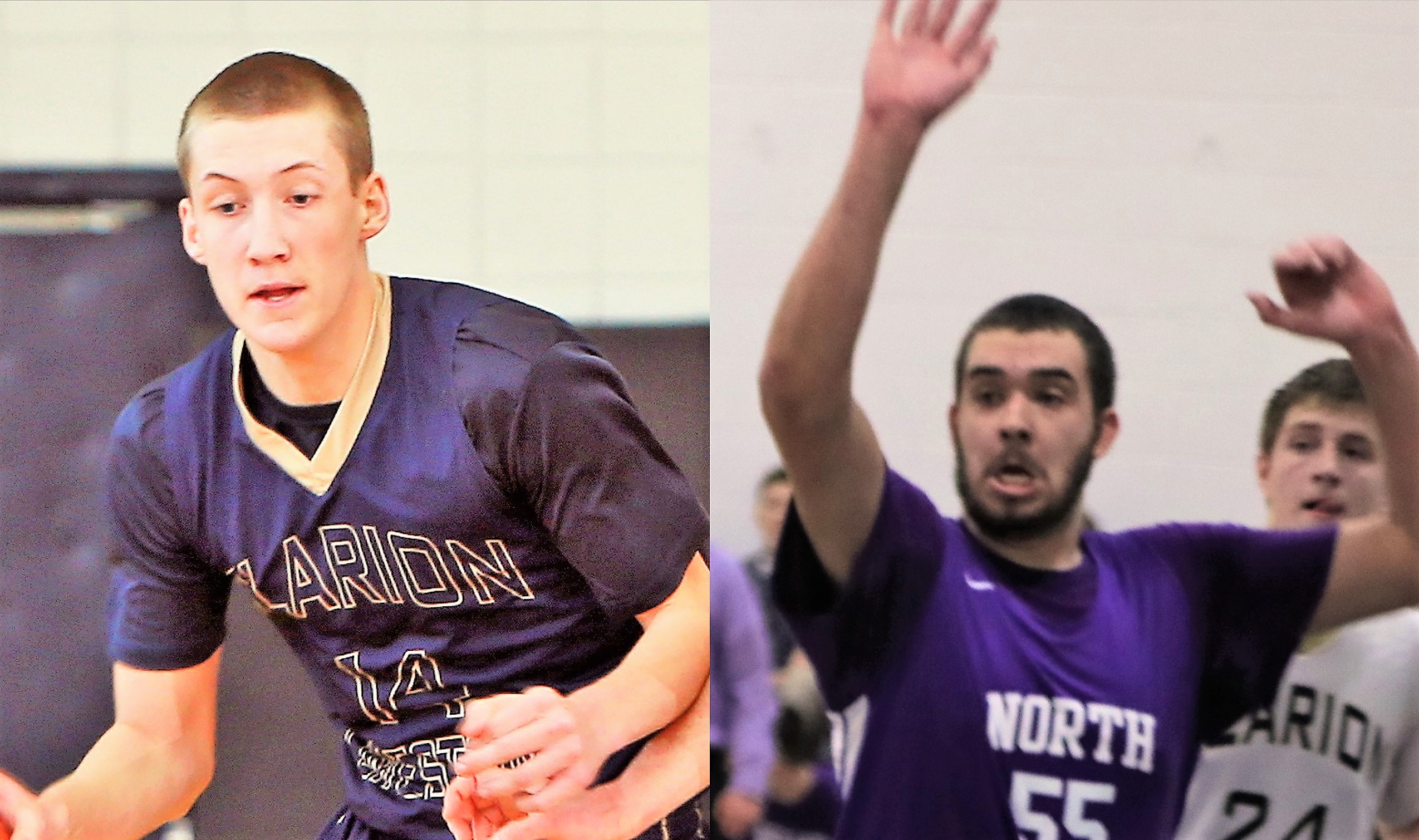 FRILLS CORNERS, Pa. – It's a showdown for first place in the KSAC North when Clarion-Limestone heads north to take on North Clarion on a game that can be heard right here on Laurel Eye Clinic Tuesday Night Hoops via exploreRadio and exploreClarion.com.
(Photo of C-L's Ian Callen (left) and North Clarion's Kyle Mills. Callen photo by Paul Burdick. Mills photo by Jared Bakaysa)
Fans can listen the game from North Clarion High School live on exploreClarion.com. Go straight to the website and the player will work on any mobile device. (You may need to hit the play button in order to get the stream to play) or click here to listen.
The Kerle Tire Pre-Game Show starts at 6:50 p.m. with tipoff happening at approximately 7:30 p.m. with Mike Kalinowski and Bob "The Governor" Dunkle on the call with Chris Rossetti providing pre- and post-game interviews.
North Clarion comes into the contest with a one-game lead over C-L in the KSAC North with a conference mark of 7-0 and an overall record of 16-1. The Lions are 13-3 overall and 6-1 in the KSAC North.
A victory by North Clarion would all but ensure the Wolves of becoming the first team other than C-L to win the North since North Clarion won the title in 2013. C-L has won the past five KSAC North Championships.
A Lions win would cause of tie at the top of the conference and make the final two weeks of the regular season very interesting.
North Clarion won the first meeting over C-L beating the Lions, 79-47, Dec. 18, at C-L. Kyle Mills led the Wolves with 20 points and 10 rebounds with Devin Walters adding 12 points on four 3-pointers, Sam Minich 11 points and Tyler McCord-Wolbert 10 points.
Curvin Goheen had a double-double for C-L with 15 points and 13 rebounds with Deion Deas adding 16 points and Hayden Callen 13 points and seven rebounds.
Kyle Mills, all 6-foot-7 of him, leads the way for North Clarion averaging 19.6 ppg. His cousin, Korey Mills, along with the 6-foot-4 McCord-Wolbert, adds 11.8 ppg while twins Logan (9.2 ppg) and Sam (8.3 ppg) Minich are also key players.
C-L is paced by Deas' 22.9 points per game, and a couple of weeks ago the Lions got a big lift with the return of 1,000-point scorer Ian Callen to the lineup. Ian Callen missed the first 11 games with an injury he suffered in football season but has scored 91 points for an average of 18.2 ppg since returning to the lineup Jan. 11 against Union. Also for C-L, Hayden Callen, Ian's younger brother, adds 16.6 ppg with Goheen chipping in 8.6 ppg.
The following local sponsors have signed on to make KSAC Hoops possible: