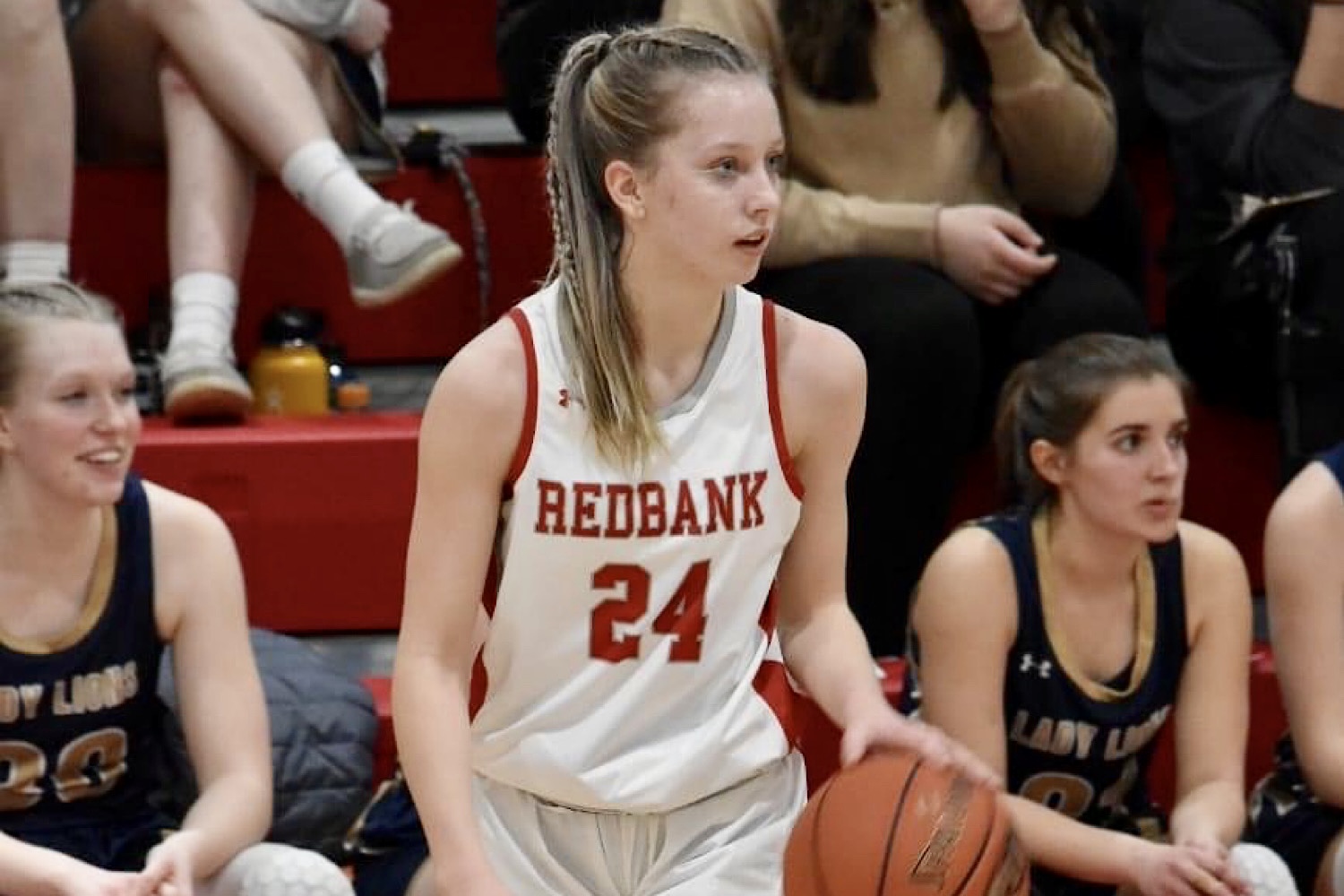 NEW BETHLEHEM, Pa. (EYT/D9) — It was a late-season litmus test, a chance for one of the top Class A teams in District 9 and one of the best Class 2A teams to get a postseason primer.
The battle between the Redbank Valley and Otto-Eldred girls basketball team on Saturday afternoon certainly didn't lack intrigue.
(Pictured above, Redbank Valley's Mylee Harmon/photo by Angie Rearick)
Redbank led big at the half, but watched Otto-Eldred erase that huge advantage before the Bulldogs surged ahead again late for an emotional 64-60 win.
"It was a great afternoon of high school basketball," said Redbank Valley coach Chris Edmonds. "Otto-Eldred played like a top team in the state from single-A and I thought we competed very well today."

Redbank Valley, Keystone, and Union/A-C Valley sports coverage on Explore and D9Sports.com is brought to you by Heeter Lumber.
The game also had plenty of subplots.
It featured the matchup of the top two scoring threats in D9 in Katie Sheeler of Otto-Eldred and Mylee Harmon of Redbank.
Harmon won that war, too, scoring 18 of her game-high 33 points in the first half to stake the Bulldogs to a 34-18 lead.
Sheeler was held to 14 in the game.
Harmon, a sophomore guard, came up clutch all afternoon, especially in the second half with some key baskets that helped Redbank Valley get to the finish line.
"Playing well against a good team was for sure a confidence boost, not only for me, but the whole team," Harmon said. "This really reminded us all how much talent we have and how good we really are."
It was certainly a playoff-like atmosphere and the game had postseason intensity.
That's what both teams were looking for out of this game, which in the grand scheme of things meant little except for bragging rights and a playoff tuneup.
"We were thinking of that game as a statement game, really," Harmon said. "We need to get a win against a good team, and Otto-Eldred definitely has a lot of talent."
That showed in the second half as the Terrors were, well, terrors from behind the arc.
Otto-Eldred hit eight 3-pointers in the final two quarters and led briefly, 60-59, before Redbank Valley closed the game out.
Harmon's driving layup, on which she was fouled and converted the free throw for a 3-point play, gave the Bulldogs the lead back for good in the final minute.
Alivia Huffman, who is the third leading scorer in D9, also shined — no surprise there — with 16 points.
"I couldn't be more proud of my team," Huffman said. "Individually, everyone has a role to play, whether they go in for three minutes or 30 minutes, and they all get done what needs to be done in that moment."
Huffman was in early foul trouble, but the Bulldogs (17-1) withstood that well.
"I wasn't worried at all because we have four more girls who can do a great job under the basket," she said.
Huffman said the team was fired up to play this game.
It was not only a chance to show themselves what they could do against a top team, but it was also a chance to show everyone else, especially some of the naysayers.
"We came into the game knowing they were a pretty good team and we started off with a lot of energy and momentum because of all the people who showed out this afternoon," Huffman said. "I think after halftime we were a little too comfortable with the lead and slacked a little bit, but no one ever worried because we know how we play and know what needs to be done and we did that.
"Both teams played a great game," the senior added. "I'm glad it played out the way it did with Otto coming back because it shows people that we can actually compete and we are actually a good team. I feel like our program doesn't get enough recognition. We don't worry about it because we know that we are a good team and hope to make a big run."
Anna Merry led Otto-Eldred (15-2) with 21 points and hit three of the Terrors' 10 3-pointers in the game. Brooke Close added 11 and also had three 3s.
Sheeler hit two from beyond the arc as part of her 14 points.
"Katie is a good player and we knew that she is the heart of their team," Harmon said. "Shutting her down gave us a better chance at the W and holding her to low numbers like 14 was one of our goals."
Edmonds was most pleased with how his team wasn't rattled by the Otto-Eldred rally.
"We kept our composure and rotated our players and was able to get a couple of steals out of our zone," Edmonds said. "(We were) able to finish the game."

Redbank Valley, Keystone, and Union/A-C Valley sports coverage on Explore and D9Sports.com is brought to you by Heeter Lumber.