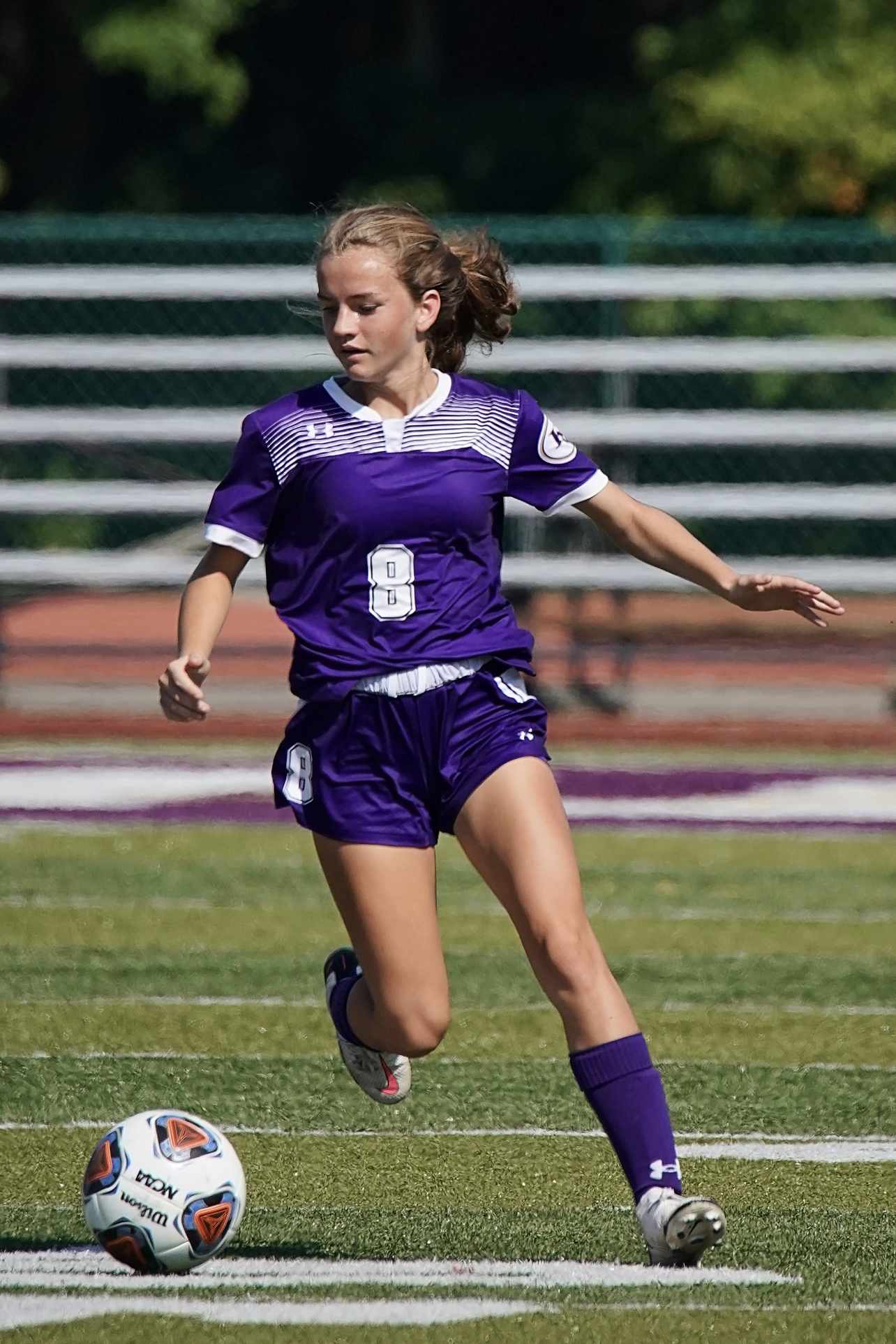 KARNS CITY, Pa. (EYT/D9) — It's easy sometimes for opponents to overlook Addie Christie.
They do so at their own peril.
(Photo by Holly Mead)
The junior on the Karns City girls soccer team stands only 5-feet tall. She weighs barely 100 pounds. She doesn't look like someone who would be a physical defensive force on the pitch.
Looks, though, can be deceiving. Christie plays much bigger than her tiny size.
"I'm always the smallest girl," Christie said. "Every time I step out on the field, I act like I'm the biggest one out there because size doesn't determine how good a player you can be. It's how aggressive you are. It's all about your mentality."
Christie's mentality had always been about scoring goals, not stopping them.
Since she began playing soccer at the age of 5, she had been an offensive player.
Until all that changed this offseason.
Karns City needed someone to play outside-back during a spring game and Christie was the first to volunteer.
It didn't take Gremlins' girls soccer coach Tracy Dailey long to see what a natural Christie was on defense.
Christie was aggressive and relentless — often the two most important qualities for a defender. She was also smart and physical.
"She will put someone on the ground," Dailey said.
In fact, Dailey was so in awe of how Christie played there, she approached her after the match with an important message.
"I apologized to her," Dailey said, chuckling. "I said, 'Addie, I'm so sorry it's taken me this many years to figure out I've been playing you in the wrong position."
Christie accepted the apology — and her new position on the team.
Christie will not back down from anyone and has proven this year to be one of the best defensive players in District 9.
Word has traveled. You don't mess with Addie Christie.
"Coach Dailey always tells us when you go in for a tackle, you go in strong," Christie said. "I find myself honestly knocking down a lot people. Sometimes I catch myself off guard and I'm like, 'Wow. I did that?'
"I love it," Christie added. "You look at me and you're like, 'Oh, she's a little girl. And then you play me. You might not think that after the game."
Playing offense all those years has also helped Christie as a defender.
She has a special insight into the mind of a goal-scorer and uses that against them during a match.
"Some of the best offensive players are your best defenders," Dailey said. "You already know what they are trying to do with the ball. They're one step ahead."
Christie has natural instincts for the position, too, Dailey said. She did things early on that sometimes takes years to coach — and sometimes is never learned.
"She reads defending very well," Dailey said. "She loves to volley the ball out, not even letting it hit the ground. She defends patiently. Those are the kinds of things you have to teach and reteach a defender, but she got it straight away."
Defense may be the key when Karns City plays Clearfield at 7 p.m. Thursday at Brockway for the District 9 Class 2A title.
Last year's match was an offensive showcase with Clearfield edging the Gremlins 5-4 in a seesaw battle.
Christie, as well as the rest of her teammates, are eager to get a measure of revenge. More than that, though, they just want to bring the D9 crown back to Karns City.
"I'm so excited," Christie said. "I've been thinking about it since after the semifinal game. I'm ready to take them on and win back the title.
"All of us girls who played last year in that game, we want that title back. That was a hard loss for us last year and we are ready to go fight and get it back. This game is really going to come down to who wants it more and we really want this."