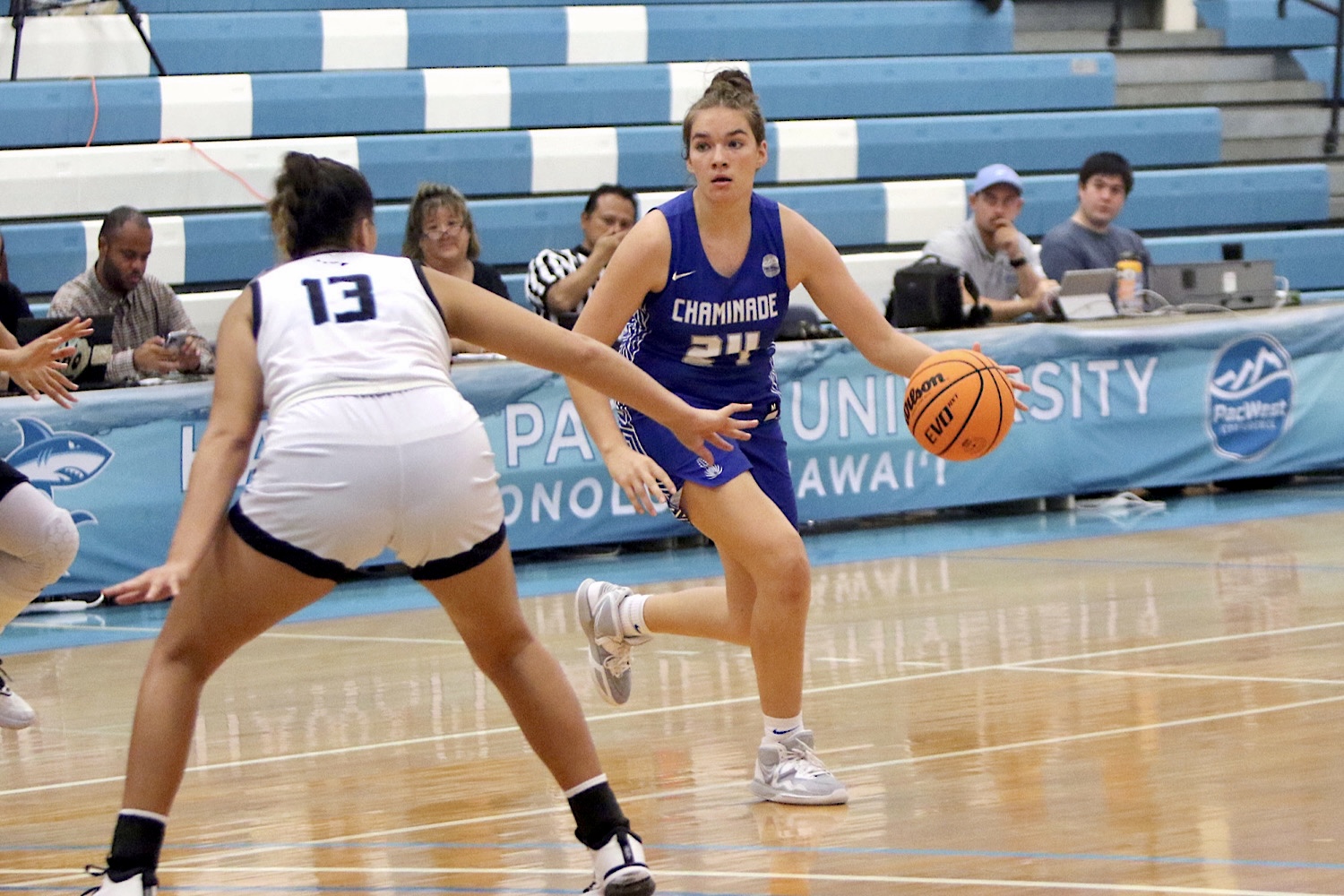 HONOLULU, Hawaii (EYT/D9) — Selena Buttery doesn't live far from the surf and sand.
She hasn't seen much of it.
Not a lot of time for the Brockway graduate to explore the main island of Hawaii — or anywhere else, for that matter.
Buttery is very busy between pulling down rebounds for the Chaminade University of Honolulu women's basketball team and smashing backhands and forehands as a singles and doubles tennis player for the Silverswords.
(Pictured above, Selena Buttery saw her playing time skyrocket as the women's basketball season progressed as a freshman at Chaminade University of Honolulu this season/photo courtesy of Chaminade University)
Then there are her other passions. Photography. The ukulele. Her non-profit organization that she started called Project Grace, which sets out to improve the lives of families and better communities.
Feeling the waves wash over her is low on her list of priorities, even in a paradise like Hawaii.
"I think I've only been to the beach maybe six times," Buttery said, chuckling. "The beach is really nice, but with our basketball schedule and with lifting and practices and conditioning and tennis, not a whole lot of chances."
Buttery didn't go to school 4,700 miles away to relax by the ocean.
She went to Chaminade to make an impact on two Division II programs that are rebuilding. She went so far away from home to immerse herself in place radically different than where she grew up with an eclectic group of people while pursuing a degree in data science.
"I'm happy with my choice to come here," Buttery said. "Everyone is super supportive. It's a small campus is very small classes. It's more of a Brockway, Pennsylvania teacher-student ratio.
"One of the things I really like about being here is it's, again, not Brockway, Pennsylvania; There's a lot of cultural diversity," Buttery added. "It's so different than being back at home and I love that."
Buttery has teammates on the basketball team from the Hawaiian Islands. She also has teammates from big cities like Las Vegas, Staten Island, N.Y., and Tucson, Ariz., but also teammates from smaller towns like Littlefork, Minn., and Hebron, Ky.
Chaminade is very much a melting pot.
Buttery is trying to immerse herself in the culture and learn more about the islands that make up Hawaii.
"I'm very interested in the culture," Buttery said. "Some of my teammates are native Hawaiian and I have learned more of their language every day and what certain things symbolize while I'm here. I don't want to just live here. I want to learn while I'm here."
Buttery also wants to compete at a high level in her two sports.
That's something that started slowly for her on the basketball court.
After enjoying a standout career at Brockway in which she scored 1,040 points and left as the all-time leader in rebounds with 1,052 while also making the all-state team and helping the Rovers to their first District 9 title in 50 years, Buttery played sparingly early in her freshman campaign this year.
"The beginning of the year, yeah, it was kind of rough," Buttery said. "I didn't expect basketball to be like this. I knew the conditioning was going to be hard, but we were running so much. It was crazy. At the beginning of the season, I had a rough time because I was just going into the game for the last 30 seconds. I didn't expect that to happen."
She got her opportunity, though, when a rash of injuries sidelined several players.
Buttery made the most of it.
Her minutes skyrocketed. Even when some of those players returned, Buttery's playing time increased. She made her first start on Jan. 5 and started five more games after that, including the final two of the season. She averaged 20 minutes in her final six games.
She wrapped up the season averaging 2.7 points and 3.1 rebounds in a shade over 14 minutes of playing time.
"There was a coaching change and the new coach didn't recruit me. When I got my chance, I think I showed (head coach Michael Edwards) my ability and he saw what I could do on the court, which helped," Buttery said. "At the end of the season, I started the last two games and he said it was because of the effort I was putting in."
During the last two weeks of the basketball season, Buttery was also practicing and playing tennis for the Silverswords.
Because of school policy, she was limited to only four hours of athletics per day. With two sports overlapping, it was an extreme balancing act and put Buttery behind when tennis season began.
"That first match was a little rough," Buttery said. "I only had two practices because of basketball. But by the time I got to the fourth match, I was winning games again, playing doubles and singles, and I definitely got back in the swing of it, which felt nice."
With basketball season over and a pause in the tennis season, Buttery finally has some time to breathe.
She still has some big goals for what she hopes to eventually accomplish at Chaminade.
"I'm focusing on academics and the community service I'm doing — I kind of spread myself a little thin when I got here," Buttery said. "I'm going to school and playing sports and I want to make an impact. I want to help better the team because we won only one game this year, but our future is definitely looking bright. I just want to better the program before I leave."