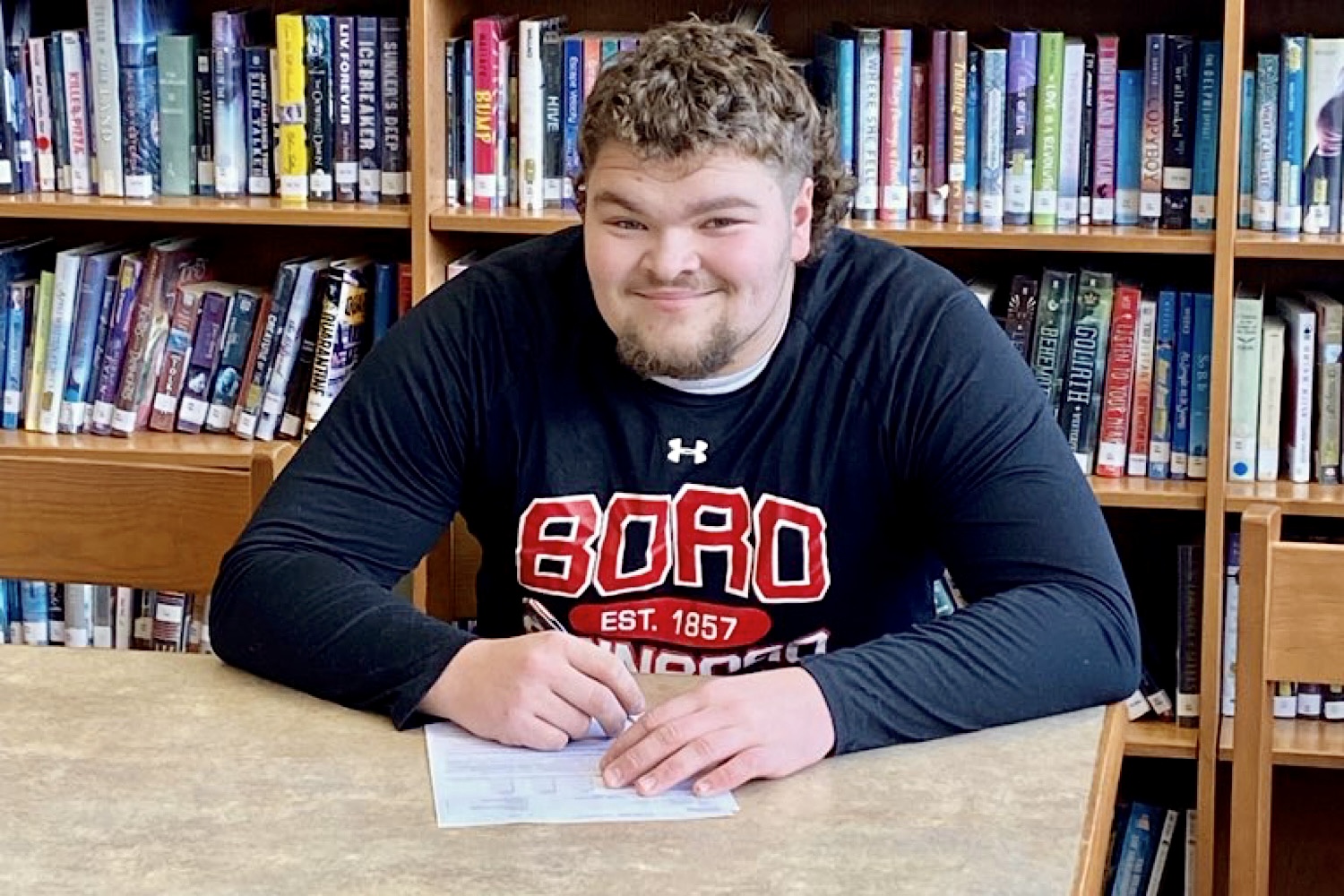 FOXBURG, Pa. (EYT/D9) — Landon Chalmers had lots of options.
And with them, a fair share of stress.
(Pictured above, A-C Valley senior and Union/A-C Valley offensive/defensive lineman Landon Chalmers signs his national letter of intent to play football at Edinboro University next year)
Chalmers, a standout football and track and field star for Union/A-C Valley and a senior at A-C Valley, had to make an important decision about where to spend the next four years of his life.
He took it very seriously.
"The week before National Signing Day, I was all stressed out," Chalmers said. "All I kept thinking about was I gotta make the right choice."

Redbank Valley, Keystone, and Union/A-C Valley sports coverage on Explore and D9Sports.com is brought to you by Heeter Lumber.
That choice was difficult for a good reason — he had a plethora of opportunities to narrow down to just one.
A handful of schools wanted him for football and a few more for track and field, where Chalmers is a shot put and discus thrower with a ton of potential.
But Chalmers was determined to play football at the next level.
Ultimately, he chose Edinboro University.
He certainly did his due diligence on that school.
"In September I went to watch them play two games, against Seton Hill and then Bloomsburg," Chalmers said. "When I went on my Clarion visit, I watched them play against Clarion. I went on an overnight visit and I got to see more of the campus and more of the athletic side. I got to sit down and have a one-on-one conversation with the coaches, and I just got a chance to hang out with some of the players and I clicked with all of them."
Chalmers was convinced Edinboro was the place for him. Last week he signed his national letter of intent to play for the Fighting Scots.
The stress melted away the moment he signed his name.
"It definitely took a lot of stress off my shoulders," he said.
The 6-foot-2, 260-pound Chalmers certainly earned all the interest.
He was a terror on the interior of the defensive line for Union/A-C Valley, recording 66 tackles for the Falcon Knights this past fall as a senior.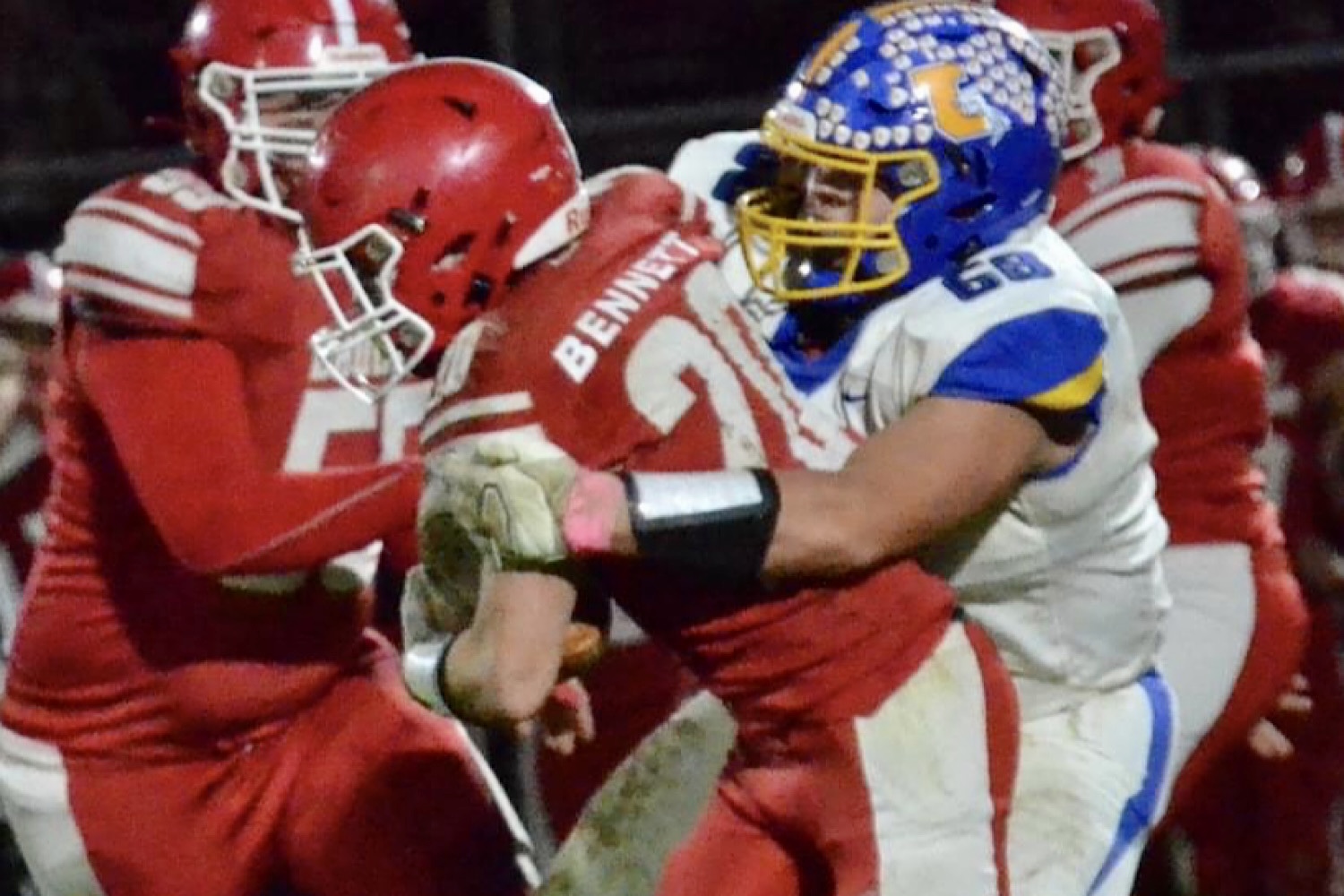 (Chalmers makes a tackle against Punxsutawney/photo by Stephanie Crissman)
In his career, he piled up 143 tackles (14 for a loss), 10 quarterback sacks, an interception and two fumble recoveries in 29 games.
Chalmers helped Union/A-C Valley to the District 9 Class A championship game as a junior, where the Falcon Knights came a whisper away from upsetting Redbank Valley.
He wants to show he deserves to play from the first day at Edinboro.
To do that, he's already working.
"I'm gonna have to spend the rest of the year in the weight room to get stronger, hopefully get a little bigger," Chalmers said. "Once I'm up there, they want me to put on some pounds."
Edinboro was a young team last season and finished 5-6 overall and 2-5 in the NCAA Division II Pennsylvania State Athletic Conference.
The Fighting Scots will be young again.
"I'm just going to try to prove myself as a freshman that I can play," Chalmers said. "And that I can get a starting spot."
Edinboro sees him as a nose guard with a combination of strength and quickness. He may also try to throw for the Fighting Scots' track and field team.
Right now, Chalmers is focusing on his final track seasons at Union/A-C Valley.
He chose not to play basketball for A-C Valley this winter. Instead he's thrown at a few indoor events. He's aiming to improve on the strong outdoor season he turned in last spring as a junior.
Chalmers won the District 9 Class AA championship in the discus, but had a disappointing showing at the PIAA Track and Field Championships in Shippensburg.
"I'm going to focus on the rest of my senior year and try to just have fun and make memories with all my buddies," Chalmers said.
Chalmers said he is proud of what he and his football teammates accomplished as part of the co-op between A-C Valley and Union.
"I really think we took the program up a notch from where it originally was before I got into high school football," Chalmers said. "I think this year's seniors and the seniors last year kind of paved the way a little big for the younger generation of Falcon Knights coming out to play. I think there's a bright future for those guys."

Redbank Valley, Keystone, and Union/A-C Valley sports coverage on Explore and D9Sports.com is brought to you by Heeter Lumber.