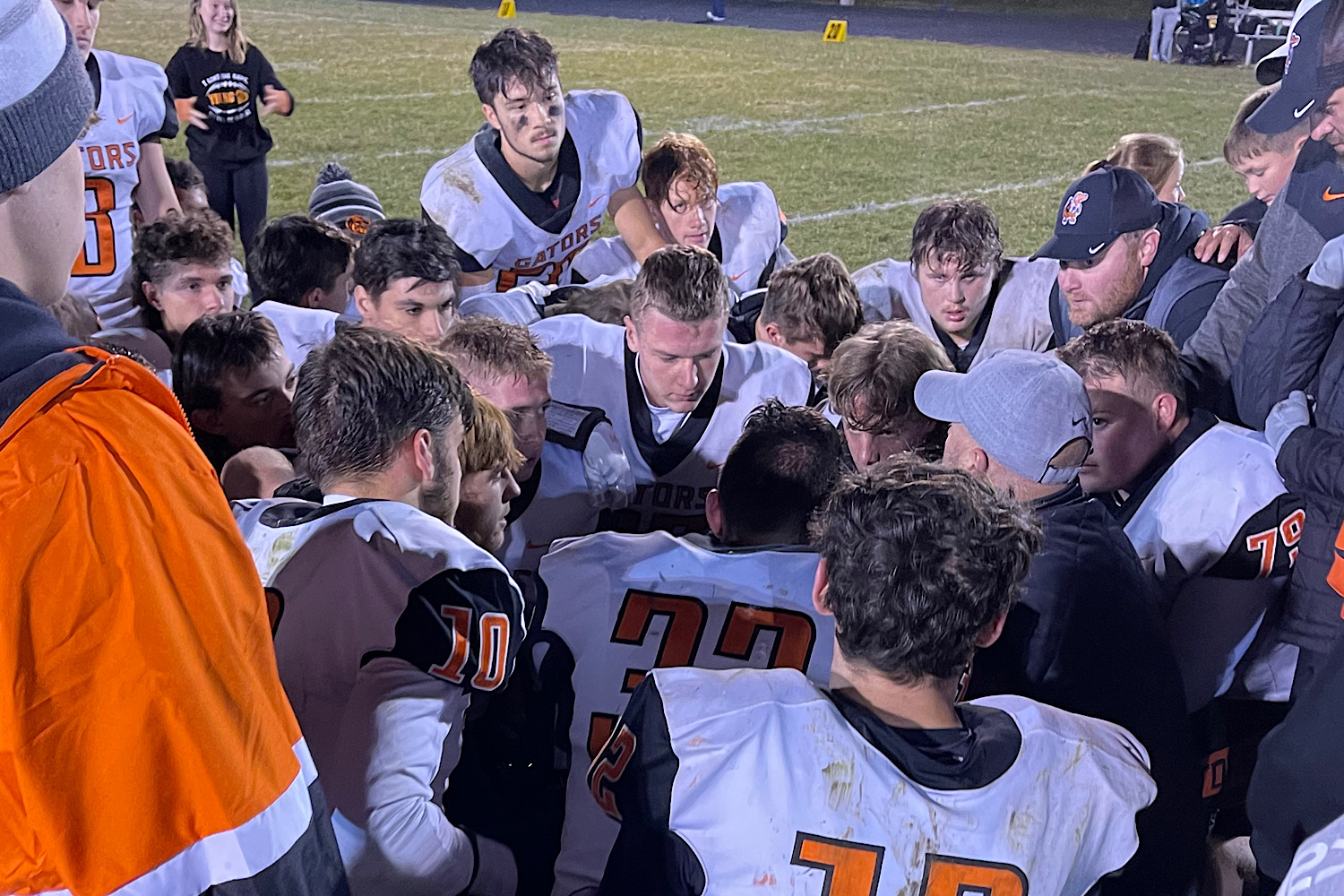 PORT ALLEGANY, Pa. (EYT/D9) — Justin Bienkowski doesn't think this is the best Port Allegany football team in school history.
At least not yet, anyway.
"I was an assistant on the 2012 team. We went this far," said Bienkowski, now the head coach of the Gators. "It's very honorable for our team this year to be in the same conversation, That was one of the goals. Can I say this team is better? No. But we have the opportunity to be. We have the control. We have it in our control to say we went farther."
Port can go where no Port team has gone before with one more victory. The Gators will clash with another cinderella team in District 7 champion Union-New Castle at 7 p.m. on Friday at Clarion University in the PIAA Class A semifinals.
Port Allegany (12-1) notched one of the biggest wins in school history with a dominating 42-8 victory over District 10 champ Reynolds in the state quarterfinals.
Before the game, Bienkowski said he and his assistant coaches could sense the jitters and tension.
It needed to be relieved.
"We just said, 'Hey, listen. Just take a deep breath and relax,'" Bienkowski said. "And they did. They just looked cool and smooth and assignment-oriented. We played well. It was a great pat on the back for all the hard work these players and coaches put in."
Port played free, relaxed and loose.
And it showed.
The Gators led 22-0 at the half and triggered the mercy clock with two more touchdowns and a 35-0 lead in the third quarter.
"They're enjoying it. They're dancing," Bienkowski said shortly after the win over Reynolds. "They're singing on the bus and all that good stuff that kids do. But they'll get back to work because we just don't want it to end. That's been our mantra. We want seven more days. We just want seven more days with these guys."
Port is hoping for even more.
But first, the Gators will have to contend with Union-New Castle, the 10th seed in the WPIAL tournament who went on its own magical run.
The Scotties shut out No. 1 seed Bishop Canevin to move on to a date with Port.
"They are very athletic and played very good competition in a storied conference and league and district like the WPIAL," Bienkowski said. "The coaches will start on them on Sunday. We're just proud of how the kids played. They've always giving of themselves. Our big three played a near perfect game."
That "Big Three," all seniors, have performed all year.
Quarterback Drew Evens was 11 of 13 for 176 yards and two touchdowns. Blaine Moses rushed for 111 yards on 15 carries and scored twice and Noah Archer added 85 yards on 14 carries.
Archer also had six receptions for 140 yards and a score and Moses had a TD catch.
The big three also carry big chips on their shoulders.
They had one heading into the game against Reynolds when few pundits picked Port to win or slow down 2,000-yard back Jalen Wagner.
"Our kids have heard all year long about somebody else has the better o-line or somebody else has the better running back," Bienkowski said. "Jalen Wagner just happened to be the next opponent where people were talking about all the 200-plus-yard rushing games and the 2,000 yards rushing. And he deserves all the credit and recognition. But it's almost as if our kids are old school and you can take a quote and post it to a bulletin board. That's going to be on their mirror. That's the kind of kids we have. They are motivated by hard work and dedication. Nothing fancy. Nothing complicated. There's no element that I'm bigger than the team anywhere on this team.
"They are the most humble kids you'll ever meet," the coach added, "with crazy talent."
The Gators aren't just representing their home town these days. They are representing the whole of District 9.
And they have the support of just about everyone within the district.
It's special.
It's not lost on Bienkowski or his team.
"I've gotten a lot of text messages and phone calls and messages on social media wishing us well," Bienkowski said. "It's awesome. It speaks to the level of sportsmanship and character of District 9 football. I can show you text message after test message of guys who we've kicked each other's butts and beat each other up during the year, but they're saying, 'Go Port and go D9.'"