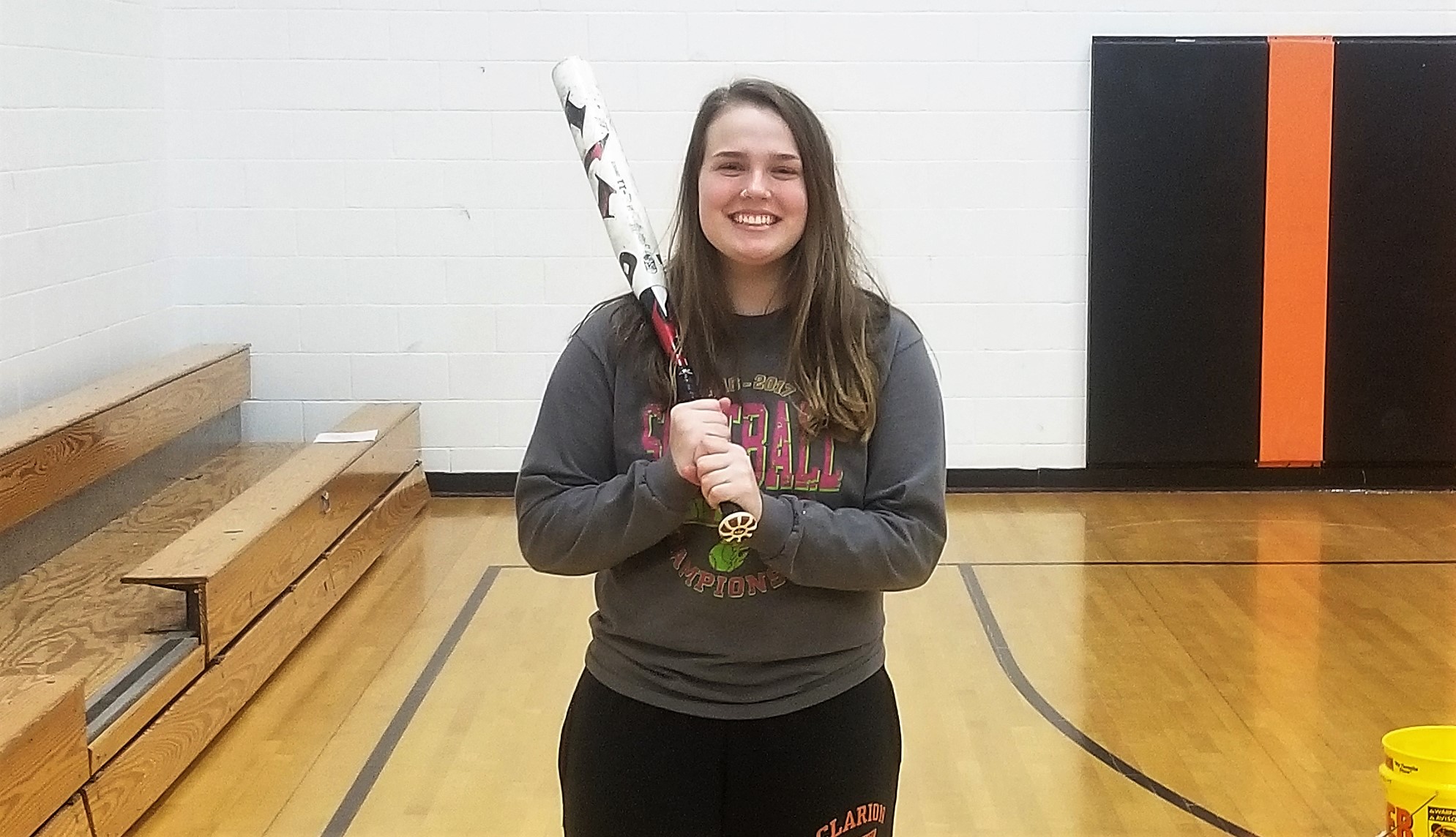 March 24 recaps.
(Photo of Sadie Rudesyle of Clarion)
SOFTBALL
CLARION 16, OIL CITY 2, 5 INNINGS
OIL CITY, Pa. – Winning pitcher Sadie Rudesyle helped herself on offense as well going 3-for-4 with a triple, a double, three runs scored and an RBI, as Clarion opened the 2018 season with 16-2, five-inning win at Oil City.
Rudesyle went five innings allowing two runs on five hits and six strikeouts while walking no one.
Alexis Constantino added a pair of hits, two runs scored and an RBI for Clarion with her younger sister Kait Constantino picking up a triple, two walks and an RBI. MacKenzie DiTullio and Tori Vega drove in a pair of runs each while both scoring three times with Ava Kiser adding two RBIs and a run scored.
Nicole Skokowski had a pair of hits and a run scored for Oil City. Emily Goughler took the loss allowing 13 runs, nine earned, on eight hits and seven walks while striking out one.
BASEBALL
DEER LAKES 11, MONITEAU 1, 6 INNINGS
MYRTLE BEACH, S.C. – Tyler Smith drove in five runs, and Deer Lakes broke up a close game with nine runs in the final two innings, including a six-spot in the sixth, to beat Moniteau, 11-1 in six innings in Myrtle Beach, S.C.
Greg Geis tossed a 3-hitter in the win allowing one run while striking out nine.
Wyatt Geibel hit a solo home run in the fourth inning to give Moniteau a 1-0 lead, but Deer Lakes scored twice in the bottom of the inning to take a 2-1 lead before tacking on three in the fifth and six in the sixth to end the game.
Hunter Fitzingo suffered the loss despite not allowing a hit in his 3 ⅓ innings of work. He gave up two unearned runs on a walk while striking out three.
ECC GOES 0-2 AT SERRA CATHOLIC TOURNAMENT
BUTLER, Pa. – Playing at the Serra Catholic Tournament at Kelly Automotive Park in Butler, Pa., Elk County Catholic dropped a pair of games to start its season.
The Crusaders opened the tournament with an 18-3, four-inning loss to Our Lady of the Sacred Heart then fell 7-2 in the consolation game to Quigley Catholic.
OLSH 18, ECC 3, 4 Innings
Patrick Brogan had four hits, including a double, three runs scored and two RBIs to held OLSH to the victory.
Nathan Hart added five RBIs in the win while collecting three hits and scoring three times.
Dan Wimer was 2-for-2 with a double, two RBIs and a run scored for ECC.
Scott Symons got the win going three innings allowing three runs, one earned, on five hits while striking out six.
Brady Schneider took the loss tossing an inning-plus allowing 11 runs, seven earned, on five hits and three walks while striking out two.
Quigley Catholic 7, ECC 2
Luke Evans had two hits, including a double, and two RBIs to help Quigley Catholic top ECC, 7-2.
Alex Tomsic added a double in the win, while L.J. Evans went 5 ⅔ on the mound allowing two runs, one earned, on four hits while striking out eight.
Isaac Brock was 2-for-3 with a double and a run scored for ECC, while Alec Wheeler also scored a run.
Hunter Cashmer took the loss going three innings allowing one run on two hits and a hit batter while striking out three.