KARNS CITY, Pa. (EYT/D9) — There was the black and white of Moniteau. The azure and gold of Union A-C Valley. The navy and orange of Central Clarion. The red and white of Redbank Valley.
There were more colors, too, representing different schools, swirled into one tapestry on an evening of prayer and support for a fallen brother.
There were no teams. No delineations. No Warriors or Falcon Knights or Wildcats. No Bulldogs or Panthers or Bison.
Everyone was a Gremlin on Sunday evening at Karns City High School.
Everyone was Mason Martin. They were all No. 2. They were all MasonStrong.
(Pictured above, Karns City seniors Taite Beighley, left, and Zach Kelly carry Mason Martin's jersey No. 2 off the field after the prayer vigil on Sunday for Martin, who was seriously hurt during a game on Friday night and remains in critical condition at a Pittsburgh hospital/photos by Holly Mead)
They packed Diehl Stadium, joined by many members of the Karns City High School football team and community — as well as a host of others from all over western Pennsylvania — to attend a prayer vigil for Martin, a Karns City senior who collapsed on that very field during a game on Friday night and is fighting for his life in a Pittsburgh hospital.
"I thought it was very important for us to be there, and I was very proud of not only our kids, but all the other kids that showed up to support," said Union/A-C Valley coach Dan Reed. "It showed that football is a community, and even though we are rivals on the field, we are all kind of a family off of it."
Martin, 17, remains in critical condition at UPMC Presbyterian in Pittsburgh.
The Karns City quarterback/safety was transported by medical helicopter after crumpling to the turf while awaiting a kickoff midway through the third quarter against Redbank Valley.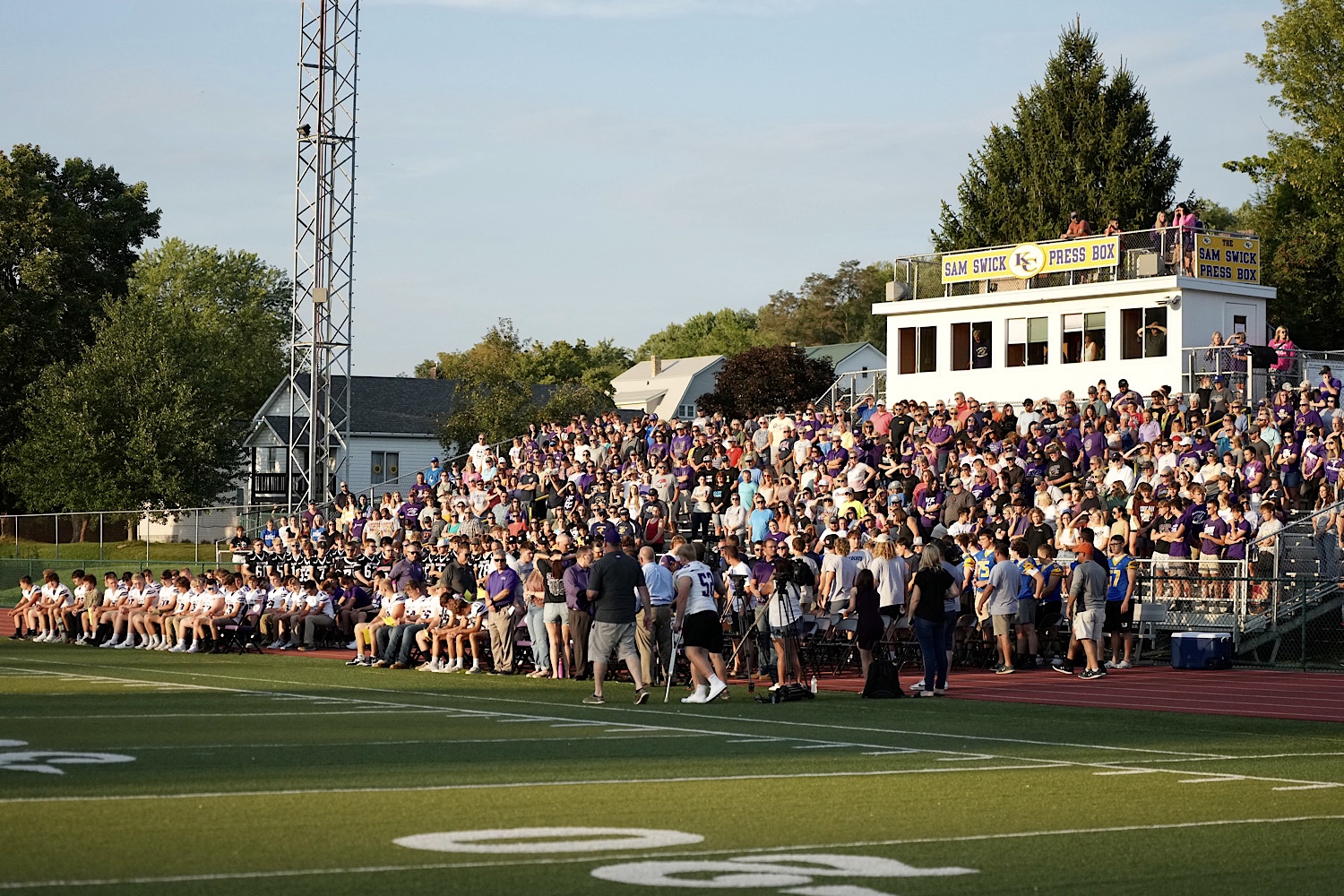 (Diehl Stadium was full of people praying for Martin, including members from at least six area high school football teams)
He underwent emergency surgery for significant bleeding in his brain. He also had a collapsed lung.
The Martin family issued an update via Facebook on Sunday morning.
"Your show of love has been so uplifting and inspiring," wrote Denny Martin on his wife, Stacy's, Facebook page. They are Mason's parents. "If we feel your love, we know that Mason can as well."
Denny Martin wrote there has been little change in Mason's condition, which is critical.
Mason is in a medically induced coma.
They are waiting for the swelling to subside to assess the extent of the damage to his Mason's brain, Martin wrote.
"When Stacy was first diagnosed with cancer we decided to never hide or sugercoat anything. We would be upfront and honest with our children, family, and loved ones," Martin wrote. "… The truth is we need a miracle. I'm not saying that to sound grim, but to let you know that we need the strength of your prayers. No one believes in this kid more than us, but he needs everyone's strength and prayers."
Many in Karns City and neighboring communities tried to provide that at the vigil.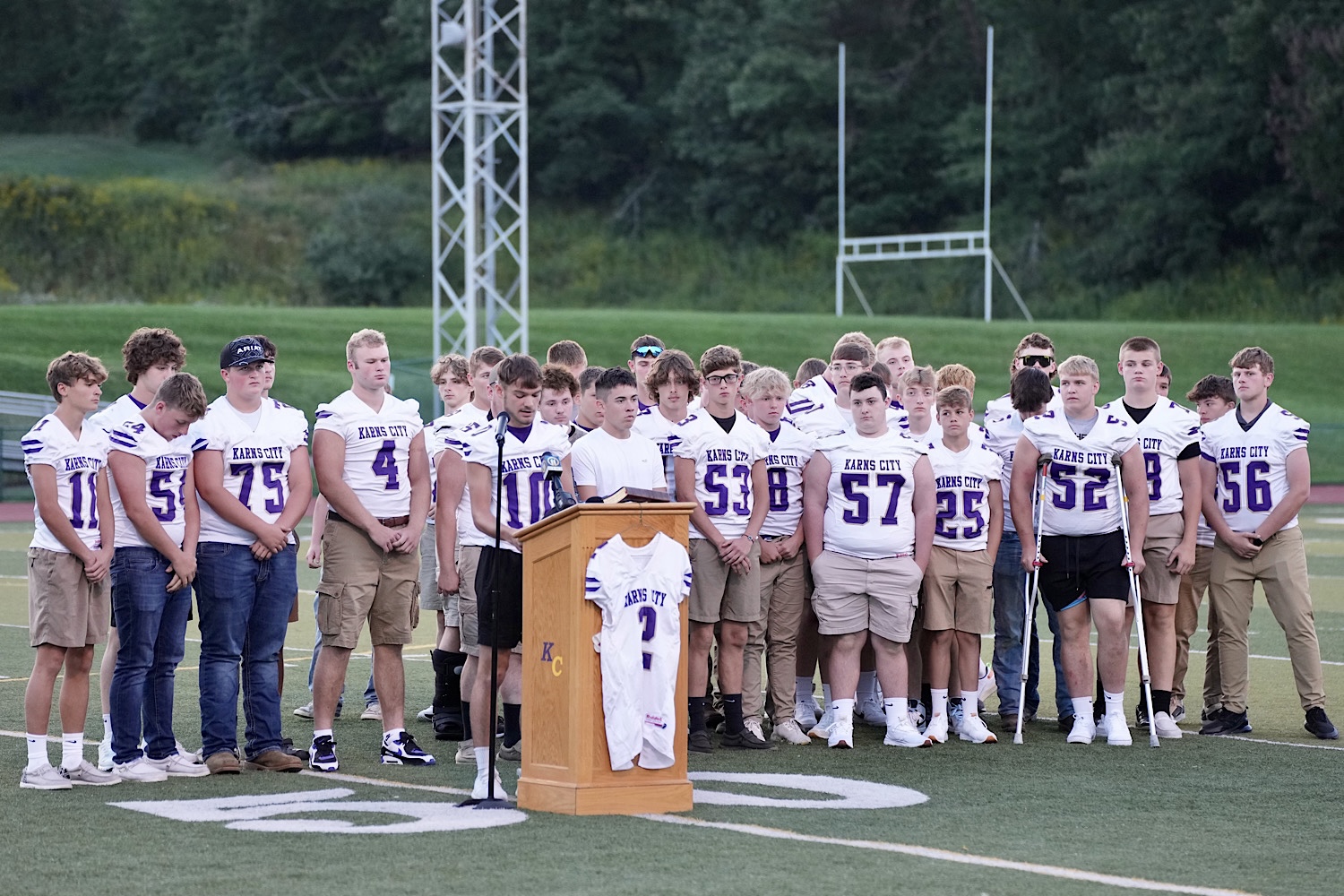 (Members of the Karns City football team gather to speak at the vigil)
Logan Campbell is a senior on the Moniteau football team, an arch rival of Karns City.
Campbell has played against Mason Martin on the football field since they both were seven years old.
He and his Warrior teammates were at Karns City on Sunday evening to lend whatever support they could.
And plenty of prayers.
"It is devastating for something so sad and terrible to happen to someone I know so well," Campbell said. "It felt so good to have the whole Moniteau team out there to support Mason. It just goes to show that football is more than just a sport. It's like a brotherhood."
Several school districts around the area are encouraging their students to wear purple and gold at school on Tuesday in support of Mason Martin and the Karns City school and community.
On Saturday night, the Armstrong County Courthouse was awash in purple and gold lighting in support of Mason and his family.
Redbank Valley will have its own prayer vigil for Mason at 7:30 a.m. outside the high school.
The Clearfield football team will wear purple wristbands during this Friday's home game against Philipsburg-Osceola.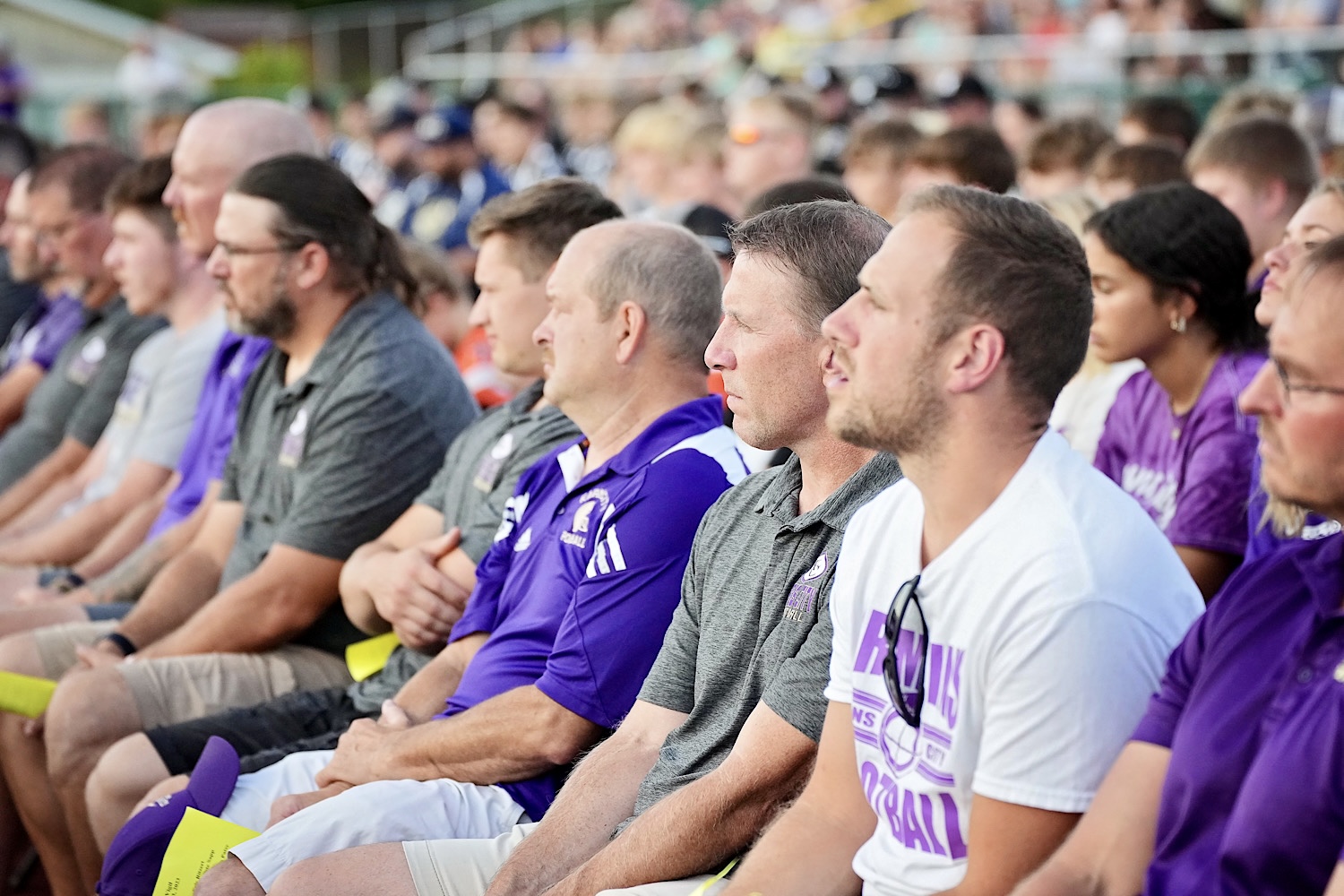 (Members of the Karns City coaching staff look on during the vigil)
There are more tributes in the works, as well as fundraising efforts for the Martin family.
Union/A-C Valley senior Trey Fleming said the vigil on Sunday night was deeply moving and emotional for everyone involved.
"There was just so much emotion," Fleming said. "So much emotion going on. Obviously we weren't there on Friday night, but as everybody shared their thoughts, we all felt like we were there that night and could see everything that had happened.
"It just showed that what happened on Friday — it could happen to anyone who plays at any time," Fleming added. "So thank God for the trainers from Karns City and the medical people who were there."
Fleming said it brings everything into focus.
"Tonight shows we can be competitors on the field, but we're also more than friends," Fleming said. "We're basically family."