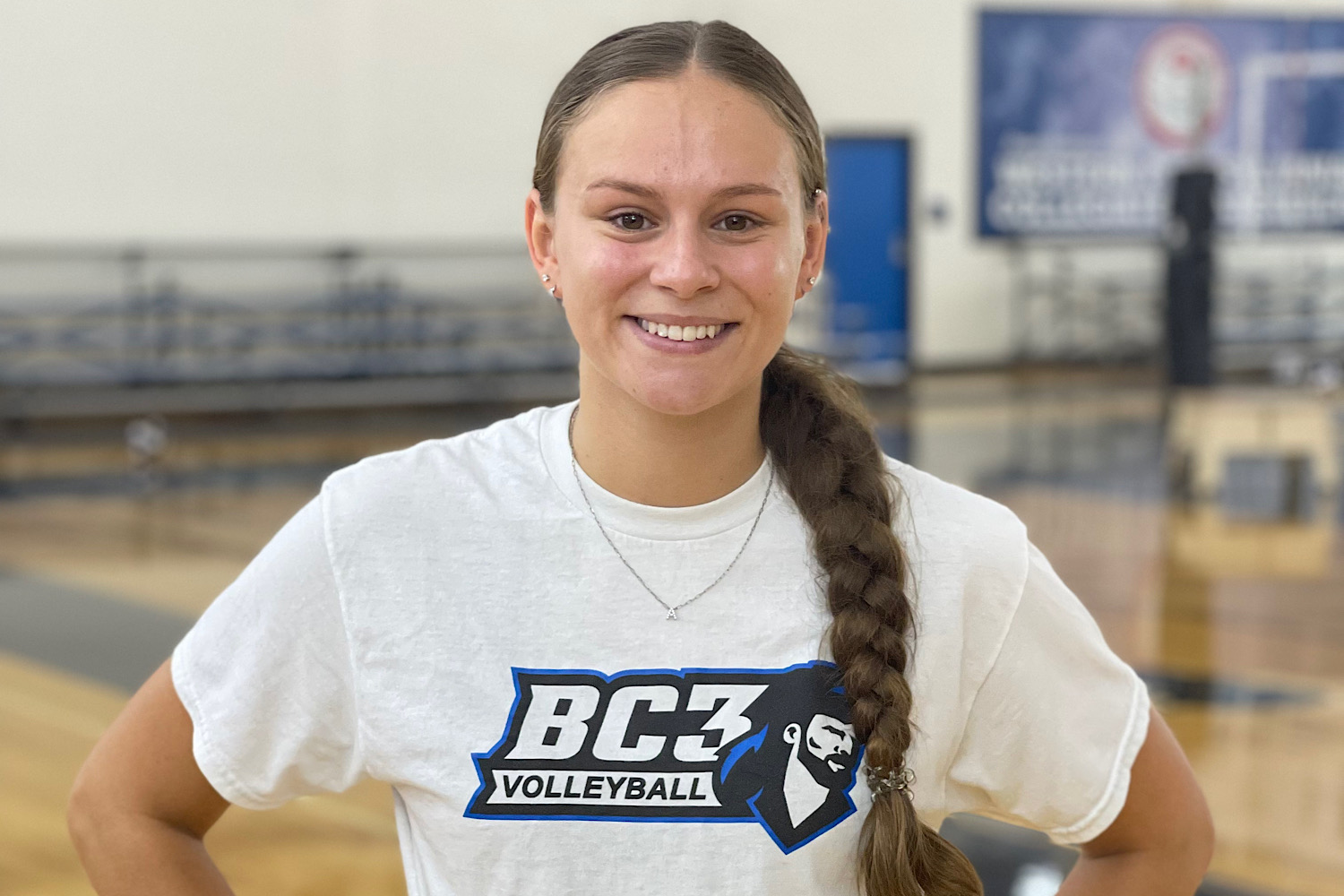 BUTLER, Pa. (EYT/D9) — Night in and night out last year as as senior on the A-C Valley volleyball team, Lexi Ruckdeschel got no respite.
No breather for this middle hitter, who was a six-rotation player. The bench was a foreign place to her during matches.
She recorded 202 kills, 48 blocks, 179 digs and also had 42 service aces for the Falcons. She was the glue in the middle that held everything together.
(Pictured above, Lexi Ruckdeschel)
"I was all over the court, sweating," she said, chuckling. "But I loved it."
This year as a freshman on the national-power Butler County Community College women's volleyball team, Ruckdeschel will likely have more opportunities to recharge during the flow of a match.
That's a good thing because she is the only middle hitter on the Pioneer roster heading into the 2023 season.

Redbank Valley, Keystone, and Union/A-C Valley sports coverage on Explore and D9Sports.com is brought to you by Heeter Lumber.
"I'm going to play a ton of middle," she said, smiling. "We'll probably have some outside hitters playing middle, too."
Ruckdeschel is ready for whatever role she is asked to fill at BC3.
Ruckdeschel has already spent this summer getting up to speed with the college game.
Literally.
She came to every open gym she could to work with BC3 coach Rob Snyder on tackling the challenges of a whole new level of volleyball.
"It's way faster," she said. "And that was a mind game for me in the beginning. I'm like, 'Rob, I need to talk to you. This is more mental than physical for me, and I think you've noticed that, too.' I had to get the majority of the thoughts that I had in high school out of my head and restart new."
Ruckdeschel had to learn to anticipate plays rather than simply react.
She worked steadily on it throughout the offseason. She also worked on her mechanics with Snyder and Moniteau graduate Aslyn Pry, a middle hitter herself who parlayed two standout seasons (one as an NJCAA All-American) with the Pioneers into a spot at Slippery Rock University this fall.
"I've changed so much already," Ruckdeschel said. "I'm so glad to have this opportunity to play. A lot of people look down on community colleges, but here you have the best coach in the country and he will make you the best player you can be before you leave here. I get so excited coming here every day. I came in early. I can't wait to go to volleyball."
Ruckdeschel said BC3 was always her first choice.
"I didn't have many other opportunities, but I liked being able to walk out on the volleyball court here and have a coach work with me to make me better," she said. "I'm learning something new here every day."
Ruckdeschel said Pry has also made a big impact on her development so far.
"I look up to her a lot because she plays my position," Ruckdeschel said. "I take everything she says, everything she tells me, to heart."
Ruckdeschel doesn't have a clear plan yet for what she hopes to do after her two years are up at BC3. She does know she wants to pursue a degree in the healthcare field.
She's focusing on the here and now.
"This is a good piece of my life that I definitely want to take advantage of," Ruckdeschel said. "I did have a great senior year at A-C Valley and I was like, 'Well, I can't stop now.' Community college definitely gave me that opportunity and I am so grateful for it."

Redbank Valley, Keystone, and Union/A-C Valley sports coverage on Explore and D9Sports.com is brought to you by Heeter Lumber.