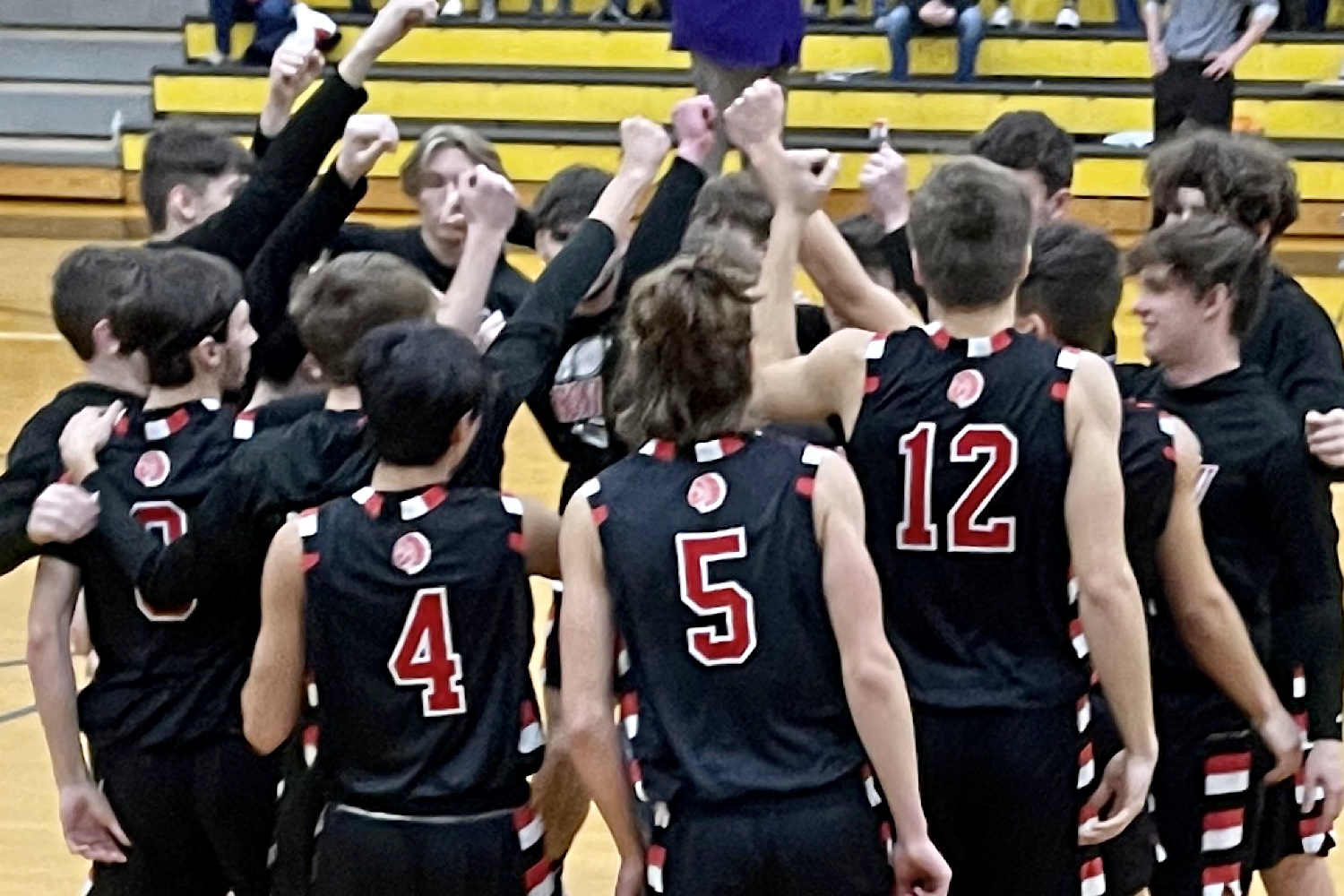 WEST SUNBURY, Pa. (EYT/D9) — Adversity has been a common theme for the Moniteau boys basketball team this season.
The Warriors have faced plenty of it.
The latest bout has come in the form of a significant knee injury to captain Chasen Delarosa-Rugg that has the guard sidelined indefinitely.
Moniteau, though, has been able to persevere.
The Warriors did so again on Friday night, opening up a 30-14 lead at the half and withstanding a big Cranberry rally in the third quarter for a 56-46 victory.
"I couldn't be more proud of these kids, man," said Moniteau coach Mike Jewart. "This group is resilient. There is no doubt about that. When something goes wrong, they rise. It's a work in progress, but they are very good at turning the page and focusing on what they need to focus on."
Balance has also propelled Moniteau this season.
The Warriors (11-7), who clinched a playoff spot with the win over the Berries, had three players crack double figures in scoring.
Colton Thomas, who has moved into Delarosa-Rugg's starting spot, led the way with 13 points. Aydan Jackson added 12 and David Martino 10 for Moniteau.
David Dessicino also pitched in eight for Moniteau.
"Colton has come up big," Jewart said. "He's been a spot starter all year. He rebounds. He finishes inside. He plays excellent defense. We lose an outside shooter and we're switching things up a little bit from being more guard-oriented to maybe being a little bit more post-oriented at this point."
Cranberry also had three players crack double digits in scoring.
Seth Schwab led the Berries with 15 points. Ashton Weaver added 11 and Colin Zerbe 10.
After the first-half struggles, Cranberry was able to get back into the game in the third, outscoring Moniteau 18-8 in the frame to trim the deficit to 38-32.
The Berries (5-13) got as close as four of the lead in the fourth, but Moniteau was able to settle down, thanks to six points from Jackson in the fourth, to push the lead back to 10.
"At this point in time, any win I can get I'm happy with," Jewart said. "We're obviously still trying to figure things out without Chasen. The game earlier this week against Laurel (61-43 win) was really big for us. I was really happy to see how we responded.
"If there's a silver lining in it at all is the way we've played all year. We've shared the ball really well, so we haven't had to lean on one person to put up a bunch of points," Jewart added. "I mean, it hurts when you lose one of your captains and a guy who pretty much keeps everyone calm on the floor. But we have a lot of guys who can step up."
KARNS CITY 62, REDBANK VALLEY 38
Taite Beighley scored 18 points and Hobie Bartoe pitched in 15 to lead the Gremlins to a fast start and a win over the Bulldogs.
Beighley, who also had six assists, scored 10 points in the first half, helping Karns City race out to a 29-15 lead at the half.
Micah Rupp also had a big night with nine points, seven rebounds, six steals and four blocked shots.
Redbank, playing without Owen Clouse, got 14 points from Kieran Fricko and 12 from Brayden Wagner in the loss,
UNION 76, FOREST 10
Payton Johnston scored 18 points and Skyler Roxbury added 17 as the Golden Knights rolled past Forest.
Owen Bish added nine points and Trey Fleming and Hayden Smith chipped in eight points for Union, which had nine players score at least a point.