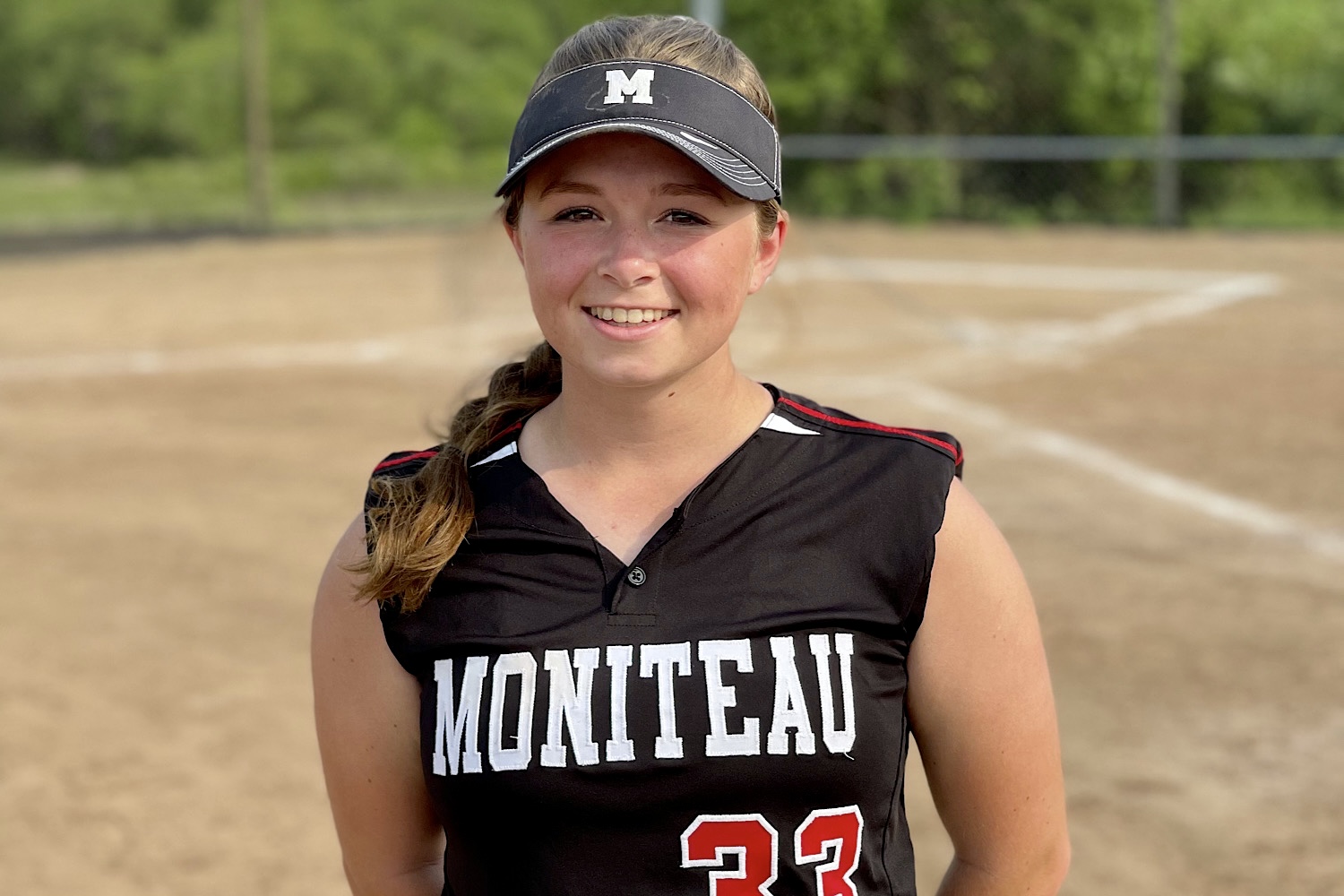 WEST SUNBURY, Pa. (EYT/D9) — The Moniteau softball team has muscled up this season.
There's been a lot to flex about.
The Warriors displayed their firepower again early in a 10-0, five-inning win over a young Brookville team in the first round of the District 9 Class 2A playoffs on Monday afternoon.
(Pictured above, Brianna Rottman went 4 for 4, setting the table for Moniteau mashers in a 10-0 win over Brookville in the D9 Class 2A playoffs on Monday)
Freshman Lily Staab hit her fifth home run of the season as Moniteau jumped out to a 7-0 lead after two innings against Brookville.
"I knew we'd have a little bit of power this season," said Moniteau coach Bob Rottman.
Emma Covert leads the team with 11 homers, which is tied for the school's single-season record. Moniteau (11-9) has gone deep 21 times this season in 20 games.
Covert was again deadly at the plate and in the circle for the Warriors. She went 3 for 3 with two RBIs and also threw a four-hit shutout.
"The impressive thing about that to me is when she comes to the plate, she's not trying to hit her 12th," Rottman said. "She's just trying to hit the ball hard and put it into play."
Covert has come up big down the stretch as a pitcher and she was in control against Brookville on Monday.
Covert did get into one jam, giving up a one-out single to Kerstyn Davie and then walked back-to-back batters to load the bases in the top of the fourth.
But Laela Kammerdeiner hit a fly ball to Ashley Huffman in right. Huffman caught the ball and fired a perfect strike to the plate to nab Davie trying to tag up and score for an inning-ending double play.
"I would have sent her on that play every time," said Brookville coach Carl McManigle. "That's a chance as a coach you have to take. The girl made the throw. She made the play. Things just didn't go our way today."
Moniteau turned in some strong defensive plays against Brookville.
Covert made an over-the-shoulder, barehanded snag of a soft looper in the top of the fifth inning with one out and Cadence Suhan at second after a double.
That prevented what could have been some damage for Brookville.
Moniteau scored two runs in the bottom of the fifth inning to trigger the mercy rule and move on to a clash with Cranberry at 4 p.m. on Wednesday at Keystone High School.
"I feel like our team is solid at every position," Bob Rottman said. "You might have a girl that makes a mistake here or there or maybe has a bad game, but top to bottom they are all capable of doing great things."
Moniteau jumped out to a 3-0 lead after the first inning against Brookville's sophomore pitcher Alyssa Tollini, who has had a solid campaign.
The Warriors added four more in the bottom of the second to take a 7-0 lead.
That gave Covert plenty of cushion with which to operate.
"I like getting out to those quick starts because those games when you don't score to the third or fourth inning, those are tough," Covert said. "Once you start scoring those runs early, you feel more confident and you just keep feeding off of that."
Staab's homer was a two-run shot in the bottom of the first for a 2-0 lead after just 11 pitches by Tollini.
Mariska Shunk also had a RBI in that inning.
The four-run second for the Warriors was keyed by a two-run single by Covert.
Leadoff hitter Brianna Rottman was 4 for 4 with three RBIs and two runs scored. Staab was 2 for 2. Shunk had two RBIs, Huffman was 2 for 3, and Emily Staab also had two hits, including a double, and three runs scored.
"This feels really good because I think we know what we're capable of," Brianna Rottman said.
Moniteau gets Cranberry. The two teams split this season.
Brookville got something valuable, too.
Experience.
The Raiders, who won just two games last season with a slew of freshmen playing, will lose just one senior — Tory McKinney.
"The score does not indicate how well we played today," McManigle said. "I'm happy with my girls. I'm proud of my girls as far as where we've come from. I told them, 'Hey, I'm happy with everything that you girls did, but I'm more excited about what I'm hoping to see from you next year.' I'm happy with what they did this year, making the playoffs, but next year it's time to get greedy."