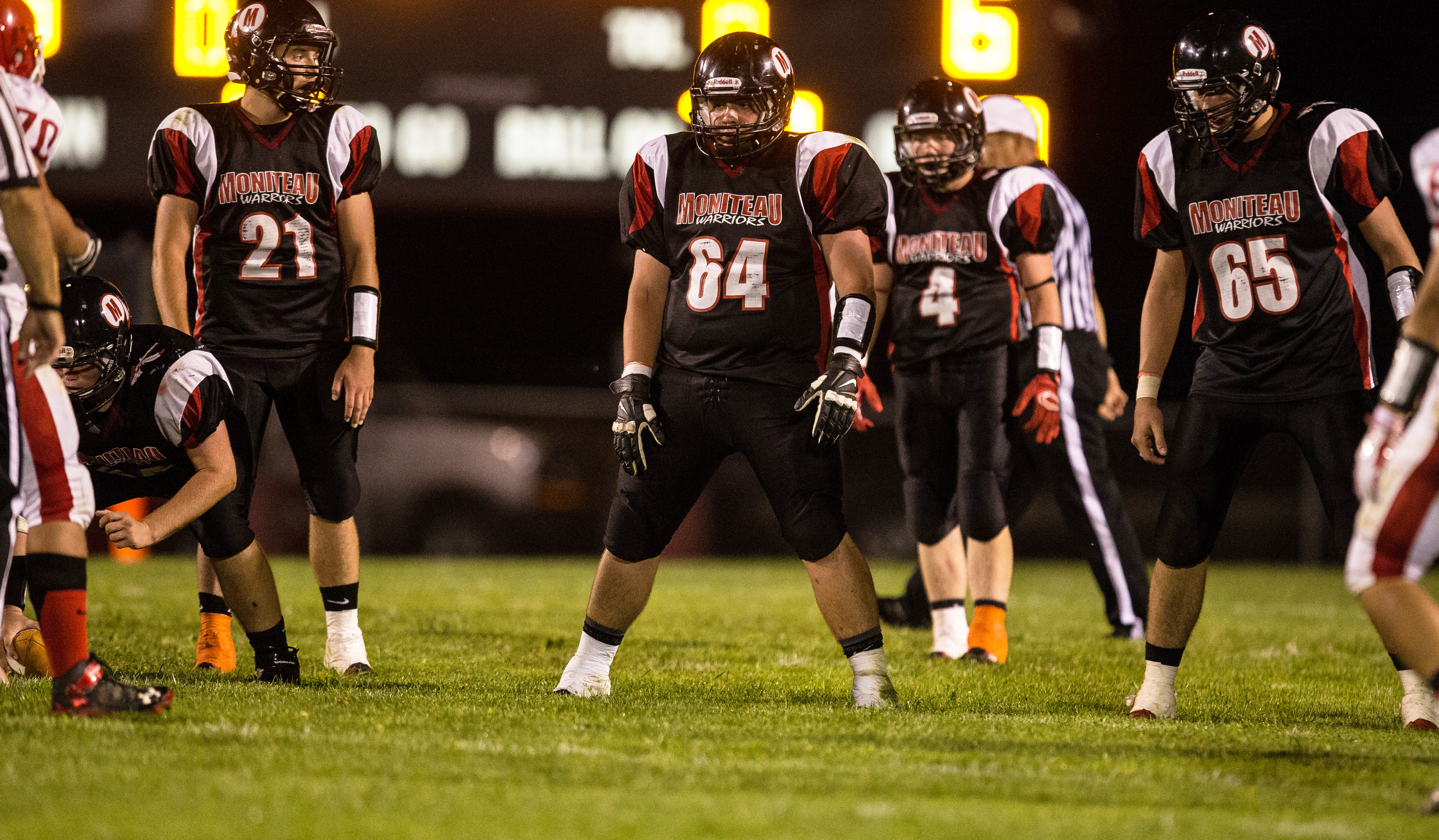 Cover photo of 1/2 of Moniteau's offensive line (64) Brandon Stamm, (65) Sean Hall (54) Shonn Kline as well as quarterback Cody Skiver (21) and running back Josh McBridge (4) –  Photo by Mike Schnelle –  http://apeximaging.zenfolio.com/
CLARION, Pa. – The Week Three D9Sports.com District 9 Football Player of the Week is actually Players of the Week with the entire Moniteau offensive line in addition to running back Josh McBride and quarterback Cody Skiver earning the honors after helping the Warriors roll up over 700 yards of total offense last week.
The line, featuring starters Shonn Kline, Brendon Stamm, Sean Hall, Brantlee Alexander, Vance Noah and tight end Derek Boben opened up holes that allowed Moniteau to rush for 680 yards on 60 carries – over 10 yards per carry – and seven touchdowns in a 48-12 win over visiting Port Allegany Friday night. That included a pair of 200-yard rushers in McBride, who ran 22 times for 373 yards and two touchdowns and Skiver, who ran 22 times for 201 yards and two touchdowns. In all, the Warriors racked up 721 yards of total offense with Skiver adding 41 yards of passing to his rushing total.
Joining the Moniteau players in being honored are 15 players on the Week Three 2014 District 9 Honor Roll.
The Player of the Week and Honor Roll will run through Week 10 of the 2014 high school football season and will be released at the conclusion of the week's games either Sunday or Monday.
Located at www.d9sports.com, D9Sports.com is in its 15th year of covering athletics within the PIAA's District 9. The site, which is not affiliated with the PIAA in any way, covers all 25 football playing teams playing in District 9. For more information on the site, please visit it or e-mail the staff at sports@d9sports.com. The site is also active on Twitter @D9sports and on Facebook at www.facebook.com/d9sports.
D9SPORTS.COM DISTRICT 9 PLAYER OF THE WEEK
Offensive Line of Shonn Kline, Brendon Stamm, Sean Hall, Brantlee Alexander, Vance Noah and Derek Boben as well as QB Cody Skiver and RB Josh McBride – Moniteau: Warriors rushed for 680 yards and 7 touchdowns while racking up 721 yards of total offense. McBride ran 22 times for 373 yards, 2 touchdowns with Skiver rushing 22 times for 201 yards and 2 touchdowns and passing for 41 yards – Moniteau 48, Port Allegany 12
D9SPORTS.COM DISTRICT 9 HONOR ROLL (in alpabetical order my team)
Hunter Miller – Brockway: 10-for-13 passing, 161 yards, 1 touchdown, 1 interception; 5 carries, 45 yards, 1 touchdown; First career start for the sophomore
Ian Corbett – Clarion: 7 carries, 112 yards, 4 touchdowns – Clarion 67, Clarion-Limestone 0
Brendan Miller – Clarion: 2-for-4 passing, 33 yards, 1 touchdown; 4 carries, 75 yards, 1 touchdown; Returned an interception 45 yards for a touchdown – Clarion 67, Clarion-Limestone 0
Nick Stewart – Curwensville: 21 carries, 135 yards, 2 touchdowns – Curwensville 35, Coudersport 6
Devin Clark – DuBois: 28 carries, 246 yards, 5 touchdowns – Conneaut 36, DuBois 35, overtime
Ryan Seelye – Elk County Catholic: 3 catches, 62 yards, 3 touchdowns – Elk County Catholic 53, Smethport 7
Mitchell Smith – Elk County Catholic: 4-for-7 passing, 83 yards, 3 touchdowns; 9 carries, 96 yards, 1 touchdown – Elk County Catholic 53, Smethport 7
John English – Kane: 31 carries, 164 yards, 3 touchdowns – Kane 32, Sheffield 18
Perry Arrington – Punxsutawney: 13 carries, 171 yards, 3 touchdowns – Punxsutawney 47, Brookville 7
Braxton Giaviadoni – Punxsutawney: 3 catches, 129 yards, 1 touchdown; Intercepted 2 passes on defense – Punxsutawney 47, Brookville 6
Jake Dougherty – Redbank Valley: 29-for-42 passing, 327 yards, 5 touchdowns – Redbank Valley 35, Keystone 6
Ben MacDonald – Ridgway: 2 passing, 2 rushing TDs
Adam Higby – Sheffield: 13-for-30, 201 yards, 3 touchdowns – Kane 32, Sheffield 18
Chet Carmichaels – Union: 4 catches, 143 yards, 3 touchdowns; Returned a punt 78 yards for a touchdown – Union 50, A-C Valley 6
Lane Cicciarelli – Union: 9-for-9 passing, 185 yards, 4 touchdowns – Union 50, A-C Valley 6