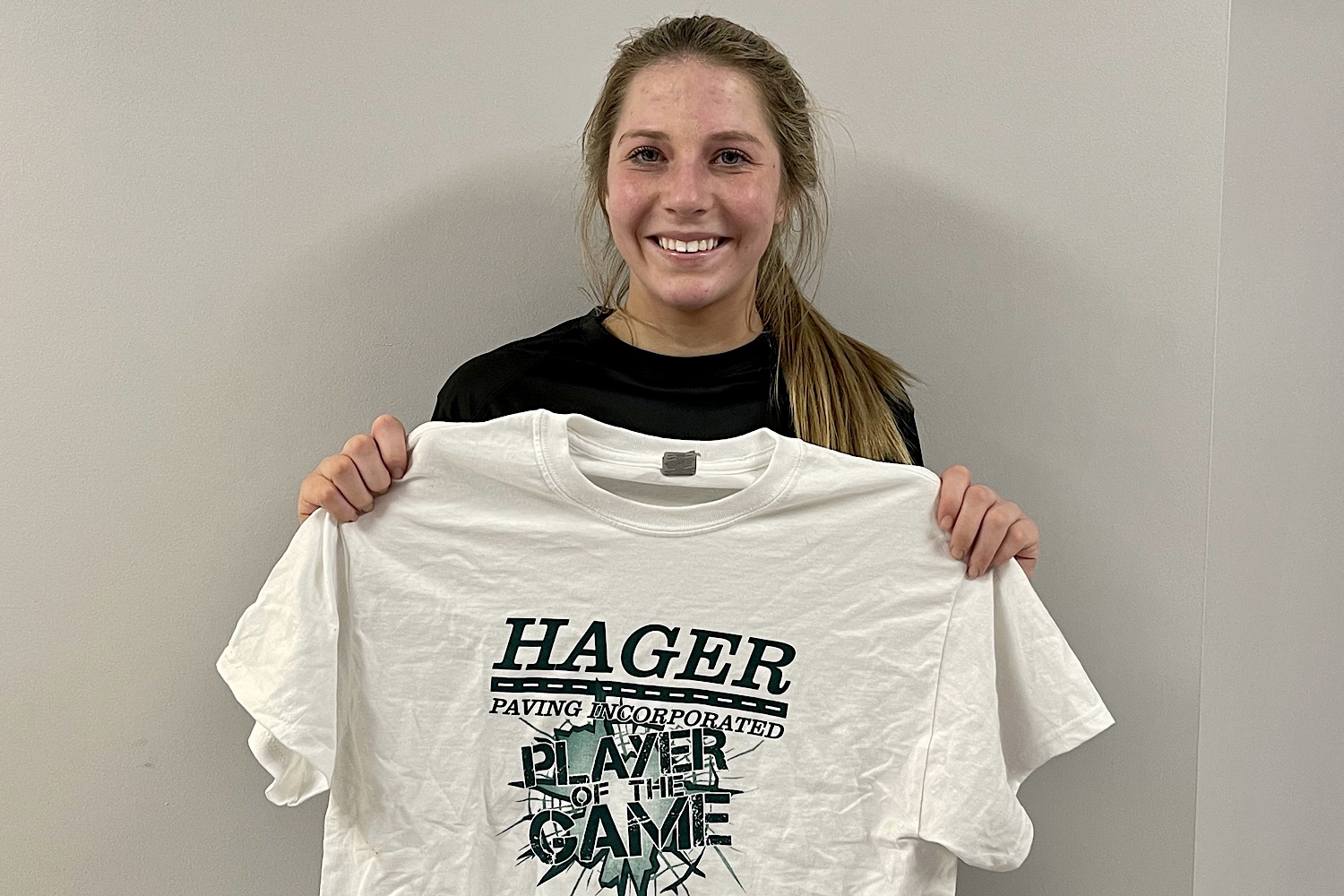 WEST SUNBURY, Pa. (EYT/D9) — As the final seconds ticked off the clock, Kendall Sankey looked at the Moniteau bench, nodded and smiled as she skipped off the court.
Sankey, a junior forward for the Warriors' girls basketball team, enjoyed a strong night against North Clarion, which came into the game with a spotless 14-0 record.
Davina Pry also shined, turning in one of her best outings of the campaign. Catherine Kelly, too. Well, everyone, really, who saw the floor for Moniteau in a signature 40-25 win over the Wolves played well in front of the raucous home crowd that packed the gym.
(Pictured above, Moniteau's Davina Pry was named the Hager Paving Incorporated Player of the Game)
"Our girls played exactly the way we wanted them to play," said Moniteau coach Dee Arblaster. "We were patient. I'm really happy."
There was a lot to be pleased about.
Moniteau ripped a page out of the script North Clarion has been using all season and jumped out to a big lead.
The Warriors led 13-6 after the first quarter — thanks in part to five points from Sophia Fleeger — and extended that advantage to 25-8 with a minute left in the half before Lily Homan banked in a 3-pointer to send North Clarion into the locker room down by 14.


North Clarion sports on Explore and D9Sports.com are brought to you by First United National Bank – The FUN Bank!
The Wolves opened the second half with another 3-pointer, this one by Emma McFarland, and it looked as though the momentum was shifting.
But Moniteau was able to staunch the bleeding with a 7-2 run to put the lead back to 14.
It was a key sequence in the game for both teams.
"It's huge (to start out with a big lead), but it makes me nervous sometimes," Arblaster said. "Sometimes when we get out big, you know what happens, we tend to get tight or lose it. But we were good."
Moniteau shot 11 of 21 in the first half.
Meanwhile, North Clarion was a mere 5 of 17 from the floor in the first two quarters and had both Lauren Lutz and Emma McFarland sitting with two fouls.
"I have a rule," said North Clarion coach Terry Dreihaup. "You get two fouls in the first half, you sit until the third quarter. I don't back from it. So it was tough."

(North Clarion coach Terry Dreihaup talks with his team during a timeout)
North Clarion got as close as 10 at 34-24 a minute into the fourth quarter, but Moniteau was able possess the ball, milk the clock, and outscored the Wolves 6-1 the rest of the way.
Davina Pry led Moniteau with 15 points while playing tough in the paint on both ends against North Clarion bigs Lutz and Brooke Steinman.
"Davina did a great job tonight," Arblaster said. "She was pretty tough. Sometimes she gets beat up and she doesn't always respond well to that, but I thought tonight she did very well. We needed her."
No one was kore aware of that than Pry herself.
"That was a big deal. That was something we talked a lot about," Pry said. "Everyone had to do their job and I did mine."
Sankey added eight points, eight rebounds and five assists for the Warriors. The junior forward hit some key baseline jumpers in the first half to help stake Moniteau to the big early lead.
"It was big for Kendall," Arblaster said. "She doesn't shoot much, but she made some big ones."
Kelly, Moniteau's leading scorer, took only four shots as North Clarion's zone was designed to keep her from penetrating and also extended to guard her beyond the 3-point line. But the junior made the most of them, scoring seven points. She also handled the ball well in killing precious time off the clock.
Allie Pry and Fleeger each added five.
Homan led North Clarion with seven points. In was an uncharacteristically poor shooting night for the Wolves in their first loss of the season.
There's a lot that can be gleaned for Dreihaup and his team from this loss, though, he said.
"I wanted the girls to see what they could do to climb out of that hole," Dreihaup said. "You're not going to be up in every game. They have to learn how to do it and tonight was a good learning game. They learned that teams play good, tough defense just like we do, but Moniteau played super tonight."
North Clarion will take what it can from its first loss and do what every good team does.
Move on.
"Forget about it," Dreihaup said. "Start fresh on Monday. We have a game Tuesday. You're only as good as your last game."
If that's true, Moniteau is feeling pretty good.
The Warriors (11-3) have played top teams very well this season, taking one-loss Redbank Valley down to the wire earlier in the season before falling just short, rallying to beat a sting Karns City team at home and then handing North Clarion its first setback in 15 games.
"We really wanted to win this game, so we had a lot of adrenaline flowing," Pry said. "It really helped that we got off to a big start from the beginning."
Arblaster said one of the strengths of her team is its willingness to never back down from a challenge.
"It doesn't matter what it is, they love to compete," Arblaster said. "It was their first thought to give that team their first loss. It was a big thing for them to come out, play well and do that. That's a very well-coached, disciplined, good team."