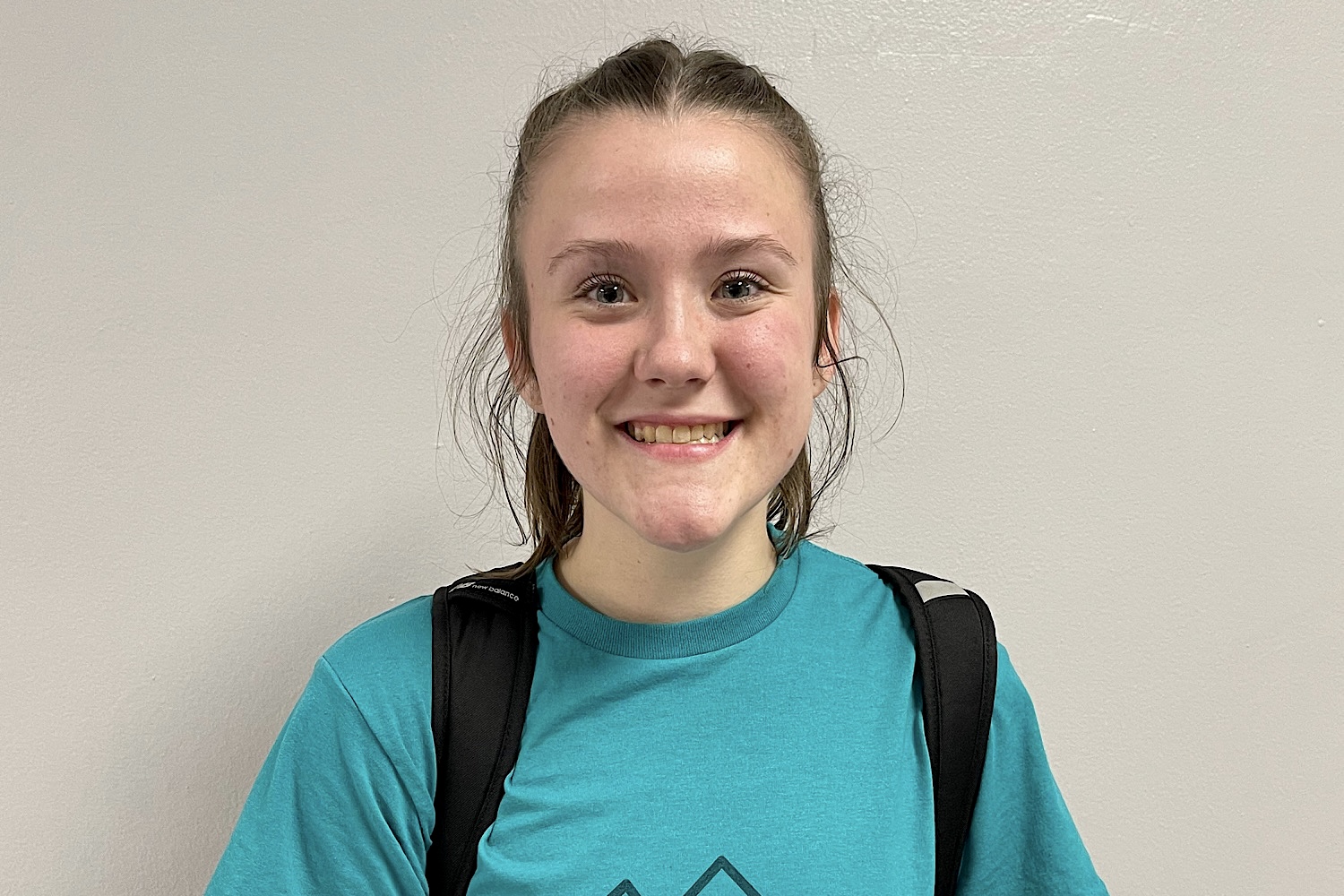 WEST SUNBURY, Pa. (EYT/D9) — Sophie Babington and Taylor Alston combined to score five points in the first 59 seconds of the third quarter as the Clarion girls basketball team cut Moniteau's lead down to 19-17.
Warriors' coach Dee Arblaster jumped up off the bench and angrily called a time out.
When Moniteau took the court again after the 30-second pause, the Warriors went on a 29-3 run — keyed by 10 of Catherine Kelly's game-high 19 points — on the way to a 54-25 home win over the Bobcats on Friday night.
(Pictured above, Catherine Kelly)
"Yeah, I don't know what it is," Arblaster said. "I think they like giving me a heart attack every once in a while."
It was a frustrating first 17 minutes for Moniteau, which missed a number of layup and struggled against a feisty Clarion team playing without a key starter in Gia Babington.
The Warriors led 8-2 early, but Clarion roared back with a 10-1 run to take a 12-9 lead midway through the second quarter.
Moniteau, though, was able to regroup and went on a 10-0 run of its own to close the first half with a 19-12 advantage.
"I mean, we had good looks," Arblaster said. "I don't know how many layups we missed — it was a lot."
Those shots began falling in the second half.
Clarion Area High School sports coverage on Explore and D9Sports.com is brought to you by Redbank Chevrolet and DuBrook.
Davina Pry scored eight of her 13 points in the final two quarters and Kendall Sankey added seven of her nine points over the final 15 minutes of the game.
Sankey also had six rebounds and five assists.
Sophia Fleeger, starting in the place of Abbey Jewart, who is still out with a foot injury, added eight points, six rebounds and three assists.
But it was Kelly's night to shine, spotting up for 3-pointers — she made three in the game — or driving to the hoop.
Kelly has also had to pick up some of the ball handling slack from the loss of Jewart.
"Catherine is who we want handing the ball, but she's such a good scorer, we try to set her up," Arblaster said. "With Abbey, we were able to do that well. Now with Abbey missing, she's gonna have to run the point a little more."
Allie Pry handled much of that chore against Clarion and played well.
It was her defense, though, in the second half that made a big difference.
After Sophie Babington hit a 3-pointer as part of the quick five-point spurt to start the third quarter, Arblaster put Allie Pry on the Bobcats' sophomore point guard and held her scoreless the rest of the way.
Babington still led Clarion with 13 points.
Alston added six for a Bobcat team that has been the victim of some prodigious runs by the opponent after being in just about every game they have played.
One of those lulls cost Clarion (5-6) against Karns City earlier in the week when the Bobcats led after one quarter, but scored just three points in the second half.
And it cost them again against Moniteau.
Clarion coach Sam Heeter knows exactly why it is happening.
"It's boxing out," he said. "We're not doing it. I mean, it's pretty simple. I've watched game film back over and over again and we're having some trouble rebounding the ball. Honestly, we're a very good defensive team on the first shot. Our problem is giving up a couple of extra shots."
That was again a problem against Moniteau, which was able to convert on second and third chances several times.
"The effort has never been a problem for us — they play hard all night long," Heeter said. "We're down a starter and they're still playing hard. They're not letting it get to them. But at some point we gotta get it done on the glass."
Gia Babington, a junior and Sophie's sister, is a big missing piece for Clarion. She and Sophie were becoming quite the 1-2 punch until she injured a hamstring during the holiday tournament in Kane.
"Somebody's got to step up," Heeter said. "I'm incredibly proud of Sophie right now. She's had a tremendous year. We need someone to step up and help her."
Heeter said he feels like there have been lots of positives surrounding his young team. Clarion doesn't have a senior on the roster.
"It's nothing that can't be fixed," Heeter said. "We go through stretches where we look really good and then we go into a lull.
"This is the grind time of the season," he added. "These girls are coming to school in the dark and leaving practice in the dark."
Kelly said the grind is just beginning for Moniteau.
The Warriors have big goals this season and wins like the one against Clarion are just another step toward achieving them.
"It gives us confidence that we can do it," Kelly said. "Winning a game like this hopefully translates into more wins, especially in the playoffs. We're chasing championships."
Clarion Area High School sports coverage on Explore and D9Sports.com is brought to you by Redbank Chevrolet and DuBrook.