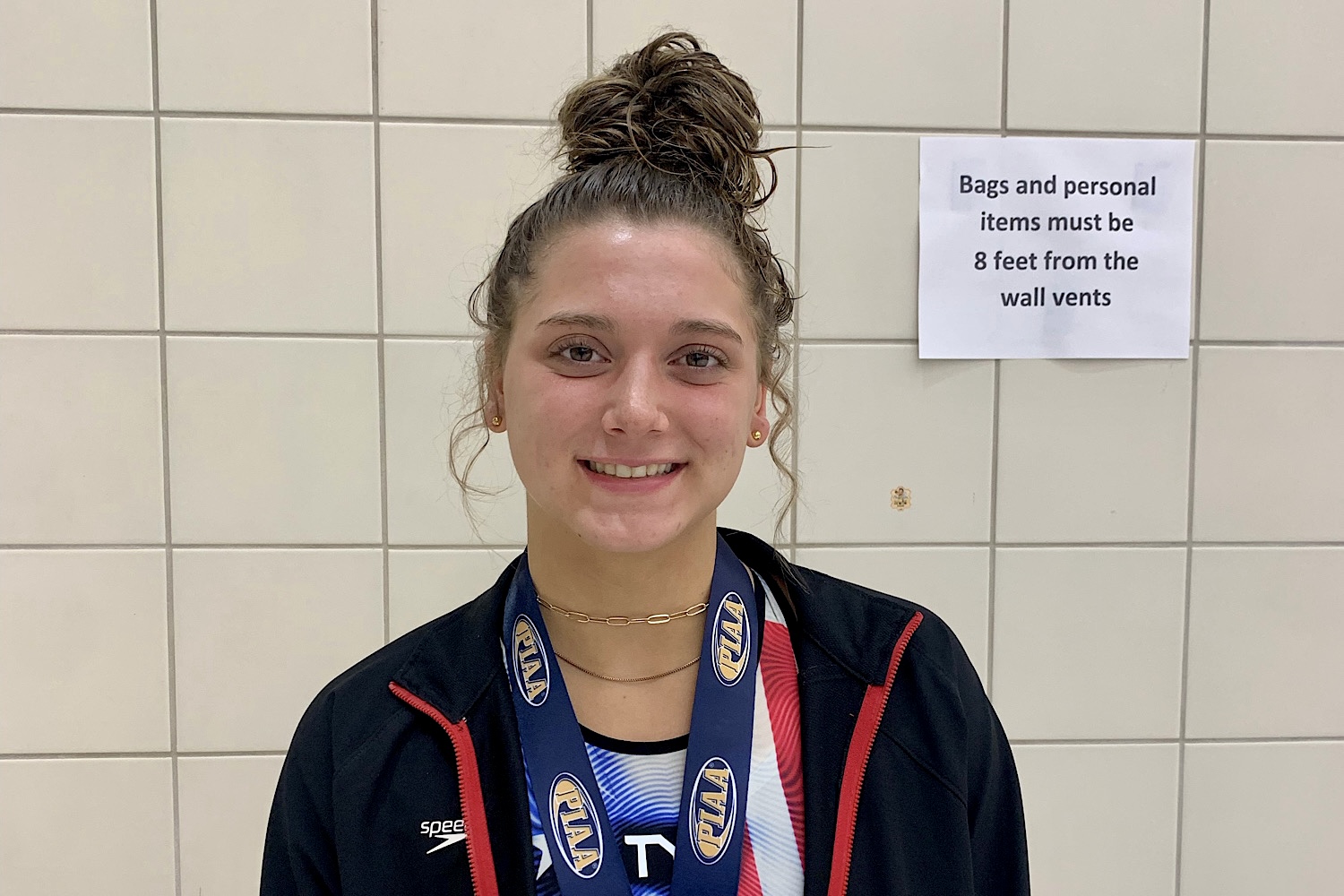 LEWISBURG, Pa. (EYT/D9) — Katelyn Reott wanted to break 24 seconds in the 50-yard freestyle.
She didn't quite achieve that goal, touching the wall in 24.07 seconds, but the Moniteau senior will certainly take it.
For the second consecutive year, Reott placed fifth in the event at the PIAA Class 2A Swimming and Diving Championships. Last year, she became the first Moniteau swimmer to leave the state meet with a medal around her neck.
Now she has two.
(Pictured above, Katelyn Reott after placing in the 50 freestyle)
"It means a lot to me," Reott said. "It shows that I've kept up on my hard work and pushed for something that I wanted."
Reott swam a 24.17 last year at the state meet.
After winning the District 9 title in the 50 free two weeks ago, she set a goal to swim in the mid-23s at the state championships.
Still, she left Bucknell University on Thursday with a school record, a medal and also a 10th-place finish in the 100 backstroke with a time of 58.41 seconds.
It was a pretty successful career in the pool for Reott.
Moniteau doesn't have a swimming team, so Reott was something of a nomad in her career, latching on with any team she could to swim in any meet she could during the regular season.
It was a challenge, but one Reott attacked with her usual aplomb.
"I'd say one thing in my career that sticks out is my passion to do it," she said. "A lot of people do it because they're good at it or because they've done it in past years, so they just do it again."
Reott's pretty good at it, too.
She has eight District 9 gold medals, winning four in the 50 free, three in 100 breaststroke and one in the 100 backstroke.
But Reott's reasoning for continuing to do it went far beyond routine and success.
She said she did it because she loved it, no matter the obstacles.
"I am very passionate about what I do," Reott said. "I put everything I have into this sport to try to become the best version I can be."
Brookville swimmer and North Clarion junior Patrick Young is also coming home with a medal, placing sixth in the 100 breaststroke with a time of 58.90.
Young was also 11th in the 100 backstroke with a time of 58.41.
Union senior Evie Bliss capped her standout career in the pool with a 13th-place finish in the 200 free with a time of 1 minute, 59.34 seconds.
Bliss won four District 9 titles over the last two seasons, capturing golds in the 200 free (twice), the 500 free and the 100 free.
Bliss will throw the javelin in college at Bucknell University. Last spring she placed second in the event at the PIAA Class 2A Track and Field Championships.