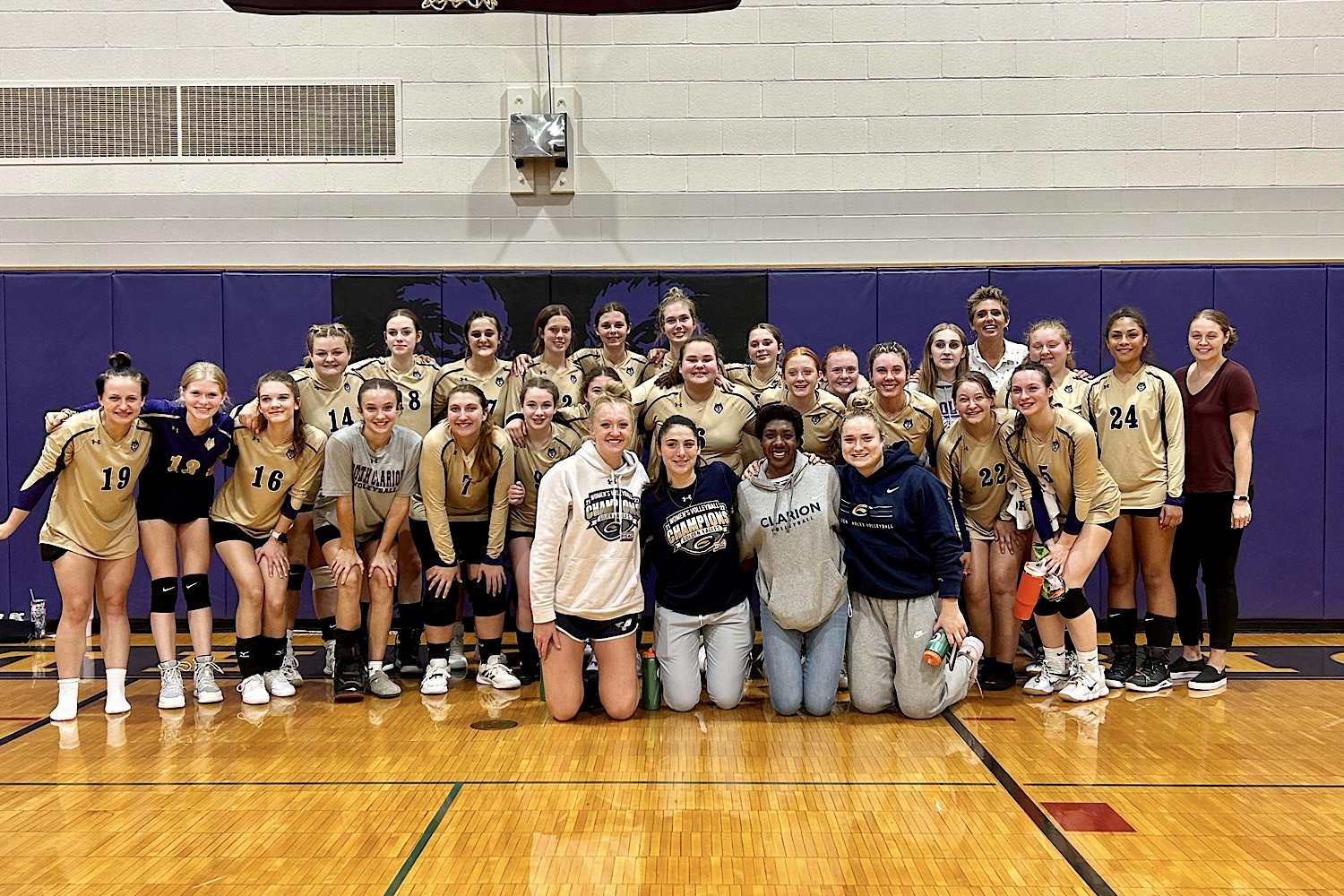 FRILLS CORNERS, Pa. (EYT/D9) — Kyle Freeman had 13 kills and Brenna Thompson added eight kills and nine digs as North Clarion rallied from a two-sets-to-one deficit for a 25-21, 17-25, 13-25, 25-20, 15-13 victory in a thriller against Keystone on Monday night.
(Pictured above, four members of the Clarion University volleyball team posed with the North Clarion team on Monday. They are, front row, from left: Charlie Allison, Julia Piccolino, London Fuller and Abigail Selfridge/submitted photo)
Ainsley Hartle added 11 service points with four aces and also had 24 assists for the Wolves, who remained unbeaten at 5-0.
Ava Patrick had 11 kills and five blocks to lead Keystone.
Bryanna Mong had eight assists and five aces, Gwyn Manno 21 digs and Audrey Burrows 16 service points for the Panthers.
REDBANK VALLEY 3, BROOKVILLE 1
After watched a lead in the first set evaporate into a loss, the Bulldogs rallied to win the next three sets in a 24-26, 25-13, 25-22, 25-21 victory.
Izzy Bond came up big for Redbank Valley with 13 kills and 12 digs.
Mylee Harmon was also strong at the net with 11 kills. She also pitched in eight digs and five aces.
Taylor Ripple actually led the Bulldogs in kills with 14. She also had nie digs.
Kira Bonanno added four kills and 13 digs and freshman Elaina Carrico continued to impress as a setter with 29 assists for Redbank.
Brookville was led by Whitney Guth, who had seven kills.