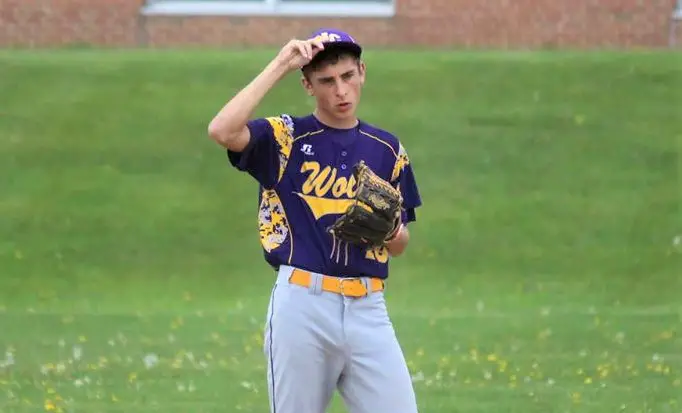 DUBOIS, Pa. – Zander Hargenrader's two-out RBI single to right in the bottom of the fifth inning broke a 2-2 tie and led North Clarion to a 3-2 win over Clarion-Limestone in the District 9 Class 1A consolation game at Showers Field in DuBois. 
Photo: Matson Higgins of North Clarion. Photo by Christie Datko
The Wolves will now face District 10 champion Jamestown in a sub-regional playoff game at 4 p.m. Wednesday, May 30, at Slippery Rock University's Jack Critchfield Park with the winner advancing to the PIAA playoffs, which start Monday, June 4.
Each team held a one-run lead in the game with C-L grabbing a 1-0 lead in the top of the first on a two-out Curvin Goheen double that plated Ian Hawthorn, who led off the inning with a walk.
North Clarion tied the game in the bottom of the second when Noah Meyers led off with a double and scored on a one-out groundout by Sam Minich.
The Wolves then took the lead in the fourth when Logan Minich led off with a triple and Tyler Wolbert drove him home on a one-out double to right.
C-L tied the game in the top of the fifth off reliever Zyler Hargendrader when Hawthorn started the inning with a single, stole second and scored on a single by Camden Hankey.
Korey Mills, though, led off the fifth with a walk, stole second and eventually moved to third on a groundout by Matson Higgins.
Zander Hargenrader then shortened up and hit a single to center scoring Mills with the go-ahead run.
Hargenrader talked about his hit and the win.
Zyler Hargenrader got the win going two innings in relief allowing one run on three hits and a walk while striking out two.
Higgins, who started the game and worked the first four innings, then came back to get the save pitching a scoreless seventh letting up two, two-out singles in the inning. For the game, Higgins pitched five innings giving up a run on four hits and five walks while striking out one.
Hankey was 2-for-4 with an RBI for C-L.