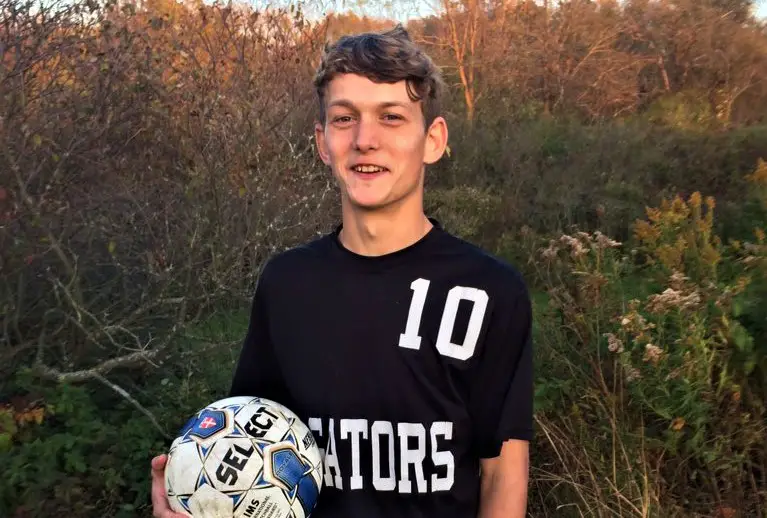 Oct. 17 soccer and volleyball recaps.
(Cover photo: Payton Caden, Port Allegany boys' soccer)
BOYS' SOCCER
PORT ALLEGANY 3, EISENHOWER 2
RUSSELL, Pa. – Payton Caden netted career goals 50 and 51 to help visiting Port Allegany to a 3-2 win over Eisenhower.
David Talkington also scored for the Gators.
BROCKWAY 8, RIDGWAY 1
BROCKWAY, Pa. – Brockway continued to roll beating visiting Ridgway, 8-1, behind a Hunter Allenbaugh hat trick.
Angelo Inzana also added a pair of tallies for the Rovers with Linkin Nichols, Carter Adams and Zane Puhala scoring once each.
VOLLEYBALL
A-C VALLEY 3, REDBANK VALLEY 0
NEW BETHLEHEM, Pa. – Behind 10 kills and 14 digs from Josie Terwilliger, A-C Valley closed out a perfect 11-0 KSAC season with a 3-0 (25-15, 25-13, 25-22) win at Redbank Valley.
The Lady Falcons, who clinched the KSAC title last week, also got eight kills apiece from Olivia Boocks and Kylee Eaton and seven kills from Cassie Schwalm. Boocks added 18 digs with Schwalm chipping in 11 digs and Eaton nine. Syd Rankin had 18 set assists and 13 digs, Emily Wetzel added eight set assists and six digs and Kaylie Merwin had seven set assists.
For Redbank Valley, Josie Rupp had seven kills and two blocks, Emily Gourley four kills and six blocks, Torrilynne Nelson four kills and two blocks and Jordan Milliron four kills.
OSWAYO VALLEY 3, AUSTIN 0
AUSTIN, Pa. – Karley Carpenter and Shayla Bickel each had five kills to help Oswayo Valley to a 3-0 (25-16, 25-11, 25-13) win at Austin.
Carpenter added six aces, a block and three digs with Bickel chipping in two set assists, three aces and 13 digs. Also for the Green Wave, Olivia Jandrew had three digs, three aces, a kill and 12 set assists.
Jordan Brewer had 12 set assists, an ace and a kill for Austin with Rylee Hooftallen chipping in three aces and 10 digs and Taylor Brewer an ace, two kills and two blocks.
BROOKVILLE 3, BROCKWAY 0
BROOKVILLE, Pa. – Behind 10 kills and two blocks from Olivia Pearson Brookville swept by visiting Brockway, 3-0 (25-11, 25-22, 25-7).
It was an ace-fest for the Lady Raiders with Morgan Johnson gathering eight aces, Cheyanne Gotwald seven and Kira Powell six. Powell also chipped in three kills.
Kaitlyn Morelli paced Brockway with eight kills.
OTTO-ELDRED 3, CAMERON COUNTY 0
DUKE CENTER, Pa. – Otto-Eldred clinched the NTL title with a 3-0 (25-15, 25-14, 25-8) win over visiting Cameron County.
Alyssa Shelander had six kills, six aces and five digs for the Lady Terrors, who are unbeaten in league play with two matches left and are two games ahead of two-loss Coudersport, who they swept. Camryn Thomas added five kills and two aces, Harley VanScoter chipped in four kills and three aces and Emily Smith added 19 set assists, five aces, four digs and three kills.
KEYSTONE 3, CLARION-LIMESTONE 0
KNOX, Pa. – Keystone used a team effort to knock off visiting Clarion-Limestone, 3-0 (25-22, 25-14, 25-20).
Danae Hurrelbrink, McKenzie Byerley and Emily Lauer each had four kills for the Lady Panthers with Byerley adding 17 digs and two set assists and Laurer two set assists. Meanwhile, McKenzie Hovis, Danica Hurrelbrink, Tessa Weaver and Alyssa Dunlap each had three kills with Danica Hurrelbrink chipping in an assist. Jenny McConnell paced the defense with 26 digs.
Erica Hetrick had five kills for C-L with Maddy Craig adding four kills, two digs and an ace. Rachel Greeley chipped in three blocks and an ace with Maddi Griffith contributing six set assists and Nikki Shumaker four digs.
COUDERSPORT 3, SMETHPORT 0
SMETHPORT, Pa. – EmmaRae Easton had 12 kills, Haley Keck 41 set assists and Joplin Osgood 37 digs and four aces to help visiting Coudersport to a 3-0 (25-11, 25-9, 25-18) win over Smethport.
Also for the Lady Falcons, Adrian Page added nine kills and 14 digs and Jillian Updegraff had nine kills and three blocks.
Abbey Woodard paced Smethport with 10 kills, seven digs and four blocks, Alan Durphy had 30 digs and an ace, Emily Gustafson three kills, three blocks and a dig and Haleigh Larson three kills, 10 digs and a set assist.
CRANBERRY 3, FOREST AREA 0
SENECA, Pa. – Erin Merryman and Natalie Barcinas each had seven kills, and Cranberry recorded 25 service aces in picking up a 3-0 (25-23, 25-8, 25-11) win over visiting Forest Area.
Malliah Schreck led the Berries with 11 aces while chipping in four kills and three digs, Merryman added a pair of aces to go with three digs and 12 service aces, Barcinas had two aces and five digs and Emily Duncan added six aces and five set assists. Lauren Conkle also contributed five kills, four digs and two blocks to the victory.
DUBOIS 3, DUBOIS CENTRAL CATHOLIC 0
DUBOIS, Pa. – Danessa Allison's 12 kills led DuBois to a 3-0 (25-11, 25-6, 25-15) win over crosstown rival DuBois Central Catholic, which was the visiting team.
Lexi Ray chipped in nine kills with Sydney Kaschalk adding six kills. Kaylee Sadowski and Kelli Hoffer had five aces each and Kylee Bundy 32 set assists.
UNION 3, MONITEAU 0
RIMERSBURG, Pa. – Behind a big night from Frankee Remmick, Union rolled to a 3-0 (25-7, 25-15, 25-18) win over visiting Moniteau.
Remmick had 16 kills and nine digs with Bryn Davis adding eight kills and eight kills, Amy Henry five kills and Marli Hawk 13 digs for the Golden Damsels who also got 31 set assists from Hannah Atzeni.
NORTH CLARION 3, VENANGO CATHOLIC 0
FRILLS CORNERS, Pa. – Paige Sherbine had 17 set assists and eight aces to help North Clarion to a 3-0 (25-3, 25-10, 25-7) win over visiting Venango Catholic.
Tori Obenrader added seven kills and three aces for the She-Wolves who also got five kills from Gena Caldwell, five aces from Avari Schwabenbauer and two kills and two blocks from Megan Baumcratz.
PORT ALLEGANY 3, GALETON 0
GALETON, Pa. – A huge night from Kierra Keck helped Port Allegany to a 3-0 (25-19, 25-15, 25-17) win at Galeton.
Keck had 16 kills and 14 digs for the Lady Gators with Hannah Lathrop adding eight kills, Kalyn Naylor seven kills, Kenzie Burr four kills and 24 digs, Erin Stauffer 48 digs and Jenna Sprankle 31 set assists.
RIDGWAY 3, ST. MARYS 0
ST. MARYS, Pa. – Tonimarie Della had five kills to lift visiting Ridgway to a 3-0 (25-18, 25-17, 25-15) win over St. Marys.
Carissa Vavala had four kills for St. Marys.
KANE 3, SHEFFIELD 0
SHEFFIELD, Pa. – Visiting Kane got a hard-fought 3-0 (25-21, 25-20, 25-23) victory over Sheffield.
Trinity Clark and Ella Marconi both reached double-digit kills for Kane with Clark leading the way with 11 kills and five digs and Ella Marconi adding 10 kills and six blocks. Kenda Udovich chipped in seven kills, three digs and two aces, Audri Marconi had four kills and two blocks, Lexi Wood added eight digs and Hannah Buhl 29 set assists, two kills and two aces.
For Sheffield, Taya Bailey had 10 digs, Mya Grubbs 12 set assists and 11 digs, Lexi Grubb five blocks and Marissa Grubbs five kills.
PUNXSUTAWNEY 3, CURWENSVILLE 0
PUNXSUTAWNEY, Pa. – Punxsutawney took care of visiting Curwensville, 3-0 (25-19, 25-18, 25-9).
For Curwensville, Elizabeth Mathews had two kills and two digs while Tarah Jacobson added five digs and a kill and Allison Hoover four digs.
Punxsutawney stats weren't available.
GIRLS' SOCCER
BROCKWAY 4, RIDGWAY 2
BROCKWAY, Pa. – Chanell Britten's hat trick lifted Brockway to a 4-2 win over visiting Ridgway.
Leah Lindemuth added a goal and an assist for the Lady Rovers who also got assists from Callie Barber, Morgan Lindemuth and Morrigan Decker.
ELK COUNTY CATHOLIC 3, BROOKVILLE 1
ST. MARYS, Pa. – Sady VanAlstine and Hannah Lenze both scored to lift Elk County Catholic to a 3-1 win over visiting Brookville.
The Lady Crusaders also scored on an own goal by the Lady Raiders.
Madison McAninch scored for Brookville.
CLARION 2, KANE 0
KANE, Pa. – Cait Murtha and Wendy Beveridge combined on a shutout to lift Clarion to a 2-0 road victory over Kane.
Hope Hazlett and Alexa Hannold scored for the Lady Cats.
REDBANK VALLEY 1, DUBOIS CENTRAL CATHOLIC 0
NEW BETHLEHEM, Pa. – Megan Gourley's goal with 30 seconds to play lifted Redbank Valley to a 1-0 win over visiting DuBois Central Catholic.
KARNS CITY 13, PUNXSUTAWNEY 1
PUNXSUTAWNEY, Pa. – Haley Scherer netted five goals to give visiting Karns City a 13-1 win over Punxsutawney.
Chelsey Dodd added a pair of goals for the Lady Gremlins.